September 07, 2008
F1 UPDATE!: SPA 2008!
(UPDATED WITH PHOTOS OF THE INCIDENT)
At Spa, the rain giveth, the rain taketh away... but to whom was giveth, and to whom was taketh? And what the h*ll is the FIA
thinking???
THIS is
your
disgusted F1 UPDATE! We've thrown away the usual format of F1U! due to the events of the race and immediately following...
*NOW

THAT'S

WHAT WE CALL

RACIN'
: The skies over the Ardennes Forest were dark and leaden when the race began, with the torrential downpour of 45 minutes earlier ample testament of what could happen. As it was, the track was pretty much dry when the lights went out... except for the start/finish straight and La Source. That stretch of track, which might be considered somewhat important to the start of a race, was still sodden, and that promised an exciting start. Sure enough, one of the more confused beginnings ensued. Lewis Hamilton stayed in front through the first turn but Massa, starting alongside Hamilton, wound up getting shuffled down to fifth or sixth. 11th place-starting Jarno Trulli was touched by the hand of St. Fangio the Quick and rocketed up to fourth, passing other cars as if they were standing still... which they nearly were, as all the other cars were braking for La Source. Trulli, who held off braking until it was very nearly too late, wound up being rear-ended by SeaBass, who broke a chunk off his nose. Trulli, even though he continued on gamely, was never seen again. It seriously appeared as if half the field ended up having to use the runoff area in that first turn. Hamilton then began to gallop off into the distance, opening nearly a five second lead in one lap.
Then La Source, still damp and slick as whale snot, sent his McLaren skidding and flumphing off-track. While he recovered, Kimi Raikkonen zipped past, with Hamilton rejoining the race in second. And that's how it stayed until three laps to go in the race.
*HERE COMES THE RAIN
: With 20 laps remaining, the FIA announced that rain "was expected in 20 minutes", putting the weather on track about lap 36 of 44. As usual, the FIA's forecasters were wrong... by about five laps. In the meantime, the Lewis/Kimi battle was shaping up to be one of the best of the season. The Ferrari of Raikkonen managed to pull out to as much as a six second lead, but after the second round of pitstops both Hamilton and Kimi put on hard tires. Neither car ran particularly well on hards during practice and quals, but the McLaren had run better than the Ferrari. The same was true during the race, as Hamilton began to carve great chunks off the lead. With three laps remaining, the two were separated by less than a second. Then it began to rain, and
that's
when the race really began.
*RAINING ON THE PARADE
: Into the final chicane, Hamilton made his move on the outside of Raikkonen. Kimi was having none of it and refused to budge. The two cars touched slightly, which had the effect of causing Lewis to cut the chicane. Coming right back onto the course, Hamilton had the lead, but he had to immediately back off and let Kimi take the lead back due to the sporting regulations. By cutting a corner like that, one cannot gain a competitive advantage. Slowing down, he let Kimi by on the start/finish straight, then immediately tucked himself down under the gearbox of the Ferrari. The two cars scissored back and forth approaching La Source, each driver trying to figure out where the other was going to dive. Hamilton made his move to the inside into La Source, just barely getting by. How close was the pass?
Yes, that's Raikkonen's front wing rubbing on the right-rear of Hamilton's McLaren. It was a clean move, and about as daring in the rain as one can get. But it wasn't over yet! Down the Kemmel straight, both cars were twitching slightly. Into Les Combes, Kimi had a big twitch, the rain playing hob with traction. Both drivers tip-toed through the upper part of the track, with Kimi close aboard the McLaren. What they didn't realize is that a Williams had spun and was retaking the track just ahead of them, under yellow flags (though that isn't visible in this shot):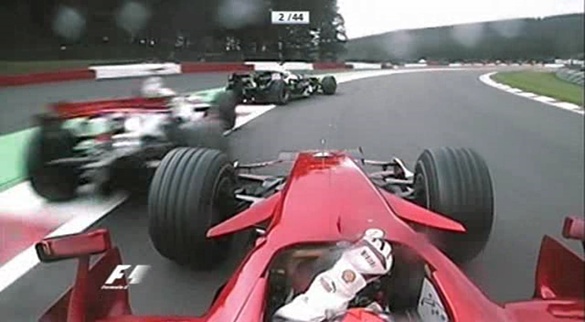 Both drivers wound up having to dodge to the outside of the turn (and the mobile chicane of the Williams), with Raikkonen taking the lead (under yellow, a no-no) as Hamilton wound up having to take to the grass. The lead was short-lived, though, as Kimi, suffering from the rain, wound up spinning in the next turn. Hamilton, still accelerating, passed Raikkonen, who never left the track but lost a ton of momentum. At this point, sixty seconds back or more, the BMW of Nick Heidfeld, who was ninth, had pitted for Intermediate tires. The two leaders, however, couldn't dare to do so. Two turns later, Hamilton slid out wide over the curb, but Raikkonen lost it completely, pirouetting into the wall just short of the final chicane. This put Felipe Massa into second place. Neither Hamilton or Massa went for the Inters, knowing that either could win if they just kept the car on track and the other spun, but that stopping for wets would throw the race away. What followed was one of the slowest four miles in F1 history, as both drivers may as well have been on ice. The final lap was nearly 45 seconds slower than laps being turned when it was dry! Even so, Hamilton was 10 seconds or more faster than Massa on the last lap and "cruised" home for the most exciting finish in years.
*MEANWHILE...
: SeaBass and Toro Rosso was in line for the last step on the podium. Not stopping for Intermediate tires, he gamely plunged ahead like the two leaders, just trying to keep it on the track. Behind him, however, HWMNBN , Robert Kubica and SeaBass' teammate in Toro Rosso Sebastian Vettel did stop for wet tires and were charging like mad, running SeaBass down like he was standing still. All three of them passed the French Fish in or near the final chicane, dropping him all the way down to seventh. But wait, if those three cars passed him, shouldn't he have been sixth? Remember when we mentioned that Grizzly Nick Heidfeld had pitted from ninth a couple of laps earlier? He blew past everybody, picking up six spots in the final two laps to earn the final spot on the podium, putting paid to a fantastic Belgian Grand Prix.
*LATER...
: And then, the FIA had to louse it all up.
The first clue that something was amiss came in the open question period of the press conference with the podium drivers:
Q: (Ed Gorman - The Times of London) Lewis, are you aware that the stewards have announced they are investigating an incident between yourself and Kimi? We're not sure exactly which one it was. Are you aware of that and what could your thoughts be? Is there any part where you felt that you'd contravened the rules?
LH:
Absolutely not. I will explain what happened. It began to rain. I caught Kimi and I got a good tow from him down the back straight and I was in a good position to dive down the inside at turn 18. He covered his spot, which was fair, but he braked very, very early, so I was able to outbrake him and go round the outside which I did. I left him enough room, I didn't close the gap so much that he had to go on a kerb, I left him enough room, yet he accelerated or picked up more pace going into the corner, and drove me as wide as he possibly could. I had no road left.
There was a question I had to ask: if I stay where I am, I'm going to go over the Astroturf… there's some green bit behind the big kerb, the last kerb… and go over it and hit him. Or I go left.
(emphasis added - Wonderduck)
That was the option I had to do, I did it. I knew that I had to let him past and also the team came over the radio and said 'you have to let him past' which I did. I was accelerating so that I didn't lose too much ground because I thought that would be unfair. Fortunately I got back in his slipstream and again, he moved to the inside and back to the outside and again, I dodged him and went up the inside and at the apex to the corner he hit me at the back, and that nearly caused me to spin, but fortunately I kept hold of it and went on from there. That was a great fight and I don't think there was anything wrong there. The rules say you should let him back past which I did.
Q: (Ian Parkes - The Press Association) Lewis, given the explanation that you've just given us, would you be surprised now if the stewards did decide to punish you in any kind of way?
LH:
Absolutely, absolutely. This is motor racing and if there's a penalty, then there's something wrong because I was ahead going into that corner, so I didn't gain an advantage from it. We were still able to race at the next corner and I gave him his spot back, and I think it was fair and square, so I think it would be absolutely wrong. But you know what they're like, so we will see.
Some time later, the FIA Stewards announced their decision: a 25 second time penalty for Lewis Hamilton for "gaining a competitive advantage in the incident" involving his cutting the chicane. This has the effect of stripping Hamilton of the victory and dropping him down to third place.
McLaren has, of course, lodged an appeal against this decision, although it's not entirely clear if this is something that CAN be appealed,
as read in Article 152 of the sporting regulations. The decision and the appeal is now in the hands of
the secretariat of the Court of Appeal, which is independent of the FIA.

It is F1 UPDATE!s considered opinion that this penalty is complete and utter crepe. F1's technical director, Charlie Whiting, the most experienced man on the pit wall and overseer of race safety and arbiter of all flaggings, saw nothing wrong with Hamilton's driving in this case, which might tell you something about the stewards' investigation.

This has the appalling stink of a political (read: Ferrari) based decision to it. The decision to strip the victory from McLaren's Hamilton should have been based on solid, conclusive evidence of the wrongdoing, and as of this writing, some seven hours after the race has concluded, there is naught but silence from the anonymous race stewards. Please note that this decision came down entirely on the stewards' own hook, as there was no protest lodged by Ferrari, BMW, or any other race team. For what reason, nobody knows exactly. Yes, Hamilton did pass Kimi by cutting the corner, but he relinquished the position before they even crossed the start/finish line. What did he do wrong?

We will find out, eventually, what the decision will be when the appeal is heard. Until then, however, the most exciting race of the season has been turned to ashes. Good work, FIA.

We here at F1 UPDATE! will keep a close eye on the situation and will update you when more becomes available. Next week is Monza, and we'll be here for that too. We'll be disgusted, but we'll be here.

PHOTO UPDATE #1 - The moment the incident began (see comment #7)



PHOTO UPDATE #2 - Hamilton lets Raikkonen past.



If anybody can tell us how that picture does not conclusively prove that Hamilton fulfilled the requirements of the sporting regulations regarding blown corners, we'd love to hear it.


Posted by: Wonderduck at 03:21 PM | Comments (11) | Add Comment
Post contains 2020 words, total size 13 kb.
Posted by: Steven Den Beste at September 07, 2008 03:58 PM (+rSRq)
Posted by: Mallory at September 07, 2008 05:00 PM (WJ2qy)
Posted by: Robert Villasana at September 07, 2008 08:56 PM (Xg5hU)
Posted by: Wonderduck at September 07, 2008 10:37 PM (AW3EJ)
Posted by: madmike at September 07, 2008 11:28 PM (Ab+H5)
Posted by: madmike at September 07, 2008 11:45 PM (Ab+H5)
Posted by: Wonderduck at September 08, 2008 12:25 AM (AW3EJ)
Posted by: Vaucanson's Duck at September 08, 2008 10:51 AM (XVJDy)
Posted by: Stefan at September 08, 2008 07:08 PM (sqjhj)
Posted by: Wonderduck at September 08, 2008 07:44 PM (AW3EJ)
Posted by: madmike at September 09, 2008 10:17 AM (mV2q+)
Comments are disabled. Post is locked.
42kb generated in CPU 0.0227, elapsed 0.8544 seconds.
47 queries taking 0.8436 seconds, 287 records returned.
Powered by Minx 1.1.6c-pink.