September 22, 2008
F1 on SPEED: Singapore 2008!
While we wait for a decision to be made on Lewis Hamilton's appeal of his penalty at Spa, let's take a look at the this weekend's race at Singapore.
This is a race that will consist of a number of firsts: first time at the Singapore circuit, first F1 night race, and potentially the first wet night race (60% chance of rain at race time). There's not a whole lot we can say about the circuit yet because, unlike Valencia earlier this season, this really
is
a street circuit, like Monaco, while Valencia's circuit ran around a marina. As a result, the Valencia track could easily be set up for other races. The Singapore circuit, on the other hand, runs on
working city streets
. Here's the track map: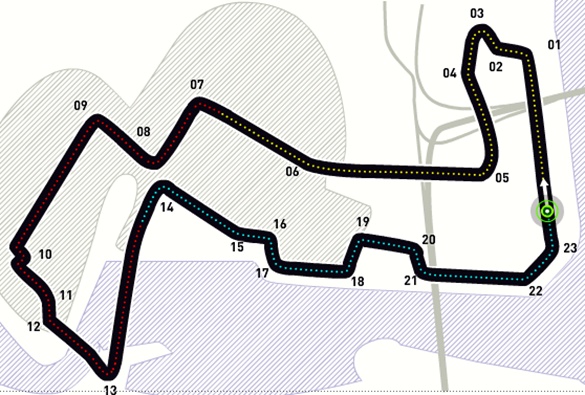 Happily, this is the first new F1 racecourse NOT designed by Hermann ("I hate passing") Tilke. It's based off a suggested trackplan by him, though. The fastest spot on the circuit is expected to be the run-in to Turn 07, where the simulations suggest the cars will be hitting about 200mph before slamming on the brakes. Twice the cars will be running across bridges over water, between 12 and 13, then 13 and 14. The run to the first turn takes the cars UNDER a highway, as does the turnout from 21.
Very interestingly, the short straight between 18 and 19 seems to run UNDER a set of temporary grandstands as well. Hopefully, there won't be any car fires or blown engines at that point. Yeesh.
Simulations also indicate that this course is going to be the highest downforce track on the calendar... even more than Monaco, which doesn't seem possible. Lots of 90-degree turns out there, though, which one would expect from a modern city.
Technically, the lighting system is quite complex. First off, they won't be using the traditional flagging system for the race. Instead, there'll be 35 LED panels around the circuit that'll act as the flags. For illumination, however, there'll be between 1500 and 1600 "light projectors" at 2000w each, with one roughly every 10 feet or so. They'll be using 12 electrical generators to generate the 3.2 million watts required, with almost 109km of cable. The lights will be hung off of 6km of truss surrounding the track.
They ran a test of the lighting system this past weekend; the above shows the "Fullerton Road" bridge, between 12 and 13. The lights will be on one side of the track only, to reduce glare on the TV cameras. Since the cars are only three feet high or so, shadows aren't expected to be a problem.
This'll be a fun one, that's for sure, and SPEED will be bringing us their usual expert coverage.
Friday
, we have the usual Practice 2 session, from
830a to 1015a
, which will be 930pm local time. Late night for the F1 Circus!
Saturday
, from
9a to 1030a
, we get the first ever night Quals session. Even later night for the F1 boys, as that session won't start until 10pm local!
Finally we get the race on
Sunday
, from
630a to 9a
. It'll be quite the spectacle, that's for sure, and F1 UPDATE! will be all over it.
See you then, but check in on Tuesday for the results of the Penalty Appeal!
Posted by: Wonderduck at 08:55 PM | Comments (1) | Add Comment
Post contains 555 words, total size 4 kb.
1
I can't wait!!! The course looks to be spectacular. Hope it doesn't rain, though. Rain is bad enough in daylight.
Posted by: Mallory at September 23, 2008 11:30 AM (3sife)
Comments are disabled. Post is locked.
24kb generated in CPU 0.012, elapsed 0.2642 seconds.
47 queries taking 0.2567 seconds, 234 records returned.
Powered by Minx 1.1.6c-pink.