August 27, 2008
All In All We're Just A / Nother Duck In Anime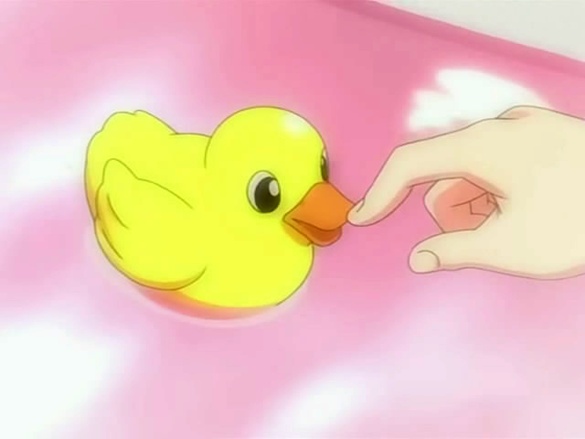 -
Hidamari x365
, ep07
Hidamari Sketch
is just that darn good.
Not as good as
Azumanga Daioh
, but you know what? I don't care. While it's about high school, it sure reminds me a lot of my days as a student at Duck U, and that earns it nostalga points if nothing else. Four likable main characters (well, 3-1/2... I'm not that fond of Miyako, for much the same reason that Tomo & Osaka are my least favorite characters from
AzuDai
) doing more-or-less everyday things? For some people, bamboo shoots in the eardrums would probably be more enjoyable, I'm sure, but I love it.
I'd be incredibly shocked if it gets licensed, though. A few years back, it would have been snapped up, no question, but now? I just can't see it, and that's a shame. Like
ARIA
, it's a perfect show to sit and relax to. I know I'd buy it in a heartbeat.
Plus: ducks.
Posted by: Wonderduck at 12:55 AM | Comments (2) | Add Comment
Post contains 167 words, total size 1 kb.
1
The manga got licensed. I tried the anime and was turned off by the double-wide faces, but the proportions in the manga didn't bug me nearly as much, and it really is cute as hell. Got the first volume in last week's shipment and was pleased as punch, even if it's a bit thin.
Maybe I'll give the anime another try. Heck, maybe someone will license it, and I'll end up working on it from an anamorphic master, where the subtle vertical distortion will help counteract the wiiiiide faces...
Posted by: Avatar_exADV at August 29, 2008 01:01 AM (pfysU)
2
I've had the first volume of "Sunshine Sketch" for a couple of months, and I agree: cute as hell. The show is following it fairly closely, though out of sequence.
Which is my one major complaint against HidaSketch. Like
Haruhi
, it's jumping around (one episode is in April, the next in November), but not for any obvious reason that I can see. *shrug* Still diggin' it, and eventually I'll be able to go back and watch it all in chronological order, so I'm cool with it.
Posted by: Wonderduck at August 29, 2008 06:52 AM (AW3EJ)
Comments are disabled. Post is locked.
23kb generated in CPU 0.0295, elapsed 0.2534 seconds.
47 queries taking 0.2337 seconds, 278 records returned.
Powered by Minx 1.1.6c-pink.