June 15, 2008
Ikkitousen: Great Guardians ep01
So the third installment of the
Ikkitousen
story has begun! The first told the story of Hakufu, Nanyou High School's ditzy fighter and her rise to become the "Junior Lord of Lords", the person destined to command all the "kingdoms" (or, in this case, high schools) of the land. The second dealt with Seito's fighters, and how they join forces with Nanyou's group to fight against the most powerful school.
Ikkitousen
is best known for it's fanservice, but at least with the second series,
Ikkitousen: Dragon Destiny
, there began to be signs of actual story behind the pantsu. But what of the third series? What does it bring us?
Click on to continue, but be warned: this review is picture-intensive and distinctly NSFW!
Again, the following is
not work-safe.
You've been warned.

The show begins with Kan-u Unchou fighting a green-haired girl in a thunderstorm... and getting her arse handed to her.


This is surprising for two reasons. The first, of course, is that Kan-u Unchou is the best fighter Seito has, and is supposed to be the strongest of all the

toushi

in the land. But the second reason is even more important: the last time we saw the green-haired girl (at the end of season one), she was dead! Green finishes destroying Kan-u, then stands over her, obviously preparing to deal the killing stroke.


Before she can, however, a bolt of lightning streaks out of the sky and strikes between them. When the smoke clears, Green is gone, leaving Kan-u (and the viewer) to wonder what happened.

Meanwhile, Hakufu Sonsaku is relaxing in the bath: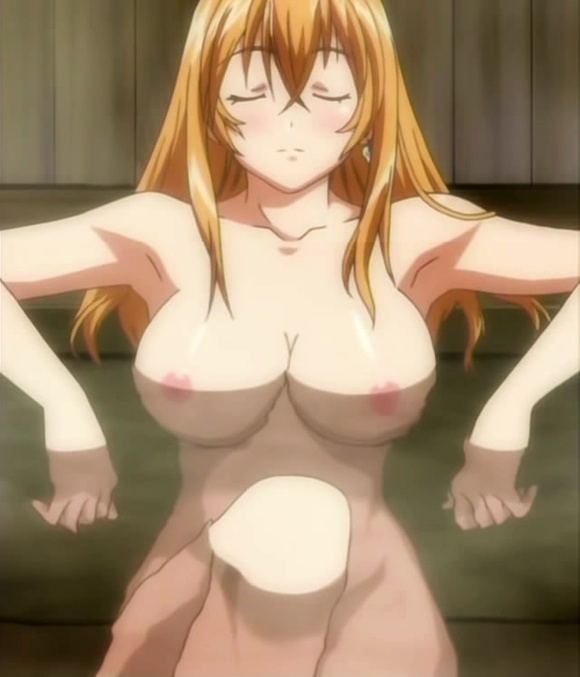 Unaware she is being stalked by a hideous creature, she is taken by surprise when it attacks!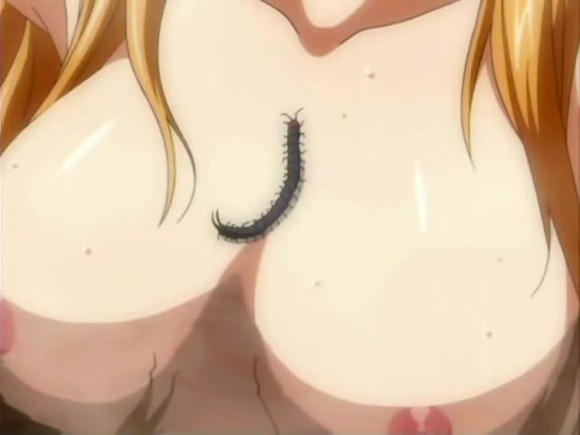 Her scream brings her cousin, Koukin, running to defend her against attack... but Hakufu is able to take care of herself, as he finds out:



After they run to school, they come upon Ryomou Shimei, who's pining for Saji Genpou, missing since the final scenes of series two. Hakufu surprises the lost-in-thought "Mou-chan", who reacts negatively:


...but it's not as bad as it looks:


Ryomou and Koukin, two of the "Four Devas of Nanyou", discuss recent enemy movements while Hakufu tries to get Mou-chan's attention in the most annoying way possible: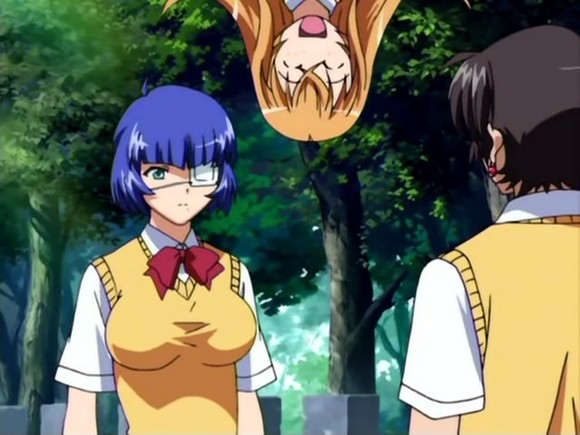 "Mou-chan! Mou-chan! Mou-chan? Mou-chan!"

"Mou-chan! Mou-chan! Mou-chan? Mou-chan!"
The result? Nothing more than what the viewer wants by this point: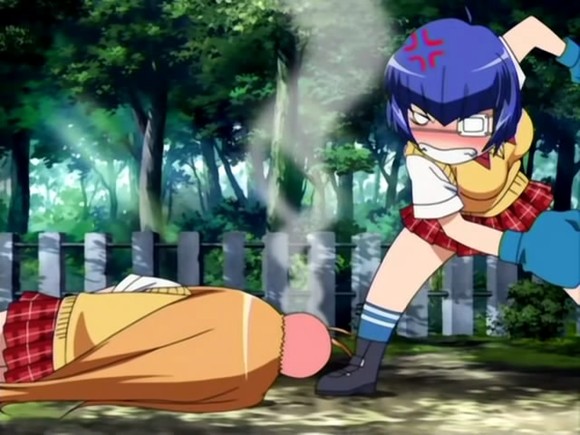 Hit her again! Hit her again!!!
Meanwhile, over at Seito, we find that Kan-u Unchou had been away at a training mission. Having returned, she goes to a temple to pray: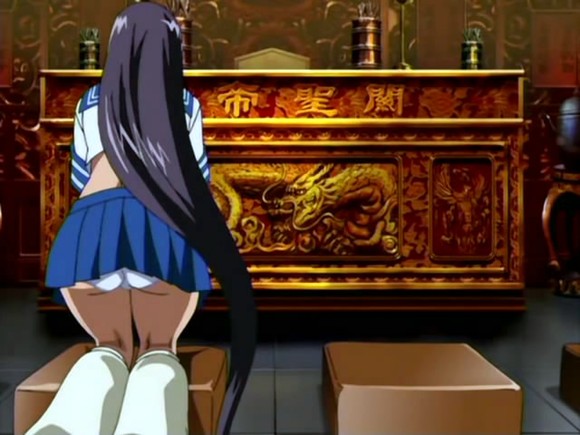 ...and joins the rest of the "executive" team of Seito for lunch at a chinese restaurant: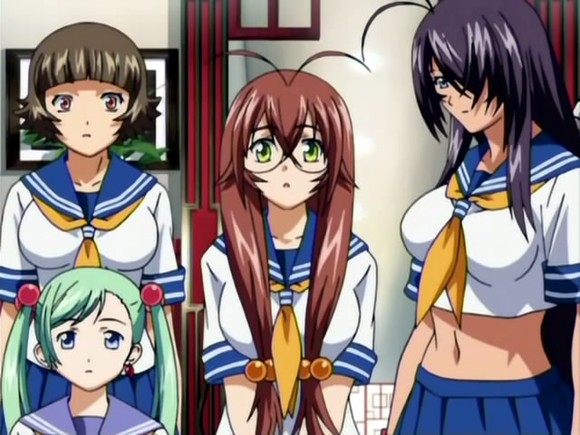 (Back: Ekitoku, Ryuubi, Kan-u. Front: Koumei)
...and guess who's working there? That's right: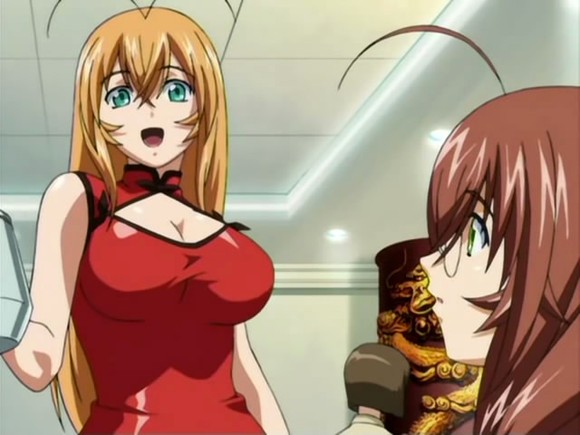 Still trying to raise money for an overseas fighitng tour. As is usual, however, Hakufu is painfully annoying, going so far as to intrude on Kan-u's yuri fantasies involving Ryuubi. Kan-u, in a rage, finally snaps: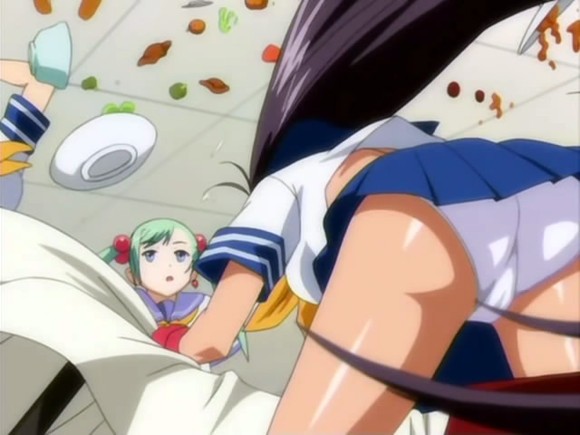 ...much to the concern of the other patrons. Unfortunately, Ryuubi is hit by flying debris: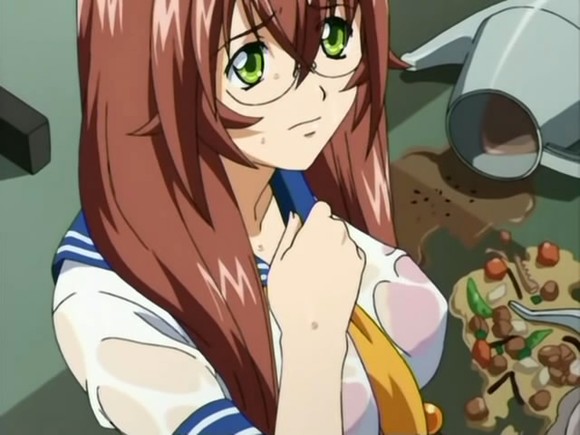 ...forcing Hakufu to jump into action to prevent pneumonia!
Off with that wet shirt!

And now, Kan-u is completely enraged. Get your hands off my leader, she yells. When the oblivious Hakufu doesn't react fast enough, the inevitable occurs: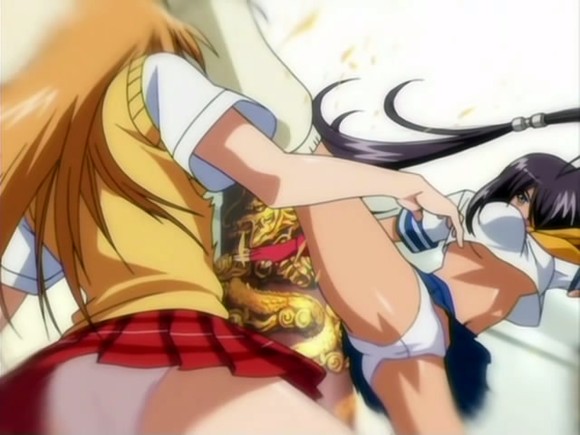 Kan-u kicks Hakufu in the head. The results of this devastating attack? About what you'd expect: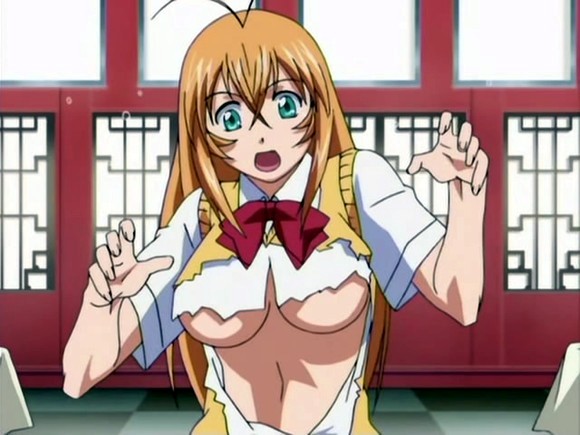 That's right... a boot to the head tore her shirt. That's the
Ikkitousen
way! However, before this skirmish turns into a full-fledged war, a young woman chastises Hakufu for being immodest. She reveals she's looking for the "her older sister, Hakufu Sonsaku."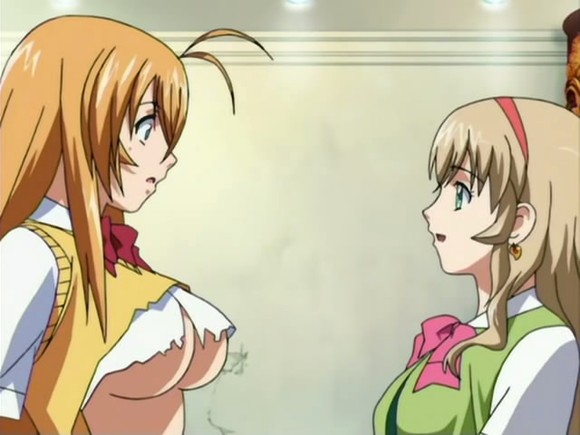 ...Sister? I don't have a sister.
Back at Nanyou, Ryomou is meeting with the doctor who makes her eyepatches. There's a magic sigil woven into the eyepatch to contain her dragon, but in the conversation, we discover something dramatic: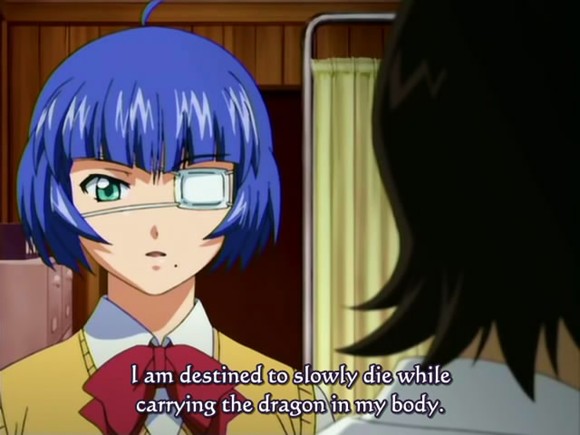 As she leaves, Ryomou has a vision of missing Saji, walking away. As it fades, she clutches her eye in agony, wondering if her dragon is toying with her. As she attempts to come to grips with this new behavior, the camera pans up: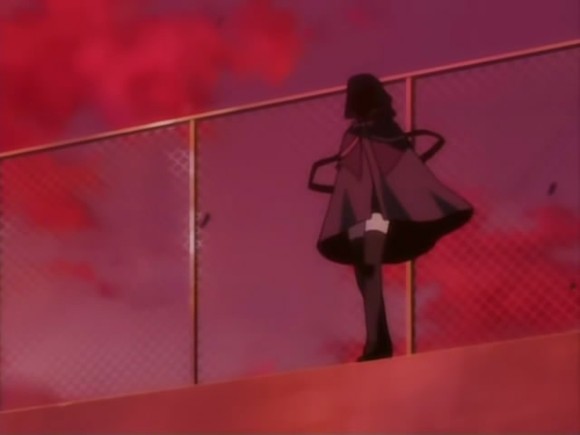 ...who is that hooded person?
As first episodes go, this wasn't bad. There's the germ of a plot (Saji, hooded girl, mystery sister, Green girl), but more importantly, we've been re-introduced to the main characters and the tone of the series. Hakufu is more annoying than ever, and that's not good, but it's hard to know just where they're going to take this series. Will it follow Hakufu's Nanyou, Ryuubi's Seito, or both? Or neither?
Art quality is about the same as
Ikkitousen: Dragon Destiny
, but the fight scenes were, for the most part, disappointing. Still shots and slow pans mostly, though the first fight between Kan-u and Green was decent, if short. Since this is nominally an action show, the fight scenes have got to be better. Of course, since the main point of this episode is to establish the main characters and the world they're in, maybe the producers decided to make the fights mere throwaways and save the fireworks for later in the series.
We'll find out in episode 02, and The Pond will be all over it!
Posted by: Wonderduck at 07:55 PM | Comments (7) | Add Comment
Post contains 313 words, total size 8 kb.
1
I don't like the way they're drawing Hakufu's hair. That pair of locks in the center look too much like Ryuubi's hair. Also, seems to me they've changed Hakufu's hair color. I thought she was supposed to be a strawberry blonde. It looks to me like it's too light and too yellow.
In that sequence in the restaurant, Hakufu starts wearing her hostess dress, but ends up in her school uniform just in time for Kan-u to shred it. How'd that happen?
By the way, as ki-attacks go, that "shred a girls' shirt without otherwise harming her" attack has got to rate up there with the Kamehameha as among the most versatile and useful.
For me, the big question is this: what will they do for an omake this time to top the ITDD omake? It'll be several weeks before we find out, though.
Posted by: Steven Den Beste at June 15, 2008 08:34 PM (+rSRq)
2
Steven, they changed her hair color in
Ikkitousen: Dragon Destiny
to the blonde it is now. Ditto the style. I have a feeling the similarities in hairstyle to Ryuubi's is intentional... but I might be giving the producers too much credit.
Between the hostess dress and school uniform, Hakufu (and Koukin, who also works there) came off-shift and changed. I skipped over about four minutes of show there in the pictures.
I'm fine with the "shirt shred" attack (
more
than fine, actually), but could they at LEAST have the attack that does the shredding come CLOSE to the piece of apparel in question? They did in the first series, after all. I know, I know, expecting consistency from
Ikkitousen
might be a bit too much, but still...
As far as the omake goes, I can't imagine what they'll do to top it... go right to hentai, I guess.
Posted by: Wonderduck at June 15, 2008 09:46 PM (AW3EJ)
3
Hakufu molesting Ryomou in the other omake was pretty damned close to hentai, actually.
Posted by: Steven Den Beste at June 16, 2008 12:51 AM (+rSRq)
4
Let me say quite loudly for the benefit of any EEOC officers, Liberal Arts professors, and insecure female graduate assistants that I am deeply and profoundly offended by the very existence of this pathologically pointless and prurient show.
Posted by: Ken Talton at June 16, 2008 06:56 PM (V5zw/)
5
I've never been terribly familiar with this series, but I may have to actually do some thoughtful research in this direction.
Posted by: Brickmuppet at June 16, 2008 07:02 PM (V5zw/)
Posted by: Steven Den Beste at June 16, 2008 08:48 PM (+rSRq)
7
I am deeply and profoundly grateful for the very existence of this pathologically pointless and prurient show.
Posted by: Steven Den Beste at June 16, 2008 08:49 PM (+rSRq)
Comments are disabled. Post is locked.
30kb generated in CPU 0.03, elapsed 0.0934 seconds.
53 queries taking 0.0738 seconds, 225 records returned.
Powered by Minx 1.1.6c-pink.