July 06, 2011
Top Gear S17E02
So there's this little British motoring show you might have heard of called
Top Gear
. On the show, the three presenters, Jeremy Clarkson (the big one), Richard Hammond (the small one) and James May (the slow one), are allowed to get their mitts on some of the world's most exciting cars and do things with them that would make most people soil themselves with fear or excitement. Or both. It's been around for 17 seasons, and amongst other things they've attempted to launch a
Reliant Robin
into space (and failed), driven a rocket-powered Mini down a ski jump, tried to destroy a Toyota Hilux (and failed), driven to the North Pole (the first to do so in history), taken a Bugatti Veyron Super Sport to 258mph, discovered that a Ford Fiesta make a good Higgins Boat, and created a blender powered by a V8 (it can blend bricks!).
All of which sounds like something of a good time. But in their most recent episode, which aired this past Sunday July 3rd, the lads got to do something any racing fan would give up body parts for. Y'see, for this episode they were testing "hot hatchbacks" in their usual fashion: each chooses a car, then they do some ridiculous challenge or two, this time in a small Italian town.
This, they accomplished with their usual level of humor. Then to test how their cars drove in real-life situations, they were told to motor from this little Italian town to a small French fishing village. Which you may have heard of.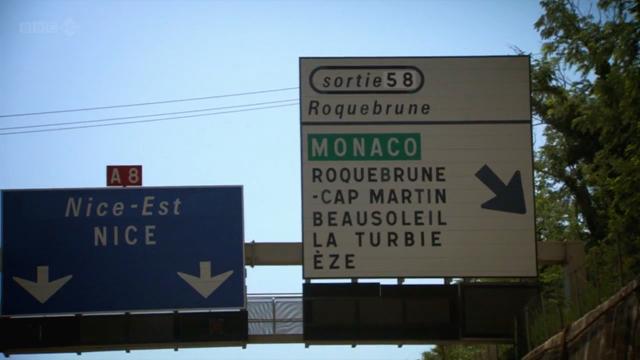 As they were in the hills above Monaco, an eerie, almost spectral moan could be heard emanating from the town below. Clarkson got on his radio to the other two with "Lads... I think the race is on!" Hammond: "What race?" Cue Clarkson wanting to strangle his two co-workers.
Their next challenge was fairly simple: turn three racing laps on the Monaco Grand Prix circuit (on Friday, the "quiet day" of the Grand Prix weekend). Clarkson, a long-time F1 fan, immediately tracked down David Coulthard's Chin, Mark Webber and Rubens Barrichello for advice on how to best drive around the circuit.
Hammond and May, neither of whom are F1 fans in the least (despite Hammond having driven a F1 car and calling the experience "mind-blowing"), spent the day and most of the night at a party located here: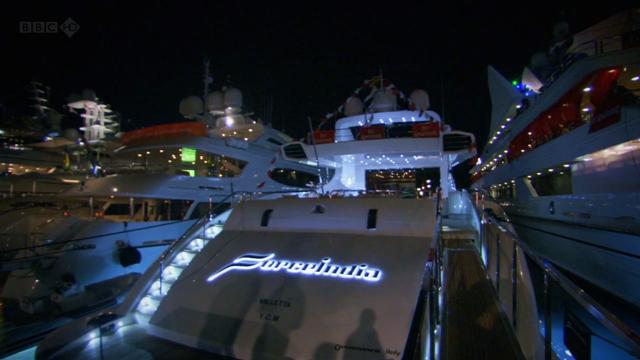 ...and not finding out anything at all about the circuit. They did speak to a very nice driver named Tim O'Glock, though.
Finally, their moment on-track came.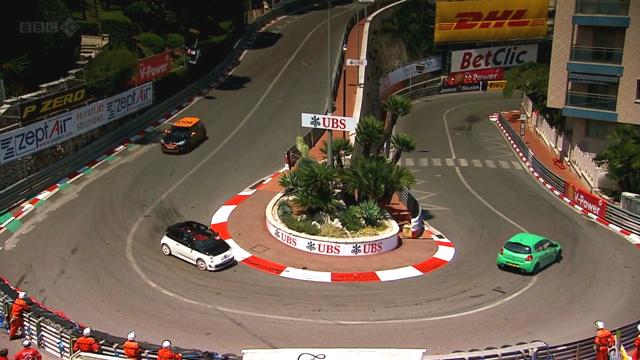 I hate them so very much, as do pretty much all right-thinking motorheads. After all, they had the entire Monaco circuit to themselves for 10 minutes or so. Bastards.
Seriously though, if you're a F1 fan, you owe it to yourself to track down a copy of this episode. It's really quite special. As
Top Gear
is the world's most downloaded TV program, it shouldn't be hard to find.
Posted by: Wonderduck at 10:26 PM | Comments (1) | Add Comment
Post contains 496 words, total size 3 kb.
1
Hah! Nothing about Jezza having Darth Bernie giving him lap tips?
Such a good bit, though. The rest of the episode was so-so, but I got a huge kick out of the Monaco portion (and clearly, so did they).
Posted by: GreyDuck at July 06, 2011 11:10 PM (7lMXI)
Comments are disabled. Post is locked.
21kb generated in CPU 0.17, elapsed 0.6277 seconds.
53 queries taking 0.5231 seconds, 191 records returned.
Powered by Minx 1.1.6c-pink.