April 12, 2010
"Green Racing" A Reality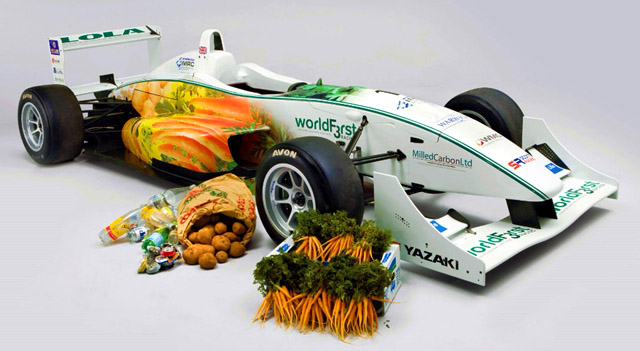 "Powered by chocolate. Steered by carrots." That's the humorous tagline for WorldFirst Racing, the first-ever "green" racing car.
WorldFirst is a
F3 car/team
. You can think of Formula 3 as being Single- or Double-A level in baseball's minor leagues, if you'd like: a major step in a pro career, but no guarantee of making the majors. Anyway, the car is made up of either recycled materials, such as the body (recycled carbon fiber... ever wonder what happened to wrecked F1 cars?), or organic stuff (the steering wheel is made out of a polymer derived from carrots and other root veggies). The engine is is a 2 liter turbodiesel, fueled by biodiesel. The front wing endplates are made out of potato starch and flax fiber. Heck, even the radiators are coated with a substance that "converts ozone to oxygen".
So, maybe not the "edible racer" that some suggested, but still a pretty good start.
A helluva lot better than the stupid Honda Earthdream car...

Yes, that's Jenson Button in the cockpit. Yes, I'm sure he'd rather we forgot about that year...
Posted by: Wonderduck at 06:53 PM | Comments (4) | Add Comment
Post contains 184 words, total size 1 kb.
Posted by: Steven Den Beste at April 12, 2010 07:06 PM (+rSRq)
Posted by: Steven Den Beste at April 12, 2010 07:06 PM (+rSRq)
Posted by: madmike at April 12, 2010 07:17 PM (NYyST)
Posted by: Wonderduck at April 12, 2010 07:45 PM (mfPs/)
Comments are disabled. Post is locked.
23kb generated in CPU 0.015, elapsed 0.092 seconds.
47 queries taking 0.0824 seconds, 237 records returned.
Powered by Minx 1.1.6c-pink.