November 16, 2012
F1 United States Practice 1: Liveblogging!
(PRE-SESSION) The day has finally come. In just a short while, we will see actual F1 cars running on Austin's Circuit of the Americas. Of course, it's all just a run-up to the actual United States Grand Prix on Sunday, but we'll be happy with this right now.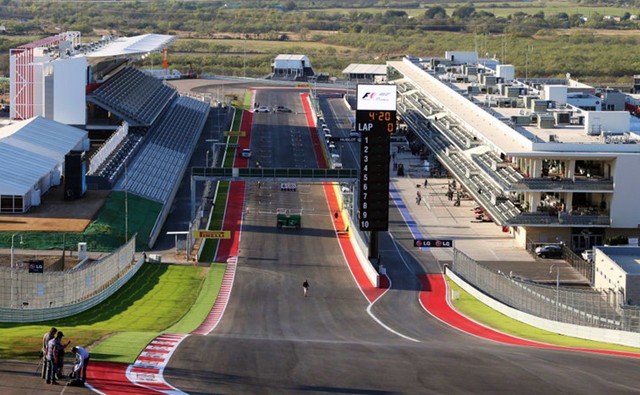 As in the past liveblogging sessions, this session is 90 minutes in length. I'll be using the time remaining as the time notation: if you see (1:02:30), that means 27.5 minutes have gone by in the session. Read from (1:30:00). Do not taunt kimiraikkonen. If kimiraikkonen begins to smoke, seek shelter and cover head. Kimiraikkonen may suddenly accelerate to dangerous speeds. Accept no substitutes!
(1:30:00) The track is open! The first man officially to enter the circuit is... Tim O'Glockenspiel? Rock on!
(1:26:55) Felipe Massa: "I'ts very slippery track, very slippery." Well, yeah.
(1:25:53) Oh no... The Legendary Announce Team is going to call Turn 1 "Phil Hill." Shoot me now.
(1:23:30) Nico Hulkenberg: "It's worse than rain... it's like the tires aren't even turning, it's so slippery."
(1:22:44) What's Phil Hill look like from the cockpit?
Yeah, kinda like that... haven't quite reached the apex. Track? What track? It just sorta disappears.
The rest will be below the fold.
(1:17:00) Good lord, they've got the real thing in front of them, and SPEED is using
F1 2012
to demo the track? What's wrong with this picture?
(1:13:32) Weird... I'm watching the TV and the Onboard 1 feed, and they're the same thing,, with the Onboard 1 feed being about two seconds ahead.
(1:12:56) The track is shining in the morning sunlight, like it just rained or something... weird look.
(1:10:21) Oh my heavens... there's a camera looking down the run from the last turn to Phil Hill, and I think I just made a mess in my shorts.
(1:09:01) Faux-8, the multi-apex copy of Turkey's Quad-8, is going to be AWESOME when you get 24 cars on it.
(1:02:54) I'm just blown away at how great this track is, at least in practice. I thought Abu Dhabi was going to be a good place to drive, as opposed to race, that first year, but COTA? This is going to be an outstanding race track, I think.
(1:00:54) I do wish SPEED would get their streaming thing working. It's great to have any onboard, but they were touting FOUR different feeds, and only "Onboard 1" is working. Reddit confirms.
(58:06) Heh. The COTA pit-lane alarm
has its own twitter account
. To be fair, it IS kinda annoying.
(53:12) Well, that answers one question I had...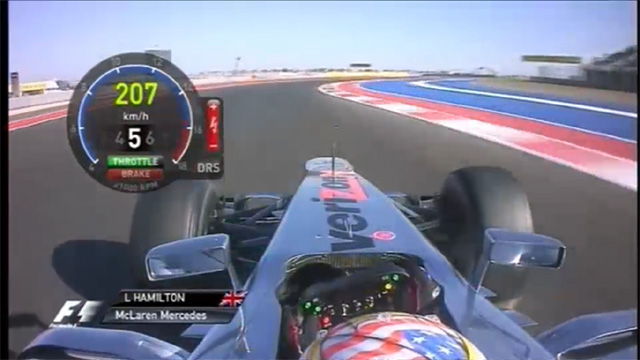 Vodafone gone here in the US, replaced by Verizon on the McLaren cars.
(51:59) COTA pit-lane alarm: "Oh, there's a really loud F1 car in the pit lane? Let me sing you the song of my people."
(49:52) Nico Hulkenberg just spun his Force India at the very tip-top of Phil Hill; he started it on the uphill side of the turn, and ended it on the downhill side. That made me think that it'd be possible to actually loop back into traffic right at the apex. Scary, that.
(48:00?) The online feed from SPEED is dead. And now it's back.
(46:??) I'm just having too much fun watching this!
(43:50) HWMNBN is on the top of the time list with a 1:40.603. I read somewhere that the estimated time is around 1:35:00, so we're getting there.
(41:44) They just said that 1:41:00 was the projected time, not the 1:35:00 I thought I read. Two have broken that now, HWMNBN and Shiv Hamilton.
(38:15) They just showed Paul diResta's girlfriend standing in the Force Inda garage. Mr diResta, you outkicked your coverage.
(35:54) I want it to be Sunday right now.
(30:34) This is going to be a helluva racetrack. Faux-8 is getting more and more impressive when I realized that it's all blind corners. Scary, that!
(27:24) "When the tire grains, it rolls up into little... rolls." Thank you, David Hobbs.
(19:30) Phone call from Ph.Duck. I may have gushed a bit about how much COTA is impressing me.
(15:01) Heikki Kovaleninninnie brings out the first yellow flag in COTA history when he spins at Turn 8. Looks a little like the cars get a bit light there.
(12:30) Hamilton loses 140kph going thru the Esses; he went in at 260kph, came out at 120. Wow. He also becomes the first to break 1:40 with a 1:39.and change.
(I dunno) Mr Producer is sticking with Hamilton's onboard over at SPEED. Shame, I'd love to see some of the others.
(6:44) Lots of people having problems with Turn 19, which is where Our Man Dan with Sodexo is located. Maybe he'll bring me back a front wing or something!
(6:00) Wow, I forgot about that! Now I can't wait for Monday or Tuesday, see what sort of souvenirs he manages to get for me.
(2:35) Vettel jumps to first on the timesheet... by a full second. 1:38.692? OMG.
(0:16) Bruno Senna.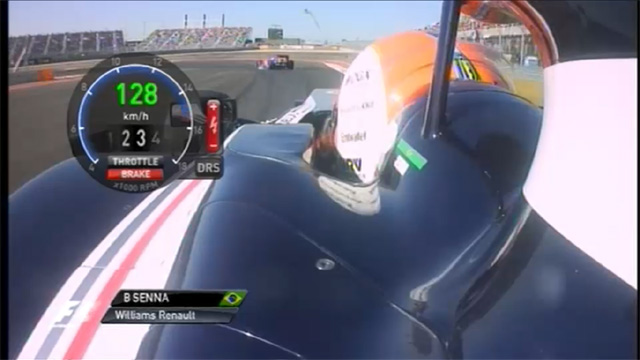 (0:00) And Vettel nearly breaks into the 1:37s , with a 1:38.125, right as the clock hits zero. And Kimi's car goes dead at the end of the pitlane.
(POST-SESSION) And that's the end of Free Practice 1. What sort of impressions have we gotten of the place?
The obvious one is that this is probably the best Tilke circuit ever... probably because he didn't design it, he just built it. Of course, we can't make any judgements until the race, but wow. I like it a lot.
I was going to liveblog Practice 2, but instead I'm having lunch with Ph.Duck; I'll watch and do a writeup as soon as I get back. I do still intend on doing P3 and Quals, though. See you later this afternoon!!!
Posted by: Wonderduck at 08:06 AM | Comments (3) | Add Comment
Post contains 969 words, total size 7 kb.
1
Gotta admit, that looks pretty neat. And I'm glad you have a race (and track) to be excited about, after some of the doldrums earlier this season.
Posted by: GreyDuck at November 16, 2012 11:51 AM (3m7pZ)
2
I'm with you WD, I'm getting excited about Sunday too..
Posted by: Tom Tjarks at November 16, 2012 02:54 PM (T5fuR)
3
I wonder how this track would be driving clockwise? Roaring down off that hill and down the pit straight would be a lot of fun.
Posted by: Will at November 16, 2012 04:46 PM (dBUem)
Comments are disabled. Post is locked.
28kb generated in CPU 0.0152, elapsed 0.3696 seconds.
47 queries taking 0.3596 seconds, 236 records returned.
Powered by Minx 1.1.6c-pink.