September 24, 2010
F1 Practice: Singapore 2010
I suppose it's wrong to be disappointed with a dry practice session (and a mostly dry track), particularly on a circuit like Singapore that's only been raced on twice before. But I'll be darned if I wasn't hoping for drizzle or more, and I didn't get it. Worse news still, the Legendary Announce Team minus The Varsha, who's on assignment at the Barrett-Jackson collector car auction in Las Vegas this weekend, told us that while its been raining during the days, the rain stops as night falls. That'd mean a dry race, for which I say boo-hiss! However, a lack of rain
does
mean we get shots like this:
...so I guess it's a fair trade-off.
Action on-track was about what you'd expect from a practice session. Lots of cars going round and round, trying desperately to get lots of laps in on an unfamiliar circuit. This is particularly important considering that Friday's 1st Practice was truncated by rain. Further, the heavy hitters stayed in the garage for most of the earlier session, letting the bottomfeeders go out, clean the dust off the circuit and lay down some rubber around the curves. In P2 though, the big guys pretty much dominated the session, with the top five drivers in the Championship holding down the top five slots on the timesheet.
It wasn't all fun and games in Singapore though, as the track never really dried out; lots of rain mixed with high humidity, no wind, and no sunlight meant that the moisture never went away. We saw a lot of fishtailing, some doinks of the rear wheels off the walls, and quite a few people touching the brakes and sliding off into the darkness. And then you had Adrian Sutil getting a little too much curb in the Singapore Sling chicane, with results that can't be considered pretty:
The landing was even less pretty, with the Force India's front suspension splintering like a twig. Shouldn't be a problem for Saturday's qualifying sessions, but the mechanics will be wondering just what else got knocked around by Adrian's attempt at imitating the Surya Kiran (or, for PhDuck,
सूर्य किरण
).
Which brings us to the biggest surprise of the day. Night. Whatever. Anyway, the surprise... DJ DNF, Sakon Yamamoto hisownbadself, is not driving for HRT this race, allegedly because he's ill. Taking his place for Singapore is none other than Christian Klien, last seen in F1 driving for Red Bull in 2006. Somewhere
the dark spectre of The Zsolt
is gnashing his teeth... and plotting to reclaim Klien.
Quals in the morning but about two hours later than normal... the session
starts
at 10pm race local time, two hours later than the actual race time. See you then!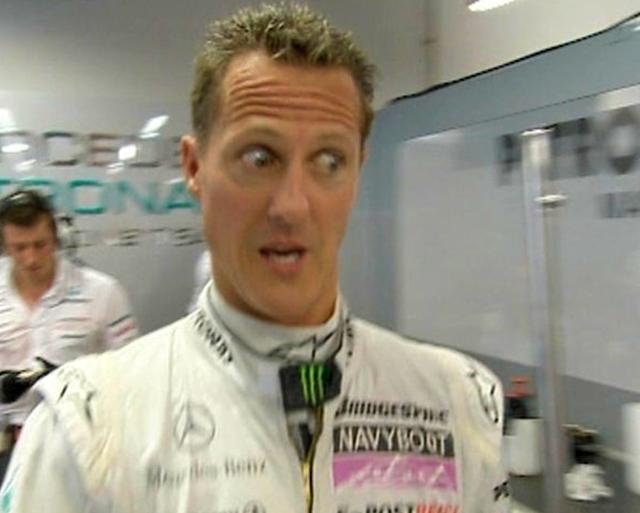 No, no reason for this picture to be here...
...except Slappy looks goofy.
Posted by: Wonderduck at 08:36 PM | Comments (1) | Add Comment
Post contains 475 words, total size 4 kb.
1
Singapore looks spectacular at night. And a little like it was designed by whoever it was that drew the city where The Jetsons lived.
Posted by: Mallory at September 25, 2010 08:21 AM (WJ2qy)
Comments are disabled. Post is locked.
24kb generated in CPU 0.03, elapsed 0.1538 seconds.
47 queries taking 0.1337 seconds, 234 records returned.
Powered by Minx 1.1.6c-pink.