October 10, 2014
F1 Practice: Russia 2014
Silly computer seems to think that this is the first F1 Practice report I've done since Monaco, something like 10 races ago! Hm. Well, we've actually got something to talk about this time: the debut of a new track!
The Sochi Autodrom, home of the Grand Prix of All the Russias, has proven my predictions both wrong and right. I suggested earlier that it was going to be similar to the old circuit at Valencia, and in many ways I was proven correct. The track is quite wide in most places, and despite being run through and around the Olympic Park, the visual setting is usually quite boring... all concrete barriers and catch fencing.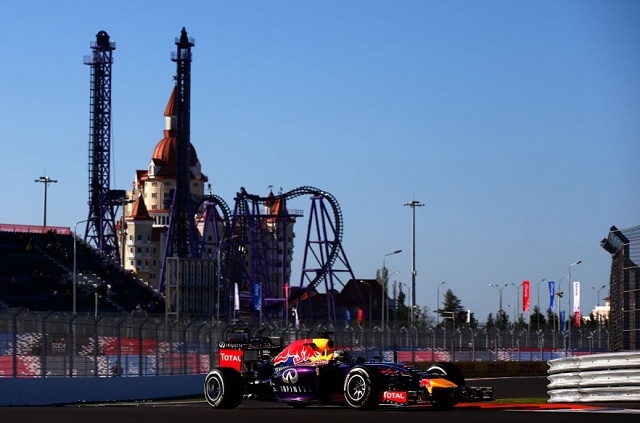 Usually. The amusement park in the background is caught on camera a number of times per lap, lending an almost surreal air to the proceedings. Getting back to the track itself, the pit lane entry is obnoxiously narrow. It
looks
like it's one car width plus one foot on either side, then barriers. Probably won't be a problem unless there's a breakdown which prevents a car from making it in. Then there'll be a Safety Car / Red flag immediately. Zero tolerance for risk this race, not after last weekend.
In other track news, apparently it's proving to be easy on tires, but hard on fuel consumption. Makes sense; for a street circuit, an astonishing large percentage of it is spent at full throttle. It's the "easy on tires" part that nobody was expecting. New track surfaces are usually quite green and slippery, but at least for now, that's not the case. The truth of the matter is that the surface will evolve all weekend as more and more tire rubber is laid down; F1 tires
love
running on F1 tire rubber. If they could make a track out of Pirelli rubber, you'd have drivers ripping their own heads off from the gees in the turns. I fully expect that Mercedes will be the class of the field (as usual), but it'll be whichever one of them that's running last that'll get the pole. Rubber on the track makes that much difference.
Finally, Marussia has decided to run only one car on Sunday. They got to the circuit, built up both Max Chilton's and Jules Bianchi's chassis, then submitted them both to scrutineering for approval. Both were approved, and it was assumed that young American driver Alexander Rossi would be in Bianchi's car for the race, but no. Instead, the team went to the Delegates and formally withdrew the car. This is quite the gesture. It takes time to put a car together "from scratch" as it were, like they would have to do for Bianchi's chassis. The intention is to keep the car in the garage on jackstands with the door open, as if they're just waiting for Bianchi to walk in and jump in.
Every driver and car are emblazoned with stickers of support for the critically injured French driver, reading either "Tours avec Jules", "#JB17" or "#ForzaJules". Many of the GP2 drivers and teams are doing the same; he was third in that series in 2010 and 2011, and is apparently quite popular with them still.
Qualifying in the morning. We'll see you then.
Posted by: Wonderduck at 09:51 PM | Comments (5) | Add Comment
Post contains 545 words, total size 4 kb.
Comments are disabled.
26kb generated in CPU 0.02, elapsed 0.0946 seconds.
53 queries taking 0.0775 seconds, 237 records returned.
Powered by Minx 1.1.6c-pink.