September 12, 2008
F1 Practice: Monza 2008!
It never rains at Monza. Never. Never ever. So what happens in P1 today?
It rains. A LOT. How much?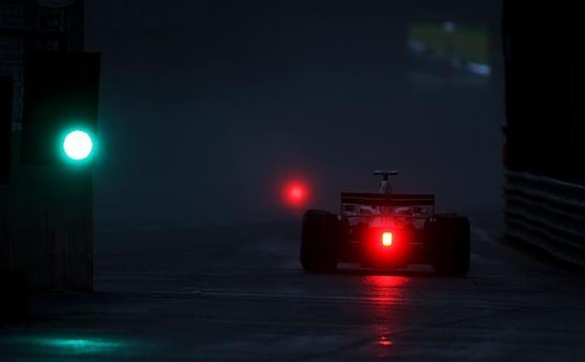 Oh, maybe that much. That's not an edited photo, no color or brightness modification whatsoever... it really was that dark at one point. Okay, so it's dark and rainy, big deal. Well, yes. It REALLY rained.
Yeah, about that much. P1 wound up being red-flagged with about five minutes left in the session. That rain left the track soaked, with some puddles of standing water on the back half of the circuit.
So P2 started on full wet tires, but the times dropped dramatically as the sun came out and the track dried. An example? Laps at the top of the session were around 1m45sec. At the end? 1m24sec. Just because the asphalt dried out.
Other than Nelson Piquet Jr high-centering his car on a "sleeping policeman" in the first chicane, though, there wasn't much else going on. Everybody was going very quickly, but Ferrari, McLaren and BMW proved to be the class of the field, as usual, with the Toro Rossos lurking closely behind. Not only is this Ferrari's home track, but it's the perfect circuit for their cars, one that rewards raw horsepower and low drag. There really aren't any low speed portions to Monza, unlike Spa's Turn 10-15 section for example.
So don't be surprised if Ferrari owns the front row in quals tomorrow... see ya then!
Posted by: Wonderduck at 10:32 PM | Comments (1) | Add Comment
Post contains 244 words, total size 2 kb.
1
No headlights on an F1 car, eh?
Posted by: Steven Den Beste at September 13, 2008 12:49 PM (+rSRq)
Comments are disabled. Post is locked.
22kb generated in CPU 0.0298, elapsed 0.1252 seconds.
47 queries taking 0.1061 seconds, 234 records returned.
Powered by Minx 1.1.6c-pink.