April 02, 2010
F1 Practice: Malaysia 2010!
Short update today, as I'm preparing for my Fantasy Baseball League auction on Saturday. It actually
didn't
rain during either session, but the second one ended before Sunday's race start time. According to locals, it always rains in late afternoon in April, so prepare for a wet race.
Anyway, the big news is that McLaren looked fast during both practices with Hamilton topping the timesheet for both and Button ending up 4th in P2, with Seb Vettel and Nico Rosberg ahead of him. Ferrari, on the other hand, did not look quick at all. The best HWMNBN could do was 7th, and Massa turned in a miserable 15th. As always, however, one should not put too much faith in Practice results, as we never know just what the teams are actually doing during these sessions. It's possible that McLaren was working on high-speed stretches, while Ferrari was doing heavy fuel loads to check wear on tires.
One thing we
can
count on, however, is that Red Bull will have technical problems. Mark Webber, using the same engine he's run at Bahrain and Australia, had it die on him early in P2. Well, no big shock there; there were only four drivers that
hadn't
had an engine change yet, but it's just another blow to the fast, but fragile, Red Bulls... that's track time the team didn't get, and track time is now more valuable than gold in F1.
One bit of off-track news. Those pitiable "outboard mirrors" that Ferrari and some other teams have been using have been banned.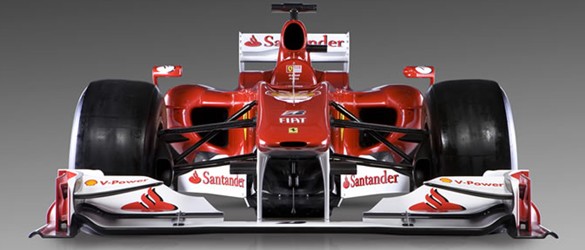 As you can see, "outboard mirrors" are actually mounted out on the sidepods, putting them a very long way from the drivers. Moreover, they're put on a spindly piece of bodywork, which means they're very very tiny. For comparison's sake, take a look at the ones on the
MP4-25
. By China, all teams must have their mirrors mounted directly to the monocoque.
UPDATE:
The deadline has been changed to Barcelona
.
Okay, I'm off to figure out the difference between Andy and Adam LaRoche (answer: none, really) and find the second-best left-handed relief specialist who pitches in the NL Central. Quals report will be up Saturday evening, like as not, as the league auction is at 1pm.
Posted by: Wonderduck at 08:21 AM | No Comments | Add Comment
Post contains 379 words, total size 3 kb.
Comments are disabled. Post is locked.
23kb generated in CPU 0.0202, elapsed 0.0824 seconds.
45 queries taking 0.0656 seconds, 232 records returned.
Powered by Minx 1.1.6c-pink.