April 16, 2010
F1 Practice: China 2010!
There wasn't much news to report for the afternoon session, which is the one televised by SPEED, but hoo-doggie was there action in the morning!
It all started when Ferrari's HWMNBN blew an engine, which means he's now on his third of the year. With the eight-engine limit from last year still in effect, he could be in serious trouble down the road.
Then we discovered that, seven years ago, the Shanghai International Circuit was built on drained swampland... and not all of that was actually drained! Fast forward to today, and the waterlogged bedrock underneath the track is beginning to subside, creating some rather nasty bumps. How nasty? Bad enough that Timo Glockenspiel actually broke his Virgin's front wing going over one. THAT might be a problem.
It's also cold in Shanghai. How cold? Temperatures were in the 40s during the morning session; according to the Legendary Announce Team, to find the last time it was that cold on this date in Shanghai, you have to go back to the 1800s. That'll make the tires work weirdly, if at all... Adrian Sutil said it might take six laps or more to bring them up to race temps. That's not good at all!
But all of that pales in comparison to the sort of day that Toro Rosso's Sebastian Buemi had. Imagine what it's like to be on the highway and you get a flat tire. Well, Buemi was going around 180mph or so down the back straight when... well,
this
happened:
No, your eyes aren't deceiving you. Both his front wheels literally FELL OFF THE CAR at 180mph. Don't believe me? Here's another view: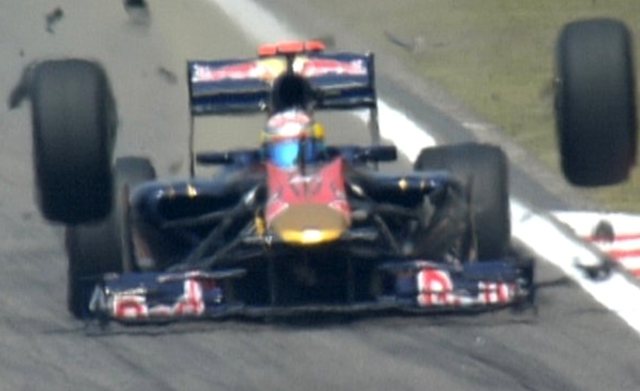 And, just for the heck of it, here's video of the incident:
The upright, which is what connects the wheel to the suspension, on the right front corner completely failed. This transferred all the weight of the front of the car to the suspension on the other side, which then exploded. Buemi was unhurt in the rather bizarre incident, but his car was pretty much ruined. Seems the uprights were made of a new material... which, of course, Toro Rosso has now thrown in the trash. Remember, this is Toro Rosso's first car as a constructor, so one might expect a little of this... though not, perhaps, quite so dramatically. The team is expected to have a new chassis built up in time for quals.
Speaking of which, we'll see you here tomorrow morning for those results!
UPDATE: Sebastian Buemi is now the early favorite in the Quote of the Year contest: "
From in the car it was not a problem. I just lost both wheels.
" Nope, no problem there.
Posted by: Wonderduck at 06:58 PM | Comments (4) | Add Comment
Post contains 449 words, total size 3 kb.
Posted by: Ed Flinn at April 16, 2010 08:16 PM (Scyr+)
Posted by: Wonderduck at April 16, 2010 10:05 PM (mfPs/)
Posted by: Steven Den Beste at April 16, 2010 10:35 PM (+rSRq)
Posted by: Mallory at April 17, 2010 08:10 AM (WJ2qy)
Comments are disabled. Post is locked.
25kb generated in CPU 0.0174, elapsed 0.0754 seconds.
47 queries taking 0.0621 seconds, 237 records returned.
Powered by Minx 1.1.6c-pink.