July 20, 2009
F1 on TV: Hungary 2009
It's twisty, it's slow, it's dull, and it's
not
Monaco? Then it must be Hungary!
Here's the trackmap... look at it and weep: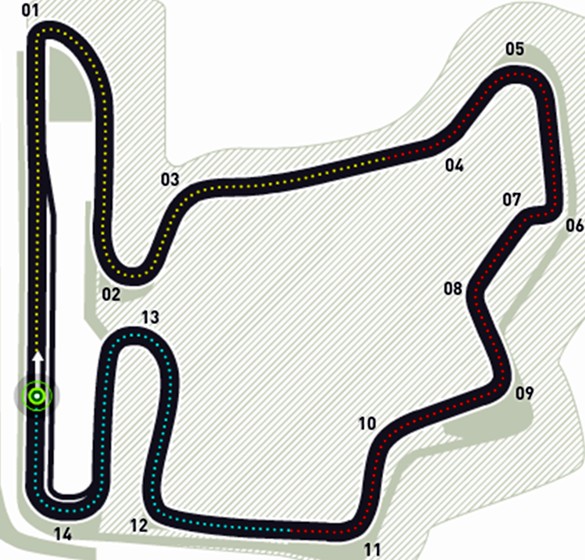 Occasionally called "Monaco without the glamour", the Hungaroring is one of the slowest tracks on the F1 schedule. With only one turn that could remotely be called fast (#10, and even that's a nearly-90
o
bend), and one of the shortest straights on the calendar (only 700m), the main concept for the teams is to crank on as much wing as possible, coat the tires in superglue, and anything else they can think of to gain downforce. Five of the corners on this track are taken at about 60mph... that's a huge amount.
The slow speeds and usually hot air temperatures throw in another problem for the teams: cooling. Both the driver and the engine suffer mightily from the heat at Hungary. While there isn't much they can do for the man, don't be surprised if we see huge radiator ducts and cut-away body panels at the back of the car. Even then, we might see some overheating... unless it rains.
There's only one good passing spot here, Turn 1. Unfortunately, the slow speeds and the processional nature of the track generally render the Hungarian GP a snoozefest.
Fear not, fellow F1 fans! We here at F1 Update! will take one on the chin for you and deliver our usual stellar
*
performance for the race recap, so you won't miss a thing, and SPEED will do their usual good work on bringing us the sights.
They start off on Friday from 7am to 840am, with LIVE coverage of Friday's Second Practice. Skipping on to Saturday, from 7am to 830am we get plausibly live coverage of Quals.
On Sunday, however, we switch over to FOX (for the last time this season) from 2pm to 4pm for tape-delayed coverage of the Grand Prix of Hungary.
In other F1 news:
*As expected, Jamie Alguersuari was officially named as the driver who gets SeaBass' recently vacated race seat at Toro Rosso. Just in time for the cars to get a much needed aero update... don't be surprised if the youngest driver in F1 history scores a point, and makes SeaBass look just that much worse.
*Danica Patrick recently told the LA Times that she's not interested in driving for USF1 next year. "
I'd say it's probably not F1
," she responded when asked what series she'd be racing in. "
I've had opportunities to take it a step further with Formula 1, and I don't want to lead anyone down a path. It's not in my heart to go there. I've explored Europe before. I particularly like to be here and I like my family and I like my friends and I like my creature comforts of my home country.
" Unless Bernie Ecclestone, misogynistic gnome that he is, leaves the sport, we'll probably never see Patrick in a F1 car.
*There are reports that Nelson Piquet Jr needs a good showing at Hungary to save his seat. The official Renault press release for Hungary says that he's "targeting a top-10 grid spot and points in the race." After Hungary, F1 takes another three-week break, which would be an ideal time to kick Piquet to the curb. There's ominous music in the background...
*Max Mosley has officially stated (again) that he won't run for re-election as FIA President. Until we (metaphorically) see his body buried at the crossroads with a stake in his chest and his mouth full of garlic, I won't believe he's gone. Maybe not even then, if Jean Todt gets elected in his place.
*
"stellar" in the same way that brown dwarfs and black holes could be called "stellar".
Posted by: Wonderduck at 05:18 PM | Comments (6) | Add Comment
Post contains 622 words, total size 4 kb.
Posted by: Steven Den Beste at July 20, 2009 07:33 PM (+rSRq)
Posted by: Wonderduck at July 20, 2009 08:04 PM (ZpwKm)
Posted by: Steven Den Beste at July 20, 2009 10:53 PM (+rSRq)
Posted by: Wonderduck at July 20, 2009 11:12 PM (ZpwKm)
Posted by: Mallory at July 21, 2009 02:30 PM (WJ2qy)
Posted by: Wonderduck at July 21, 2009 04:53 PM (ZpwKm)
Comments are disabled. Post is locked.
27kb generated in CPU 0.0118, elapsed 0.29 seconds.
47 queries taking 0.2814 seconds, 239 records returned.
Powered by Minx 1.1.6c-pink.