June 27, 2018
F1 on The ESPNs: Austria 2018
This week, the hills are alive with the shriek of turbocharged V6s as the Formula 1 Zirkus makes its way to the Red Bull Ring in Austria! Let's take a look at the track map, shall we?
Something about this place feels off to me. Maybe it's just that it seems to be out in the middle of a field, running pleasantly up hill and down dale. That's not the way race tracks should be, y'know? Is it just me? There's nothing particularly offensive about the RedBullRing, except its name, not really. It's a track. It has more elevation change than most, it's almost all right turns, and again, I fully expect farm animals to be grazing in the background of most camera shots.
Speaking of farm animals, we get SkySports again... here's the broadcast lineup on the various ESPN channels:
Practice 3: 5a - 630a live on ESPNews
Quals: 8a - 930a live on ESPNews
2018 Grand Prix of Austria: 8a - 1030a live on ESPN2
F1 Update! will follow along eventually in some form or another. See ya then!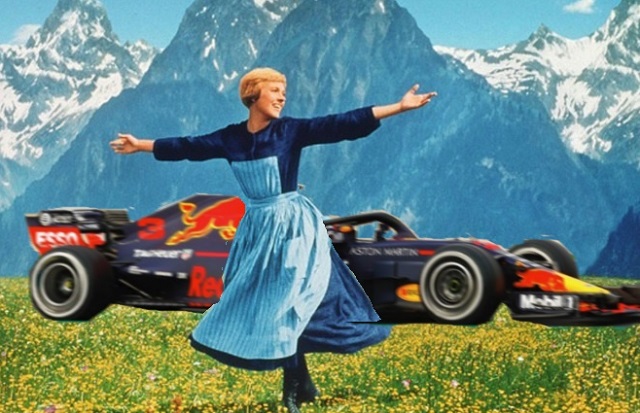 Posted by: Wonderduck at 09:57 PM | Comments (4) | Add Comment
Post contains 189 words, total size 1 kb.
Posted by: ReallyBored at June 28, 2018 11:39 AM (MmkR/)
Posted by: Wonderduck at June 29, 2018 12:47 AM (POEh5)
Posted by: ReallyBored at June 29, 2018 07:31 AM (Evg78)
Posted by: Mrs. Will (Kathryn) at June 29, 2018 10:08 AM (HliD+)
27kb generated in CPU 0.0132, elapsed 0.1213 seconds.
49 queries taking 0.1116 seconds, 239 records returned.
Powered by Minx 1.1.6c-pink.