September 06, 2010
F1 on SPEED!: Italy 2010
There once was a time when F1 was about going fast at the expense of everything else. Driver safety was an afterthought, if it rated a thought at all. You had eggshells on wheels with big engines and small tires and no wings. It was a time when if a season completed without a driver death, it was considered a miracle. It was a time when the tires were skinny and the drivers weren't. It was the time of Ascari and Clark, Fangio and Rindt, Stewart and McLaren, Hill and Bandini, Surtees and von Trips. It was a time when the drivers were
truly
men. It was the time that the sport was
truly
king.
And Monza was its Holy Church.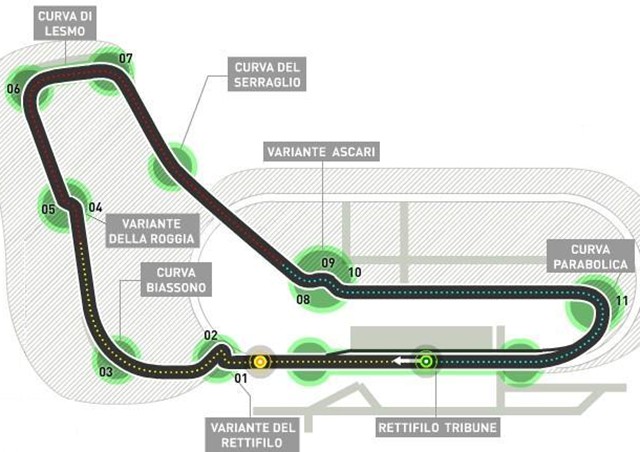 There was once a time at Monza when a driver would simply stomp on the gas pedal and not lift off until the car broke or the race ended. Today... well, not much has changed, actually. A modern F1 car is on full throttle for nearly 80% of the lap, a truly punishing endurance test for an engine when you consider that we're talking nearly 90 minutes at 18000rpm. They'll reach 210mph at the end of the front straight, just before braking for the Variante del Rettifilo.
At Monza, terms like "downforce" and "drag" are dirty words. Cars run with the bare minimum amount of wing possible; if their use wasn't mandated by the FIA, the teams would probably go without. In fact, the use of the rear wing is so minimal here that many of those teams that run an "F-Duct" system are likely to find the feature useless around this track.
SPEED will bring us its usual sterling coverage beginning from 7am to 840am on Friday, with the day's 2nd Practice session. Saturday, from 7am to 830am, we'll see the usual Quals session. And Sunday brings us the 2010 Grand Prix of Italy LIVE from 630am to 9am, with a replay from 12noon to 230pm.
If I had to bet on the race, which fortunately I don't, I'd probably lean towards McLaren. Like Spa, this is not a track that favors the Red Bull chassis (and their remarkable action around turns), and I feel like Ferrari is just smoke and mirrors for some reason. But that's why they actually run the races, isn't it? See you then!
Posted by: Wonderduck at 09:40 PM | Comments (2) | Add Comment
Post contains 395 words, total size 2 kb.
1
It's truly a great place to watch a race too. The food & weather plus the grounds all make you welcome. The tifosi are amazing in their fanaticism & very loud too. One of the jewels of F!.
Posted by: Tony von Krag at September 07, 2010 08:01 AM (VGXAE)
2
Great preview! Looking forward to the race...and lamenting that the year is winding down too fast.
Posted by: Mallory at September 08, 2010 03:17 PM (WJ2qy)
Comments are disabled. Post is locked.
23kb generated in CPU 0.04, elapsed 0.2375 seconds.
47 queries taking 0.2107 seconds, 235 records returned.
Powered by Minx 1.1.6c-pink.