November 19, 2012
F1 on SPEED!: Brazil 2012
And so it comes to this. One race for all the marbles. Ferrari vs Red Bull. HWMNBN vs Seb Vettel. On my least favorite circuit in F1. Here's the track map for the 2012 Grand Prix of Brazil: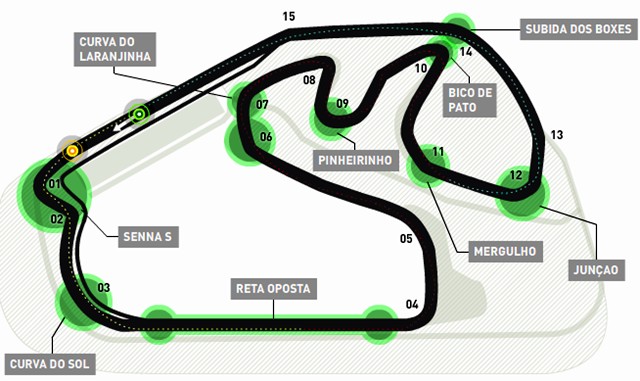 Autodromo Jose Carlos Pace, colloquially known as Interlagos, has been the home of the Brazilian Grand Prix (that's a lot of grands prix!) since 1973, and has been my least favorite circuit ever since I became a huge F1 fan in 2004. It's strange that I hate the track so much, since it's got a lot of the features I regularly like. First and foremost, it's not flat. The start/finish straight is the high-altitude mark of the layout, but it rapidly dives away at Turn 1 to Turn 3. It stays flat all the way to Turn 11, then begins to regain all the height lost from Turns 12 to 15.
It's this uphill climb where we've seen the most exciting finish to a Formula 1 season ever, in 2008. Ferrari's Felipe Massa had won the race, and what appeared to be his first Driver's Championship as well. His only rival, McLaren's Lewis Hamilton, was in 6th place, but needed to finish 5th to win the Championship... and he'd just been passed by a young driver named Seb Vettel, driving for Toro Rosso. It looked like Massa had his elusive Championship... until Tim O'Glockenspiel, driving for Toyota, nearly spun his car in wet conditions in Turn 14 on the last lap. Hamilton got past him for 5th and his first Championship.
This year, rain is in the picture again, with thunderstorms on tap for Saturday, and rain on Sunday. It's 2008 all over again, and god help me I'm rooting for HWMNBN. Well, that's not really true... I'm more rooting against Seb Vettel. I don't want him to win three championships in a row, so sue me. Rain is another thing we often see at Interlagos, and that often leads to fun races.
It's also a fast track, with only the twiddlybits from Turn 6 thru 11 being slow-ish. The rest is nearly all flat-out. I'd always rather see race cars going quickly than going slowly, so again, I should like Interlagos.
But I don't. It's always seems grey there, and it's dangerous to boot (three racers died there in 2011). And it's the end of the F1 season until March. How can anybody like that? THIS year, it's also the end of the Legendary Announce Team, as F1 leaves SPEED after Sunday. We've still got them for one more race, so let's enjoy it while we can. Here's the schedule of events.
FRIDAY
P1: 6a - 730a streaming
P2: 10a - 1130a live
SATURDAY
P3: 7a - 8a streaming
Quals: 10a - 1130a live-ish
SUNDAY
930a - 12noon: 2012 Grand Prix of Brazil live
Of course, F1 Update! will be all over the weekend, though we may take a miss on the streaming things. We'll see you then!
Posted by: Wonderduck at 11:13 PM | No Comments | Add Comment
Post contains 502 words, total size 3 kb.
Comments are disabled. Post is locked.
23kb generated in CPU 0.0154, elapsed 0.2779 seconds.
45 queries taking 0.2672 seconds, 232 records returned.
Powered by Minx 1.1.6c-pink.