November 20, 2012
COTA Swag
I dragged myself into the Duck U Bookstore today, the way anybody who's in the middle of a really short work week does. All in all, just a 'meh' sort of day, y'know? Yeah,
you
know exactly what I'm talking about. Where was I? Oh, right, right, dragged myself into work, expecting I'd just be doing another day of entering textbook adoptions, getting ready for end-of-semester buyback, that sort of thing, when Our Man Dan walks in. Dan, you may remember, was brought in by the Foodservice company that serves the Circuit of the Americas to help with the 2012 United States Grand Prix. He was also supposed to bring back some souvenirs of the circuit for me... and in this, he succeeded beyond my realistic dreams!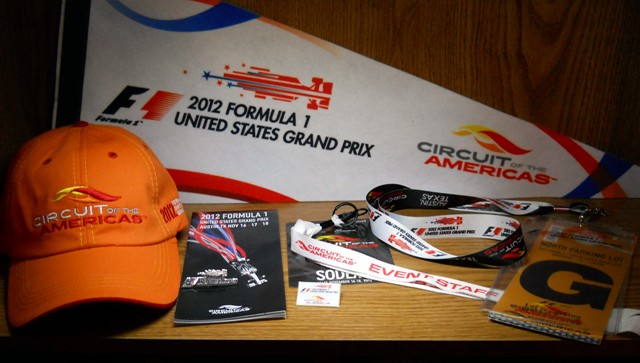 Here's the whole thing; click on the picture for a larger version. What we've got is the CotA ballcap with the 2012 USGP logo on one side, and the trackmap on the other, the official CotA schedule/map, a couple of pins, a CotA Event Staff lanyard, a regular CotA lanyard with a staff parking pass, and of course the pennant in back.
Baby!
I was just blown away by it all this morning. It turns out he wasn't stationed at Turn 19, as they had originally planned, which is why he didn't bring me in any carbonfiber shards. No, instead he was all over the circuit, and apparently has already been told that he'll be back next year. And so will I... I've already made the decision, I'm gonna be there in 2013.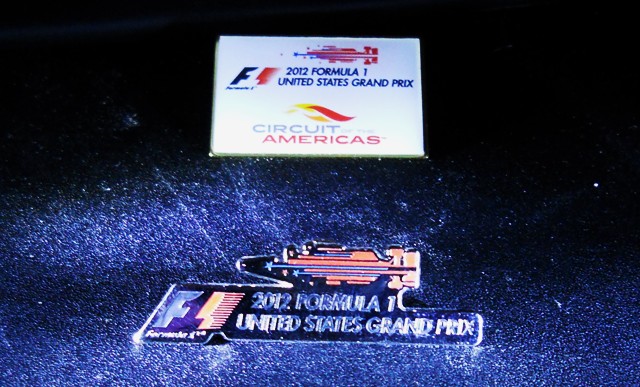 Here's a closeup of the pins. Dan was amazed at how loud the cars were, even though I warned him. I think we may have a budding fan in the making, actually...
Posted by: Wonderduck at 09:06 PM | Comments (4) | Add Comment
Post contains 294 words, total size 2 kb.
Posted by: Maureen O'Brien at November 20, 2012 10:06 PM (cvXSV)
Posted by: GreyDuck at November 21, 2012 08:13 AM (xbP2x)
Posted by: Scott at October 27, 2013 12:30 PM (gzH5t)
Posted by: Wonderduck at October 27, 2013 06:04 PM (GE6XS)
Comments are disabled. Post is locked.
23kb generated in CPU 0.0147, elapsed 0.2433 seconds.
47 queries taking 0.2338 seconds, 237 records returned.
Powered by Minx 1.1.6c-pink.