September 30, 2014
F1 on NBCSN: Japan 2014 UPDATED!
Japan. The Land of the Rising Sun. Also The Land of My Favorite F1 Circuit. Let's take a look at the wonderful Suzuka, home of the 2014 Grand Prix of Japan:
The only figure-8 course on the calendar, Suzuka is close to being the perfect blend of fast and slow, the technical and the flat out. All of it attended by the fanatically rabid F1 fans of Japan,
Taki Inoue's opinion
notwithstanding. We can generally count on some weather showing up, as well... they weren't called the
Great Suzuka Boat Races
for nothing, after all. This year, though, we get an extra-special dose of weather: volcanoes! Mt Ontake, Japan's second tallest mountain,
erupted this past Saturday
, killing at least 30 and spewing ash high into the atmosphere. At last check, it's still doing so. Flights into and around Japan have been affected. Suzuka is less than 200km from the volcano, so it's hardly a stretch to imagine ash making it to the track... does one use Inters or full Wets for lava?
In less serious news, our friends in the Legendary Announce Team will be providing coverage on NBCSN all weekend, and the times are even close to being watchable by a human being! Let's take a look:
FRIDAY
12mid - 130am: Practice 2 live
SATURDAY
12mid - 130am: Quals live
1130pm - 2am: 2014 Grand Prix of Japan live.
Yes, that's right, coverage of the race begins Saturday night! I'll surely be staying up to watch all of these... I've gotten used to 2am bedtimes again... so who knows, there might be some liveblogging going on, too. We'll see!
See ya then!
UPDATE: If the volcano bit wasn't enough, there's a typhoon!
Typhoon Phanfone
is predicted to skirt the eastern coast of Japan over the next six days or so, passing by Suzuka/Nagoya sometime Saturday night or Sunday morning, roughly speaking. When it does, it's predicted to be somewhere in the vicinity of a Category 4, dropping to a Cat 2 by Sunday night.
Maybe there won't BE a Grand Prix of Japan this year...
Posted by: Wonderduck at 03:01 PM | Comments (15) | Add Comment
Post contains 352 words, total size 3 kb.
September 21, 2014
F1 Quals: Singapore 2014
Real quick one here, since I'm posting this only a few hours before the race itself begins:
If someone that isn't named "Hamilton" or "Rosberg" is going to win another race this season, this is where it's going to happen. The main advantage of the Mercedes chassis is the high-speed stuff, and there just isn't any of that around Singapore, not really. Thus a nimble car like the Red Bull, or a car that's slightly above average with an ace driver, like the Ferrari, stands a better shot in the 24 turns of the Marina Circuit.
I still wouldn't bet against the Mercs though.
Race in the morning.
Posted by: Wonderduck at 12:13 AM | No Comments | Add Comment
Post contains 259 words, total size 14 kb.
September 15, 2014
F1 on TV: Singapore 2014
It held such promise. The first ever F1 night race running through the city streets of Singapore? There's no way that combination could go wrong. Except that it did. Here's the track map for the 2014 Grand Prix of Singapore: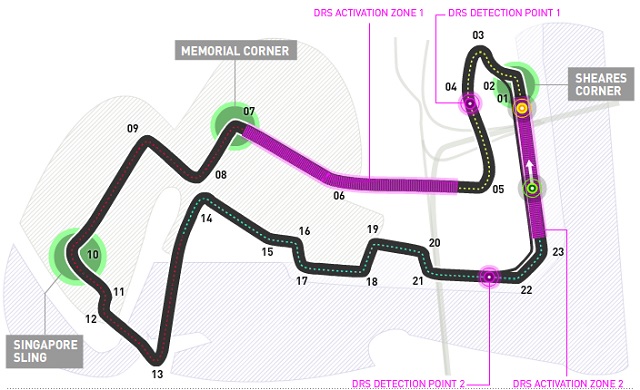 To be blunt, this is a brutal circuit. The nigh-on constant right-angle turns are a unfortunate byproduct of modern city streets... you just don't see that many curves in a city. As a result, however, the Marina Bay Street Circuit is something of a stop-and-go affair with corners that are hard to pass on. While it's true that the worst turn on the circuit (and perhaps all of F1), the Singapore Sling, was reprofiled to prevent the constant
Kerbal Space Program-like launches
off the curbs, the rest of the track is terribly bumpy. Throw in walls that appear to be made of a F1-Car-Attractant material, high heat and humidity levels that make it seem more like you're breathing water than air, and all-in-all you've got a circuit that nobody likes much.
Still, the cars look absolutely
bitchin
' under the lights.
Our friends in the Legendary Announce Team will be providing their usual level of coverage... here's the schedule:
FRIDAY
Practice 2: 830a - 10a live on NBCSN
SATURDAY
Quals: 8a - 930a live on CNBC
SUNDAY
2014 Grand Prix of Singapore: 630a - 9a live on NBCSN
Of course, the F1Update! team will be here, doing whatever it is they do. See you then!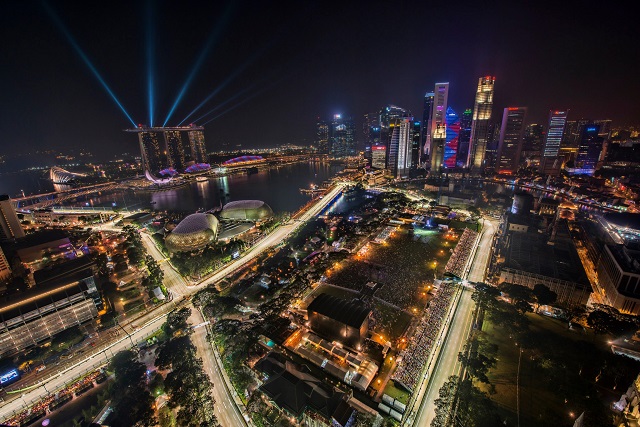 Posted by: Wonderduck at 10:16 AM | Comments (3) | Add Comment
Post contains 249 words, total size 2 kb.
September 11, 2014
F1 And Anime Come Together Again
Over at Reddit today, someone posted a picture of one of the ways the 2014 Grand Prix of Japan is being promoted. It generally met with disgust, but a few of us were honestly thrilled. Here's the picture tweeted by
Taki Inoue
, the reigning clown prince of the F1 world.
Inoue was less than happy with these, going so far as to state
in his tweet
that "this is the way Japan understands F1." I think Mr Inoue knows better. Though to be fair, the Japanese people did support him when he was a driver, so maybe not.
More and bigger pictures below... you KNOW you want to click "more."
more...
Posted by: Wonderduck at 12:50 AM | Comments (3) | Add Comment
Post contains 187 words, total size 2 kb.
September 06, 2014
F1 Quals: Italy 2014
Hoo-haa. I don't think anybody is going to be surprised by the results, so here's the grid for the 2014 Grand Prix of Italy:
Anybody notice the common theme for the first six cars on the grid? "Mercedes." The first non-Mercedes powered chassis is in 7th, 1.2 seconds behind pole. This bodes not very well for the rest of the field, or for the quality of tomorrow's race.
Why do I have a feeling Rosberg/Hamilton will be the talking point after the race is run? As in, what one did to the other... probably in the first chicane.
Guess we'll find out soon enough! See ya Sunday!
Posted by: Wonderduck at 04:35 PM | Comments (2) | Add Comment
Post contains 258 words, total size 14 kb.
September 01, 2014
F1 on NBCSN: Italy 2014
Some Formula 1 circuits are like a needle-sharp rapier, requiring nigh-on superhuman levels of technique and skill to handle in a way that endangers your opponent more than yourself. Some others are as graceful as the best swordsmen in history, full of strength hidden beneath talent honed by years of practice. Some tracks seem to follow the way of the archer, still and quiet until they launch their deadly arrow with precision and accuracy.
And then there's Monza, home of the Italian Grand Prix.
Monza is the screaming Viking berserker, swinging a huge battleaxe and leaving a huge swath of pain and defeat in its wake. It is a heavy mace crushing a helmet under its momentum. It is three rolls of quarters in a sock applied liberally to the back of someone's head. What I am saying is that Monza is not subtle. Monza does not
need
to be subtle. Monza is speed and nothing but. Before the three Variantes (aka "chicanes") were added, Monza may as well have been a NASCAR circuit seen through a European lens, though don't
ever
say that to a European F1 fan... they hate any comparison to NASCAR, or any possibility that anything American could ever come close to their beloved Series.
And after what the circuit did in the offseason, it's even closer to NASCAR, for they paved over the kittylitter outside of Parabolica. There are no longer any potential consequences for running overspeed on the fastest circuit in Formula 1. And fast it will be; the teams are predicting they'll be hitting nigh on 225mph just before they brake for the Variante del Rettifilo this year. This pronouncement brought the stupidest headline ever to one F1 website: "High speeds expected at Monza." Next on Eyewitness News, water is wet, the sky is blue, and
fire bad
.
This need for speed comes with a price, of course: it's death to engines and tires both. Mechanically, a car spends a huge chunk of the lap with the gas pedal bolted to the floor, which puts a huge strain on the noisy bit behind the driver. The tires suffer as well, since Biassono and Parabolica are balls-to-the-wall high-speed curves, Serraglio practically an afterthought when it comes to braking, and the remaining turns are dealt with by braking late, hard, and as little as possible.
As I said, Monza is not subtle. What subtlety there is will be divulged to us via the dulcet tones of the Legendary Announce Team. Here's the broadcast schedule:
FRIDAY
Practice 2: 7a - 830a
SATURDAY
Quals: 7a - 830a
SUNDAY
2014 Grand Prix of Italy: 630a - 9a
All are live and on NBCSN this week for a change. Of course, the F1U! team will be watching the proceedings with a gimlet eye. Join us, won't you?
Posted by: Wonderduck at 10:35 PM | No Comments | Add Comment
Post contains 473 words, total size 3 kb.
74kb generated in CPU 0.0297, elapsed 0.0976 seconds.
48 queries taking 0.077 seconds, 264 records returned.
Powered by Minx 1.1.6c-pink.