September 21, 2011
F1 on SPEED!: Singapore 2011
Take the narrow, confined layout of Monaco, then mix in the hot and humid atmosphere of Malaysia. That's what racing on the Marina Bay Street Circuit at Singapore is like for the drivers. Oh, but there's a unique twist, too... let's take a look at the track map for the 2011 Grand Prix of Singapore!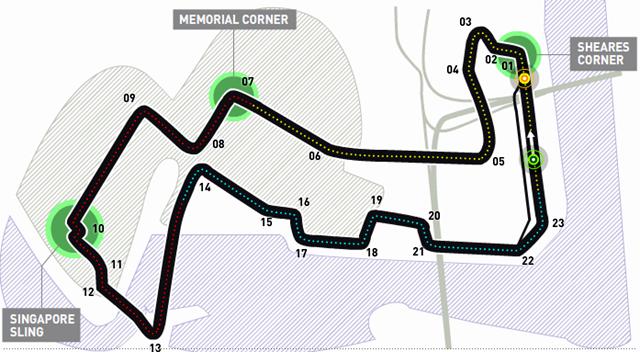 The unique twist? The whole race is run at night under the lights, adding another layer of stress and headache to the drivers' experiences. Then there's the fact that, unlike Monaco, the city doesn't shut down for the race. As you can see from looking at the map, there are highways that fly over the circuit at a couple of points. All of that lends itself to a visual spectacle unmatched in Formula 1.
It also creates a completely unheard-of problem. At one place on the track, a length of subway runs under the circuit. In the past, Red Bull's gearbox has suffered malfunctions from the electrical impulses coming from the trains! Other teams may have had similar difficulties, but haven't mentioned them. Because of all of this, many drivers have been quite outspoken in their dislike for Singapore. Lewis Hamilton and Felipe Massa in particular have been harsh in their assessments of the layout.
However, it looks great on TV. What else can we ask for? Well, how about something that's never occurred in the long history of F1? We've never had a wet night race before, but that's what we're looking at this weekend. All three days of the race weekend are forecast to be occurring under stormy skies. At least the teams will get plenty of practice on how their cars behave in such conditions. We're still going to have a ton of retirements if it rains, though.
We'll get to see it all thanks to the good burghers at SPEED, thankfully! Here's the weekend schedule:
Friday: 1st Practice: 430a-6a streaming; Practice 2: 830a-1010a live.
Saturday: 3rd Practice: 6a-7a streaming; Quals: 9a-1030a live.
Sunday: 2011 Grand Prix of Singapore 630a-9a live; 2p-430p replay
Of course, we'll be all over it all, right here at The Pond! See ya then, see ya here!
Posted by: Wonderduck at 07:42 AM | Comments (3) | Add Comment
Post contains 365 words, total size 2 kb.
1
All three days of the race weekend are forecast to be occurring under stormy skies.


How stormy is stormy? I've driven through severe thunderstorms at night a few times, and the lightning (very intense and very frequent) played havoc with my night vision, and eventually began to dazzle me and give me a headache
.
Being under the lights might minimize this effect for the drivers, but OTOH they'll be driving a lot closer to the edge than I was.
Posted by: Peter the Not-so-Great at September 21, 2011 05:43 PM (nRNe/)
2
I think the answer is, "We'll know after it happens."
Posted by: Steven Den Beste at September 21, 2011 08:25 PM (+rSRq)
3
Locals at one of the websites I frequent are saying that while the storms are fairly intense, they're also usually over and done with by the time the race will be starting. So storms in practice 1 for sure, maybe P2, P3 and Quals, and perhaps not at all for the race.
Take that for what it's worth.
Posted by: Wonderduck at September 22, 2011 12:29 PM (OS+Cr)
Comments are disabled. Post is locked.
24kb generated in CPU 0.0164, elapsed 0.082 seconds.
47 queries taking 0.0693 seconds, 279 records returned.
Powered by Minx 1.1.6c-pink.