April 13, 2010
F1 On Speed!: China 2010
A long time ago, Momzerduck said to me "Hermann Tilke's house probably has one very long hallway, then lots of small twisty hallways coming off of it."
No, wait, it was the Official Overseas Reader of The Pond,
Flotsky
, who said that. Momzerduck said "if you can't say something nice about somebody, don't say anything at all." Looking back through previous "F1 On SPEED!" entries for China, I find that I just can't bring myself to say anything nice about Shanghai. So...
Here's the track map for Shanghai International Circuit.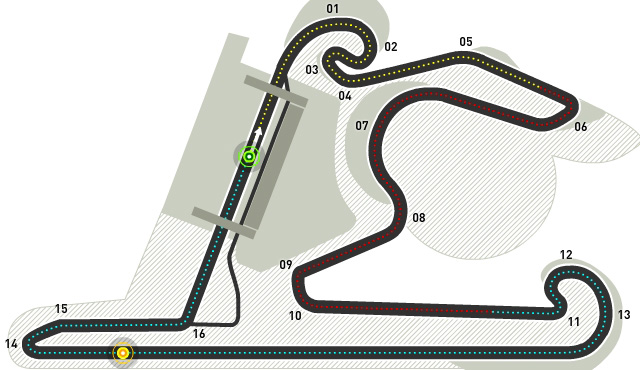 (insert two minutes of silence here)
The Varsha should be back at the helm of the Legendary Announce Team during SPEED's coverage of the Grand Prix of China, which begins with Friday's Second Practice from 1am to 240am. Quals will come to us almost live on Saturday from 1am to 230am. The actual race, however, is from 130am to 4am Sunday morning, with a replay from 1pm to 330pm later that afternoon.
See you then!
Posted by: Wonderduck at 07:19 PM | Comments (3) | Add Comment
Post contains 170 words, total size 1 kb.
1
Yay! I was watching the Indy race from Barber Motorsports Track last week, now that's a circuit. Windy and fun, and a little lacking in runoffs (thankfully not an issue). And sculptures! F1 needs more random sculptures.
Posted by: flotsky at April 14, 2010 01:36 AM (16eCj)
Posted by: Wonderduck at April 14, 2010 06:15 AM (mfPs/)
3
If Bernie is interested in a US track, the Barber track would be an ideal choice. It wouldn't have his preferred view of NYC, but a beautiful track nonetheless.
Posted by: Mallory at April 14, 2010 01:46 PM (WJ2qy)
Comments are disabled. Post is locked.
23kb generated in CPU 0.012, elapsed 0.1501 seconds.
47 queries taking 0.1421 seconds, 279 records returned.
Powered by Minx 1.1.6c-pink.