May 13, 2012
F1 Update!: Spain 2012
Though there had been a threat of rain, the weather at Barcalounger was perfect, as is usual. In the 21 year history of this track, the winner of a non-rain F1 race has been the pole-itter every time save one... and that one rogue win came from 2nd on the grid. So when Williams' Primate Maldonado led the field to the grid, he had to be feeling pretty confident. Was that confidence misplaced, or would it prove to be well-founded? THIS is
your
F1Update! for the 2012 Grand Prix of Spain!
*LIGHTS OUT
: The run from the starting line to the first turn at the Circuit de Catalunya is one of the longest in F1. There's always something of a mad sprint to the first corner at the start of any F1 race, but in Spain it's even more frantic than usual. Maldonado decided that he really wanted to cut Ferrari's HWMNBN, #2 on the grid, off at the pass, such as it was, so right off the bat he began to drift over to driver's right. The Ferrari driver was having none of it and drove straight ahead, letting the Williams take the (slightly) longer route to the first turn. When they reached the right-hander, HWMNBN had the inside line, a miniscule lead, and position: in short, he had taken the lead. A lead he would not relinquish during the first stint. Indeed, it looked like a Ferrari runaway was in store as the Spaniard, buoyed by the screams of his home fans, pulled away to a two second lead and more.
*THEN
: The first round of pitstops came early, beginning on Lap 8 as the soft tires, used in Quals the previous day, began to go off very quickly. HWMNBN came in on Lap 11 for hard tires, as did Maldonado the following lap. On Lap 13, however, something with impossible-to-forsee consequences occurred when Mercedes' Slappy Schumacher, looking to get past Maldonado's teammate at Williams, Bruno Senna, instead drove directly into the rear of the car.
Both cars then went directly into the kittylitter and were out of the race. While the immense amount of debris on track seemed to beg for a safety car to be deployed, nothing of the sort happened. Schumacher's radio call of "
...what an idiot!
" indicated who he thought caused the incident, but Slappy was the one penalized five grid places for the next race.
*FURTHERMORE
: On Lap 24, Maldonado, unable to close with the Ferrari, dove into the pits for a new set of hard tires and emerged in third, behind HWMNBN and the Lotus of Kimi Raikkonnen. With a relatively clear track ahead of him, he rips off two fast laps in a row. At the same time, HWMNBN was struggling to get through traffic before he pitted from the lead on Lap 26.
After a clean stop by Ferrari, as HWMNBN was making his way back to the racing surface, he was passed by Primate Maldonado for second place... effectively, the lead, as Raikkonnen still needed to pit, which he did on Lap 28.
*CONTINUING
: And that's how it stayed until late in the race: Maldonado in the lead, HWMNBN as many as seven seconds behind. Then the Ferrari began to slowly claw back some time on the Williams, cutting the lead down to just under two seconds with four laps to go. However, Raikkonen was on the charge as well, taking over a second a lap off of HWMNBN at the same time. It quickly became apparent that the two-time World Champion, in his attempt to track down the Williams driver, had burned his tires off the car. Gone were hopes of winning the race; all that was left was holding onto second position. On the penultimate lap, the Lotus driver hacked two full seconds off of the gap to 2nd place and looked ready to do the same on Lap 66. In the end, HWMNBN managed to keep Mumbles seven-tenths of a second behind. But four seconds ahead of the two, Primate Maldonado had become the fifth winner in five races this season, the first Venezuelan to ever win a F1 race, and had led Williams F1 to victory for the first time since 2004... all of which occurred the day after Sir Frank Williams, team owner, turned 70.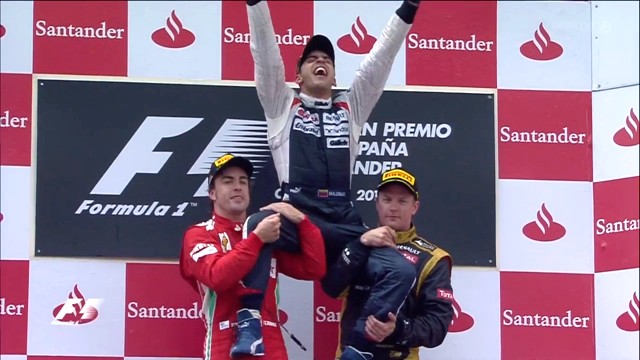 *AND THEN
: As is usual in F1, a team victory photo was taken, made extra-special by it being a first victory for the driver and the first win by the team after such a long time of mediocrity or worse.
As Sir Frank Williams addressed the team, thanking them for their efforts, there was an orange flash of light from the team pit box.
Immediately, thick black smoke began to pour out of the garage as flames billowed up. Mechanics hurriedly dove for fire extinguishers while non-essential personnel cleared the area. Emergency fire hoses were brought into play from both sides of the garage area.
Mechanics from the entire pitlane
were involved in assisting with the fire fighting efforts. Some 31 people were treated by the circuit medical staff, with seven people from three teams being sent to local hospitals for their injuries. The worst we here at F1U! have heard of so far is a broken wrist (as twittered by Heikki Kovaleinninninnie) suffered by a Caterham mechanic.
The chassis of Bruno Senna's car, brought in after being run over by Slappy Schumacher, was in the garage and looked... well, pretty good, actually. The garage itself, on the other hand, is going to be something of a total writeoff, most likely, mostly from water damage. One shudders to think how a relatively small team like WilliamsF1 will be able to replace it all, though there are reports of the other teams already being willing to donate equipment. Initial reports suggested a KERS-induced fire, though this was later changed to a fuel blaze. We'll keep you updated as more comes out.
*DRIVER OF THE RACE
: Pastor Maldonado. Like there was any doubt? He didn't panic after being passed at the beginning, kept his tires fresher than HWMNBN, never put a wheel wrong... well-deserved. One might ask whether he would have won if Hamilton had been on pole, but that didn't happen.
*TEAM OF THE RACE
: Williams, despite the fire.
*MOVE OF THE RACE
: Maldonado passing HWMNBN, Lap 26/27. (see above)
*MOOOOO-OOOVE OF THE RACE
: Slappy Schumacher running into Bruno Senna. (see above)
*SELECTED DRIVERS QUOTES OF THE RACE
:
"Have you ever had Venezuelan Beaver Cheese? Mm, it's wonderful!" - Primate Maldonado
"He's heavier than he looks." - HWMNBN
"mrmrbdfmdm mdmfmmrmrmbl mrmrmblmlmmmrm rm rmrrrml." - Kimi Raikkonen
"Holy crap, is that fire?" - Lettuce Grosjean
"I know fire. I have come through the fire and the flames, to return as Gandalf the White. I do believe that that is a fire indeed." - Gandalf Kobayashi
"Last year, I was on fire. Now it's the Williams garage!" - Seb Vettel
"Congrats to Sir Frank at my former team! You may want to take it easy on the candles on the cake, though, that's an awful lot of smoke." - Nico Rosberg
"Can I have one race where something doesn't go wrong in the pits for me, please?" - Lewis Hamilton (
who ran into a discarded tire during one of his pitstops
)
"Can I make smores?" - Jenson Button
"I think the guys at F1U!
hoped that Williams would improve this year
." - Nico Hulkenberg
"What the hell happened to this season, anyway?" - Mark Webber
"Passepartout, to the fire extinguishers!" - Jules Vergne
"My name is Daniel, not 'Passepartout'." - Daniel Ricciardo
"What, did
Juan Pablo Montoya
visit Williams today or something?" - Paul di Resta
"Williams can win a race. Why can't I anymore?" - Felipe Massa
"Man, that's a bad fire." - Heikki Kovaleinninninnie
"I didn't do it!" - The Red Menace
"My rear end is unstable. That didn't come out right. Or that." - Tim O'Glockenspiel (
note: kinda real quote
)
"I love racing in front of my home crowd. Yep, me and HWMNBN. Both Spaniards. Uh-huh. Nobody noticed me, did they?" - Pete Rose
"Well, that sucked." - Sergio Perez
"How did I break a driveshaft? It's not like our engines are powerful enough to do that." - Charles ToothPic
"Can someone loan me a million bucks so I can finish the season?" - Narain Kittylitter
"Was anybody watching Slappy when the fire started?" - Bruno Senna
"I had nothing to do with the fire starting, and you can't prove it anyway." - Slappy Schumacher
In two weeks, we'll be in Monaco! Will Williams be able to race? We'll find out then! See you soon!
Posted by: Wonderduck at 06:20 PM | Comments (6) | Add Comment
Post contains 1450 words, total size 10 kb.
1
I love it! Five races, five different winning drivers, five different winning teams!
That's how a season should start!
Posted by: Steven Den Beste at May 13, 2012 11:27 PM (+rSRq)
2
And it was a good race, too!
They're not just parades, either. You've got lots of passing action going on, and not just at the DRS zones; not nearly as many sections where everyone's 15 seconds from everyone else.
You've got to feel bad for Massa, though. Who would have guessed that five races in, he'd be 27 points -behind Pastor Maldonado-?
Downside - Schumacher. Not the first time this year he's gotten tangled up with another driver, and probably not the last. Arguably he's not even the best driver on his own team anymore - it's time to hang it back up.
Posted by: Avatar_exADV at May 13, 2012 11:44 PM (GJQTS)
3
I heard Kamui made some good passes in this race, too, but I do not know the details.
Posted by: Pete at May 14, 2012 12:09 PM (5OBKC)
4
Hamilton actually had a pretty good race. Starting from dead last, he made it into the points, finishing 8th.
Posted by: Steven Den Beste at May 14, 2012 05:42 PM (+rSRq)
5
A bit off topic of the Spain race but still I think of interest is t
his overview
on the Austin Tx Circuit of the Americas
. I didn't know that Kevin Schwantz was involved, this must have helped the design.
(
Wonderduck sez: please use the link button in the future... it's the one that looks like chain links. It's easier, it looks better, and it doesn't trigger off quite as many spam warnings. I've fixed it this time...
)
Posted by: VonKrag at May 14, 2012 11:31 PM (6CHh4)
Posted by: David at May 15, 2012 09:50 AM (+yn5x)
Comments are disabled. Post is locked.
34kb generated in CPU 0.0135, elapsed 0.0764 seconds.
47 queries taking 0.068 seconds, 282 records returned.
Powered by Minx 1.1.6c-pink.