October 09, 2010
Slow Boat To Japan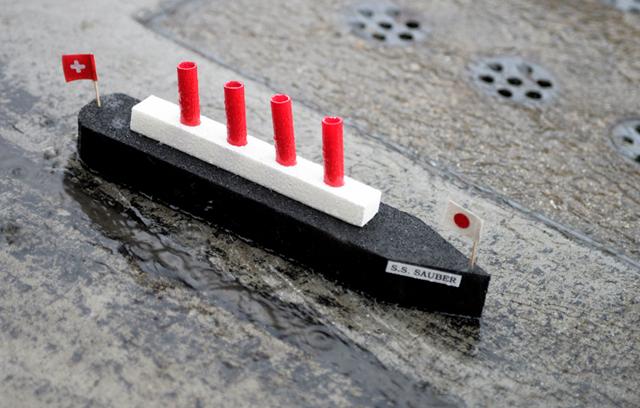 Best looking of the entries for the Great Suzuka Pit Lane Boat Race. Also the slowest, which isn't all that surprising considering Switzerland's naval status (
the America's Cup not withstanding
).
News from Suzuka is good. Looks like there's only light rain in the area, though with four or five hours to go, that can change. Right now however, there's no doubt that Lewis Hamilton is seriously thinking about drowning himself. He'll be taking a five-spot grid penalty for a gearbox change. Seems there was a little bit more damage than the team thought after his little encounter with the wall. It's amazing how fast one's view of a driver's chances can change... right now, Hamilton is pretty much being given up for dead by everybody, yet he's still in third place in the Driver's Championship. Wacky.
In one other bit of news, they've
finally
laid asphalt at the Korea International Circuit, host of the first Grand Prix of Korea in two weeks. Unfortunately, it was laid down on Friday, and it takes time for asphalt to cure. For everyday use by streetcars, bus traffic and trucks, it's only a short time. For the stresses a F1 car will put on the asphalt, however, it's substantially longer... longer than they've got. A couple-three years ago, the surface at Montreal was literally being ripped up by the high-downforce cars in the curves. They patched the track in time for the race, but then the patches tore up. Fortunately, no cars were damaged by the chunking, but it could have been a disaster if someone had driven into one of the... call them 'potholes'... at speed. F1 Tech Honcho Charlie Whiting is scheduled to inspect the track on Monday, after which a decision on the race will be made.
You realize that, in theory, we might go six weeks between F1 races? If they cancel Korea, and Japan is washed out, that's exactly what'll be happening... unless they reschedule Suzuka and move Korea to, say, the Mt Fuji circuit. Bring back the Pacific GP!
Back after qual results are up!
Posted by: Wonderduck at 12:36 PM | No Comments | Add Comment
Post contains 351 words, total size 2 kb.
Comments are disabled. Post is locked.
23kb generated in CPU 0.0105, elapsed 0.0669 seconds.
45 queries taking 0.0588 seconds, 275 records returned.
Powered by Minx 1.1.6c-pink.