October 21, 2007
Wow, here's a shock...
...McLaren is
appealing
the FIA's ruling that BMW and Williams broke the technical regulations, but aren't going to be penalized.
Even better, McLaren is saying that they know they were beaten by Ferrari on-track, and accept that. They simply want to understand how cars can be found by FIA officials to have broken the rules and yet not have any punishment. A fair question, considering how the FIA has manhandled McLaren this season.
As mentioned before, the FIA now has a serious problem on their hands, and it's one of their own making. I'm sorry this marvelous season has ended this way, but if it makes the FIA consistent in the way they enforce their own rulebook in the future, it'll be better for the sport.
If the sport can survive this fiasco, that is.
Posted by: Wonderduck at 10:56 PM | Comments (2) | Add Comment
Post contains 139 words, total size 1 kb.
UH-oh... Driver's Championship Ain't Decided Yet! UPDATE: Yes it has, for now...
News from Brazil is that both BMW and Williams are under investigation, post-race, for violating a technical regulation involving fuel temperatures.
Article 6.5.5 of the Formula 1 Technical Regulations states that "no fuel on board the car may be more than 10 degrees centigrade below ambient temperature". This is to prevent teams from freezing their fuel and thus reducing its volume. Of course, that'd allow teams to get more fuel into the tank, providing themselves with an advantage.
The ambient air temperature in Sao Paolo today was 37 degrees Celcius. Nick Heidfeld's fuel was measured at 24C and 25C at his two stops.
Both Heidfeld and Robert Kubica, as well as Nico Rosberg, are now in danger of being excluded from the results of the Brazillian Grand Prix (that's a lot of Grand Prix!)... which would move Lewis Hamilton to FOURTH PLACE, giving him the Driver's Championship.
More as it becomes available...
UPDATE:
The results stand. Nothing to see here.
Except now the FIA is in a no-win situation. The tech regs have been violated. I'm interested in hearing
why
BMW and Williams won't be penalized, even if there was no performance advantage, if McLaren was hit with their death penalty for a violation of the rules that gave no performance advantage.
One could argue that the FIA is playing fast and loose with their own rulebook, enforcing or not at their whim. Unless there were defective thermometers, why shouldn't the teams be penalized?
If McLaren wanted to fight this, they probably could, and it seems to me that they stand a good chance to win some concessions at the very least.
Posted by: Wonderduck at 04:42 PM | Comments (4) | Add Comment
Post contains 284 words, total size 2 kb.
October 20, 2007
F1 Quals: BRAZIL!
It turns out that there's a perfectly good reason for the FIA telling Lewis Hamilton that 'undue celebration' is banned: it's to prevent somebody slipping extra weight into his jumpsuit after the race.
See, the car/driver combination (minus fuel) has to weigh 600kg (1322 lbs) or more at the end of the race. After the race is complete and the cars are placed in parc ferme, but before the podium ceremonies, each driver is weighed. Later, of course, the cars are weighed.
It appears that, some time in the distant past, a driver was celebrating a victory by hugging every mechanic on his team. Whilst he was doing that, one of the mechanics slipped a weight of some amount into his driver's pocket... maybe not much, but the cars are so light that even 50 grams (or 1.7 ounces) might be enough to make weight. Indeed, drivers aren't even allowed to put on their watches until after weigh-in.
The 'excessive celebration' rule is in place to prevent that sort of chicanery. Never mind that Slappy Schumacher used to practically bodysurf the Ferrari team after a win, and HWMNBN used to nearly molest Flavio Briatore after he was victorious, and who can forget Phil Massa's win and victory celebration at Brazil (his home race) last year? Never mind all that, now the FIA is going to crack down.
Uh-huh.
Oh, you wanted to know about Quals? Well, click below and find out!
more...
Posted by: Wonderduck at 06:51 PM | Comments (2) | Add Comment
Post contains 883 words, total size 8 kb.
The FIA Can't Leave Well Enough Alone
Lewis Hamilton has been
told by the FIA (via McLaren)
that if he wins the Driver's Championship on Sunday, he should "keep a lid on his victory celebrations."
Uh... hm.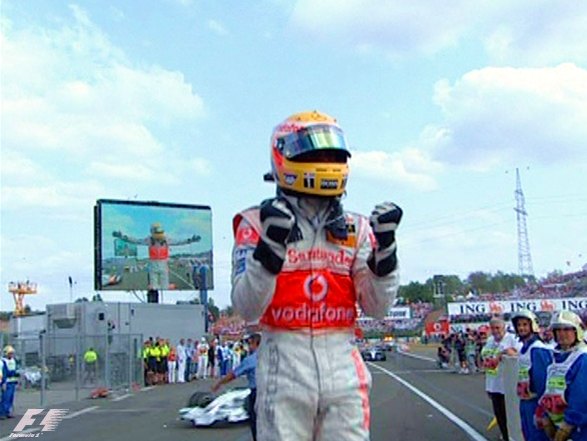 Posted by: Wonderduck at 12:33 AM | Comments (2) | Add Comment
Post contains 37 words, total size 1 kb.
October 19, 2007
F1 Practice: BRAZIL!
Welcome to Interlagos, which means "between the lakes" in Brazillianese, and "Wonderduck hates this track" in English. Particularly the final turn-goes-into-the-front-straight thing that has the drivers cutting across the pit-in lane at 190mph and always makes me think of a catastrophe about to happen every time I see it.
(
Update:
Steven, here's a picture of the final turn from an onboard camera:
That yellow line on the right is part of the pit-in lane. Drivers are supposed to stay outside of it if they're not coming into the pits. At Interlagos, however, this rule is ignored completely, and every driver uses it as part of the 'driving line' through the turn. To a certain extent, yes, I'm somewhat concerned about a pitting car being rear-ended, but I'm also worried about a car hitting the pit wall. There's also an optical illusion from the TV camera at turn 1 that makes it look as if the cars are entering the pits at 180mph that disturbs me...)

To be fair, I will give the course credit: they resurfaced the track, so it's no longer like driving on rumblestrips. Now it's almost smooth... for this race, at least. Next year? The track'll be crepe again.
There's not much they can do about that, short of moving the circuit. The location of the darn thing, between two lakes set in a valley, means that it was built on very soft soil... so the concrete and asphalt actually sinks over time. Of course, it all doesn't sink at the same rate, so the track wrinkles.
And places like Watkins Glen sit unused. How is this fair?
Nothing surprising from practice today. Hamilton was fastest. The tire choices this week are the supersofts and the softs, and it looks like the supersofts will last about, oh, one lap or so before they start to grain and shed bits of themselves. Lovely.
In other news, Alex "Man-Mountain" Wurz has officially retired, and has been replaced by Kaz Nakajima... and the Williams seems to have woken up big-time under his tender efforts. Late in the session, Kaz was fourth. He fell to 8th, finally, but still impressive for the team.
Also, Phil Massa has been signed by the Peripatetic Pony team through 2010. This would seem to indicate that HWMNBN will NOT be going to the Red Team, since Kimi is also under contract. Renault is his probable destination.
No chance of him coming back to McLaren. There was a board meeting at Mercedes (who owns 40% of McLaren) recently, and they voted to launch his arse as soon as the season is over.
Amazingly, Ralf Schumacher IS driving this week. This surprises me, to be honest... he's not going to be back with Toyota next year, after all, and he's honestly stunk up the joint this season. Why NOT try someone else for a race?
Maybe he's still waiting for the shift manager job at the Berlin McDonalds to open up?
Posted by: Wonderduck at 02:37 PM | Comments (1) | Add Comment
Post contains 497 words, total size 3 kb.
October 16, 2007
Brazillian GP on SPEED!
Yep, that's a lot of GPs!
And, thankfully, Brazil is in a decent timezone*, so we can watch it without having to be hooked up to a coffee IV.
For starters, practice is brought to us live at (ready for this?) 11am on Friday morning. I'll be dragging myself out of bed just in time, I think, but I'll be there!
Saturday, it's the Brazillian quals (that's a lot of quals!) at 11am. Easily the single most important qual session this year, and... I won't be able to watch it, as the Duck U. football team takes to the field at home this Saturday, and that means the Bookstore will be open. Oh well, I'll catch it when I get home.
Then comes the big one: the Brazillian Grand Prix, which will decide who wins the Driver's Championship. Sunday, SPEED's coverage will begin at 1030am. You know F1 UPDATE! will be there, camped out on the couch and watching every second. Anybody for rain?
Wouldn't THAT be a kick?
*European readers, your mileage may vary.
Posted by: Wonderduck at 07:16 PM | Comments (4) | Add Comment
Post contains 179 words, total size 1 kb.
October 14, 2007
F1, ITV Style
Without a doubt, the Legendary Announce Team from SPEED is excellent at their jobs. They work together well, each member knows their stuff, and they are good on-air. It's hard to imagine a better group to take you through a F1 race.
My friends, I am here to say that if I could, I'd turn my back on them in an instant. There is no better coverage than that given a race by ITV out of England.
They spend more time on a race, they spend much more time on the pre-race, they don't clutter a screen with excess 'local' graphics, and while their on-air announce pair aren't quite as good as the LAT, they're pretty darn excellent.
And they get what F1 really is all about, as evidenced by these screenshots from their opening: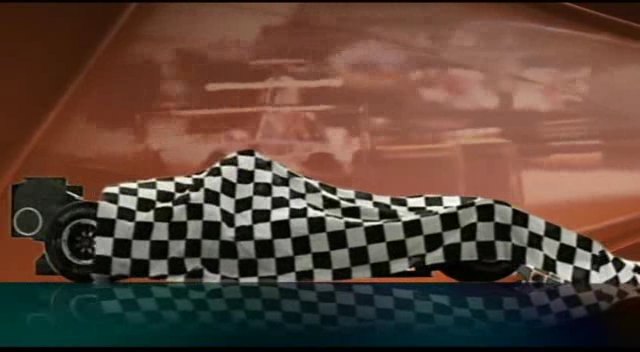 I could watch them all night... and pretty much have, this evening. SPEED is good, but they could learn a lot from ITV.
Flotsky, you don't know how good you've got it.
Posted by: Wonderduck at 12:27 AM | No Comments | Add Comment
Post contains 170 words, total size 1 kb.
October 06, 2007
F1 QUALS: Shanghai!
Over the course of this past season, I've come to dislike Fernando Alonso, forever to be known as "He Who Must Not Be Named" (or HWMNBN for short), intently. It's a shame, as I was becoming quite the fan of the boy... anybody who can beat Slappy Schumacher in head-to-head racing is someone that's okay in my book.
There's no denying that he's a talented driver, however. He didn't win those consecutive Driver's Championships by accident, after all. However, his actions over the past year (and, for that matter, towards the end of last season) have done a fine job of turning me (and just about any F1 fan who doesn't hail from Spain, and probably some of them, too) against him.
Which means that there's a huge element of
Schadenfreude
contained in the joy I take in reporting the results of today's qualifying session for the Grand Prix of China.
The one thing that HWMNBN
needed
to have today, to have any reasonable chance of beating his 'teammate' in the Driver's Championship, was to be on pole. Considering that
Typhoon Krosa is bearing down on the Chinese mainland
, (it might cause some SERIOUS problems for the teams trying to leave after the race) the pole will be more important than ever for Sunday's race.
HWMNBN didn't get pole. He didn't get on the first row. He's not even going to be on the clean side of the track. He qualified
fourth
, behind both Ferraris... and his 'teammate', Lewis Hamilton, who DID take pole. Kimi Raikkonen, hanging on in the DC chase by his fingernails, is alongside him on the first row, with Massa third.
The big question now, of course, is fuel. Did Hamilton short-fill his tank to get the extra speed? Are the Ferraris heavy? Is HWMNBN heavy? Who's set up for the wet weather that's going to be present for the race?
David Coulthard's Chin pulled a fantastic qualifying performance out of his RedBull, coming in 5th. There are a couple of reasons this might have occurred. The first that leaps to mind is that the team set him up for dry weather instead of wet. If so, he's certainly going to qual well, but will be in a world of hurt tomorrow. The second is that he's got no gas in the tank, which in the rain won't hurt as much as in the dry, but it's still not good.
The third possibility is that the RedBull is, finally, coming alive. That his teammate Mark Webber is 7th puts some weight behind that possibility... though the other two would have the same effect as the third. We'll find out Sunday.
In between the two RedBulls is... Ralf "Dead Man Driving" Schumacher. The Toyota probably had seven ounces of fuel in the tank.
Surprisingly, the BMWs of Grizzly Nick Heidfeld and Robert Kubica were 8th and 9th. A horrible performance for them, which suggests a lot of fuel, perhaps a one-stop strategy in the wet. 10th was the 'resurgent' Honda of Jenson Button, who's gotta be praying for a lot of rain.
The rest of the grid:
| | | | | |
| --- | --- | --- | --- | --- |
| 11. | Vitantonio Liuzzi | Italy | Toro Rosso-Ferrari | 1:36.862 |
| 12. | Sebastian Vettel | Germany | Toro Rosso-Ferrari | 1:36.891 |
| 13. | Jarno Trulli | Italy | Toyota | 1:36.959 |
| 14. | Heikki Kovalainen | Finland | Renault | 1:36.991 |
| 15. | Anthony Davidson | Britain | Super Aguri-Honda | 1:37.247 |
| 16. | Nico Rosberg | Germany | Williams-Toyota | 1:37.483 |
| 17. | Rubens Barrichello | Brazil | Honda | 1:37.251 |
| 18. | Giancarlo Fisichella | Italy | Renault | 1:37.290 |
| 19. | Alexander Wurz | Austria | Williams-Toyota | 1:37.456 |
| 20. | Takuma Sato | Japan | Super Aguri-Honda | 1:38.218 |
| 21. | Adrian Sutil | Germany | Spyker-Ferrari | 1:38.668 |
| 22. | Sakon Yamamoto | Japan | Spyker-Ferrari | 1:39.336 |
All will be revealed Sunday... will Hamilton be the Champion afterwards, or will Brazil be the do-or-die race for HWMNBN and The Kimster? Will we get a winner from someone OTHER than McLaren or Ferrari? And can Dead Man Driving get on the podium? Can DC'sC show that he's still got some juice in his bones, in his best shot at a victory in a couple of years? And whither Canada?
Find out tomorrow!
Posted by: Wonderduck at 04:35 PM | Comments (3) | Add Comment
Post contains 673 words, total size 6 kb.
October 04, 2007
Oh For Pete's Sake...
...this is just getting ridiculous.
Lewis Hamilton is now under investigation by the FIA Stewards, allegedly for causing the accident that took out Mark Webber and Sebastian Vettel during the Grand Prix of Japan.
Webber and Vettel both state that Hamilton was driving erratically behind the safety car, slowing down dramatically and the speeding up.
Webber blames Hamilton completely: "I think he did a s*** job behind the safety car. He did a s*** job and that's it. He spoke in the driver's briefing about how good a job he was going to do and he did the opposite. But we know for next time. It definitely contributed to Sebastian (Vettel) hitting me up the back. We were confused what the other car was doing because it wasn't doing what it was supposed to do, clearly. You have to keep a sensible rhythm and obviously in the first safety car period and clearly in the second there was not a sensible rhythm."
The accident was missed by Fuji TV, but a video has surfaced on YouTube, showing Hamilton coming close to passing the SC by sliding wide, then decellerating to keep behind it. Webber then nearly passes Hamilton, slows down, and Vettel rams into him.

Well, look for yourself:
If the Stewards decide that he's at fault, he could be penalized 10 places on the grid... or he could be stripped of his win at Japan, and docked the 10 points he earned.
Is it any surprise at all that Fernando Alonso, his so-called teammate, has chimed in? "I also overtook Lewis two or three times (during the 19 laps run behind the safety car at the beginning of the race - WD), so it seems that we all agree. It's difficult to know what the car in front of you needs to do. I didn't see the race on TV but, hearing the comments of the drivers, they seemed to overtake the car in front a couple of times and had to make some unnecessary manoeuvres to avoid the cars in front."
Need I mention that if Hamilton is stripped of his points, the Driver's Championship is down to 2 points again? And that Alonso is the beneficiary?
Need I mention that F1 needs this like it needs a hole in the head?
Posted by: Wonderduck at 09:08 PM | Comments (6) | Add Comment
Post contains 388 words, total size 3 kb.
October 03, 2007
F1 on SPEED: Shanghai!
With the stunning, devastating news that Ralf Schumacher won't be driving with Toyota in 2008 ringing in our ears, somehow we must carry on with our lives.
For it will be good for all readers of The Pond to resume our daily activities, though with a heavy heart and tears in our eyes. And, if at times during our day, we find ourselves feeling we can't go on, that F1 no longer is worth watching and life is no longer worth living, remember that he would not want us to mourn for long. Instead, he would have us continue to love the sport that taught us so much about him... so lets do so, together.
Ralf would have wanted it that way.
Friday at 1am, SPEED Channel brings us LIVE coverage of P2.
Much later in the day, from 1159pm 'til 1am, we get F1 Debrief, SPEED's recap show... which will be covering, of course, the Japanese Grand Prix. That'll be must-see TV, for sure!
Saturday, from 1am to 230a, we get live coverage of Quals.
Sunday brings us the penultimate race of the season, LIVE, from 1230a to 3am, with a replay from 330p to 6p. Now you've got no excuse... watch, won't you?
All times central.
Posted by: Wonderduck at 10:48 PM | Comments (17) | Add Comment
Post contains 212 words, total size 1 kb.
68kb generated in CPU 0.0673, elapsed 0.3333 seconds.
53 queries taking 0.3176 seconds, 290 records returned.
Powered by Minx 1.1.6c-pink.