December 31, 2007
Happy New Year, Everybody!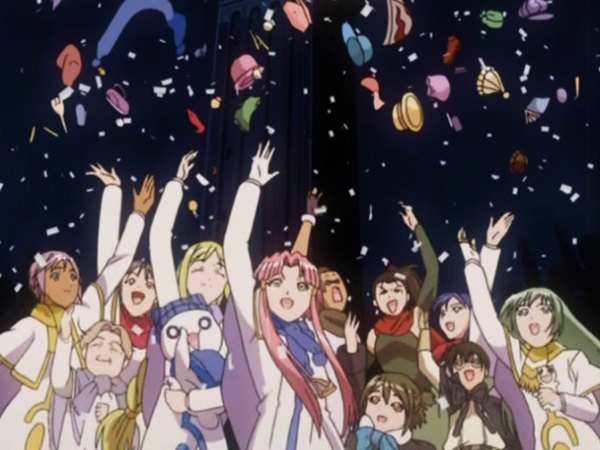 On

Mars

Aqua, hats fall from the sky when the clock strikes midnight.
It's considered good luck to catch one.


So another year draws to a close. 2007 will go down as quite the interesting one for The Pond. Consider:



In Formula 1, we had our first season without Slappy Schumacher. Despite this (or perhaps because of it), the 2007 schedule wound up being completely fascinating. We had the debut of Lewis Hamilton, the StepneyGate scandal (and the FIA revealing themselves as being totally broken in the process), Kimi Raikkonen winning the championship on the last day via a string of improbable incidents, and HWMNBN revealing himself to be a jealous, evil, fragile prat. We had Spyker changing into
Farce
Force India, the fourth new owner in four seasons for the former Jordan team. Honda dropped off the face of the earth, BMW looked like they're ready to play with the big boys, and Renault peed the season right down their leg. Then there was the dual Montreal accidents: Robert Kubica
almost killing himself
and Ant Davidson
getting a marmot stuck in his front wing
(ew!).
In anime, KyoAni continued their "beautiful show" dominance with
Kanon '06
,
Lucky Star
, and
Clannad
. Like the shows or not (and I did, all three), it's hard to deny that they're all amazing to look at (even
Lucky Star
, which was supposed to look cartoony). Overall, the year wasn't the greatest in history, but there were quite a few good shows. I loved
Hidamari Sketch
,
Sketchbook ~pure color'S~
and
Minami-ke
, there was a new
Ikkitousen series
(which I liked, god help me), there was a fantastic
live-action adaptation of Death Note
, and I discovered both
Aria
and
Yokohama Shopping Trip
, too.
Bamboo Blade
and
Kimikiss
both came out of nowhere and blindsided me completely.
But, most importantly (to me, at least), was the
successful decanting of my first AMV,

"...Angel."
Less important but annoying to me is my complete inability to follow it up with a second AMV.
In other stuff,
Chris Benoit died after killing his wife and son
, a bridge I'm quite familiar with
collapsed in Minnesota
, the Chicago Bears
played in the Super Bowl
(and lost, durnit!), the Cubs
made it to the playoffs
(and lost, durnit!), and the Phillies
lost their 10000th game
.
But most importantly, you folks, my readers, kept coming back to visit The Pond, giving me a reason to write about all the above stuff. For that, all I can say is thank you.
Posted by: Wonderduck at 07:01 PM | Comments (2) | Add Comment
Post contains 421 words, total size 5 kb.
1
I'm no particular fan of
anime
(though I am trying to learn enough to keep up with my teenager) or F1 racing, but you're one of my regular reads because of the quality of your writing. (Well, that and the ducks.) Keep up the good work!
Posted by: Mike at January 02, 2008 08:14 PM (TB4vl)
2
"...you're one of my regular reads because of the quality of your writing."


Are you sure you're at the right blog, Mike? (Seriously though, thank you very much!)
Posted by: Wonderduck at January 02, 2008 09:18 PM (AW3EJ)
Comments are disabled. Post is locked.
28kb generated in CPU 0.0136, elapsed 0.2309 seconds.
47 queries taking 0.2216 seconds, 277 records returned.
Powered by Minx 1.1.6c-pink.