November 17, 2007
Finding Alpha.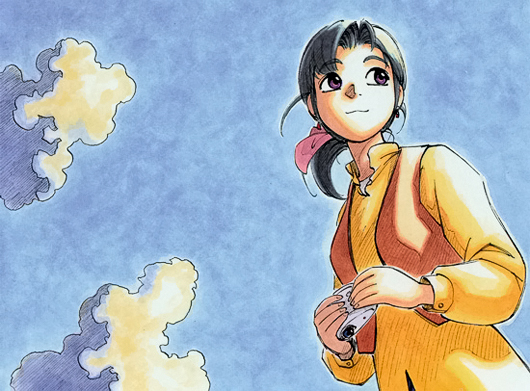 Back in July, Jeff of Hop Step Jump! posted a picture of an unnamed character from an unknown manga. I loved it, and turned it into a wallpaper. Understand that I change my wallpaper on a weekly basis, yet this one lasted for three months. There was something about the young woman that just grabbed my attention.
A week or so ago, Jeff put up another picture of her... and I found out her name: Alpha. A little bit of searching turned up the name of the manga: Yokohama Shopping Trip (Yokohama Kaidashi Kikou). It's been very well received (and won an award for best SF manga in 2007), but hasn't been picked up here in the States... but more importantly to me, there were two different OVAs made for it... and they were listed on Animesuki. A few quick downloads later, and I was ready to watch.
So, what was the result?
Yokohama Shopping Trip is the story of Alpha, the proprietor of Cafe Alpha, a little coffeeshop that's a bit off the beaten path. In fact, she might go days or weeks without seeing a customer. There's a good reason for this, however: something has happened to the world, something big.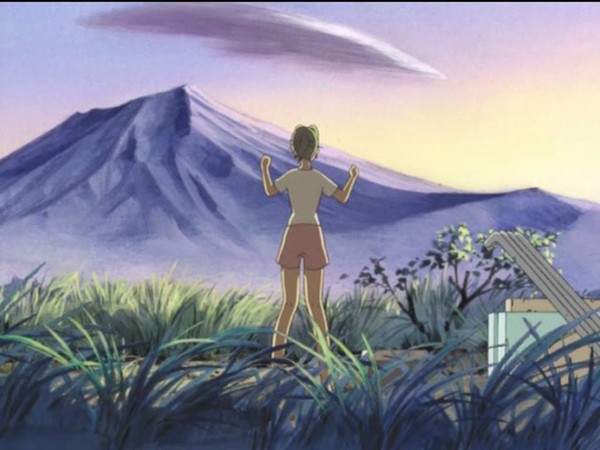 Mt Fuji is no longer the perfect cone it had been... in fact, it looks a lot like Mt St Helens now. Much of Japan is under water, and it's implied that the rest of the world is in the same situation.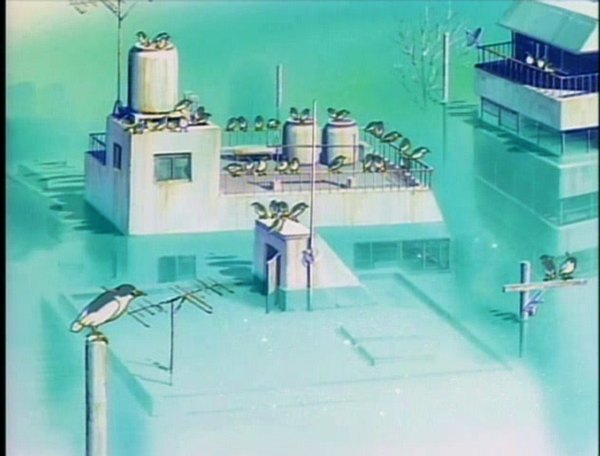 Yet, it's not all bad. There's still electricity; streetlights still function, even though they (and the streets they illuminate) are under water. There are a few radio stations still broadcasting. Nature has flourished. And there are "robot people," androids completely indistinguishable from humans, and completely accepted by civilization as equals.
Alpha is, in fact, one of them. You can't tell.
Alpha's owner, who is traveling and is never seen, sends her a camera, with instructions to take many pictures, "in case she feels nostalgic." This seems an odd instruction for an android, since to her 10 years is no time at all, but she takes it to heart… and gives the anime its storyline.



The first OVA was released in 1998 (right), the second in 2002 (left). Despite the improved production quality of the latter, it's the former that better captures the look of the manga. With the limited exposure to the manga that I've had (a scanalated version can be found here), I feel that the spare, pen-and-ink drawing style of the manga-ka translates better in the older version.




The 1998 OVA takes place around and in Café Alpha, the 2002 has Alpha going out for a very, very long walk after the Café is seriously damaged by a typhoon. Unfortunately, her travels are all jammed into a single episode (both OVAs are two episodes long). As a result, we don't get to truly experience what appears to take a LONG time in the manga.

For example, we meet a male android, who's a pilot (amusingly, he flies a T-6 Texan), and learn that there's very few male androids extant… most of them die off shortly after creation. We never learn why, though, as this character appears and disappears in less than three minutes. There's a nude android named Misago hiding in a tree (20 seconds screentime). We learn nothing about her, and there's no indication why she's in a tree. There's even a brief glimpse of a spaceplane, but no reason for it to be there.




And yet, all of these problems are ancillary to the main reason for these shows to exist: Alpha herself. Alpha is a joy to watch, especially in the first OVA. From her initial reaction to the camera's method of output:
…to her reaction at meeting the male android:
…it's clear that she's the most human of the characters in the show.
The biggest drawback to the OVAs is that Kanon 2006 moves like Dragonball Z in comparison. Yes, it's THAT languidly paced. If you think watching an android make coffee for four minutes is exciting, then this show is for you.
It's clear that I enjoy Yokohama Shopping Trip, but, like any particularly-offbeat show, it's not for everybody. There's a lot of backstory here that I don't know about, but it's something I want to discover, that's for sure.
And Alpha's awfully cute.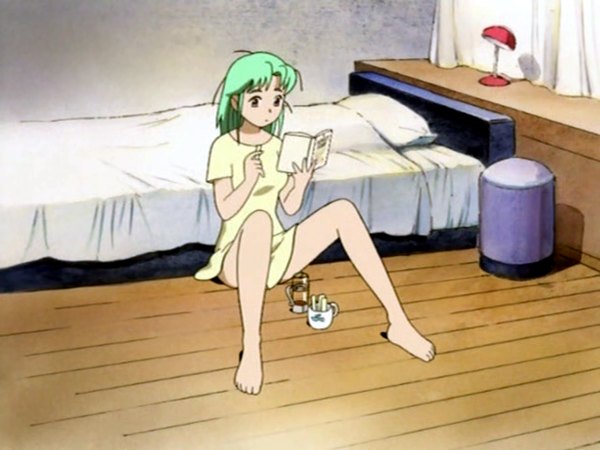 Update:
Author comments.
Posted by: Wonderduck at 12:14 AM | Comments (2) | Add Comment
Post contains 731 words, total size 9 kb.
1
The 14 volumes of the manga are some of most engaging that I've ever read. Go read them. Please.
Posted by: TheBigN at November 17, 2007 02:21 PM (Xs2Gi)
2
I've been working through the manga, slowly. There isn't really any action. It's all about atmosphere and engaging characters and amazing art -- and it's amazingly good.
But it's also just about the last thing I'd think would make a good anime. The things you need for a good anime just aren't there.
Anyway, I think there's no doubt at all that the Misago is a feral robot. And I bet the Sea Goddess is a broken robot, still partially functional.
Posted by: Steven Den Beste at November 18, 2007 05:09 PM (+rSRq)
Comments are disabled. Post is locked.
31kb generated in CPU 0.0117, elapsed 0.0956 seconds.
47 queries taking 0.0877 seconds, 278 records returned.
Powered by Minx 1.1.6c-pink.