July 15, 2013
The Sparkle Is Off The Rose
Some of you may remember back nearly two years ago when I went through that joyous time I liked to call "graphics card hell". That was the time when my old Nvidia 7600GT went all pear-shaped and I had to replace it. The first attempt was with
a 9800GT... which failed
because it was a two-slot card and my case would only support a single. The second attempt was
a PNY GT240... which failed
because it was out of stock with no return-to-stock date, which is a nice way of saying "never." The third and final attempt was the acquisition of
a GT240 from a company calling itself Sparkle
. By this time it was very much a case of burning down, falling over, then sinking into a swamp, but it did work. And it worked very well indeed! I was quite pleased by my purchase, and to be sure it was a lovely card and all was bacon and chocolate and chocolate-covered bacon.
I had no idea that was a thing... though I shouldn't be surprised, should I?

However, three months ago I had my first inkling of a problem: a high-pitched squealing noise issuing from the innards of my computer. When it occurred, the first couple of times, a sharp rap on the case with my knuckles ("Bap!") usually made it stop. Then it stopped for good on its own. Since everything seemed to still work, I let it go with a shrug and a muttered oath: "Computers." Which was fine, until I decided
to play me some

Skyrim
. Booted up the game, began to walk around, saw a bear come at me, drew my sword... and the screen went blank with a "no signal" message on it. Meanwhile, the sounds of a bear eating my character began to emanate from the speakers. Since I couldn't actually see anything, the only way I could reboot was to do the old "hold down the power switch" gig. Then I tried it again, thinking that I must have accidentally done something to glitch the game. Nope. Same thing occurred, but faster this time. Over the next few days, I experimented with other games.
Trine
went for about 5 minutes before it did the same thing. Hell,
Motocross Madness 2
blacked out after about 15 minutes. Some research pretty much confirmed my problem: overheating. The squealing sound? Death of the cooling fan on my Sparkle. So I hied myself off to Amazon and got myself a new graphics card.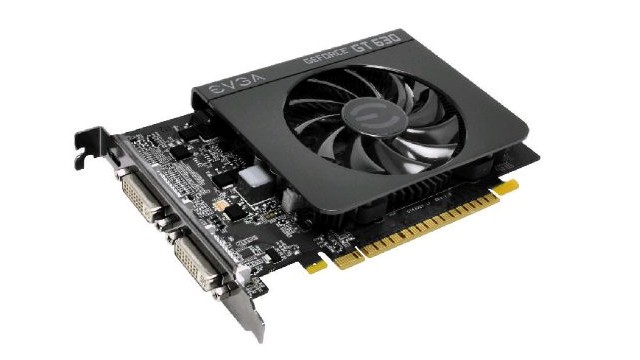 The
GT630
is hardly a powerhouse... it may not even be as good as the Sparkle, to be honest. But I don't much care at the moment as this whole experience has just pointed out to me that Chiyo-chan, my smart and lovely computer, is seven years old and essentially un-upgradeable anymore. So the GT630 is only a stopgap card (and at $65, not an expensive one, either). In about a month, the new school year begins at Duck U. I think that as a "huzzah, you've survived!" gift to myself, I'll be getting a new computer... and that's if I don't get one before that. I already have a name for it picked out... and that's the important bit, y'know. I will, of course, keep you updated as the process goes on. God help us all.
Posted by: Wonderduck at 11:08 PM | Comments (1) | Add Comment
Post contains 560 words, total size 4 kb.
1
Thank goodness for decent budget card options. Used to be, buying the budget card was something you did so you could play Solitaire because Haruhi-sama help you if you tried to play a serious game. Now it's just a matter of dialing back on all the bling-mapping and such.
Posted by: GreyDuck at July 16, 2013 07:19 AM (CUkqs)
Comments are disabled. Post is locked.
27kb generated in CPU 0.0339, elapsed 0.2558 seconds.
47 queries taking 0.2324 seconds, 276 records returned.
Powered by Minx 1.1.6c-pink.