September 26, 2011
Graphics Card WIN!
Ladies and gentlemen, our long national nightmare is over. Chiyo-chan once again has a graphics card installed.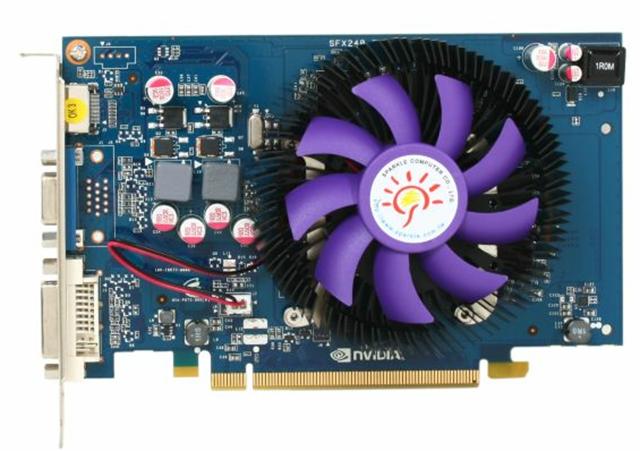 Okay, it's from a company with the odd moniker of SPARKLE, and yes, the cooling fan is a lovely shade of purple, but make no mistake, the GT240 is no wimp. For all intents and purposes, it puts up the same sort of numbers as Nvidia's legendary 9800GT, but it does it while drawing 106w less power... and only requiring a single slot in my case to boot. Doesn't even need an auxiliary power connection!
Now it's not a new card. Heck, SPARKLE doesn't even list the GT240 on their products website anymore. However, for my needs, it's perfect. Just for a lark, I installed
Fallout 3
and fired it up... and OMG, what a difference a few generations make! If you'll remember, my previous card was a
7600GT
, a high-midrange card released in 2006. The
GT240
first came out in 2009, though the version I have was released in 2010. This thing is quite the upgrade.
If you've played
F3
, think back to the first view you get of the Capitol Wasteland after you leave Vault 101... y'know, from the scenic overlook point? THIS view:
From this point, you can see off in the distance the remains of the Washington Monument and the Capitol building. Off to the right is the town of Megaton.
That was not what I saw when I first played the game with the 7600GT. What I saw basically ended at the water tower, and even that was somewhat indistinct. That first time, I was ambushed and killed by a mole rat... that didn't draw in until it was actually attacking me. I got used to taking a few steps and then zooming in, just to be able to see what was ahead of me. That first game, it took me an hour to find Megaton... I kept walking past it. It was like the entire Capitol Wasteland was enshrouded in dust or fog. That was quite atmospheric, but kinda hard to play. Eventually, I got it set up so I could play the game, but the tradeoff was no grass and a somewhat mannequin-like appearance to everybody. I mean
more
mannequin-like than Bethesda games usually look.
Now, though? I can actually SEE... and the game doesn't slow down. Chances are I could even turn the settings up to "ultra-high" and it'd be playable. Details keep popping up that I'd never seen... Moira Brown, the lunatic shop propriator in Megaton, wears a stained t-shirt under her stained and wrinkled jumpsuit. When I played, neither had stains, and the wrinkles were kinda more like suggestions.
What I'm saying is, it looks more like what you'd expect the End Of The World to look like. Sorta. I guess. You know what I mean.
The only negative I've noticed with the GT240 is that it doesn't play well with Windows Media Player on HD videos. However, since ZoomPlayer still handles them quite well, I'm not concerned in the least. The fan has a very quiet hiss to it, too. When the rest of Pond Central is quiet, I can hear it... but the moment there's any other sound in the living room (the TV, a fan in the window, a radio) it's drowned out. I'll get used to it easily enough.
I give the GT240 1GB GDDR5 two wingtips up, and the official Wonderduck Seal of Approval. If you need a single-slot, low power graphics card, this is the one for you. Now if you'll excuse me, I need to go and ransack a grocery store for some post-apocalyptic goodies.
Posted by: Wonderduck at 08:53 PM | Comments (8) | Add Comment
Post contains 615 words, total size 4 kb.
1
Congratulations!
I'm running it on a Win 7 partition and can get it to medium which is a vast improvement over my old laptop. The baddies teleporting in was....special.
Suddenly a deathclaw appears....out of nowhere.
You will now find that the sniper rifle is an awesome piece of kit.
Posted by: brickmuppet at September 26, 2011 09:24 PM (EJaOX)
2
Yay!
I had a 9800GT for about a month a couple of years back. Then the cooling fan had a run-in with a stray cable...
Oh, and check the announcements on Billy - you have three Kaiju drops waiting for you. One for you too Brickmupet.
Posted by: Pixy Misa at September 27, 2011 01:15 AM (PiXy!)
3
Welcome to the modern era of graphics!
It's kind of nice to be able to fire up a game and say "yes, super ultimate maximum graphics please"...
Posted by: Avatar_exADV at September 27, 2011 04:14 AM (GJQTS)
4
Congrats on the new graphics card, wonderduck! That's good news, indeed!
Posted by: JT at September 27, 2011 08:23 AM (HO6Is)
5
Well, hot damn!
Not bad, sir. Not bad at all. As "old" "budget" cards go, that one's certainly no slouch; it'd play City of Heroes with some of the Ultra Mode goodies enabled without keeling over, for instance.
Posted by: GreyDuck at September 27, 2011 09:03 PM (7lMXI)
6
GreyDuck do you play City of heroes? If so, which server? I don't recall seeing any super-powered ducks in either the air or the ponds, but then I haven't been on patrol much lately...
Posted by: Siergen at September 27, 2011 09:40 PM (NE2Lf)
7
Just wondering, but where did you buy the card, and how much did it cost you?
Posted by: Phil Fraering at October 02, 2011 11:12 PM (qITqt)
8
Phil, I bought it from TigerDirect (
find it here
), where it runs $99. A similar GT240 from eVGA runs $98, but has GDDR3.
Posted by: Wonderduck at October 03, 2011 09:44 AM (o45Mg)
Comments are disabled. Post is locked.
27kb generated in CPU 0.0262, elapsed 0.1185 seconds.
47 queries taking 0.1113 seconds, 284 records returned.
Powered by Minx 1.1.6c-pink.