January 01, 2012
Touring Skyrim
I've played a good 25 hours of
The Elder Scrolls V:

Skyrim
over the past week, and will freely admit that I'm just agog over the thing. The music and sound is astonishingly good. Voice-acting is excellent for video games (average for just about any other form of entertainment, though). The action is entertaining, puzzles are hard without being impossible, and Bethesda seems to have fixed the horrible level scaling problems of
Oblivion
(and to a lesser extent,
Fallout 3
). No more bandits wearing Ebony armor and carrying Daedric longswords!
Where the game really impresses, however, are the graphics. I'm not talking about the amazing vistas (which are rightly jawdropping), but just the incidentals. For example, this scene:
Yes, that's right: it's a Skyrim chicken. But look around the scene, too... everything looks so gosh-darned gorgeous, it's breathtaking. It goes without saying that motion is everywhere: the waterwheel is turning, there's a little bit of smoke from a campfire wafting by, the chickens walk around, and on and on.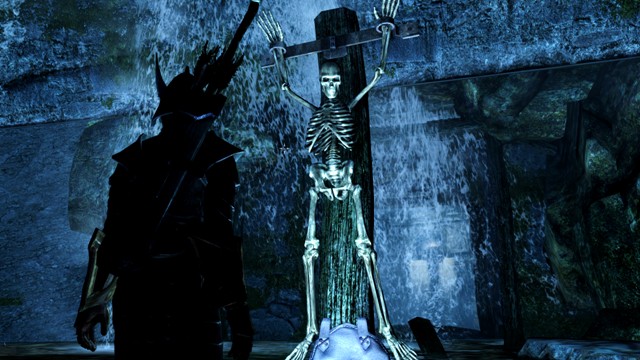 It's not all chickens and woodpiles, though. The above is inside a watchtower that, over time, collapsed into the nearby lake... and was taken over by a few necromancers. Poor guy up there was just looking for a place to keep the weather off his head while he slept. The atmospherics make the scene creepy as all heck when you walk into the room: water leaking in, odd lighting, and echoing sounds just made me want to turn around and walk out.
They say that
Skyrim
has a history of amusing glitches. I've only seen one, the conjoined guards there in the lower right. Both heads turned to follow me around, too, so it's not "just" a glitchy graphic.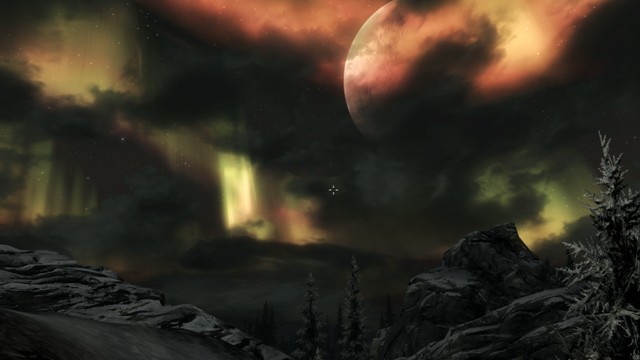 This? Oh, just another piece of glorious Skyrimic scenery. One of the moons with the Northern Lights shining nearby... it goes without saying that they shimmered and moved just like the auroras I've seen in real life. I spent a good 10 minutes of real time watching them, until I was attacked by a pack of wolves.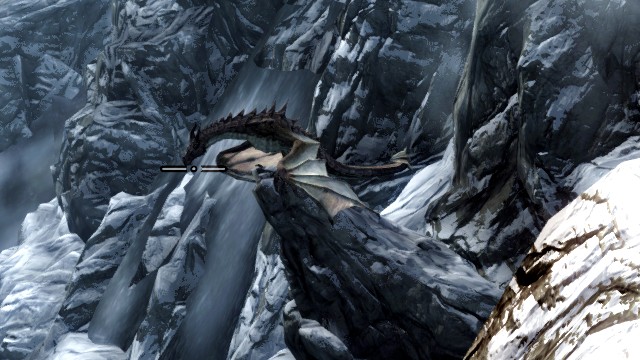 A dragon, shortly before it decided that it really wanted nothing more in life than to kill me and chew on my bones. It didn't get a chance to, though, as during the fight, I fell off a poorly-placed cliff. Oops.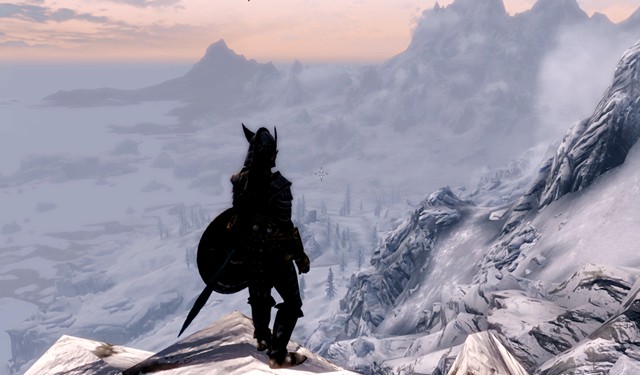 I may have mentioned this, but
Skyrim
does "big" very,
very
well. Above, watching the sun rise from atop a mountain peak near Azura's Shrine.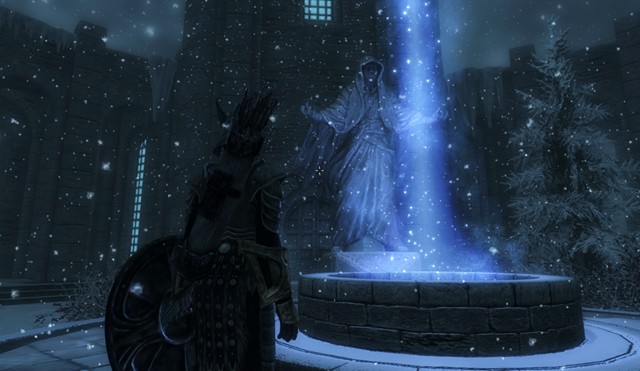 No sad girls visible... lots of snow, though.
I've tried very hard not to gush about
Skyrim
for the past week, I'll admit. Either you're already playing it and don't need me to, or you don't play videogames and won't care about that sort of thing. I'm sure there are others out there who have done a better job of gushing than I ever will. Still, I couldn't not do it. So there you go... a whole buncha
Skyrim
love.
Posted by: Wonderduck at 11:47 PM | Comments (7) | Add Comment
Post contains 493 words, total size 4 kb.
1
Well, it's certainly prettier than
Terraria
.
Posted by: Pixy Misa at January 02, 2012 12:35 AM (PiXy!)
2
For all its failings, it's operating on a scale that's an order of magnitude larger than an ordinary game. Say what you will about Bethseda, but for ambition, their games are unmatched.
Posted by: Avatar_exADV at January 02, 2012 01:46 AM (pWQz4)
3
But where are the screen shots of ducks?
Posted by: Siergen at January 02, 2012 02:52 PM (GcG9m)
4
When I see those pictures, what it says to me is that they spend a titanic amount of time and resources on model-making. I can't imaging just how huge must be the library of meshes and textures.
Lots of games shortcut those, and we're all used to seeing dozens or hundreds of copies of The Box or The Explosive Barrel. It looks like these guys didn't take quite so much of a shortcut.
Posted by: Steven Den Beste at January 02, 2012 04:45 PM (+rSRq)
5
From what I've read, all the terrain in the game is custom mapped. If a player goes to that exact point near the Shrine of Azura, they'll be able to get the exact same picture. They didn't take quite as much care on "The Box" or "The Barrel," but there
are
multiples of "The Box."
Only one chicken model, though.
Posted by: Wonderduck at January 02, 2012 06:52 PM (f/6aJ)
6
Only one chicken model, though.
Enough about the chicken - where are the ducks?
Posted by: Siergen at January 02, 2012 07:11 PM (GcG9m)
7
The Ducks are exclusive downloadable content.
Posted by: Mauser at January 02, 2012 11:40 PM (cZPoz)
Comments are disabled. Post is locked.
27kb generated in CPU 0.0221, elapsed 0.145 seconds.
47 queries taking 0.1298 seconds, 283 records returned.
Powered by Minx 1.1.6c-pink.