December 31, 2011
Farewell 2011, Welcome 2012!
Yet another year is about to pass into the history books, taking with it 315 posts (including this one) here at The Pond. What were the highlights of the past 12 months?
In the world of Formula 1, everything got going by... not getting going. First,
Robert Kubica suffered a hideous accident during a rally race
, nearly severing his hand. Multiple surgeries over four or five months allowed him to recover use of his body, but his racing career may be over. Then the
Grand Prix of Bahrain was cancelled
due to the "Arab Spring" revolutions, and the country's heavy-handed methods of dealing with it.
Pirelli took over as the tire provider for F1
. Just before the season began, Jenson Button took the 2008 McLaren MP4-23 around the Mount Panorama circuit in Australia, providing us with
The Greatest F1 Picture Ever
. The season started in a way that we'd soon get used to: Seb Vettel
ran away and hid after the first lap
, eventually winning by a comfortable 15 second margin. At the second race weekend in Malaysia, there was a rash of tire-related problems, included t
he worst flat-spot ever
. Oh,
Vettel won again
, too.
China brought us one of the best races of the year
. It started off with Lewis Hamilton's McLaren spewing fuel all over his pit stall and having to go to the grid with its rear covers removed. Then his teammate, Jenson Button, tried to make a pitstop in Red Bull's box... one of the funniest moments of the year. It ended with Hamilton passing Vettel for the eventual win towards the end of the race, to boot. The
Turkish Grand Prix
saw a record number of pit stops (80, a number that would fall later in the season) and another win by Vettel. He won in
Spain
, too.
Qualifying at Monaco
brought us a nasty accident, with Sergio Perez slamming into a barrier sideways. He suffered a bad concussion that kept him out of two races.
The race itself
was shaping up to be a nail-biting race to the finish between Vettel, HWMNBN and Button... and then a red flag put paid to all that. Vettel won.
Canada brought us the Race of the Year
, despite half of it being run behind the Safety Car due to torrential rains. It was also the longest F1 race ever, clocking in at 4 hours and 14 minutes in duration. Button won after he pressured Vettel into a mistake on the final lap. SPEED brought us "
Seat Swap
" two days later, where Lewis Hamilton and Tony Stewart traded cars for a few laps around Watkins Glen.
Vettel blew the rest of the field away in Valencia
, the least interesting race of the season.
Ferrari got a win at Britain
as HWMNBN brought his steed in ahead of the Red Bulls. No worries though, as
Vettel made an appearance on Top Gear
where he set the fastest lap of all F1 drivers around their track... and came across as a really likeable young man. Bastard.
Hamilton was victorious in Germany
, while his teammate
won in Hungary
. It was actually a good race at Budapest, aided by rain for only the second time in the Grand Prix's history. Button won that one, too. These three races were the longest stretch during the season where Vettel
didn't
win. For some reason, Spa brought with it
ennui and angst
, and it took me a solid week to actually do
a (sorta) F1 Update!
.
Italy brought another Vettel win
, as did
Singapore
.
Button won in Japan
, but it hardly mattered as Vettel wrapped up the Driver's Championship with a second-place finish. Much to everybody's shock and surprise,
Lewis Hamilton took the pole at Korea
, the first (and only) time a Red Bull wasn't at the top of the grid all season.
Vettel still won
, his 10th victory of the year. The race weekend was marred by
the death of IndyCar driver Dan Wheldon
. The F1 Circus had their
first ever race in India
, while the first practice session drew
only the second liveblogging attempt
here at The Pond. All of that nearly paled in comparison to the announcement that
a second Grand Prix will be held here in the USA
starting in 2013. Abu Dhabi saw Vettel retire for the first time all year, and
Hamilton took advantage
for his third win. Finally,
Vettel set an all-time F1 record
with his 15th pole position in Brazil.
Mark Webber got his first win of the year
at the last race, taking advantage of a "mechanical problem" on Vettel's car. After the season,
Mumbles Raikkonnen signed
with Renault-to-be-Lotus, adding a sixth World Champion to the grid for 2012.
On the Military History front, there's actually
a Military History category
now! Just in time, too, because 2011 was a great year for those of us who dig that type of thing. It all got rolling when I gave logistics vessels got some love by unofficially declaring the
Cimmaron
a "Hero Ship." The
Langley

got a short history
which was something I'd been meaning to do for a few years. Reading Norman Polmar's "Aircraft Carrier, Vol 1" introduced me to something I'd never heard of, the
LSTCV
and the Brodie Device.
An offhand comment
on another site led to the year's first major article, how an earthquake was
the genesis of an aircraft carrier
. The only
Pacific Q-Ship
got a note, and I took a closer look at the damage the
Yorktown
suffered at the Coral Sea, and the "miracle" of the Pearl Harbor repair yards afterward. I was asked
what the actual reason for the Japanese attack on Midway was
, which led to
a reader completely missing the point of this blog
. The second major article, on the whole
concept of battlecrusiers
, came around at the end of June. My favorite
"Name This Mystery Ship" entry
proved to be a tough one, but
the pictures rocked
. The third major article fell into my lap and while a lot of the post was historical fiction,
Harry's Life
was a blast to write... and based on a true story. Maybe. Later information cast some doubt on some of the details. Writing the post on
the PBY Catalina
was like pulling teeth, but still turned out to be pretty good. A post on the
Flight To Nowhere
may have been the crowning glory of the year, both for the MilHist category
and
for The Pond in general. The
Battle of Midway Roundtable even picked it up
, which had me walking on air. Finally, the first two parts of a three-part series on which WWII fighter was the best came out.
Part I is here
, and
Part II can be found here
. Part III is still in the planning stages. Still, that'll be a great way to begin 2012, right?
Then there was Anime. While I watched a lot of shows, only one series caught my imagination strongly enough to get me to actually
write
about it. To say that
Rio Rainbow Gate!
was an odd choice to do that is something of an understatement; to be blunt, it wasn't a particularly good show. Indeed,
my writeup on Episode 1
was vicious in my distaste. But then something weird happened:
I kept watching
. Next thing I knew, I was doing an episodic recap each week... and both hating and enjoying it! The writeups are right here:
Ep04
,
Ep05
,
Ep06
,
Ep07
,
Ep08
,
Ep09
,
Ep10
,
Ep11
,
Ep12
and
Ep13
. That
should
have been the end of it, but the masochistic completest in me insisted I go back and do recaps of the two episodes I "missed' the first time around:
Episode 02
and
Episode 03
. THAT
should
have been the end of it, but like a venereal disease,
Rio Rainbow Gate!
was the gift that kept on giving. The DVD/BD only Episode 14 came out, and
the episodic writeup
turned out to be the longest post in the history of The Pond, coming in at 4132 words.
Not a bad year, that. And that doesn't even include things like the
Saturday Night Tunage
posts! With any luck, 2012 will be as good or better... and more importantly, y'all will keep showing up to read them. Couldn't do it without you folks, and I appreciate your time.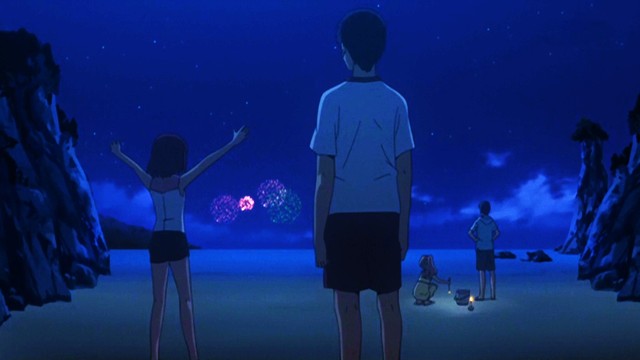 Now let's all go put on silly hats and do goofy things.
Posted by: Wonderduck at 01:14 AM | Comments (2) | Add Comment
Post contains 1400 words, total size 14 kb.
Posted by: Siergen at December 31, 2011 03:08 PM (GcG9m)
2
I said silly hats, Siergen, not
stupid
ones.
Posted by: Wonderduck at December 31, 2011 05:25 PM (f/6aJ)
Comments are disabled. Post is locked.
34kb generated in CPU 0.014, elapsed 0.1789 seconds.
47 queries taking 0.1704 seconds, 278 records returned.
Powered by Minx 1.1.6c-pink.