August 31, 2019
Anthoine Hubert 1996 - 2019
While I may not be writing about Formula 1 these days, I'm still following the goings-on in and around the sport. Heck, I'm even still watching the races though without the usual fervor. Which is why I winced when I checked my phone just a short time ago and saw that today's F2 race at Spa-Francopants had been red-flagged, then cancelled altogether, following a "horrific" crash at Eau Rouge/Radillion. I winced even harder when I finished up my morning shower, sat in front of my computer, and discovered that in the intervening time the FIA had
released a statement on the incident.
A driver had been killed.
Video of the accident
can be seen here
if you want to see it. Reports say that the driver in front of him, Giuliano Alesi, wrecked which wound up involving Hubert. His car hit the tire barrier at the exit of Radillion, site of many accidents in the past, rebounded back onto the track, where he was then hit by the car driven by Juan-Manuel Correa. The t-bone accident split Hubert's car, tearing off everything behind the cockpit, and sent Correa skidding down the track upside down. All three drivers were taken to the infield care center. Alesi was treated and released with only bumps and bruises. Correa has been transported to a hospital in Liege, and at last report is in stable condition. Hubert was declared dead at the care center.
I did not know much about Anthoine Hubert before right now. I knew he was in F2, and I must have seen him on track a couple of times as I've watched a few streamed F2 races this season. He was reigning world F3 champion, which means he likely had a good chance at reaching Formula 1 eventually. As can be seen in the photo above, he had a relationship with Renault Sport as a member of their young driver program.
F2, which races twice per weekend, has already cancelled Sunday's sprint race. Formula 1 has already said that they'll race as scheduled. No information yet about what sort of tributes will be held. It's interesting to note that this is supposedly the first driver death at a circuit in F2 or F1 since That Horrible Weekend when Ratzenberger and Senna were both killed... or at least that's what SKY is reporting. F1 polesitter Charles LeClerc posted
this photo of the two of them
just a short time ago, I can't imagine what's going through LeClerc's mind right now, and I only just discovered that Jules Bianchi was his godfather.
More as information warrants. Condolences from The Pond to all families, fans and friends of Hubert.
Juan Manuel Correa suffered fractures to both legs and a "minor spinal injury." He underwent surgery and as of reports released at 7pm Pond Central Time is in Intensive Care. He was incredibly lucky, as the breakdown above shows his feet were exposed. It takes a lot of impact to do that, essentially tearing the front of the safety cell off. This could have been a double fatality easily enough.
Edit 2:
clear video appeared overnight
. Spans from before Alesi's accident to seeing trailing cars slam on their brakes to avoid plowing into the shattered remains of Hubert and Correa's cars. I think I'm done watching these.
Posted by: Wonderduck at 12:27 PM | Comments (1) | Add Comment
Post contains 572 words, total size 4 kb.
August 26, 2019
Seen In Hong Kong
I want nothing more than to make a joke like "the protesters can't lose, they've got the rubber ducks", but the situation is on too much of a knife's edge. Not that I'm any expert on China internal politics... in fact, those rubber ducks up there know more about it than me... but I'm of the opinion that a Tienanmen event is only being held at bay by the impossibility of keeping it from foreign eyes.
If ducks help, nothing could be better.
Posted by: Wonderduck at 09:53 PM | Comments (1) | Add Comment
Post contains 87 words, total size 1 kb.
August 23, 2019
Yee-Haw.
So I'm browsing around Reddit one day this week and I stumble upon a charming little story about a 90-something-year-old WWII veteran that approached a bunch of musicians performing at a festival to request a song. I don't remember the name of the tune, but it was what the dockside band was playing when the vet's troop transport pulled away to head into the Pacific War.
Well, that's cool, I thought, and got into the comments section. The guy who posted the thing original was a member of a group called "Shoot Low Sheriff", which made me laugh because I knew the rest of that sentence is "... they're ridin' shetlands!" What really made me arch an eyebrow was that the band plays "Western Swing."
Now it's no secret to anybody who's read The Pond for a while that I do like me some big band / swing music. I'm still enjoying the
electroswing
movement, for example, and one of my favorite Joe Jackson albums is "
Jumpin' Jive
". But "I've never heard of no Western Swing before, wonder what it sounds like" is what I thought to myself, so I looked them up.
Well, I'll be.
That's kinda darn fun right there! I bought both of their albums from Amazon, and they're a blast to listen to. Obviously if you don't like Western music, you're probably not going to like this... and I understand that. If you don't like swing music, you're probably not going to like this... and while I
don't
understand that, people are different. Even if you're wrong.
They get a Wonderduck two wingtips up! Enjoy, won't you?
Posted by: Wonderduck at 01:36 PM | Comments (2) | Add Comment
Post contains 272 words, total size 2 kb.
August 20, 2019
HE DID IT!!!
Everybody, head over to
Brickmuppet's place
...
Old Dominion University
FINALLY ran out of hoops to make him jump through.
Do you know what this means?
There have been times during his 30-year odyssey that it's seemed like they've been inventing reasons he couldn't be given his degree, but finally... FINALLY... they ran out of stupid excuses.
Congratulations, Brickmuppet! You persevered in the face of abject stupidity to get that which you've so desperately wanted for so long... which kinda feels like a metaphor for life in these here times.
Bravo.
Posted by: Wonderduck at 11:02 PM | Comments (3) | Add Comment
Post contains 99 words, total size 1 kb.
August 19, 2019
The Kraken Is Displeased
I had something else in mind for a post today, but then I saw this:
...and suddenly I changed my mind. If the video continues to not work,
click right here!
I quite enjoyed my time in the original
Kerbal Space Program
, but it was created by people who didn't actually know how to code. As a result, its an big unoptimized mess of spaghetticode that nobody currently working on the game knows... partly because most of the people who did the original are no longer part of Squad due to some very unfortunate circumstances. Every patch and every update made the mess just that much larger, reportedly causing new bugs every time old ones were repaired.
KSP 2 is being rewritten from the ground up by professional game developers. This can be both a blessing and a curse, of course. Part of the thing that made original KSP great was the passion the creators had for it... they liked blowing up their LGMs as much as the fans did. The new people involved won't have that same "spark", so to speak, but... well, y'know. I'm looking forward to seeing a LOT more.
Oh, and unless I miss my guess, at both the 1:32 and the 1:42 timemarks, we get to see friggin' ORIONS. Finally I get to build me a
Michael
of my very own!!! Bring on the Fthtp!
Lastly, at the very end, there's a "thank you" message to someone named Shaun Esau with the hashtag "Build Fly Dream". Here's what that refers to:
A lot of the beats from this video, one of the best "fan trailers" for the game out there, get repeated in the new trailer. It's a nice touch, one that shows that at least the new marketing department "gets it."
I'm enthused.
Posted by: Wonderduck at 10:51 PM | Comments (6) | Add Comment
Post contains 303 words, total size 2 kb.
August 11, 2019
I'm Sorry. I'm So So Sorry.
I know, I know. It just made me laugh very, very hard. Yes, that beat is from "Gentleman" by Psy.
Posted by: Wonderduck at 10:00 PM | Comments (2) | Add Comment
Post contains 34 words, total size 1 kb.
August 09, 2019
Automated Night "Rail"
The Yurikamome Line from Shimbashi to Toyosu isn't technically a rail line since... well... no rails! It's rolling stock is all rubber-tired people movers running on concrete "tracks". And it's 100% automated, all computer-controlled.
No real reason to post this, honestly. It's just pretty watching the lights and sites of Tokyo, Odaiba, and oh, Tokyo Big Sight is the 11th stop. And it almost makes me feel like I'm a functioning human being. Duck. Whatever.
Enjoy, won't you?
Posted by: Wonderduck at 10:05 PM | Comments (6) | Add Comment
Post contains 81 words, total size 1 kb.
August 05, 2019
Random Anime Picture #148: Get Out Of My Head
This past winter season, there was a series called
Kaguya-Sama: Love Is War
. The basic plot sounded interesting: two brilliant people at an elite high school are too proud to confess their love to each other, so they engage in an unannounced "intellectual" duel to get the other to do it first. These two are surrounded by other characters, of course, and yadda yadda yadda hijinks occur. So, I recently decided to take a stab at it.
See what I did there?

To be frank, the two main characters are exactly the sort of people in anime I detest... self-absorbed, unlikable, and completely out of touch with reality, with a massive side order of arrogance. It wasn't until the final vignette of Ep03 that either showed some signs of humanity. In it, Kaguya, the female protagonist, walks to school for the first time in her life (elite school, remember? Her family is stupidly rich) and ends up escorting a 4th grader who is walking alone and scared. Despite all that, it's visually quite a striking show, and I can't help but admit to getting some self-loathing enjoyment... self-loathing in that I am kinda disgusted that I find such people entertaining in some way. The visuals for the OP are quite good, and the song sounds like something Tom Jones would have had a field day with. The ED, on the other hand, is 100% pedestrian.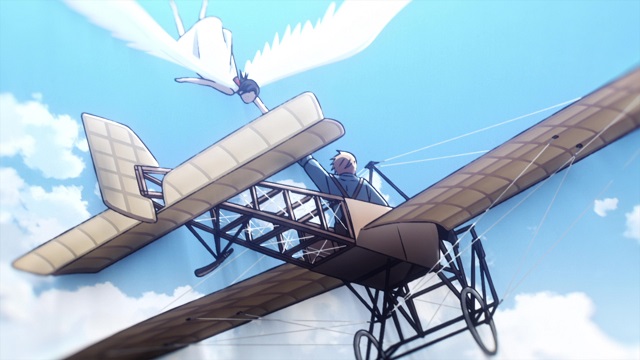 Except for the Bleriot XI. And the zeppelin. Pedestrian except for those.
Until the aforementioned Ep03 rolled around. The ending for Ep03 dropped this in our laps:
...and I
can't get it out of my head
. I wake up in the morning, and there it is... "Chika, Chika, Chika-chi-kaaaa!" I go to bed at night, and there it is... "Suki suki doki doki!" It's amazing just how earwormy it is, how stuck in my brain it's become, and my only hope is that by infecting you with it, the music gods will take pity on me.
Sorry about that.
Posted by: Wonderduck at 12:07 AM | Comments (7) | Add Comment
Post contains 343 words, total size 3 kb.
52kb generated in CPU 0.0539, elapsed 0.5048 seconds.
53 queries taking 0.4922 seconds, 316 records returned.
Powered by Minx 1.1.6c-pink.