April 07, 2011
F1 Practice 1: Malaysia 2011 (LIVE)
Well, this is turning out to be more exciting that I thought! I brought up
speedtv.com's live streaming feed
of Practice 1 from Malaysia, wanting to get reacquainted with the circuit and hoping to catch a glimpse of the HRTs maybe making their first laps of the 2011 season. And indeed, HRT brought out Narain Kittylitter 19 minutes into the session.
That went well.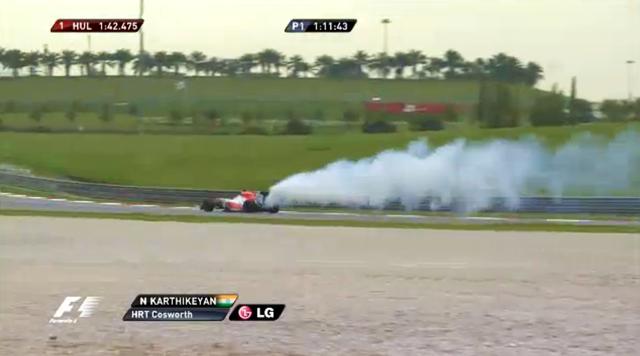 Okay, oops, blown engine, right? It's worse than that: the engine was smoking like it had just elected a Pope as he pulled out of his pit stall. Now, it's not uncommon for a F1 engine to squirt a little oil onto the exhaust or some other hot thing in the back of the car, particularly at the start of a session (Mark Webber's Red Bull did just that at... the Aussie GP? in 2010, for example... race began, he began to move, and poof! Big cloud of smoke.). But this time, the HRT kept on smoking as it rolled down the pit lane, into Turn 1, through Turn 2, around Turn 3... you get the picture. Eventually, Kittylitter called back to the pit wall: "There's a lot of smoke." Pit wall, sounding depressed: "Switch it off, Narain." A few minutes later, Vitantonio Liuzzi came out, put in an installation lap (to make sure everything worked), then went right back in. So we might be seeing a HRT in Quals, and the chances are good that there won't be a single insect anywhere near the track afterward!
Then Felipe Massa brought out his Ferrari. It all sounded fine until he hit fourth gear (maybe 5th)... then he started bouncing off the rev limiter and couldn't shift up. Into the pits he went, and out came HWMNBN... who had the same thing happen, in the exact same place on the track. As of this writing, with 33 minutes left in the session, neither has re-emerged from the pits.
Then Grizzly Nick Heidfeld brought his Renault out onto the circuit.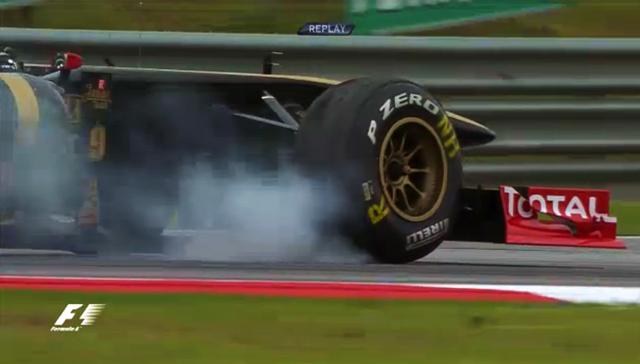 "Okay," I hear you saying, "he locked up a tire going into a turn, so what?" One little problem: that's not a braking zone he's in. There's no commentary from the Legendary Announce Team (or anybody else, for that matter), so I can only speculate, but it sure
looked
like one of his brakes just decided to clamp on unbidden... and stay on. For almost an entire lap.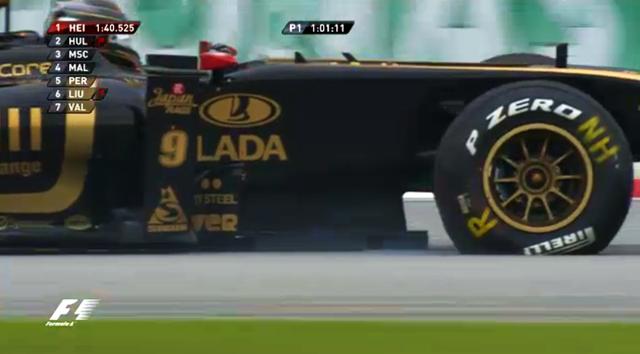 Yup, now
that's
a flat spot. That screencap is from towards the end of the lap, after a good portion of the tire has been ground away. Note the position of the "R" and "NH" on the sidewall in the two pictures... that tire hasn't moved a whit. By the time The Grizzly One made it into the pits, he was leaving a trail of sparks and debris behind him as the FIA legality plank was quickly rendered into its component atoms and carbon fiber began to be shed. Eesh.
Vitantonio Liuzzi just posted a timed lap in his HRT! Okay, yes, it was seven seconds slower than the fastest of the session, but he put in a timed lap! Actually, seven seconds off the pace isn't so terribly bad, all things considered...
More tomorrow evening.
UPDATE
: No sooner had I typed that last sentence than Renault's Vitaly Petrov set off on a hot lap... and had a little tire problem of his own.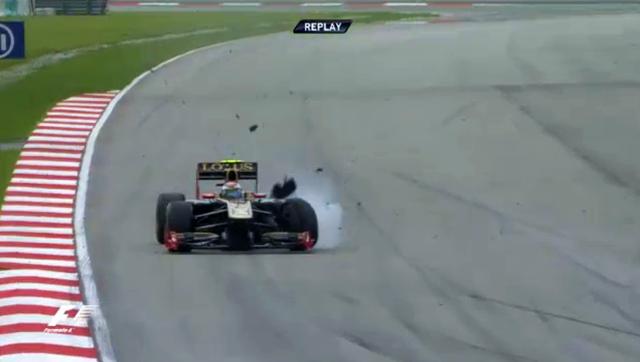 He did say on the radio that "the suspension, it was break (sic)," so take that for what it's worth.
More if someone else has something go bad.
ANOTHER UPDATE
: No sooner had I typed that sentence than Virgin's Custard d'Ambrosio had a suspension failure of his own.
One begins to notice a trend occurring, doesn't one? I'm beginning to wonder if there's something wrong with this batch of Pirellis... I suppose an imbalanced tire could cause suspension damage, but you'd think the teams would have noticed that. Guess we'll have to wait on that one.
The session is over now, so I won't have the chance to cause any more incidents by saying "I'll have more tomorrow." Yeesh...
Posted by: Wonderduck at 09:12 PM | Comments (2) | Add Comment
Post contains 689 words, total size 5 kb.
1
It's been said, "Once is bad luck. Twice is coincidence. Three times is enemy action." (Actually, I think that was Goldfinger who said that.)
Makes you wonder, doesn't it?
Posted by: Steven Den Beste at April 08, 2011 12:38 AM (+rSRq)
2
Sorry I missed that practice session. Definitely intend to catch qualifying tonight/tomorrow/whenever.
Posted by: Mallory at April 08, 2011 10:18 AM (WJ2qy)
Comments are disabled. Post is locked.
26kb generated in CPU 0.0156, elapsed 0.7729 seconds.
47 queries taking 0.7645 seconds, 278 records returned.
Powered by Minx 1.1.6c-pink.