May 31, 2017
Aria The Avvenire Ep03
"But Wonderduck," I hear you say and honestly I should get that looked at, "that came out in July of last year!" And you are absolutely correct, it certainly did, good on you! "No, that's not what I mean," you're saying crossly, "I mean 'why in the world are you only blogging about it now?'"
Oh, that's very simple. I only just watched it last night. Look, let me explain why I, as devoted a fan of the
ARIA
franchise as there is, didn't watch the last episode of the long-awaited special that was released with the new BD boxsets. I don't know if anybody else does this, but if I'm hotly anticipating something I often... wait on it. A new book I've been looking forward to for months? It's going to sit on the table for a few weeks. New episode of
ARIA
? Oh yeah, that's gonna wait. Part of it is anticipation: "I'm so excited about this that I don't want to lose that feeling!" Another part is fear: "Please please please let it be as good as I hope. If it's bad, it's going to feel awful!"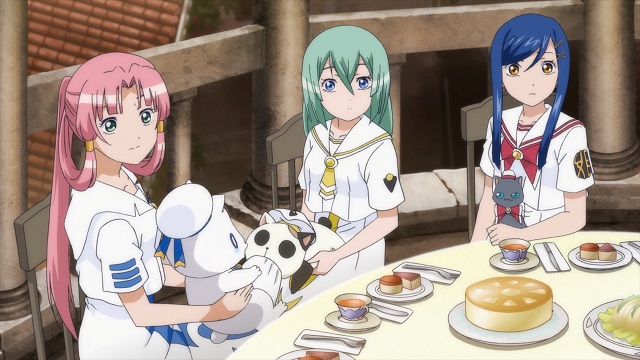 So I've been saving it for a dark and unhappy night. Last night, in the middle of a bout of self-loathing (I may be on happy pills, but they don't work miracles), I decided it was time. I settled into my chair, got as comfortable as my various injured body parts would let me, and pressed play.
Just from the first few minutes, I knew two things. First, oh god they got it right on the button. Second, I could see where this was going and I was going to be a sobbing mess by the time it was done. If you're a fan, you'll note the people in the picture above: three generations of undines (plus Grandma). The three newbies in the aprons, the main characters on the left, and the "old guard" on the right... except someone's missing.
more...
Posted by: Wonderduck at 11:02 PM | Comments (1) | Add Comment
Post contains 735 words, total size 5 kb.
May 29, 2017
F1 Update!: Monaco 2017
A brilliantly perfect day in the Principality greeted the Circus as they made their way through the streets of a small French fishing village, heading to the starting grid of Formula 1's premiere event. Ferrari hadn't won here in an unbelievable sixteen years but had a front row lockout today, Kimi Raikkonen over Seb Vettel. Behind them were the Red Bulls of Embryo Verstappen and Smiley Ricciardo, separated from the two cars from Maranello by the Mercedes of Valterri Bottas. Would church bells be ringing in Italy? Would energy drinks be spilled in Austria? Would slide rules be set down for a moment in Germany? THIS is
your
F1 Update! for the 2017 Grand Prix of Monaco!
*LIGHTS OUT
: Ste. Devote, the first turn at Monaco, is rather notorious for its ability to cause havoc at the start of a race. It's quite common to see one or more cars crash out of the race there, nose buried deep into the pillow-covered armco, while the rest of the field scrambles to get out of the way. Not this year: everybody made it through the first lap clean and clear, with no position changes anywhere. It took nearly ten laps for much of the field to start to spread out, with the two Ferrari drivers opening up a six-second gap to Bottas.
*EXCITING AND TENSE
: Those two words do not apply to what was going on in Monaco today. It's notoriously difficult to pass on the narrow streets of the Principality, but now that the cars were 8" wider with wider tires and greater grip, it was proving to be nigh-on impossible. Thus we were treated to nothing less than a high-speed parade.
*IT'S THE PITS, MAN
: It is an immutable fact of Formula 1 that, in a team, the car ahead will pit first, before the car behind. This is usually an advantage for the leader for different reasons. For both Ferrari and Red Bull, that's how it worked today: Verstappen hit the pits on Lap 32 for his only stop, Raikkonen on Lap 33, Ricciardo on Lap 38, and finally Vettel on Lap 39. In both cases however, the second car came out
ahead
of the first car. Raikkonen went from a two second lead to being a second behind after the pit rotation, Verstappen wound up in fifth, shuffled back behind Bottas while his Australian teammate ended up in third. When the Legendary Announce Team said that "the conspiracy theorists will be saying that Ferrari engineered the position change," they were only saying what everybody was thinking. That's the way it's done in F1.
*WHOOPS
: Jenson Button was having what could only be considered a successful race in his borrowed McLaren. Taking over Fernando Alonso's seat while the Spaniard was racing in the Indianapolis 500m, Button was within range of a points-paying finish. All he had to do was get past Pascal Wehrlein and he'd be a cinch to eventually end up in 10th. The problem was, Wehrlein had no interest in letting the Brit go traipsing past. The cameras cut away to watch something else. A few laps later, we were treated to this view:
It was quickly realized that this was Wehrlein's Sauber, leaning up against the barriers at Portiers. The good news is that this is a very slow speed corner, the bad news is that F1 cars never end up on their sides so the marshals had not the first idea of what exactly to do, there's no procedures for that. At least, that's the way it felt as it took seemingly forever to get the Sauber back on its wheels and Wehrlein out. The German took a ride in the Medical Car as a safety car period was called, but this was mostly a formality: he was fine. It took only a moment or two for people to wonder where Button was. It turned out that he was in the run-off area passed the exit of the tunnel. He had made what could charitably be termed an "optimistic" move to the inside of Wehrlein and interweaved tires with him. Wehrlein ended up heading for the harbor, while Button suffered a broken suspension. Amusingly, he was handed a three grid spot penalty for the next race and two points on his Superlicense. Of course, this was a one-off race for (now most likely) permanently retired Button.
*TO THE END
: The safety car bunched the field back up, of course, but the restart went the way they usually do: the leader got away scot clean. This was, shall we say, rather unsurprising, given Ferrari's suspected tinkering with the standing earlier. The field stayed the way it had been for a while: Vettel over Raikkonen, Ricciardo over Bottas over Verstappen.
*POST-RACE
: Somebody is not happy at Ferrari.
Reports are that Raikkonen's engineer was throwing a serious fit in the garage after the race. On the podium, Kimi's face looked very much like he had just been handed a three-week dead ferret. It's clear that he has his opinions as to what happened out there.
*OH YEAH
: Over in Monaco's sister city of Indianapolis, Fernando Alonso made a great showing at the Indy 500. He spent the entire race in the top 10, led a good number of laps, and was in contention to win when his Honda engine let go. That was the second Honda-powered car to retire with a bum engine, which makes it clear that it isn't just their F1 engines that have reliability problems. As previously mentioned,
Takuma Sato went on to win
, much to F1U!'s pleasure.
The next race will be at Montreal in two weeks! See ya then, eh?
Posted by: Wonderduck at 01:00 AM | Comments (2) | Add Comment
Post contains 952 words, total size 6 kb.
May 28, 2017
GANBATTE ~TAKU~!!!
The last "favorite driver of The Pond", Takuma Sato, won the Indy 500!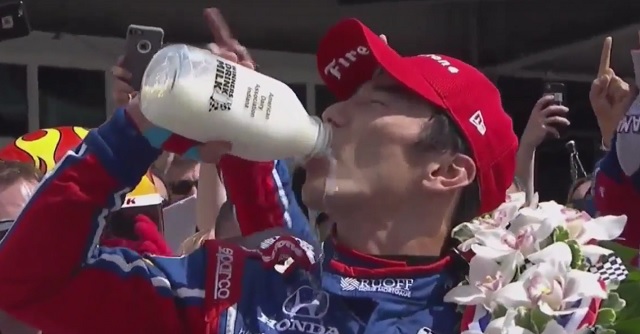 He had to get past former F1 driver Max Chilton, then keep Helio Castroneves, who was looking for his fourth Indy 500 win, behind him for a handful of laps.
In 2012's Indy 500, Sato was in second place behind Scotland's Dario Franchitti with one lap to go. He tried to go under Franchitti into Turn 1 and wound up in the wall instead. He'd never been so close before or since. Until today.
We here at F1U! aren't afraid to say we were cheering for
"Super" Sato
loudly in the final few laps. We're also not afraid to say that the Indy 500 was a damnsight more interesting than Monaco was.
Posted by: Wonderduck at 02:58 PM | Comments (1) | Add Comment
Post contains 127 words, total size 1 kb.
May 27, 2017
F1 Quals: Monaco 2017
When you take high-tech high-speed race cars, put most of the best drivers in the world behind the wheels, and drop them into the streets of a small French fishing village, weird things can happen. When those weird things occur during Quals, you get some very interesting prospects for the biggest race on the Formula 1 calendar indeed. Here's the provisional grid for the 2017 Grand Prix of Monaco:
Pos

Driver
Q1
Q2
Q3

1

Ferrari

1:13.117

1:12.231

1:12.178

2

Ferrari

1:13.090

1:12.449

1:12.221

3

Mercedes

1:13.325

1:12.901

1:12.223

4

Red Bull Racing

1:13.078

1:12.697

1:12.496

5

Red Bull Racing


1:13.219

1:13.011

1:12.998

6

Toro Rosso

1:13.526

1:13.397

1:13.162

7

Force India Mercedes

1:13.530

1:13.430

1:13.329

8

Haas Ferrari

1:13.786

1:13.203

1:13.349

9

McLaren Honda

1:13.723

1:13.453

1:13.613

10

McLaren Honda

1:13.476

1:13.249

No Time




11

Toro Rosso

1:13.899

1:13.516




12

Renault

1:13.787

1:13.628




13

Haas Ferrari

1:13.531

1:13.959




14

Mercedes

1:13.640

1:14.106




15

Not Retired
Williams Mercedes

1:13.796

1:20.529




16

Force India Mercedes

1:14.101






17

Renault

1:14.696






18

Williams Mercedes

1:14.893






19

Sauber Ferrari

1:15.159






20

Sauber Ferrari

1:15.276





Okay, let's deal with the elephant in the room first. Lewis Hamilton had been complaining ever since Thursday's practice sessions that he was having trouble getting heat into his tires, particularly the rears. This means a loss of grip, and around Monaco a loss of grip basically means your car is a mass of carbon fiber shards waiting to happen. While he notably
didn't
have a wreck, he was only 10th in Q1, over a half-second behind the leader. In Q2, he very nearly threw his Merc into the barriers at Massanet after a lurid twitch that would have left a lesser driver sitting in a chassis missing half of its suspension, much of a sidepod, and perhaps a wing or two. After that, he went back to the pits for some adjustments and got randomly selected for a weighing by the FIA. He didn't lose that much time there, but what was lost would never come back. With time running out on the session, he returned to the track for a hot lap. Through the first two sectors it looked like the team and driver had finally figured it all out. True, it wouldn't have been the fastest time ever, but it was almost certainly going to get him into Q3. But then, ahead of him at the Swimming Pool, the McLaren of Stoffelwaffle had kissed the armco and was on the side of the track in a bad state. Marshals immediately threw the waved double-yellows, which meant that everybody coming upon the scene had to abandon their lap... like Lewis Hamilton. And there was no time for another attempt.
In other interesting bits, RAIKKONEN'S ON POLE! Amazingly, this was his first pole position since 2008, some 128 races ago. His Ferrari teammate, Seb Vettel, is right next to him, just .004 of a second ahead of the remaining Mercedes of Valtteri Bottas. And if we needed any more evidence that Monaco is a place where weird things can occur, both McLarens with their wind-up motors made it into Q3... though neither will start in their provisional positions. Jenson I'm Back Button will have to take a 15-spot penalty for changing out his MGU-H and his turbocharger overnight. And Stoffelwaffle has a three-spot penalty from the last race for his accident with Felipe Not Retired Massa. It also shows that this is a place where sheer grunt is not as important as maneuverability, because let's face it, the Honda engine in the McLaren is a dog. The chassis, however... that's another story.
The race is in the morning on NBC... see ya then!
Posted by: Wonderduck at 12:27 PM | No Comments | Add Comment
Post contains 660 words, total size 21 kb.
May 26, 2017
(Quiet Moaning)
Two days. 23 hours at work.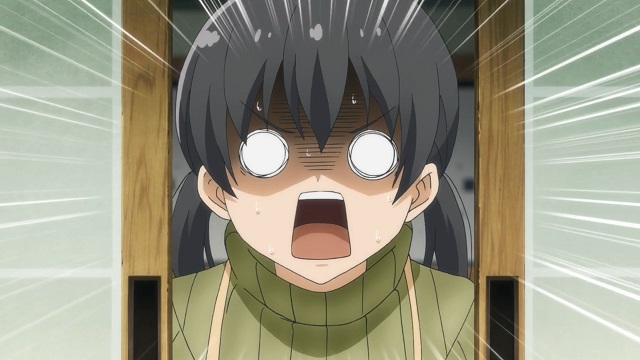 I'm too old for this.
Still, some good did come from it... I discovered audiobooks today. Believe it or not, I've never actually listened to books on tape/cd/whatever before. With an Amazon Prime account, you get a free trial of Audible: two books. So I thought, what the heck, why not? I've always wanted to read
Ready Player One
, plenty of people have said it's good, so I downloaded it last night and started listening to it this morning at work. Surprise #1: it's read by Wil Wheaton. Surprise #2: he does a great job. Surprise #3: holy crap that's a fun book!!! I got some seven hours (out of 15) into it, and had to stop myself from starting it back up here at The Pond. If you've read the book, Our Hero has just arrived at The Distracted Globe for a Very Important Birthday Party.
I never did like
Joust
, though.
Three days off... in a row! How ever will I manage to stand it?
Posted by: Wonderduck at 10:21 PM | Comments (7) | Add Comment
Post contains 175 words, total size 1 kb.
May 23, 2017
Motorsports on TV: Memorial Day Sunday
The race fan's holiday! If you're completely insane, it's possible to go from 630am until 930pm on the couch watching 1260 miles of live auto racing in three major categories. We're only going to concentrate on two of them, however: the Grand Prix of Monaco and the Indianapolis 500. Here's the track maps:
Two more dissimilar tracks you cannot find in motorsports. Monaco, with its two mile long course, is actually a shorter lap than the one at Indy (2.50 miles). It's also somewhat more narrow, and a little bit slower. None of which detracts from the race one bit... in fact, that's exactly what makes Monaco so special: modern, high-tech, multi-million dollar F1 cars racing through the streets of a small French fishing village. Meanwhile, over in America, you've got lower-tech open-wheel cars blasting around a superspeedway at 230mph making four turns per lap and almost never touching the brakes. If one was that sort of person, one could suggest that the two tracks are perfect analogues for Europe and America. Fortunately for all involved, I am not that sort of person.
This year, of course, there's a particularly interesting reason to watch the Indy 500, in that McLaren F1 driver Fernando Alonso has decided to forego Monaco to compete in The Greatest Spectacle In Racing. He's taken to the format quite well, qualifying fifth and even holding pole for a short time. To be sure, qualifying position means little at Indy, but it's still quite the accomplishment for a rookie, particularly one that's never driven an indycar before. Alonso is hardly your run-of-the-mill rookie, it must be said, and veteran watchers of the series say that the Spaniard has a legitimate shot at winning.
Of the 33 cars in the Indy field, there are (or were) six former (or current) F1 drivers involved. Alexander Rossi, last year's winner, drove for Manor in 2015. Takuma Sato drove for Jordan, BAR-Honda and SuperAguri in a seven year career. Alonso is considered one of the best drivers in the world. Max Chilton drove for Marussia in 2013-2014. Juan Pablo (The Pope) Montoya had a six year career in F1. And Sebastian Bourdais, who will not be making the race due to a massive crash in qualifying that broke his leg and pelvis, drove for Toro Rosso in 2007 and 2008.
In any case, the NBCSN's Legendary Announce Team will be live at Monaco for the race... here's the broadcast schedules:
Thursday
Practice 2: 7am - 830am live on NBCSN
Saturday
Quals: 7am - 830am live on NBCSN
Sunday
2017 Grand Prix of Monaco: 630am - 9am live on NBC
2017 Indanapolis 500: 11am - 3pm live on ABC
2017 Coca-Cola 600: 5pm - 930pm live on FOX
All times Pond Central. Please note that Practice 2 is, indeed, on Thursday, not Friday. Monaco tradition and all that. Also note the inclusion of NASCAR's Coca-Cola 600 on the schedule. I did something like 1100 miles of the three races one year... I don't recommend it. However, if you want to try the triple-header, you now know when the third race is. F1 Update! will come along sometime afterwards... see ya there!
Posted by: Wonderduck at 10:19 PM | Comments (1) | Add Comment
Post contains 535 words, total size 4 kb.
May 21, 2017
Random Anime Picture# 128: Ridiculous School Outfit
Even from a medium where over-the-top school uniforms are the norm, this has got to take the cake:
-
Roku de Nashi Majutsu Kōshi to Akashic Records

, Ep01
Seriously? Come on, Japan... really? The best and oldest magic academy in the most powerful country in the world, magically, and they dress their female students in that? Forget about the practicality or lack thereof of a uniform like that, how in the world could the school expect the male students to concentrate?
Unlikely uniforms aside, there's not much new to this show. Which doesn't mean it's not entertaining, because I'm enjoying it a lot. It's just that we've seen it before. It's a relatively pretty series when it gets the chance to be, but again, nothing earth-shattering. It's one of those titles that will be forgotten shortly after the last episode airs. It will serve its purpose, selling light novels, and that's all it'll be. There's no shame in not being an awesome, awe-inspiring, game-changing series... most of them aren't. Still, I like it.
I'm not sure why. I'll have to keep watching to figure it out.
Posted by: Wonderduck at 02:39 PM | Comments (8) | Add Comment
Post contains 192 words, total size 2 kb.
May 16, 2017
Definitive AMVs
Let me explain the title. In my mind, there are certain Anime Music Videos that capture the spirit of their subject so well that it becomes the (say it with me) definitive AMV for it. It could be a character study, or an overview of a particular series, or less often, the AMV is practically synonymous with a song.
To me, it feels like it's clear almost instantly that "this is it, this is the one!" It will come as no surprise to me if people disagree with my choices... I can't help what other people think, even if they're terribly terribly wrong... but that's the beauty of this sort of thing. If you and me think entirely alike, one of us is superfluous, right? Enough chatter! Let's get to watchin'!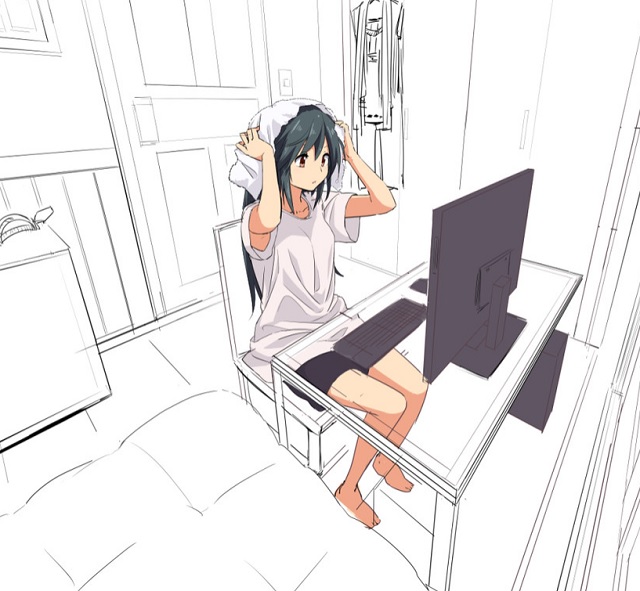 more...
Posted by: Wonderduck at 10:41 PM | Comments (11) | Add Comment
Post contains 665 words, total size 5 kb.
May 14, 2017
F1 Update!: Spain 2017
Another breezy but nice day greeted the assembled F1 field as they made their way to the grid today at Barcalounger. The Mercedes of Lewis Hamilton was on pole, having beaten rival Seb Vettel to that position by .051 seconds during Quals. Behind them we found their teammates; Valtteri Bottas was coming off the first race victory of his career, and Kimi Raikkonen, is apparently loved by children everywhere. Back behind them were the Red Bulls of last year's winner Embryo Verstappen, and Smiley Riccardio who was on record saying that the team could win this race "...if the Mercedes and Ferraris crash." Optimism, you've gotta love it! But how would it all work out in the end? THIS is
your
F1 Update! for the 2017 Grand Prix of Spain!

*START AND HEARTBREAK
: When the lights went out the two Mercedes, equipped with what they were calling "new starting procedures (wink wink)" got off the line much quicker than they've done of late. This did not stop Vettel from getting the lead on Hamilton into Turn 1, but behind them all was chaos. Bottas went down the inside of the turn with Raikkonen directly outside and just ahead of him and Verstappen coming up on the outside of
him
. We here at F1U! are somewhat divided on what happened next, but the upshot was that the Ferrari and the Mercedes bumped. Whether it was because the older Finn squeezed the younger Finn, or if Bottas was being a little optimistic is open to interpretation. After the bump, Raikkonen's car jerked a bit to the left, where it immediately made contact with Verstappen. The two went off, with the Ferrari's left front tire pointed to the right and nearly perpendicular to the direction of travel. The amount of smoke it was generating as The Iceman tried to nurse it back to the pits was dramatic to say the least. Verstappen looked okay for the most part, except for a spray of sparks issuing from underneath the front of the car. Both drivers would retire very soon after. Behind them the McLaren of Indy Alonso, who qualified a miraculous seventh, was boinked by the Williams of Felipe Not Retired Massa, forcing him through the gravel of the next turn. The McLaren was undamaged but lost quite a few places and could never challenge for points as a result. Meanwhile, up in the stands, a young Ferrari fan was distraught by the retirement of one of his heroes.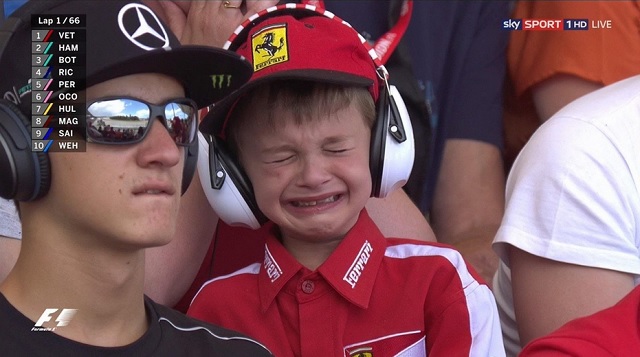 *MOTORING ON
: Vettel had the lead, it is true, but he could not manage to do much with it. After getting a 2.50 second lead on the Merc, it held steady there. However, it was that way solely because of Hamilton's efforts. Around Lap 7 or so, he radioed in that it wasn't easy to keep pace with the German, and the effort involved in doing so was clearly audible in his voice. Things looked interesting for the rest of the race.

*MIDWAY
: Vettel pitted on Lap 14, opting to put on another set of soft tires and coming out in fourth (quickly turning to third after passing Ricciardo) some 11+ seconds behind Bottas in second. Hamilton stretched his softs out to Lap 21, by which point he was losing great gobs of time to the fresh-rubbered Ferrari. Crucially, Mercedes put him onto the medium tires. He rejoined in third... at which point, Mercedes made the decision to have Bottas take one for the team. It took Vettel a few laps to catch up to the Finn, but it took him three full laps to get by the defensive-driving Bottas. The next lap, Hamilton breezed past his teammate with a thank-you thumbs-up, only some four seconds behind the Ferrari. Bottas would pit on Lap 25, rejoining in third, but so far back he would never see the other two again. The gap between Vettel and Hamilton would open to 6.1 seconds.
*TURNING POINT
: Some 10 laps later, the McLaren of Stoffelwaffle would be knocked out of the race by Massa, who apparently hates McLaren. As the orange car was dragged out of the kittylitter, a Virtual Safety Car period was triggered. Hamilton would pit at the very end of it, rejoining on Lap 37 in second place, and back on soft tires. The next lap saw Vettel come in for the rules-mandated switch to medium tires. Meanwhile, the Merc driver blazed around the circuit on cold tires trying to take advantage of his opponent's idleness. It worked beyond anybody's wildest dreams. Vettel returned to the circuit just as Hamilton was about to go past. The two dragraced down to Turn 1, Vettel on the inside. In the turn, the red car went wide, basically hipchecking his rival off-track in a legal but decidedly stiff move. Hamilton would return to the track less than a second behind the Ferrari. The chase was on. Vettel, like Bottas before him, drove a very wide car indeed, never giving the Brit a chance. Until, that is, Lap 44, when Hamilton got a perfect exit from the final turn and used the DRS advantage down the front straight to steam past Vettel. Behind them, Bottas' engine, four races old, gave up the ghost with a sound like the turbo had ingested a ferret. It was now a straight one-on-one fight, Mercedes vs Ferrari, lead driver vs lead driver.
*TO THE END
: While we here at F1U! like to be overly dramatic every now and again, it turned out that the race was over at that point. Hamilton would open a three-second gap over Vettel, thanks to the soft tires on his car. The Ferrari would not go away, though, and the Merc driver had to continue to drive as hard as he could. All it would have taken was a single mistake for Vettel to regain the lead, but it was not to come. Lewis Hamilton would cross the line about three seconds ahead of Seb Vettel. Meanwhile, Smiley Riccardio would finish third for his first podium of the year. The distance between the top two teams and everybody else was clear, however, as the Red Bull was over 65 seconds behind the leader. The rest of the field had been lapped by the Hamilton/Vettel battle.
*A HAPPY ENDING
: Back in the middle of the race, Ferrari team members contacted the production team from FOM, asking if they could give them some information. Soon after, we got to see one of the coolest F1 moments ever:
The team had found the crying kid and brought him and his family down to the Ferrari hospitality trailer and he got to meet Kimi Raikkonen, have pictures taken with the Finn, got his hat, the works. It was a ridiculously sweet moment in a sport and team that has in the past often been quite standoffish. The boy, who's name is Thomas,
would also meet fellow Frenchman Lettuce Grosjean as well as getting to visit team Renault and Nico Hulkenberg
. I think we all know who's winning Show & Tell next time.
Next time, we are in Monaco for the crown jewel of F1... oh, and some oval race in the States, too. See ya then!
Posted by: Wonderduck at 11:01 PM | No Comments | Add Comment
Post contains 1207 words, total size 8 kb.
May 13, 2017
F1 Quals: Spain 2017
A lovely if breezy day greeted the F1 Circus as they took to the track in Barcalounger for go-fast day. There were some differences to be seen however: upgrades could be spotted everywhere you looked. Mercedes had the best of them, a pair of bargeboards with titanium-tipped claws on their ends: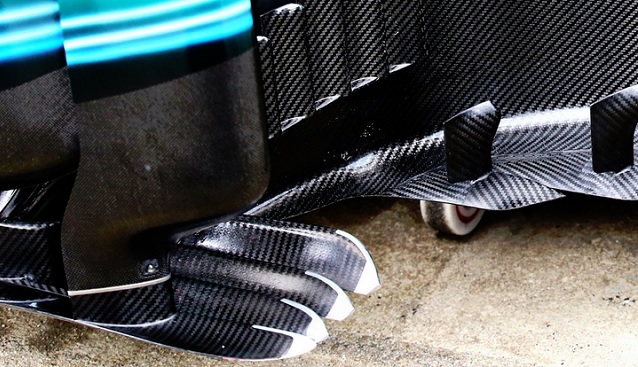 Kiss any pushy Ferrari's tires goodbye! Mercedes looked like they had recovered their teamwide mojo through the practice sessions, leading people to believe Quals would be an arse-kicking of historic proportions. On the other hand, the Red Team had to perform a near-literal miracle just to get Seb Vettel on track, as they had to do a full engine change in the two hours between the end of P3 and the start of Q1. Meanwhile, one of Red Bull's drivers was on record saying they could win... if both Mercedes and both Ferraris wrecked. So just how badly did the Silver Arrows trounce the rest of the field? Here's the provisional grid for the 2017 Grand Prix of Spain:
| Pos | Driver | Car | Q1 | Q2 | Q3 |
| --- | --- | --- | --- | --- | --- |
| 1 | Lewis Hamilton | Mercedes | 1:20.511 | 1:20.210 | 1:19.149 |
| 2 | Sebastian Vettel | Ferrari | 1:20.939 | 1:20.295 | 1:19.200 |
| 3 | Valtteri Bottas | Mercedes | 1:20.991 | 1:20.300 | 1:19.373 |
| 4 | Kimi Räikkönen | Ferrari | 1:20.742 | 1:20.621 | 1:19.439 |
| 5 | Embryo Verstappen | Red Bull Racing | 1:21.430 | 1:20.722 | 1:19.706 |
| 6 | Smiley Ricciardo | Red Bull Racing | 1:21.704 | 1:20.855 | 1:20.175 |
| 7 | Indy Alonso | McLaren Ho_da | 1:22.015 | 1:21.251 | 1:21.048 |
| 8 | Sergio Perez | Force India Mercedes | 1:21.998 | 1:21.239 | 1:21.070 |
| 9 | Felipe Not Retired Massa | Williams Mercedes | 1:22.138 | 1:21.222 | 1:21.232 |
| 10 | False Esteban | Force India Mercedes | 1:21.901 | 1:21.148 | 1:21.272 |
| 11 | Kevin Magnussen | Haas Ferrari | 1:21.945 | 1:21.329 | |
| 12 | Carlos Sainz | Toro Rosso | 1:21.941 | 1:21.371 | |
| 13 | Nico Hulkenberg | Renault | 1:22.091 | 1:21.397 | |
| 14 | Lettuce Grosjean | Haas Ferrari | 1:21.822 | 1:21.517 | |
| 15 | Pascal Triangle | Sauber Ferrari | 1:22.327 | 1:21.803 | |
| 16 | Sony Ericsson | Sauber Ferrari | 1:22.332 | | |
| 17 | Jolyon Palmer | Renault | 1:22.401 | | |
| 18 | Pleasant Stroll | Williams Mercedes | 1:22.411 | | |
| 19 | Stoffelwaffle | McLaren Hon_a | 1:22.532 | | |
| 20 | Kid Kvyat | Toro Rosso | 1:22.746 | | |
Oh. Sure, Mercedes got pole, but it was only by .051 seconds and needed Vettel to completely bollix the final chicane to get that. The top four cars are covered by less than .300 seconds. So much for Merc Upgrade Domination.
In what has to be the most unimaginable result thus far, Indy Alonso dragged his McLaren, powered by the execrable H_nda "power" unit, into Q3 and seventh on the grid. At the moment, for McLaren this is akin to the Chicago Cubs winning the World Series... long spoken of, but never occuring. Some may scoff at a mere seventh place, but considering that Alonso's teammate Stoffelwaffle was saved by a last-place start only by a Toro Rosso whose driver said "the car was not driven by me today, it was driving on its own" after being knocked out of Q1, seventh has got to feel amazing. Let's just see if Alonso can make it to the grid this week...
Race Sunday morning... see ya then!
Posted by: Wonderduck at 11:47 AM | Comments (3) | Add Comment
Post contains 490 words, total size 16 kb.
May 10, 2017
F1 on TV: Spain 2017
Short on time, but I didn't want to leave y'all hanging this weekend! We've got Barcalounger this week, here's the track map for the 2017 Grand Prix of Spain:

Last year, Spain gave us the sight of the two Mercedes taking themselves out and the youngest F1 winner ever. This year is... slightly less likely to give us such enthusiasm, but we can only hope! The big reason to watch Barcalounger is that, as the first stop on the European leg of the F1 calendar, this is where the teams bring their first batch of big upgrades. We already know that Red Bull is going to sport a bigger dorsal fin, and that McLaren is going to replace their Honda Fit engines with ones from an Accord, but what else will we see?
Whatever it is, the Legendary Announce Team will tell us about it! Here's the broadcast schedule:
Friday
Practice 2: 7a - 830a live on NBCSN
Saturday
Quals: 7a - 830a live on CNBC
Sunday
2016 Grand Prix of Spain: 6a - 9a live on NBCSN
All times nominally Pond Central. Of course, as per usual, another sterling installment of F1Update! will follow along eventually. See ya then!
Posted by: Wonderduck at 10:40 PM | Comments (2) | Add Comment
Post contains 205 words, total size 1 kb.
May 08, 2017
Definitely Sometime
I keep starting a post on AMVs, get about a paragraph or so into it, then lose interest and go off and do something else. Like this, right now. Except at least you're reading this, as opposed to all the other posts I started and deleted. So, yeah, posting. Not exactly the most amazing thing ever, I admit, but at least it's something... right?
Posted by: Wonderduck at 08:34 PM | Comments (3) | Add Comment
Post contains 66 words, total size 1 kb.
May 06, 2017
Man The Tory!
Okay, yes, I miispeld it. I'm still on 10 hours of overtime slaving over a hot keyboard, but this past Friday just bloody took the biscuit. After working two 10-hour days on Wednesday and Thursday, I had to pull an 11-hour shift. Fortunately the claims stayed friendly the entire time, but holy crepe was that unpleasant. I went into work that morning feeling fresh and clean and energized... and came out feeling worn out, dirty and exhausted. I came home, ate something, then fell asleep until the next morning.
Two good things happened, though. First, I broke the 300-claim barrier for the first time. Sure, it took me 10.5 hours to do it (we get an unpaid half-hour on the clock if we want it... bathroom breaks and the like), but it still happened! Second, and more importantly, I was given a new monitor. A 27" inch monitor... I think
this one
. As opposed to the teeny-tiny 20" not 1920x1080 monitor I had before.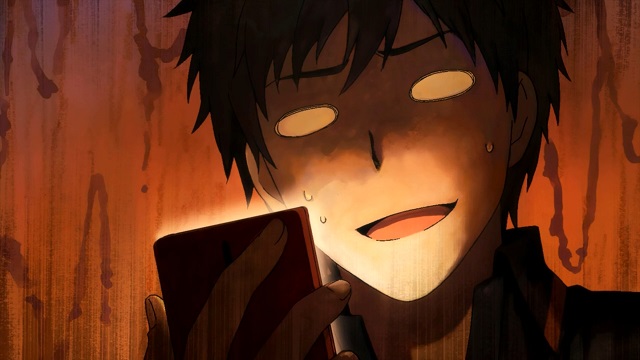 I pretended to be overcome with emotion with how beautiful it was, got big laffs from the people around me. It was very easy to pretend, because I very nearly
was
overcome with emotion. The bigger screen means more room on the desktop... meaning more room to have things open and easily accessible. Plus, hey, I'll get a suntan off it in no time flat!
...and then I put in a couple of hours today, to get a headstart on next week's mandatory 10 hours. I'm going to go take a nap now.
Posted by: Wonderduck at 05:33 PM | Comments (5) | Add Comment
Post contains 260 words, total size 2 kb.
May 02, 2017
Today At Work, I Cried...
...but in a good way. Let me explain.
Anybody here ever play the
Command & Conquer
games? I played one of them, and that experience, along with the time spent playing the original
Warcraft
game, convinced me that I really disliked the Real Time Strategy genre. One thing that
C&C
was really well known for, though, is the music. One track in particular, the theme song to
C&C: Red Alert
, is still famous today: Hell March.
more...
Posted by: Wonderduck at 09:59 PM | Comments (9) | Add Comment
Post contains 241 words, total size 2 kb.
125kb generated in CPU 0.0287, elapsed 0.1063 seconds.
57 queries taking 0.0859 seconds, 353 records returned.
Powered by Minx 1.1.6c-pink.