September 22, 2018
Figure Foto Fun Four: All Right Mr DeMille, I'm Ready For My Close-Up
A little while ago I picked up a set of extension tubes for my camera lens... basically they turn it into a macro lens for closeups. I mean, it's not like it was terrible at them before, but now it's a whole different portrait level. For example: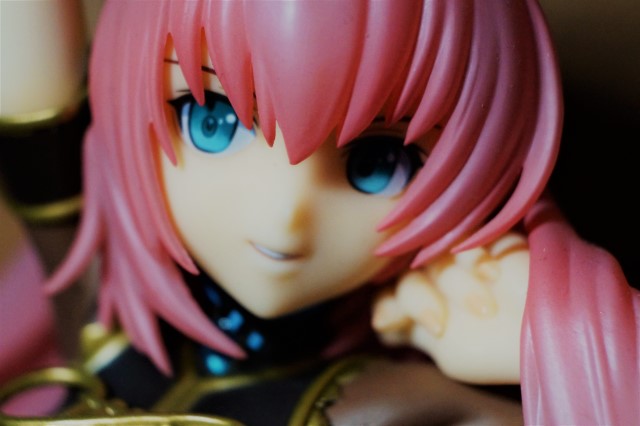 The lighting on this one is... pretty okay. But I got better.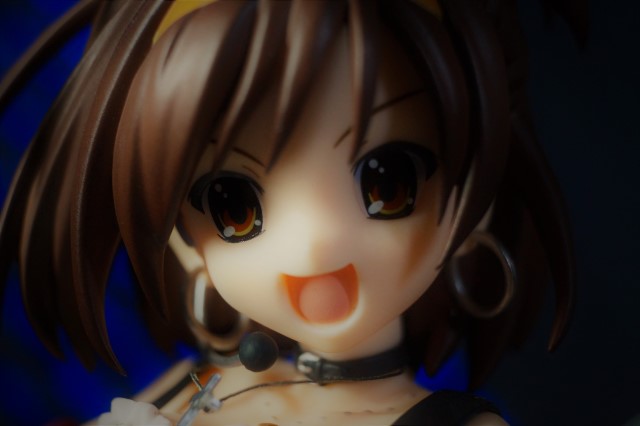 Just a tiny bit of color editing, and voila, Haruhi's happy.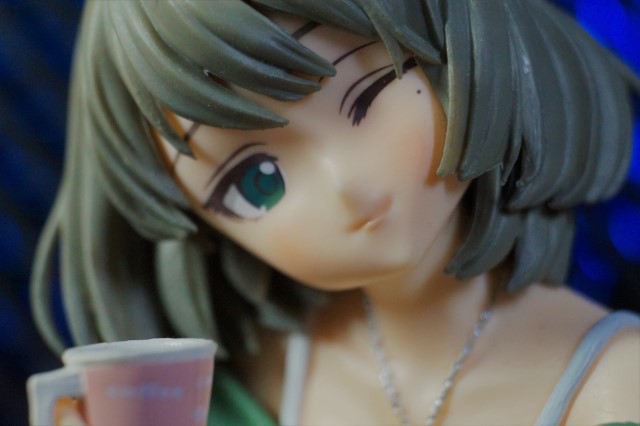 One of these days I'll take a
good
picture of this figure and I'll be so surprised I'd probably drop dead. Something about it defies good photography, and by "good", I really mean "whatever I'm able to produce."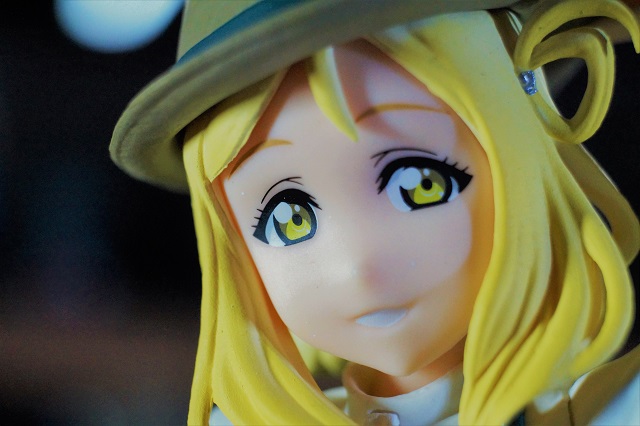 Still, once in a while I get lucky.
Posted by: Wonderduck at 07:47 PM | Comments (2) | Add Comment
Post contains 129 words, total size 1 kb.
September 18, 2018
Hey Everybody It's Music Time!
Nope, nothing deep today! Just a couple of AMVs I've stumbled across in the past few weeks that I want to share with y'all. C'mon, it's fun!
Because who doesn't like a good pillow fight scene in an anime?
There just aren't enough good
Ben-To!
AMVs out there. Then again, it's not like it was the most popular series ever to air in Japan... or over here, for that matter.
I loved it
, but it's not like I have a surfeit of taste, y'know?
So I watched this for the first time, and as it was playing I kept thinking to myself, "gee, I wish they had used a different version of the song, one that doesn't sound so... sparse." A minute or two later? Heh. Keep watching.
She Loves That Rock And Roll
Some time ago (jeez, it's been FIVE YEARS),
I put up a post
that included an AMV called "We Dream We Can". I've always thought of that as being the best
K-On!
music video I've seen. A challenger appears! Bonus points for using ELO.
One day, I'll have to do a post, one amv for each series I've done a writeup for. Because it would amuse me, that's why.
Posted by: Wonderduck at 10:17 PM | Comments (3) | Add Comment
Post contains 215 words, total size 2 kb.
September 17, 2018
F1 Update: Singapore 2018
It was night, it was hot and humid, and it even rained a little bit. But how did the race turn out? THIS is
your
F1 Update! for the 2018 Grand Prix of Singapore!
*OH GOD MAKE IT STOP
: Look, we'll be honest here. We here at F1U!, we're Formula 1 fans. We love watching the races, it's a good way to spend two hours when all around is work. We look forward to these things.
But good
lord
, did this race suck. How badly? The first six positions on the grid were Hamilton, Verstappen, Vettel, Bottas, Raikkonen, and Ricciardo. When the race ended roughly two hours after the lights went out, the finishing order was Hamilton, Verstappen, Vettel, Bottas, Raikkonen, and Ricciardo. Yes that's right, they finished in the same order they started. The only time these six were NOT in that order on track was during the pit rotation.
Indeed, if it wasn't for backmarker traffic, there wouldn't have been ANY excitement up at the front after the first few laps. Late in the race, Verstappen was trailing Hamilton when the leader got caught up in some squabbling backmarkers that didn't immediately react to the blue flags. This balked the Mercedes driver, allowing Verstappen to close right up behind and even give a vague little thought towards trying a pass for the lead. But then the leaders got by, and the moment was over.
*WHY HAST THOU FORSAKEN US?
: This was all down to the track itself. Much like Monaco, there are very, very few places to attempt a pass at Singapore. It's very unlikely it'll ever get better, since as a street circuit, there's a limit to how much they can modify the track. As a spectacle, Singapore is top of the page. The cars look amazing under the nearly 2000 light projectors used to illuminate the circuit, the surrounding cityscape is awesome at night, and the Singapore Flyer is a remarkable landmark for the cameras to linger over. But damn-all if the racing is mostly subpar. We here at F1U! would still rather watch a race here than Hungary, but our mind is beginning to change on that.
*SO WHAT DOES IT ALL MEAN?
: Hamilton's win, mixed with Vettel's third, means that with six races remaining the Ferrari driver could win every race, and if the Brit finishes second, he'd still win by a point or two. The championship isn't over... a few reliability problems or random Red Bull-induced crashes could change things overnight... but Vettel is running out of time very very quickly. We here at F1U! haven't looked recently, because we do not partake in gambling, but we'd be surprised if the British oddsmakers haven't taken the championship off the board yet.
The next race is at Sochi, Russia. We tremble with fear at another miserable race at that less-than-exciting circuit. See you then!
Posted by: Wonderduck at 09:53 PM | Comments (2) | Add Comment
Post contains 484 words, total size 3 kb.
September 15, 2018
F1 Quals: Singapore 2018
As usual, the night was warm and humid at the Singapore street circuit. Despite it being 9pm, it was still in the mid-80s with high humidity. Not for nothing do they say that this is the hardest race physically for the drivers. So who faced down this sweaty monster? Who conquered its 23 turns? Here's the provisional grid for tomorrow's Grand Prix of Singapore:
Pos
Driver
Q1
Q2
Q3

1

Mercedes

1:39.403

1:37.344

1:36.015

2

Red Bull Racing

1:38.751

1:37.214

1:36.334

3

Ferrari

1:38.218

1:37.876

1:36.628

4

Mercedes

1:39.291

1:37.254

1:36.702

5

Ferrari

1:38.534

1:37.194

1:36.794

6

Red Bull Racing

1:38.153

1:37.406

1:36.996

7

Force India Mercedes

1:38.814

1:38.342

1:37.985

8

Haas Ferrari

1:38.685

1:38.367

1:38.320

9

Force India Mercedes

1:38.912

1:38.534

1:38.365

10

Renault

1:38.932

1:38.450

1:38.588

11

McLaren Renault

1:39.022

1:38.641




12

Renault

1:39.103

1:38.716




13

AMX-30
Sauber Ferrari

1:39.206

1:38.747




14

Sauber Ferrari

1:39.366

1:39.453




15

Toro Rosso

1:39.614

1:39.691




16

Haas Ferrari

1:39.644






17

Toro Rosso

1:39.809






18

McLaren Renault

1:39.864






19

Williams Mercedes

1:41.263






20

Williams Mercedes

1:41.334





On a night where the preferred tires were taking two laps to warm up, and where the fastest tires would die if you pushed them hard for an entire lap, Ferrari spit the bit. Going in, there was no reason to think that at least Vettel would be on the front row. Instead, Red Bull discovered that if you press the right-hand pedal, the car goes faster.
And then, there was Lewis. After nearly failing to making it out of Q1 due to a Mercedes tactical error, he turned in a Lap For The Ages. Where it came from is unknown... even the team was baffled. "Magic," said Lewis. "Sprinkled with stardust" was team principal Toto Wolff's description. "F*ck off and die," was Seb Vettel's take. And it came on his first hot lap, too. It was just left there, waiting for someone to knock it off. Nobody did. Nobody
could
.
How astonishing was this lap? Of course it's a new lap record, that's been happening all season. But it was better than THREE SECONDS faster than last year's pole time. All this in a car that, frankly, had looked a little dog-like this weekend.

The grid does look awfully entertaining however... and look who's sitting in the second spot: DH Verstappen. Last year his presence led to both Ferraris crashing out, essentially on the first turn. And here we see an increasingly desperate appearing Seb Vettel in third, knowing that with seven races left he needs very badly to outrace Hamilton if he wants a chance to win the championship. I'm almost expecting a lot of red and pewter carbon fiber to be spewed in the first corner.
Race is in the morning, see ya afterwards!

Posted by: Wonderduck at 03:54 PM | Comments (1) | Add Comment
Post contains 503 words, total size 21 kb.
September 13, 2018
F1 on TV: Singapore 2018
Gotta be quick about this one, I have to be back at work too soon. So here's the track map for the Original Night Race, Singapore!
Last year's race saw rain for the first time in history, and the classic wreck of both Ferraris on the first lap. Rain is NOT expected during Quals or the race this year, but that's what they said last year, too. We shall see.
In more important news, the Silly Season hit its climax recently when Ferrari announced that Charles AMX-30 will be paired with Seb Vettel in 2019, leaving Kimi Raikkonen out in the cold so to speak. Until about 15 minutes after the announcement, that is. At that point, the Finn announced he'll be driving for Sauber in 2019 and 2020. So essentially the teams swapped drivers. Makes sense, it's not like Sauber uses Ferrari engines or anything.
On the face of it, Kimi's getting a demotion. Being the #2 driver at Ferrari is pretty much better than being the #1 driver at anywhere else but Mercedes and (maybe) Red Bull. However, a closer look reveals some interesting things to think about. It's clear that Raikkonen is still a good driver, if maybe not as fast as his first Ferrari go-round. On the other hand, Sauber hasn't had a knock-down Ace of a driver since 2009 when Robert (the stupid idiot moron) Kubica was in the car (back when they were BMW-Sauber). Further, they haven't had THIS GOOD of a driver for a full season since 2005, when Jack Newhouse was on the team. I don't know if the 2019 car is going to be any good, but having an experienced driver like Kimi helping them with development has no downside whatsoever.
And of course he's still the laff-a-minnit Finn we've always known. In today's driver interviews, he was asked if he still had "the hunger to race." His response? "
No, actually! I'm just playing head games with you guys, deciding to sign for two years and not be happy!
" Also someone asked "It wasn't your decision to leave Ferrari but it was your decision to go back to Sauber, just tell us why?" "
Why not?
" Comedy gold right there.
Right, Quals on Saturday, race on Sunday, see you 'round Space Cowboy!
Posted by: Wonderduck at 11:22 PM | Comments (1) | Add Comment
Post contains 385 words, total size 3 kb.
September 11, 2018
Seventeen Years Ago
It was a Tuesday morning at Pond Central. Tuesdays meant New Release Day at the bookstore I ran at the time, which required resetting the new Top 20 display at the front of the store. I woke up about a half-hour earlier than I normally did, intending to get to the store early. Nothing too out of the ordinary there, truth be told.
That all changed when my clock radio turned on. Instead of hearing the usual light-hearted sports talk, I realized that the morning duo sounded... serious. I mean,
really
serious. Something about one of the World Trade Center buildings having been hit by an airplane. Honestly, my first reaction was one of total unconcern; as a World War II buff, of course I knew about the
B-25 Mitchell flying into the Empire State Building
in a thick fog. Of course I thought that it would be something similar. I headed out to Pond Central's kitchen, grabbed some orange juice, then turned on the TV to see what was going on.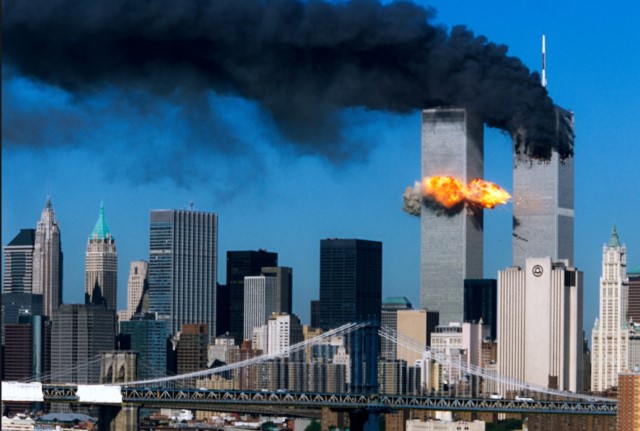 I had had just enough time to say to myself "that's a really big hole, and a lot of smoke. It sure wasn't a light airplane." I also noted that the sky was clear and blue, so it couldn't be that the pilot had gotten lost in the fog like the B-25 had. But before I could really boil all that down to the obvious conclusion, the second plane hit. In my rush to get up close to my 13" TV/VCR combo, I spilled my orange juice and barked my shins on the coffee table. I stood there for 10 or 15 minutes, before heading for the shower. Listened to the shower radio the whole time, got dressed, then watched the TV until I absolutely had to leave. At the time, I literally had to drive from one end of Duckford to the other, at least a half-hour long jaunt.
As I was driving, the South Tower collapsed, and I very nearly bent the Duckmobile's steering wheel in shock and surprise. I drove the rest of the way in thinking to myself, "there's a sister bookstore in the mall underneath the WTC." It was kind of a weird feeling, knowing that some people that you've got a very very weak tie to have probably just died... people just like you, probably got in early to set the new Top 20 display, and they just had one of the tallest buildings in the world fall on their heads.
(I'm going to interrupt my story to let you all know that no employees of that bookstore were killed, or even injured, that day. The rest of the chain didn't find that out for a couple of days, however. I can only imagine how the manager's phone call to their District Manager went...)
With that image in my head I pulled into
my
mall's parking lot, and practically sprinted into the building, so best to pull the boom box out of the back room and bring it to the cashwrap so to keep listening to the events of the day... and discovered once again that fluorescent lights scream like banshees in all sorts of radio frequencies. I managed to find a station that wasn't drowned out by static, waaaaaay up at the top of the dial. I think it was broadcasting from Wisconsin, but I don't remember for sure anymore. And sometime between leaving my car and tuning in WCHZ, the North Tower had collapsed. Not knowing what else to do, I started resetting the Top 20.
At 10am, I opened the gates to let the flood of customers into the store... and by "flood", I mean "nobody." Exact times get a little hazy around this point. I did have one customer come in, we talked for a bit, and then she left. She almost looked dazed, and to be honest, I probably did too. My DM called, said that half of the stores in our district were having to close because their malls were shutting down early. I hadn't heard anything yet from my mall's manager, but I'd let her know as soon as I did. I suspected it wouldn't be long: other than dazed woman, I couldn't see a single customer anywhere in the mall.
Then stores began closing up on their own. The guy who ran the tuxedo place directly across from me said that his boss had called and said "I don't care what the mall is doing, get out of there." If you weren't working in a mall or a big building at the time, you might not remember the fear that permeated that day. There was a lot of concern that more attacks might occur. I know that they evacuated both the Sears Tower and the John Hancock Building in Chicago because of a report of another hijacked plane. Why would terrorists attack a small, dying mall in upstate Illinois? Doesn't matter... there was a lot of irrational thought occurring just then. Eventually, the Powers That Be at the mall said "shut it down," so after calling my staff to tell 'em not to come in, I did just that.
On the way home, I stopped at a grocery store. Looking back at it, that was a weird decision for me to make, but what the hell, I needed my frozen pizza. Unsurprisingly, there was no wait for a cashier. Once I got home and got my foodstuffs put away, I turned the TV back on and took up residence on my couch for the rest of the day and a good portion of the night. A little while ago, I mentioned this to a coworker. He asked me why I didn't get on the internet to follow events that day. Did I mention that he is a very young coworker?
That was... quite the day. Quite the day indeed.
Posted by: Wonderduck at 10:11 PM | Comments (5) | Add Comment
Post contains 988 words, total size 6 kb.
September 10, 2018
Where We're Going, We Don't Need Rules
The closest the motorsports world has come to a truly open racing series was the original Can-Am, which ran from 1966 to 1974. When I say "open", I mean that the tech regs regarding the cars consisted of the following:
1) The car must have two seats.
2) The car must have enclosed wheels.
3) It must meet required safety standards (pretty minimal, considering the time period).
And that was it. After that, it was anything goes.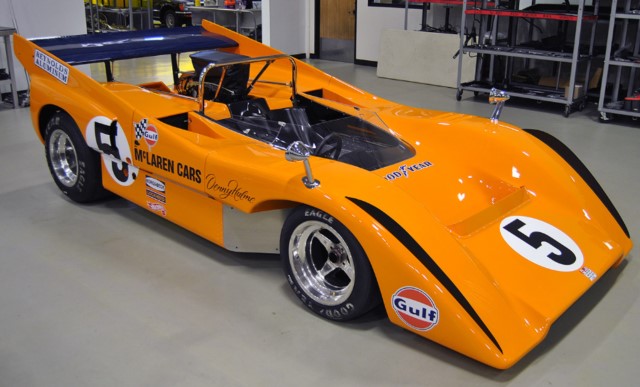 And that meant "anything." Can-Am series cars were the first to use titanium, ground effect of all sorts, wings of types never before seen (and rarely after), hell, cars that
were
wings, cars that used fans from a friggin' tank engine to create downforce, and in one case a car that put out 1580hp.
However, it was Can-Am's main selling point that led to it's demise. "No rules" also means "no limits". That let manufacturers like McLaren and Porsche throw insane amounts of money at their cars, which basically priced out anybody else.
But when it was in its heyday, Can-Am had cars that were faster than F1 cars, some that were able to win endurance races like the 24 Hours of Daytona, and loud enough to shake the fillings out of your head. Nowadays the cars show up at Goodwood or various classic car races fairly regularly.
But there's one reason I'll always have a spot in my cold, dead heart for Can-Am: I'm pretty sure I attended the original series' very last race, at Road America in 1974. Yes, I was only six, but I have memories of being there.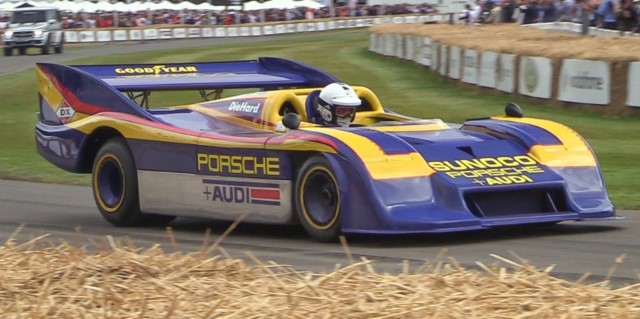 Can-Am. We will never see its like again.
Posted by: Wonderduck at 10:11 PM | Comments (4) | Add Comment
Post contains 299 words, total size 3 kb.
September 08, 2018
I Call For A Boycott!
There is a minor league baseball team in Akron. They are called the
Akron Rubberducks.
I am calling for all right-minded waterfowl (humans can join in, too) to participate in a boycott of the Akron Rubberducks.
I can hear you saying "But Wonderduck! They're the Rubberducks! It'd only be natural for you to love them!" And you would be correct, normally. But! A team named the Rubberducks should sell Rubberducks rubberducks, and they don't. They do sell rubberducks, but those rubberducks aren't Rubberducks rubberducks, they're regular rubberducks.
So until the Rubberducks sell Rubberducks rubberducks, I will boycott the Rubberducks. Really, it's quite sad. After all, I collect rubberducks, so a Rubberducks rubberduck would be great to own. But I can't put a Rubberducks rubberduck in my rubberduck collection, as the Rubberducks don't sell a Rubberducks rubberduck.
So hop to it, Rubberducks! Carry an Akron Rubberducks rubberduck, so I can send you my money for an Rubberducks rubberduck. Oh, I know there's some problem in licensing since the Major Leagues doesn't have a rubberduck manufacturer anymore, but c'mon! The ball is in your court... pond... stadium... whatever.
Posted by: Wonderduck at 12:57 AM | Comments (1) | Add Comment
Post contains 191 words, total size 1 kb.
September 05, 2018
The BunDucksLiga Is Back!
...and this time, they're flying!
If soccer involved rubber ducks, I'd watch a lot more.
Posted by: Wonderduck at 10:16 PM | Comments (2) | Add Comment
Post contains 19 words, total size 1 kb.
September 04, 2018
F1 Update: Italy 2018
The tifosi were all a-twitter over the possibilities facing them as the Great F1 Circus pulled onto the grid. Their beloved Ferrari drivers, Kimi Raikkonen and Seb Vettel, were perched on the front row, with the Finn having put in the fastest lap in F1 history to grab pole. Further, everybody knew they had the best car, having slowly but surely moved past their rivals in silver, Mercedes. Those two worthies held the second row, but Lewis Hamilton held the lead in the driver's championship. Behind them, the rest of the field could only look on in disgust at the way this had become a two-tier sport: the big guys, and everybody else. How did all this work out in the end? THIS is
your
F1Update! for the 2018 Grand Prix of Italy!
*START
: "You cannot win a race on the first lap, but you
can
lose it." So it is written in the Gospel of St Fangio the Quick. And lo, it did come to pass when Seb Vettel, trying to defend against Hamilton in the second chicane, banged into the side of the Mercedes. The next thing we knew, there was a cloud of smoke and the Ferrari driver was back in 17th, for all intents and purposes out of contention. Which left Raikonnen in the lead, Hamilton in second, DH Verstappen's Red Bull in third and unable to keep up with the first two, and Valterri Bottas in the other Merc in fourth.
*STRATEGERY
: On Lap 20, Raikonnen pitted from the lead. Hamilton's pit wall informed him that it was now "Hammer Time." The idea being that if Hamilton could hammer out a few quick laps, he could close the overall time gap to the actual leader, Raikkonen, enough that he could pit and return to the track in the lead. This is basic strategy, and it usually succeeds when you're talking about a driver the quality of Lewis Hamilton. Which of course means that it didn't work. Mercedes left Hamilton out on track until Lap 28, by which time he had actually lost five seconds to the Ferrari driver. The Ferrari driver who was in second place. He was there instead of in the lead because Bottas had been promoted to 1st during the pitstop rotation, though he had yet to stop. Which was all part of Merc's plan, probably ginned up on a napkin right then and there.
*AGONY
: For the next seven or eight laps, Raikkonen tried to get past his fellow Finn. For seven or eight laps he failed, and burned his tires in the process. All the while, the Finn fight had allowed Hamilton to close the gap to the Ferrari driver. Bottas had obviously been told to slow things down, act as a rollling roadblock while sacrificing any chance to win the race himself. This he did beautifully, driving a wide car while staying just far enough ahead that the Ferrari driver would almost have to push... it was just right
there
! Nothing worked. When Bottas finally peeled off into the pits on Lap 36, Hamilton had gotten close enough to be a threat.
*TOWARDS A NEW LEADER
: And yet, Hamilton didn't push matters. He just stayed close, ready to jump if Raikkonen made a mistake, but holding a little bit in reserve. His pit wall had told him that the race would be won or lost on tires, and his opponent had already savaged his. So Hamilton bided his time, taking a tenth of a second off the lead here, a little bit more there, lap after lap just stalking the Red Car. And then on Lap 45, Hamilton breezed by as neatly as you please, and the Finn had no tires left to counterattack with.
*THE END
: It was all a matter of formality then. Raikkonen had so badly hurt his tires that he was losing over a second per lap to the new leader. And in some small way, Mercedes' strategy of sacrificing Bottas on the altar of Hamilton actually turned out to be a benefit for Ferrari. Once Bottas returned to the race after pitting, he was stuck in 4th place behind DH Verstappen's Red Bull. Bottas of course tried to get past the Dutchman, and twice it looked like he would succeed. On the first try, Verstappen cut a corner and got away with it. The second time, he actually swerved stiffly towards the side of the Finn's Merc. This, he did not get away with, and he was soon handed a five second penalty to be tacked on to his final time. While Verstappen did cross the finish line third, the penalty meant that he was dropped back to fifth. Bottas, of course, was in third, but there, within five seconds of Verstappen at the end, was Seb Vettel, who did take fourth. But because Bottas had been stuck behind the Red Bull, that meant he couldn't take the fight to the gimpy Ferrari for second place. Still, it seems likely that Mercedes was okay with trading second place for third when it got them the overall victory.
*TIFOSI PFUI
: During the post-race interviews/podium ceremony, the tifosi booed Hamilton, and not for the first time. This time felt particularly egregious, however. Indeed, no less a voice than ex-Ferrari chief Luca di Montezemolo went on record saying that he was "disgusted" by the tifosi's behavior. Not the best way to end what was a rather exciting race.

Next time we'll be in Singapore! See ya then.
Posted by: Wonderduck at 11:59 PM | No Comments | Add Comment
Post contains 924 words, total size 6 kb.
September 03, 2018
F1U! Where, Wonderduck?
I ended up sleeping instead of doing the F1U! for Monza. It was a good race, well worth your time to watch it if you can. But this weekend has either been annoying (Saturday), or relaxing (Sunday, Monday).
The plan had been to do it Monday morning... get up, do morning things, sit down at the computer and bang the writeup out... but I didn't actually get up until 1130a. So I got up, did morning things in what technically turned out to be the afternoon, had lunch, put together what is basically
a one-shelf bookcase
, though that's not what I'll be using it for, fiddled about, then I took a nap around about 630p. I had intended to to wake up at 9p and do the writeup then.
Intentions are not what happened. I actually woke up at 11p. Which brings us to now. But it was a nice nap, and with the office on mandatory 10 hours of OT this week even with the holiday, a nap that is likely to be needed.
I did try to get some of that OT in on Saturday, but the system was down. The system was down. The system was down. Down down down. Zakazakazakazakazaka system systemsystemsystem.
The system was down
. Which pissed me off to no end, since I had willingly come in on a day off to do work. Okay, not that willingly. Which made it worse, actually!
So, yeah, OT sucks. I'll do F1U! on Tuesday. Hope y'all had a good holiday off, or for my non-US readers, a good monday.
Posted by: Wonderduck at 11:41 PM | Comments (8) | Add Comment
Post contains 266 words, total size 2 kb.
September 01, 2018
F1 Quals: Italy 2018
It looked like rain. The official FIA Weather Clowns gave it an 80% chance of rain during Qualifying. For once, being underneath the giant Ferrari banner in the main grandstand didn't seem like it'd be all that bad. But did it rain? Or did we get full speed, athletic-spheroids-to-the-dividing-structure action like we hoped, for Monza is the one track on the calendar where rain takes away from, as opposed to adding to, the spectacle. So which was it? Here's the provisional grid for the 2018 Grand Prix of Italy:
Pos
Driver
Q1
Q2
Q3

1

Ferrari

1:20.722

1:19.846

1:19.119

2

Ferrari

1:20.542

1:19.629

1:19.280

3

Mercedes

1:20.810

1:19.798

1:19.294

4

Mercedes

1:21.381

1:20.427

1:19.656

5

Red Bull Racing


1:21.381

1:20.333

1:20.615

6

Haas Ferrari

1:21.887

1:21.239

1:20.936

7

Renault

1:21.732

1:21.552

1:21.041

8

Force India Mercedes

1:21.570

1:21.315

1:21.099

9

Toro Rosso


1:21.834

1:21.667

1:21.350

10

Veruca
Williams Mercedes

1:21.838

1:21.494

1:21.627

11

Haas Ferrari

1:21.783

1:21.669




12

Williams Mercedes

1:21.813

1:21.732




13

McLaren Renault

1:21.850

1:22.568




14

Renault

1:21.801

DNF




15

Red Bull Racing


1:21.280

DNF




16

Force India Mercedes

1:21.888






17

AMX-30
Sauber Ferrari

1:21.889






18

Toro Rosso


1:21.934






19

Sauber Ferrari

1:22.048






20

waffle
McLaren Renault

1:22.085





See that 1:19.119 up there? That works out to an average speed of 163.785mph, which makes it the fastest lap in Formula 1 history. Please note that both Vettel and Hamilton also broke the lap record in qualifying, but the Finnish driver pipped them both. Sadly, the SKY announcers couldn't sound excited if you set them both on fire. At least, not in any way that makes you feel it. Yes, I'd still much rather have the Legendary Announce Team broadcasting my F1.
If you look closely at the top 10 places on the grid, you'll see they are occupied by cars from
eight
different manufacturers. I personally cannot remember the last time I saw that. Only McLaren and Sauber are absent. But the Swiss team has a very good reason for their performance today...
"Hi, I'm Sony Ericcson. *record scratch* Yep, that's me.

You're probably wondering how I got myself into this situation..."
In Friday's Practice 2, Ericcson was approaching Turn 1 at somewhere around 210mph or so, nothing out of the ordinary at all. Unbeknown by him his DRS flap had actually over-opened, meaning that it was stuck that way when it came time to apply the brakes. Doing so is supposed to automatically close the DRS flap, thus increasing downforce and allowing the car to do things like slow down or turn in a controlled manner. Instead, the Sauber immediately speared to the left, giving the armco a 15G hit. Then the right side tires dug into the rain-softened grass and dirt, sending the car into a tumbling, spinning, somersaulting ride that reportedly covered some 700meters. The video is terrifying to watch in its violence:
During this gymnastic routine, he pulled 28Gs. Once it ended however, he just stood up and walked away. The trip in the medical car that followed was required by the regulations; any time a driver suffers an impact that sensors record as being over a certain g-force level, they're going to the medical center whether they're hurt or not.
Sauber immediately called Charles AMX-30 into the pits, only to discover that his DRS equipment had the same problem, it just hadn't happened yet. Ericcson's car had to be rebuilt from the ground up... even the chassis was ruined. So while Sauber is usually kinda slow, they had a good excuse this time.
You'll also note the two "DNF" entries in Q2. Both Smiley Ricciardo and Nico Hulkenberg had massive gridspot penalties... Hulkenberg for his causing of the massive crash at the start of the Belgian Grand Prix, and Smiley for engine component changes. Both knew there was no point to going out and burning tires when they were going to end up at the back anyway, so neither did more than an installation lap and back to the pits.
So, it'll be a fast race tomorrow... and a fast one, too, if you know what I mean! F1U! will be along sometime thereafter. See ya then!

Posted by: Wonderduck at 07:22 PM | Comments (3) | Add Comment
Post contains 736 words, total size 22 kb.
115kb generated in CPU 0.09, elapsed 0.2317 seconds.
56 queries taking 0.1582 seconds, 288 records returned.
Powered by Minx 1.1.6c-pink.