May 17, 2019
I Had No Idea...
Y'all remember The Art Of Noise, right? New Wave band, did that thing with Max Headroom, and that other thing with Tom Jones, and that other other thing with Duane Eddy, and the video with the kinda creepy little girl directing people to destroy various musical instruments in various entertaining ways? Right, that song was titled "Close (To The Edit)", and like a lot of Noise's stuff, it still holds up really well today.
But here's the thing: I always assumed that it was all electronic stuff and samples and drum machines. And maybe it was, but I only just learned that Trevor Horn produced the band... indeed, he was actually part of the band. And between him, Anne Dudley, and a Fairlight, there was actual, y'know,
music
. That could be played live. A stunning concept for what I thought was nothing but a studio band.
How did I discover this? Like most revelations, I discovered it accidentally, by stumbling over a 2004 Prince's Trust concert celebrating the career of Trevor Horn. His work with The Buggles, Frankie Goes To Hollywood, Yes, Seal, ABC, and others all performed live... and then this:
Completely gobsmacked. I knew Horn played bass, but holy crepe on a stick, he does seem to be pretty damn good at it. Oh, and those drummers are doing some serious work.
And it was live. Who knew the Art of Noise was a real live boy?
Posted by: Wonderduck at 03:11 AM | Comments (1) | Add Comment
Post contains 251 words, total size 2 kb.
May 14, 2019
Random Anime Picture #147: Starry Night With Beach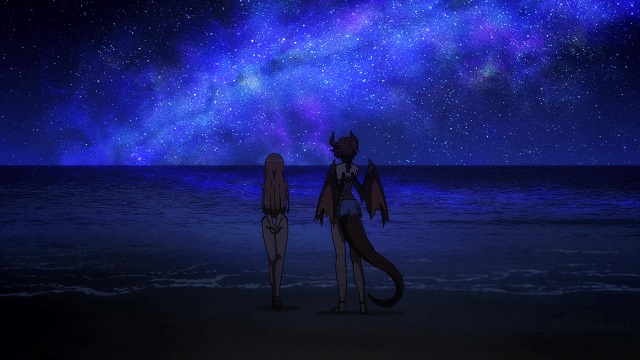 Every so often, a series will come down the pike that takes you by surprise, hits you on the back of the head with a sock filled with rocks, rifles through your pocket for spare change, then leaves you for dead on the sidewalk.
Manaria Friends
is not that show.
Instead, what MF is is a gently believable series about two girls that have a thing for each other. As they go through their days at Wizarding U., we learn about them, the world they're in, the growth cycle of dragons, and how a piano stays in tune outdoors in the snow.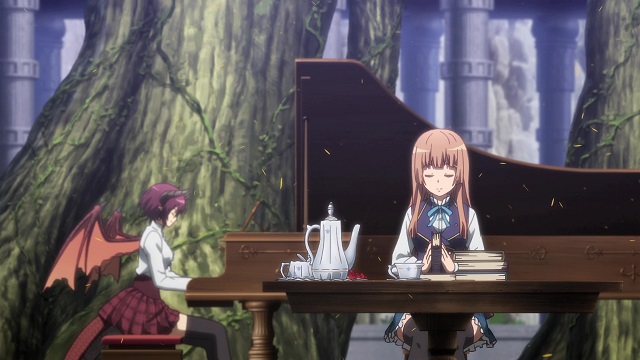 not appearing in this picture: snow
While there is magic thrown about in the show, which makes sense since it's set in a college for magic users, it's far from being the centerpoint. Upon reflection, there's only two or three episodes of this 10-episode series that require magic to continue the story... and one Lighting Designer that just pissed me right the hell off by using magic to provide the stage lighting, but that's neither here nor there.
Instead, our show is about Anne (right) and Grea (the other one). Anne is a princess of the kingdom of Manaria, where the show is set. She is a prodigy in the use of magic, seemingly more powerful than many (all?) of the teachers. The problem is, of course, that she's not overly trained in the use of that ability, meaning there tends to be a lot of overkill in her spellcasting. Grea, on the other hand, is a princess of the Dragonborn... okay, let's get this out of the way now:
...is a princess of the Dragonborn, which is what the kingdom of the dragons call themselves. She's actually half-dragon, half-human, a magic user of some skill, immense physical strength, and a cute tail, which is not something I ever expected to type.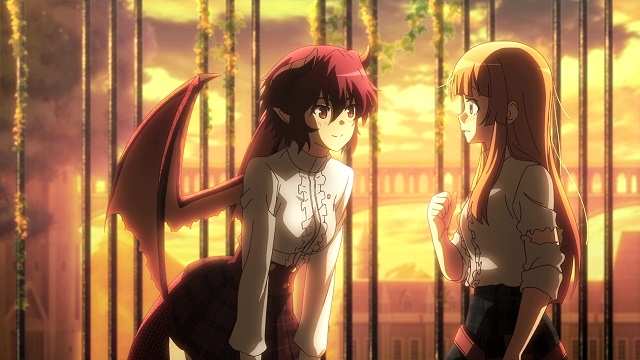 Together they go through a semester? year? becoming more and more the focus of each other's life. While it's not
all
sweetness and light, it mostly is.
Manaria Friends
is the sort of show that puts a smile on your face while you enjoy two people that enjoy each other's company enjoying themselves. I'd put it in the same category as
Flying Witch
or
Yuru Camp
... it's just
nice
. And for what it is, it's remarkably well done.
Give it a shot. You'll thank me for it later.
Posted by: Wonderduck at 12:01 AM | Comments (4) | Add Comment
Post contains 413 words, total size 3 kb.
May 08, 2019
Oh Look... Spa!
In the past, during the various F1U!s for the Grand Prix of Belgium at Spa-Francopants, I've said that rain is always a possibility. That's just the way Spa do. This past weekend, the World Endurance Championship held the Six Hours of Spa, and the skies were quite nice to begin... but rain is always a possibility, right?
...I'm fairly sure I've never said SNOW was a possibility. Ye cats and little fishes.
Hey... LeMans is coming up, isn't it? Mid-June... hope it's gonna be on TV here, I can't find anything about who's broadcasting in the US.
Posted by: Wonderduck at 08:25 PM | Comments (5) | Add Comment
Post contains 100 words, total size 1 kb.
May 02, 2019
When Cover Songs Try Too Hard
Last night I found myself following a pointer g
leaned from over at J's place
into the darker recesses of Yootoob. I came hunting for the promise of a good cover song, made likely by the musician being Jonathan Coulton... y'know, the guy who wrote
Portal
's theme song? So into this den of iniquity I went, and I found an entire album, entitled
Some Guys
, of cover songs of '70s hits and ballads. I began listening... and I found myself confused.
That's not a cover song
! Oh, it is of course... that's Coulton singing instead of Gerry Rafferty... but there's practically no difference between the two. Is that a cover, or is it a tribute, or just a knockoff? The entire album is like this, nigh-on note perfect copies of 40-year-old songs. And I have to ask: why bother? Don't get me wrong, it's a tour-de-force by Coulton. The performances are excellent, and if you didn't know better you'd swear you were listening to the originals.
And that's the problem, isn't it? If I wanted to listen to the original song, I'd just listen to the original, not Jonathan Coulton pretending to be Gerry Rafferty, no matter how good at it he is.
I'm long of the belief that a good cover song must have a healthy dollop of the covering band's flavor on top of the original. The best example of this that I can come up with off the top of my head is the song "Got The Time".
Classic song by Joe Jackson in his "angry young man" phase, somewhere after punk but before new wave kicked in. He's long been my favorite musician, and this is easily one of my favorite of his tracks. Until I heard a cover of it.
By heavy metal band Anthrax.
Now it's still one of my favorite Joe Jackson songs, I just prefer this version. It's still the same song, just performed in Anthrax's inimitable style. It's no slavish copy, it's just a brilliant repurposing.
THAT's what I think a cover song should be like. Don't copy: adapt.
Posted by: Wonderduck at 05:20 PM | Comments (11) | Add Comment
Post contains 353 words, total size 2 kb.
44kb generated in CPU 0.06, elapsed 0.2201 seconds.
50 queries taking 0.1796 seconds, 275 records returned.
Powered by Minx 1.1.6c-pink.