December 11, 2017
I Had No Idea This Was A Thing...
...but I'm
really
glad it is! Back in the old days, one of the things that high-level railfans did was wrangle a cab ride from some friendly engineer, set up a video camera, and record the trip in such a way that the viewer could believe they were really really there. Often, these vids would end up being licensed by one company or another and sold out of the back of
Trains
or
Model Railroader
magazines. More recently, cable channels like RFD-TV will actually broadcast such things between bull roping, the farmer's weather report, and (my favorite) the Annual Classic Tractor Show and Parade. Such videos are much easier to make these days, and of course the visual quality is better to a stupid extent. It was while watching one of these detailing the London DLR run from
Lewisham to Bank
that a yootoob suggestion caught my eye... "Night Videowalk in East Shinjuku, Tokyo." Intrigued, I took a look.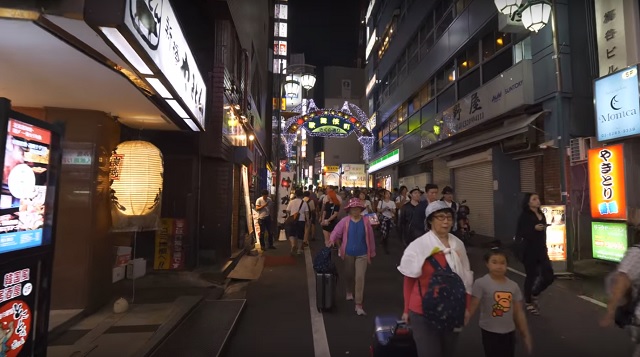 ...and it's exactly what it says on the tin: someone walking around in East Shinjuku with a 4K digital camera on a stabilizer-crane mount. That's all. And, much like
the Jackson Hole livecam
, it's wonderful to watch, in a voyeuristic way. Sometimes it's in a densely packed urban area, sometimes he's walking on Mt Fuji, or the Imperial Garden in Tokyo, or Comiket. And he doesn't ever say a word, so it's all natural sound. There are others doing similar things, but their videos aren't as long... Rambalac, the person I've been watching, makes his a hour long, more or less. And to bring it full circle, one of them is of
the JR Railway Museum in Saitama
. Sadly, that one isn't in 4K... but this one is:
Turns out there are plenty of other people out there doing similar things in other cities.
New York's Times Square
, or
Kolkata
, or even
Chicago
, for example. But yeah, I'm a geek... Japan for me! Amusingly, I already knew what some of the places looked like... thanks to
Go! Go! Nippon
, which blew my little mind. I mean, I'm never going to get to go to Japan, so... well, it's a poor second, of course, but it's better than nothing. And there's some startlingly beautiful scenes to boot. Pour yourself a drink, settle in, and give one a watch... you might be surprised at how much you enjoy yourself.
Posted by: Wonderduck at 09:16 PM | No Comments | Add Comment
Post contains 404 words, total size 3 kb.
December 09, 2017
Random Anime Pictures #141: Now THAT Was A Surprise!
I actually really enjoyed the first episode of
Love Live
! I can only assume all the "idol sh*t" starts in the next few episodes, but there was practically none in Ep01. Instead we focused on the characters, and as a result I was laughing for most of it. I did very little of that when I watched
iDOLM@STER
or the not-entirely-sequel,
Cinderella Girls
. Half-grins, yes. Smirks, sure. Head-shaking "oh, you" moments, okay. But laughing? Nope.
I'm not expecting much in the way of depth here, but hey, one of the main girls is Kaga Jr, gotta love that. And yes, I know that if I'm going into an idol show hoping there won't be much "idol sh*t" I'm gonna have a bad time, but at least the first episode was fun.
And
maybe
they'll explain why there's a random llama on the school grounds.
Posted by: Wonderduck at 11:09 PM | Comments (2) | Add Comment
Post contains 156 words, total size 1 kb.
December 07, 2017
The Forgotten Pearl Harbor Memorial
The whole world is familiar with
what happened to the USS
Arizona
at Pearl Harbor that fateful day in December of 1941. In remembrance of that tragic loss, a touching memorial was built over the sunken remains, and is a tourist attraction unlike any other perhaps in the world.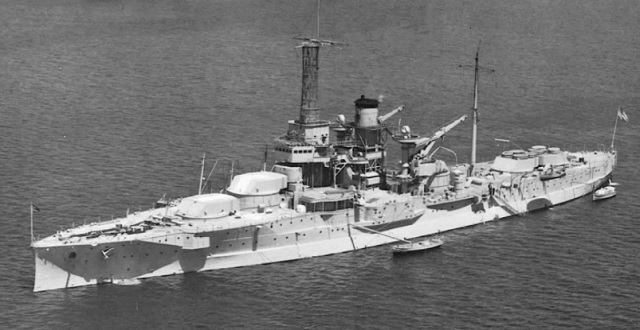 In 1941, the USS
Utah
was no longer a glamorous ship. Once a Dreadnought era
Florida
-class battleship, in 1931 she was converted to a radio-controlled target vessel (AG-16), both her main and secondary batteries removed, and her torpedo bulges shaved off the hull. In 1935 she was given a the new assignment of anti-aircraft training. To which end, she was given an ever-changing collection of AA guns, from .50cal machineguns all the way up to the famous 5"/38 dual-purpose gun. It was in this duty that she was at Pearl Harbor on Dec 7th, 1941.
Moored in a position normally used for the US Navy's aircraft carriers, torpedo planes from the Japanese carrier
Soryu
closed in on her. While the squadron leader waved the run off, correctly identifying the
Utah
as not worth attacking, six planes did not get the message and dropped on her. Of these six torpedoes, two hit the seriously unprotected vessel which immediately began to list . Some 12 minutes after the attack on her began, she rolled over onto her port side and settled to the bottom of the harbor. Some years later, an attempt to salvage her was made, but was unsuccessful. It was decided to leave the hulk where it lay.
A small memorial plaque was placed in 1950, and a larger memorial erected in 1972, seen to the right in this picture. Only those with a military ID can visit, and like the Arizona Memorial, it is considered a war grave as the ship still holds the remains of 58 crewmen killed on Dec 7th, 1941. She's not as well-remembered as the
Arizona
; she was neither as glamorous or her loss as dramatic. She is still one of a perishingly few remaining touchpoints for the events of the day that began the Pacific War. In many ways, she deserves better.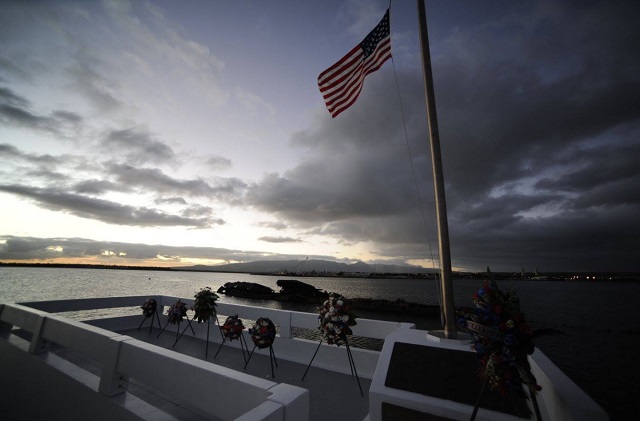 Posted by: Wonderduck at 09:33 PM | Comments (3) | Add Comment
Post contains 362 words, total size 3 kb.
December 04, 2017
Ducks In Anime: What The...?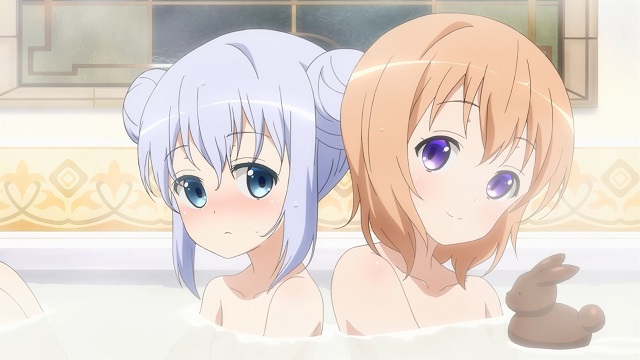 -Is The Order A Rabbit?
, Ep01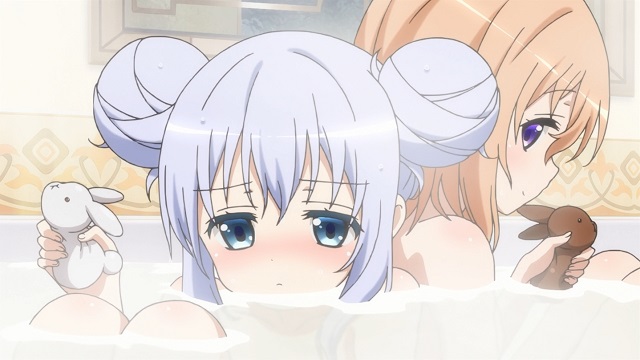 What the hell are
THOSE
???
I'm really enjoying
Is The Order A Rabbit?
, but... what the
hell
, Japan? It's rubber
ducks
, not rubber rabbits. Jimmy Carter notwithstanding, rabbits don't swim. This actually bothers me much more than anything
Hellsing Ultimate
did, and that show is batsh*t insane.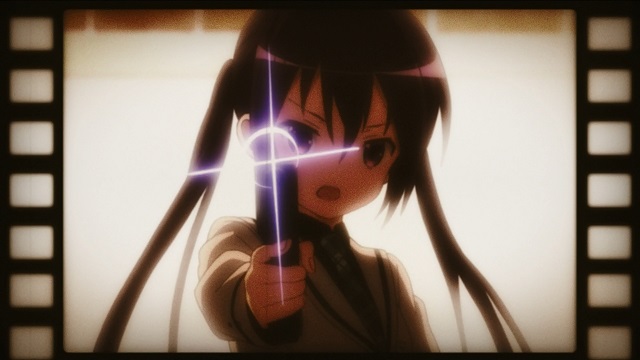 So is Rize, but in a good way. She's keeping this show from going completely into Saccharin City, and I thank her for it. It's been a while since I've laughed out loud at an anime, but she's managed to make me do it a couple of times in the space of three episodes.
Just... go watch it. It won't be everybody's cup of... um... coffee... but it's good!
Posted by: Wonderduck at 07:29 PM | Comments (3) | Add Comment
Post contains 137 words, total size 2 kb.
December 02, 2017
Heh... "Devil Duck"
"Okay men, listen up."
The Marines, gathered at the stern of the troop transport, directed their attention to the weatherbeaten sergeant. Some distance away, the big guns of the
Colorado
threw 16" shells at a small piece of land in a very large ocean.
"All right. Someone up the chain screwed the pooch. There ain't no tide today, so the landing craft can't get over the reef."
Someone piped up with a lighthearted tone in his voice: "So we're going home, right?"
The sergeant rolled his eyes. "Yeah, Jenkins, we're going home. The war is over. We won. And it was all because of you." The gathered group of men laughed, but there was an audible tightness to it. "Nah, we ain't that lucky. We're going in on the alligators." A muted reaction from the men told what they thought of this... the LVTs might well be able to climb over the reef and carry them right to the beach, but on the other hand they had no armor and were slow in the water. "Any questions?"
Silence. "Awright, lets go."
The men burst out with the traditional "OORAH!" as they moved to the ship's rail... all but one of them. That one Marine joined in with a loud, clear "QUACK!"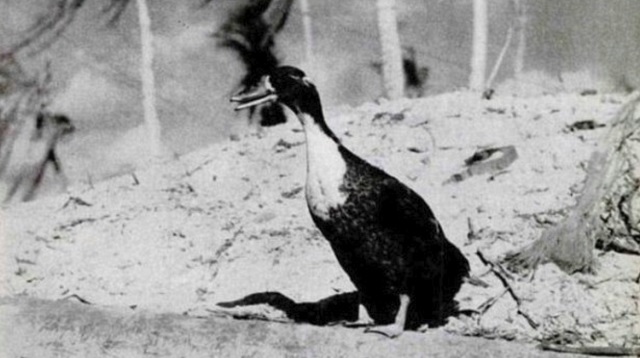 The target was Tarawa. And Siwash was going to war.
more...
Posted by: Wonderduck at 11:22 PM | Comments (1) | Add Comment
Post contains 771 words, total size 6 kb.
36kb generated in CPU 0.02, elapsed 0.0269 seconds.
49 queries taking 0.0099 seconds, 242 records returned.
Powered by Minx 1.1.6c-pink.