April 30, 2016
F1 Quals: Russia 2016
Choo-choo! All aboard the Nico Rosberg hype traaaaaaaaaaaaaaaaaaaaaaain! Here's the provisional grid for the 2016 Grand Prix of Mother Russia:
Pos.
Driver
Team
Q1
Q2
Q3

1

Nico

Rosberg

Mercedes

1:36.119

1:35.337

1:35.417

2

Sebastian

Vettel

Ferrari

1:36.555

1:36.623

1:36.123

3

Valtteri

Bottas

Williams

1:37.746

1:37.140

1:36.536

4

Kimi

Räikkönen

Ferrari

1:36.976

1:36.741

1:36.663

5

Felipe Not Nasr

Massa

Williams

1:37.753

1:37.230

1:37.016

6

Smiley

Ricciardo

Red Bull Racing

1:38.091

1:37.569

1:37.125

7

Sergio

Perez

Force India

1:38.006

1:37.282

1:37.212

8

Kid

Kvyat

Red Bull Racing

1:38.265

1:37.606

1:37.459

9

Embryo

Verstappen

Toro Rosso

1:38.123

1:37.510

1:37.583

10

Lewis

Hamilton

Mercedes

1:36.006

1:35.820

No Time


11

Carlos

Sainz

Toro Rosso

1:37.784

1:37.652




12

Jenson

Button

McLaren

1:38.332

1:37.701




13

Nico

Hulkenberg

Force India

1:38.562

1:37.771




14

Fernando

Alonso

McLaren

1:37.971

1:37.807




15

Lettuce

Grosjean

Haas

1:38.383

1:38.055




16

Esteban!

Haas

1:38.678

1:38.115




17

Kevin

Magnussen

Renault

1:38.914






18

Jolyon

Palmer

Renault

1:39.009






19

Felipe Not Massa

Nasr

Sauber

1:39.018






20

Pascal's Wager

Manor

1:39.399






21

Rio

Rainbow Gate

Manor

1:39.463






22

Sony

Ericsson

Sauber

1:39.519





It's not enough that Rosberg is leading the Driver's Championship by a serious amount, no no... now his two most obvious challengers are suffering from technical failures, too! Seb Vettel, who is nominally second on the grid, will be starting seventh after a gearbox change. And Lewis Hamilton, Rosberg's teammate, set a comfortable time in Q2, then suffered a drastic loss of power from his engine. At last report, the team was elbow deep in the back of the car despite it being in
parc ferme
. This means that there's a good chance Hamilton will be starting from the back of the grid or the pit lane for the second race in a row... and we know how well that turned out last time. Oh, as if that wasn't enough he might also get a penalty for not rejoining the track in the correct manner after running wide at one point.
It's difficult to see a scenario where Hamilton can recover from this awful start to the season to come back and win the driver's championship, but stranger things have happened. However, Rosberg's lead is not a fluke; he's driving very well, and very very fast. For example, look at the two Merc speeds in Q2: Rosberg 1:35.337, Hamilton 1:35.820. A half-second faster? That's no accident.
The rest of the grid is pretty standard. It's possible that Haas has now found their true pace after the ridiculously wonderful first two races. It's been expected that as the season rolled on, Haas would be unable to keep up with the march of upgrades, but boy, that happened fast! Assuming, of course, that's what's going on here.
The McLarens, so miserable last year, are now looking like they've officially taken the next step to getting back to the top. It can't happen soon enough if you ask me. Force India is still twitching, which is something of a surprise considering the huge financial and legal problems Vijay Mallya has... he's $1.4billion in debt, a court in Mumbai issued a warrant for his arrest, the Indian government revoked his passport and has asked Britain to deport him.
The race is Sunday morning, F1U! will be along afterwards, and we'll see you then or thereabouts!
Posted by: Wonderduck at 01:07 PM | Comments (1) | Add Comment
Post contains 550 words, total size 27 kb.
April 28, 2016
April 26, 2016
F1 on TV: Russia 2016
This time around the F1 Circus finds itself in Sochi, Russia, home of the 2014 Winter Olympics... and of course the Sochi Autodrom. It's among, around and through the leftover buildings and so-called glory of those Olympics that Our Favorite Form of Motorsports will be racing. Let's take a look at the track map, shall we?
Nope, no change from 2014 or 2015. That's unfortunate, because this race has not given us great events in the past. The first race was run under the shadow of Jules Bianchi's accident, when nobody in particular really wanted to be there. 2015 saw wrecks a-plenty, a dull race, and a track worker nearly run over by Seb Vettel. Now, one could say that the circuit has yet to get "a fair shake," as it were. It's still awfully new, the events of the past two years have overshadowed the track, so on and so forth. One less charitable could say that, because the circuit sucks Siberian Snow Cones, the events of the past occurred. Go ahead, guess which view I tend towards, I dare you.
Look... it's really quite simple: there are 10 90-degree turns. If you add in Turns 7 and 8, it becomes an even dozen. Think those do anything to the flow of the track? Or do you believe that stopping and starting and stopping and starting make for exciting racing? Of
course
it's a Hermann Tilke layout. I mean, sure, I suppose he did the best he could given the limitations of having to race through the Olympic Park, but... well. They don't listen to my advice over at the FIA... they don't even reply, except for that one time with the restraining order... so no use in complaining.
The good kulaks of the Legendary Announce Team will be doing their usual coverage at the usual times... but let's check 'em out to make sure we're all on the same page, shall we?
Friday
Practice 2: 6a - 730a live on NBCSN
Saturday
Quals: 7a - 830a live on CNBC
Sunday
2016 Grand Prix of Russia: 6a - 930a live on CNBC
Note the long running time for the race on Sunday... I'm assuming that includes both pre-race buildup and "F1 Extra", the post-race coverage. All times Pond Central, add an hour for those of you in Virginia, take two hours away for y'all in San Francisco, and but one if you're a relative of mine in Albuquerque, NM.
Actually, anybody in Albuquerque should take one hour off Pond Central time. Just... y'know what? Never mind. Whatever. Do what you wanna do. It's yer thang.
We'll be along sometime after the race with the usual F1Update!, except maybe this time with energy and passion. Or not. We'll see.
Posted by: Wonderduck at 08:20 PM | Comments (1) | Add Comment
Post contains 464 words, total size 3 kb.
April 25, 2016
Random Anime Picture #116: The End Of Cinderella Girls
I did
not
expect them to be eaten by mini-Godzilla.
-iDOLM@STER Cinderella Girls
, Ep04
I am of the opinion that I'm missing something with this show, perhaps even more than with the original
Idolmaster
series. Kinda like how
Kantai Collection
is filled with references that only make sense if you've played the game, I'm guessing that I'm only getting half the story here. Maybe someone who's actually played it can pipe up... I think I remember seeing that The Man Called Author played it... and tell me if that's really the case.
Maybe he can also explain why Anastasia isn't the main character in the show.
Because, ye gods and little fishies, she's certainly
my
most popular. She's no
Chihaya
, of whom I even have a figma, but she ain't far behind.
Posted by: Wonderduck at 09:23 PM | Comments (6) | Add Comment
Post contains 141 words, total size 1 kb.
April 23, 2016
48
On this day in 1348, the Order of the Garter, the first English order of knighthood, was created. The word
hillbilly
was used in print for the first time today in 1900. On this day in 1945, the Soviet Army entered the outskirts of Berlin proper. Ken Johnson of the Houston Astros threw a no-hitter against the Reds on this day in 1964... and lost 1-0, becoming the first pitcher ever to lose a no-hitter. Sergei Prokofiev was born this day in 1891. Today in 1899 saw Minoru Shirota, the creator of
Yakult
, probiotic drink company and owner of the Tokyo Yakult Swallows baseball team. The debut album by The Ramones was released today in 1976. Timothy McVeigh was born in 1968 on this day.
And on the North Side of Chicago in 1968, in a hospital somewhere in the vicinity of Wrigley Field (which hosted its first baseball game on April 23, 1914, under the name Weeghman Park), unto this unsuspecting world was inflicted a Wonderduck.
As always, nobody is more surprised than myself.
Posted by: Wonderduck at 04:28 PM | Comments (8) | Add Comment
Post contains 178 words, total size 1 kb.
April 22, 2016
Prince
I was a fan of Prince's music. Not the biggest fan, but I enjoyed it quite a bit. I think most people my age at last respect the man for his ridiculous string of hits.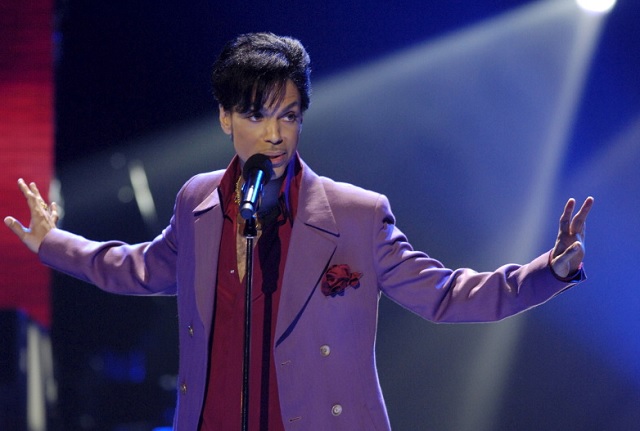 But for me, it wasn't the hits that made him the legend he was. Instead, it was the sheer amount of musical talent he possessed. He played all the instruments on his first five albums, only creating a band for touring purposes. Liner notes to his albums show around 40 different instruments, including vocals. Of course, his vocal range went from ridiculously high falsetto to a baritone that began to impinge on bass. But his guitar was his true standout skill.
There's a story making the rounds that Eric Clapton was once asked what it was like being the best guitarist in the world, and he replied "I don't know, but you can ask him, he's right over there" while pointing at Prince.
There's no evidence Clapton actually said that, but there's no denying his talent. But it was sometimes hard to notice the ability behind the flamboyance and self-indulgent behavior that was endemic to his persona. If there's one thing Prince was, however, it was
performer
.
Superbowl XLI was a painful one for me, as the Bears lost to the Colts that year, but the halftime show by Prince was jaw-dropping. According to an NFL Films documentary about the entire game-event-thing, the producer of the halftime show came to Prince and said "I'm sorry, but it's raining." Prince replied with a casual "Yes, it's raining." Mind you, the set was made out of a type of tile that was slippery to begin with, and now you've got rain on it as well. The producer, worried, asked if there was "anything we can do for you?" Prince's response was "Can you make it rain harder?" I haven't seen the whole performance since that game, as Prince was virulently anti-digital; he did everything he could to keep his stuff off of youtube, for example.
Having lived in Minnesota, having been to
1st Avenue
, the club/concert hall seen in the movie
Purple Rain
, and other places in and around Minneapolis, one knew that it was always possible that one night he would show up unannounced, play a small intimate concert, then leave, just because he wanted to. This was just something he did. Never any rhyme or reason as to where, either... he could show up in Duluth just as easily as St Paul. I'm not ashamed to say that I took advantage of that one Halloween.
I dressed in a pair of black jeans, black turtleneck, black combat boots, a black duster, black shades, I even dyed my hair, eyebrows and mustache black (somewhere in San Francisco, Vaucaunson's Duck has just died laughing). I borrowed a fake cellphone and an earpiece from the theatre props shop, and told my friends that I'd catch up with them. About an hour later, I climbed the stairs leading to a local bar with a stage at the end of it; an acoustic guitarist was playing not overly well. I walked in, ignored my friends, and stood at the end of the bar as far away from the stage as I could. Anybody who approached me got the cold shoulder, or a deadpan look from behind the sunglasses. After a couple of beers, the bartender finally made his way over to me to ask what my deal was. I quietly said that I was one of Prince's bodyguards... hinting without outright saying it that he was in the area looking for a place to play, and I was scouting this place.
For the next 90 minutes or so, I didn't have to pay for anything... and the beer had stopped, the bartender providing me mixed drinks instead. At one point, I could see the bartender leaning over and talking to a couple of people at the other side of the bar. I couldn't hear what he said, but suddenly the were staring at me intently... then they practically ran back to their table, and then everybody
there
was staring at me. It took almost no time at all for the message to make it to my friend's table... and
they
were staring at me, not with eager and hopeful anticipation like the others, but in frank admiration. To their credit, they did
not
blow my cover.
All good things come to an end, however, and I eventually made the fake phone ring, "answered" it, said a few words into it, then briskly walked towards the exit. The bartender looked a question at me, I shook my head, and left quickly. About a half-hour later, when the rest of the gang showed up for the apres-party, the amount of grief I took was
awesome
.
Two weeks later, I went back to the place, except I was dressed normally, my hair back to its regular red... but I had the sunglasses with me, in a pocket. I chatted with the bartender, and it looked like he wasn't sure if he had seen me before, until he asked me flat out. At which point, I pushed my hair back, put on the sunglasses, and muttered something about Prince. The bartender stared at me, said "you sunuvabitch!", shook my hand, handed me a beer, and said "when you're done with that, I don't want to see you here ever again." That was fair... but I left a $40 tip anyway, which was the whole point of going back in the first place.
Prince Rogers Nelson passed away yesterday in his studio in Chanhassen, MN. He was 57. His music will live on.
Posted by: Wonderduck at 08:19 PM | Comments (2) | Add Comment
Post contains 949 words, total size 6 kb.
April 21, 2016
These Cubs... They're Pretty Good.
So the Chicago Cubs played the Cincinnati Reds tonight. They won 16 - 0. Their young third baseman, Kris Bryant, had four hits, two home runs (one of which was a grand slam), and six RBIs. That's pretty good, but not quite good enough for tonight's headline.
Yup, Jake Arrieta threw his second no-hitter. Which sounds impressive, but it gets better when you realize it was his second no-hitter in his past 11 regular season starts. He's lost once in his past 23 regular season starts... and in that one loss, the other starting pitcher, Cole Hamels, threw a no-hitter. The Cubs are now 12-4 on the season, which is the best record in baseball.
I'll give the Reds credit... you gotta admire their sense of humor:
I'm actually really scared of this Cubs team... there's a lot of season left to go, but they're clearly good enough to get into the World Series. After a lifetime of watching them fail, that's terrifying!
Please, Cubs players: scare me some more.
Posted by: Wonderduck at 09:28 PM | Comments (4) | Add Comment
Post contains 175 words, total size 1 kb.
April 20, 2016
Random Anime Picture #115: Oh Dear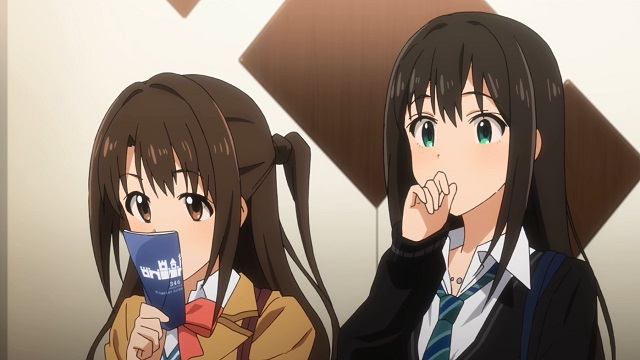 -
Idolm@ster Cinderella Girls
, Ep02
I've always had a weird thing with the iDOLM@STER franchise. I don't dislike it, but I've never been particularly impressed by any of the shows I've seen... or any of the "idol builder"-based shows, really. Then again I've also never played the games, but from what I've seen/read about them, I could see myself getting caught up in the whole rigamarole.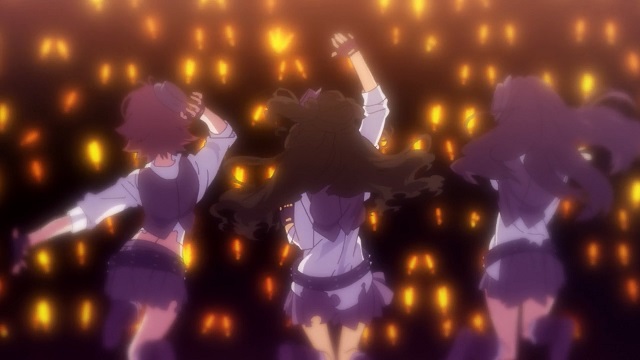 One thing I appreciate about the shows are the way they get the "backstage" parts right. Performers, particularly first-timers, get the jitters while the tech crew goes about their jobs with a staid professionalism, unnoticed and only rarely appreciated. Not that I'm bitter or anything about that detail.
Maybe it'll keep my interest. Maybe not. We'll see.
Posted by: Wonderduck at 10:30 PM | Comments (1) | Add Comment
Post contains 128 words, total size 1 kb.
April 17, 2016
miniF1Update!: China 2016
The sun shone beautifully in the sky as points leader Nico Rosberg brought the Thundering Herd around to the grid at Shanghai International, easily the nicest weather the teams had seen all weekend. Which is not the unadulterated blessing you may think it is; after all, the cars never ran in sunny conditions in practice, who knows if the teams got their setups right? Rosberg's main rival, Lewis Hamilton, was starting from last on the grid, deciding not to start from the pit lane. How would this play out? And would Ferrari finally make their challenge to the Mercedes domination stick? THIS is
your
F1Update! for the 2016 Grand Prix of China!
*LIGHTS OUT
: In Formula 1, you can't always count on a good race, but you
can
always count on a wild and wooly first lap, and China coughed up a good one today. Our polesitter had the latest in what's becoming a trend of Mercedes crappy starts, allowing the Red Bull of Smiley Ricciardo to take the lead into Turn 1. Behind them, all was chaos. The two Ferraris bounced off each other, aided by the Kid Kvyat's Red Bull making a mad dash up the inside of them. Kimi Raikkonen went sailing off into the hinterlands as a result, his front wing gone away. Vettel, on the other hand, continued, but with a damaged front wing that would be replaced at the first pit stop. Farther back, the Haas of Lettuce Grosjean wound up with nose damage as well. Even further back... okay, look: we here at F1U! have a belief that if a car that is normally up at the front of the grid is starting from the back for whatever reason, it's better and safer to start them from the pit lane. That way, they avoid the first corner demolition derby and won't lose too much time in the process. Lewis Hamilton, however, elected to start from 22nd on the grid, stating that he was going to start passing people at the earliest opportunity and go all-out to catch his teammate. Instead, he was collected by the Sauber of Felipe Not Massa Nasr, his front wing wound up stuck underneath his Mercedes, and he had to limp around to the pits, the first of an incredible five pitstops on the day for the reigning World Champion.
*AND THEN...
: On Lap 3, with DRS enabled, Rosberg swung wide to pass the leader Ricciardo. As he pulled alongside, the left-rear tire of the Red Bull shredded itself on some carbon fiber debris left behind by one car or another. He limped back to the pits, but any thoughts of a podium for him were left behind with the tire carcass. A safety car came out a lap or two later, ostensibly for the clearing of debris (and there was a lot of it around the circuit), but as the Legendary Announce Team put it, it would give the drivers a chance to cool off... we here at F1U! had images of someone pulling out a firehose... and get back to calm and collected racing. Not that it did much for Seb Vettel's mood: as he dove for the pit lane, he discovered two cars ahead of him, with Nico Hulkenberg's Force India moving slowly in front... certainly to open a gap to his teammate, as the team had decided to "double-stack" them, bringing both cars in at once. So Vettel, in no mood for such things, passed them in the pit-in. Not only was it perfectly legal, but Hulkenberg got a five-second time penalty for driving slower than warranted and causing a hazard. This race had everything!
*WOO. YAY. WHEE.
: Until it didn't. After the restart, which Rosberg handled with aplomb, the race wasn't all that much of a much. The Mercedes went galloping out over the horizon, barely to be seen again. At one point in the race, he pitted from the lead... the entire pitstop took just over 24 seconds, including the roll in and the roll out... and
still
had a 12 second lead when he returned to the track.
*SAILING HOME
: Rosberg made it three-for-three for the season, and six out of the last six, winning by nearly 40 seconds over the second-place Ferrari of Seb Vettel. Some say that Rosberg is still out on track somewhere, gliding around out of sight of the FOM cameras.... Third and fourth places went to the Red Bulls of Kid Kvyat and Smiley Ricciardo, 45 and 52 seconds behind. The other Ferrari, that of Kimi Raikkonen was fifth, 65 seconds in arrears. Lewis Hamilton, who before the race said that he was "perfectly situated" in the championship, finished seventh. And for the first time, both Haas cars finished the race with Esteban! finishing 14th, Lettuce Grosjean 19th. No points, but just as important in a way.
*SELECTED DRIVER QUOTES OF THE RACE
:
"So, how's that championship working out for you, Lewis? Lewis? Where are ya, buddy?" - Nico Rosberg
"Um. Whoops." - Seb Vettel
"Yeah, take that Sebby! That'll teach you to mess with a Russian!" - Kid Kvyat
"*grin*" - Smiley Ricciardo
"mrmrmdbsldlsm mmrmrrbrmmlm mrmrlrbrrbbbblrlrbm mrmrmrl." - Kimi Raikkonen
"Damn, I'm good... starting from last place, making five pit stops, and still getting in the points? I'm mega! Buy my rap album!" - Lewis Hamilton
"It was fun out there today!" - Esteban! (note:
real quote
)
"It was a horrific race." - Lettuce Grosjean (note:
real quote
)
In two weeks, we find ourselves in Russia. Dosvydanya and see ya then!
Posted by: Wonderduck at 09:05 PM | No Comments | Add Comment
Post contains 928 words, total size 6 kb.
April 16, 2016
F1 Quals: China 2016
Practice 3 in China was stupidly wet, with heavy rain lasting through the first 15 minutes. By the time Quals rolled around, the track was... mostly dry. There were still some damp spots, though. Would they have any role to play? Let's take a look at the provisional grid for the 2016 Grand Prix of China:
Pos.
Driver
Team
Q1
Q2
Q3

1

Nico

Rosberg

Mercedes

1:37.669

1:36.240

1:35.402

2

Smiley

Ricciardo

Red Bull Racing

1:37.672

1:36.815

1:35.917

3

Kimi

Räikkönen

Ferrari

1:37.347

1:36.118

1:35.972

4

Sebastian

Vettel

Ferrari

1:37.001

1:36.183

1:36.246

5

Valtteri

Bottas

Williams

1:37.537

1:36.831

1:36.296

6

Kid

Kvyat

Red Bull Racing

1:37.719

1:36.948

1:36.399

7

Sergio

Perez

Force India

1:38.096

1:37.149

1:36.865

8

Carlos

Sainz

Toro Rosso

1:37.656

1:37.204

1:36.881

9

Embryo

Verstappen

Toro Rosso

1:38.181

1:37.265

1:37.194

10

Nico

Hulkenberg

Force India

1:38.165

1:37.333

No Time




11

Felipe

Not Nasr Massa

Williams

1:38.016

1:37.347




12

Fernando

Alonso

McLaren

1:38.451

1:38.826




13

Jenson

Button

McLaren

1:37.593

1:39.093




14

Lettuce

Grosjean

Haas

1:38.425

1:39.830




15

Sony

Ericsson

Sauber

1:38.321

1:40.742




16

Felipe

Not Massa Nasr

Sauber

1:38.654

1:42.430




17

Kevin

Magnussen

Renault

1:38.673






18

Esteban!

Haas

1:38.770






19

Jolyon

Palmer

Renault

1:39.528






20

Rio Rainbow Gate

Manor

1:40.264






NC

Turbo Pascal

Wehrlein

Manor

DNF






NC

Lewis

Hamilton

Mercedes

DNF





On first glance, you might think that Lewis Hamilton was affected by the rain, but you'd be wrong. He went out for a trial lap on Intermediates, but came right back in complaining of his engine being down on power. I mean, every driver complains that their engine isn't powerful enough, but this time it was real: a second attempt at a lap later in the session was also a failure as his energy recovery system wasn't working right. Since he didn't set a time, he technically races at the whims of the stewards. No worries there, I'd say.
Manor's Turbo Pascal Wehrlein also races at the allowance of the stewards as he wrecked his car just a couple of minutes into Q1... and this is the only time that the wetness of the circuit may have had an effect.
As you can see, there's two damp strips across the asphalt, separated (and caused) by a bump in the front straight that runs the width of the track. Wehrlein splashed through the first damp patch, hit the bump, then nailed the second damp patch... and ended up having a tankslapper that dumped him into the outside wall. You'll note his DRS is open, as well... the combination of water, bump, and reduced downforce ended his day. A 20 minute red flag while the track workers recovered his car was the result.
Q2 ended early when Force India sent Nico Hulkenberg out for his final hot lap with a tire poorly attached. He gave it the old college try, but making it all the way around the track without losing the thing proved to be too much.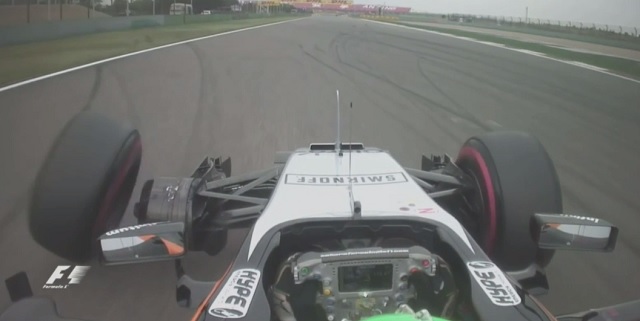 Oh dear.
This, too, brought out a red flag. The clock was stopped with about 90 seconds left in the session... nowhere near enough time to get out from the pits, get around the track, and start a flying lap. Thus were Felipe Not Nasr Massa, Jenson Button and Fernando Alonso, all of whom were on or were about to start a flying lap when the flag came out, relegated to not making it to Q3. Alonso was particularly annoyed by this,
making sounds on the radio that were... um... interesting
.
The final session saw a surprise finish when Smiley Ricciardo cranked out a lap from out of nowhere. Both Ferraris had a great shot at beating him, but both Vettel and Raikkonen screwed up the final hairpin, meaning they could not better the Aussie. Which left Nico Rosberg up on top of the grid, and his biggest rival at the very far end.
That promises fireworks. See ya Sunday!
Posted by: Wonderduck at 11:37 AM | Comments (8) | Add Comment
Post contains 652 words, total size 28 kb.
April 14, 2016
F1 on NBCSN: China 2016
My internet connection appears to be mildly stable today (edit: not so much), so let's not tempt fate any more than necessary and get to crackin'! Here's the track map for the Shanghai International Circuit, home for the 2016 Grand Prix of China:
There's nothing new under the smog in Shanghai... it's the same as it's been forever. Oh, Turn 13, the so-called "Indianapolis", has been reprofiled... again... which is important, I guess, since it's the only banked corner in F1. Never mind that tracks here in the US with
real
banked turns laugh at it, you grasp at what you can.
Wow. A banked turn and smog... what more could you ask for? How about rain? They say we're going to be having rain during Quals, which could be fun. Particularly because Quals is going back to the old "knockout" qualifying method! No more of that "90second elimination" format, that's gone...
officially
, this time. Elimination qualifying was a failure, but looking at it coldly and dispassionately, it really didn't cough up any results that were out of the ordinary: it was just a stupid stupid way to do it.
But that's all water under a duck's butt now.
Now
we're concerned with the broadcast schedule, as brought to us by the Legendary Announce Team...
Friday
Practice 2: 1a - 230a live on NBCSN
Saturday
Quals: 2a - 330a live on NBCSN
Sunday
2016 Grand Prix of China: 1230a - 3a live on NBCSN
All times are Pond Central. Check your local listings for times in your area. Post no bills. Past performance is not an indication of future results. A bird in the hand is likely to crap on you... and you'd deserve it, you beast. 2X2L calling CQ, is anybody there?
As always, F1Update! will be along after the race, so join us, won't you? Or won't you?
Posted by: Wonderduck at 08:01 PM | Comments (4) | Add Comment
Post contains 315 words, total size 2 kb.
April 13, 2016
Internet Fail
My internet connection has been seriously flaky for most of the past 24 hours. This is the first time it's been up since I got home from work, so I wanted to warn you that there may not be a "F1 on TV" this week, and if there is, it'll be Thursday (hopefully).
The race is in China, with Practice 2 being broadcast at like 1am Friday morning, so set your DVRs now! See you when I've got something more stable than a pile of pick-up-stix stacked endwise!
Posted by: Wonderduck at 08:54 PM | Comments (2) | Add Comment
Post contains 90 words, total size 1 kb.
April 12, 2016
The Cubs Know What We Want
I always thought Kaga would be a good pitcher... she's always throwin' zeroes!
Posted by: Wonderduck at 07:46 PM | Comments (3) | Add Comment
Post contains 19 words, total size 1 kb.
127kb generated in CPU 0.13, elapsed 0.2019 seconds.
63 queries taking 0.1108 seconds, 287 records returned.
Powered by Minx 1.1.6c-pink.