April 25, 2017
F1 on TV: Russia 2017
Russia. Sochi. Боже мой.
Trackmap:
What's there to say about Sochi? It looks like it should be fun, but it's proven to be a dog in reality. 2016's race lasted exactly two turns before Nico Rosberg ran away with it. 2015 went to Lewis Hamilton, but only after Seb Vettel nearly killed a track marshal that had run out in front of him. 2014 was the first race after Jules Bianchi's accident, and nobody wanted to be there. Too many right-angle turns ruins the flow of the circuit, never letting the drivers get into a groove. It's also proven to be remarkably gentle on tires, though of course we've got new compounds this year. I expect the new aero packages to not be of much importance here... it helps on turns, yes, but not stupid-slow ones like Turns 2, 4, 5, 7, 8, 10, 13, 14, 15, 16, 17 and 18. Which is most of them.
Well, the proud tartars of the Legendary Announce Team will do their level best to cover the race, lest the gulag beckon. Here's the broadcast schedule:
Friday
Practice 2: 7a - 830a live on NBCSN
Saturday
Quals: 7a - 9a live on CNBC
Sunday
2017 Grand Prix of Russia: 7a - 10a live on NBCSN
All times are Pond Central. Make your adjustments accordingly. Afterwards, F1Update! will be along eventually. I'm sure you're thrilled by this announcement. See you then!
Posted by: Wonderduck at 10:35 PM | No Comments | Add Comment
Post contains 241 words, total size 2 kb.
April 23, 2017
49.
Today is April 23rd. Today is Impossible Astronaut Day, so go hug a Whovian. In 1985 on this day, Coca-Cola introduced "New Coke", prompting Vaucaunson's Duck and myself to search around Duckford for a case of the original flavor. The
first youtube video
was uploaded today in 2005. Both Æthelred the Unready and William Shakespeare died on this date, as did Buster Crabbe, Howard Cosell, and Jaap Havekotte, a famous manufacturer of ice skates for speedskaters. Meanwhile, John Hannah, Roy Orbison, Herve Villechaize, and Stephen A Douglas were all born on April 23rd. In Bergen, Norway, there's heavy snowfall, and back in 1917 Buster Keaton made his film debut. The International Space Station was visible from Newton Falls, OH, for 454 seconds and Hank Aaron hit the first of his 755 home runs today in 1954 against the Cardinals.
And in a hospital just off Lake Shore Drive in Chicago, a Wonderduck was inflicted upon a confused and slightly frightened world.
birthday candle!
I am still surprised.

Posted by: Wonderduck at 06:41 AM | Comments (10) | Add Comment
Post contains 168 words, total size 1 kb.
April 20, 2017
Still Alive. Again. I Mean, Still. Alive, That Is.
This was a triumph.
So I tell ya, it's more difficult to do 10 hours of mandatory overtime in a week when on two of those days you have a less-than-swell feeling that forces you to leave "early" instead of getting some of that overtime knocked out. Sure, it's my fault, no question, damn my weakened-by-age immune system, but it does mean that Thursday and Friday are gonna be long.
Heck, I'm writing this at 330am after I woke up from what was going to be a short nap. What does that tell you?
I'm going back to bed now. The alarm's going to ring in a few hours after all. Pffffffft.
Posted by: Wonderduck at 03:03 AM | Comments (2) | Add Comment
Post contains 121 words, total size 1 kb.
April 17, 2017
Mini-F1 Update!: Bahrain 2017
Unsurprisingly, the weather was dry in Bahrain, though strangely cool... a rather un-desert-like 72 degrees F. Would this comfy weather be a good thing, or would it mean problems getting the tires to work? And who would benefit? Would it be the Mercedes duo of Valtteri Bottas and Lewis Hamilton, pole and second respectively? Or maybe the Ferrari of Seb Vettel, sitting just behind the silver cars? Or would Smiley Ricciardo's Red Bull get its wings in the windy dunes? THIS is
your
mini-F1 Update! for the 2017 Grand Prix of Bahrain!
*LIGHTS OUT
: As you would expect, it was a Mercedes that lead the Thundering Herd into Turn 1. What you probably wouldn't expect is that it was Bottas, not Hamilton, doing the leading. In fact, Hamilton wasn't even in second place. That position was held by Vettel, who won the drag race between the two multiple-times world champions. Vettel was unable to get past the Finn, despite the Merc's tires having been overpressurized accidentally... so what happened is that we had something of a train a-rollin', the likes of which we had not seen since Jarno (The Engineer) Trulli raced for Toyota. Woe betide anybody who found themselves stuck in the JarnoTrain, for once there it was a rare soul indeed that could escape. Understanding that it would be rough sledding to get past Bottas without completely torching their tire strategy, Ferrari took a gamble and called Vettel in on Lap 9.
*GOOD TIMING
: The German rejoined the race in 12th place, and it looked like a long slow slog up the field was in the offing. And then Embryo Verstappen had "brake failure" and wound up going into the barriers, followed not much later by Pleasant Stroll and Carlos Sainz playing bumpercars and both drivers being out toot sweet. Out came a Safety Car, into the pits went the field, and into the lead went Vettel... after all, he had just gotten new tires. His friends in the Mercedes pits were having a bad day however, as malfunctioning tire guns caused Hamilton to have to wait for his teammate to clear the pitbox before work could be done on him. In the process, it was judged that he had slowed down too much on the way to the pits and impeded Smiley Ricciardo. A five-second penalty was duly handed down from the Stewards' office.
*THE MIDDLE
: After the race restarted, Vettel had a brief scare from Bottas, but the Finn could not stay with the Ferrari driver. Meanwhile, Hamilton was unable (or unwilling) to attempt to pass his teammate. As the two circulated and the audience wondered just why the team hadn't thrown down team orders, Vettel pulled farther and farther ahead. Eventually Hamilton did get a free pass on Bottas, but he was a good distance behind Vettel.
*TO THE END
: Vettel's second and final pitstop on Lap 33 promoted Hamilton to the lead, some 14 seconds up the road. It quickly became apparent that the Brit was in a quandry. The Ferrari on its fresh rubber was gobbling up huge amounts of time every lap. By Lap 40, the lead was down to nine seconds, and Hamilton still had that five-second penalty to serve (or have added to his final time). Yes, he could go to the end on the tires he had on, but given the way the Ferrari was charging, it didn't seem like a good idea. But pitting would mean having to chase Vettel down... no easy feat. Having a chance to win, however, was better than not, and Mercedes brought him in. In the process, he served his five second penalty and rejoined the race in third, almost 16 seconds behind. A stout push saw him cut the lead to just over six seconds (with the help of the German getting stuck behind some backmarkers), but it got no closer. Seb Vettel swept across the finish line in first, becoming this season's first two-time winner. Hamilton was second, Bottas third, and the bells were once again ringing in Maranello.
The safety car giveth, and the safety car taketh away. Recall that last week in China, it was a safety car that helped Hamilton. But it was that time penalty that really cooked Hamilton's goose. After all, without it the lead would have been just over
one
second, and possibly less... and that would have made for some interesting times.
In two weeks, we'll find ourselves in Sochi for the Grand Prix of All The Mother Russias. See ya then!
Posted by: Wonderduck at 10:09 PM | Comments (4) | Add Comment
Post contains 762 words, total size 5 kb.
April 16, 2017
Bahrain 2017 Gonna Be Delayed
This has been one of those days where you start out behind the clock when you wake up and just fall farther and farther behind the longer the day goes on. But I got my taxes done, and thanks again to H&R Block for their wonderful website... they've made the unpleasant chore of doing your federal taxes easy, and the downright evil chore of doing Illinois' taxes even easier. After that, though, there were little glitches here and there throughout the day that, in the end, saw me not watching Bahrain until late afternoon. A much needed nap didn't end until 1030pm this evening, and dammit, I want to watch some anime this week.
So the F1U for Bahrain is going to be delayed for a day. While you wait,
here's the Easter Bunny just destroying Teddy Roosevelt
for your enjoyment and here's
the sequel to last year's greatest baseball commercial
.
Thanks for waiting.
Posted by: Wonderduck at 10:28 PM | No Comments | Add Comment
Post contains 159 words, total size 1 kb.
April 15, 2017
F1 Quals: Bahrain 2017
Of all the results I imagined I'd see when I got home from work/lunch today, I gotta admit, I didn't expect this one. Here's the provisional grid for the 2017 Grand Prix of Bahrain:
| Pos | Driver | Car | Q1 | Q2 | Q3 |
| --- | --- | --- | --- | --- | --- |
| 1 | Valtteri Bottas | Mercedes | 1:31.041 | 1:29.555 | 1:28.769 |
| 2 | Lewis Hamilton | Mercedes | 1:30.814 | 1:29.535 | 1:28.792 |
| 3 | Sebastian Vettel | Ferrari | 1:31.037 | 1:29.596 | 1:29.247 |
| 4 | Smiley Ricciardo | Red Bull Racing | 1:31.667 | 1:30.497 | 1:29.545 |
| 5 | Mumbles Räikkönen | Ferrari | 1:30.988 | 1:29.843 | 1:29.567 |
| 6 | Embryo Verstappen | Red Bull Racing | 1:30.904 | 1:30.307 | 1:29.687 |
| 7 | Nico Hulkenberg | Renault | 1:31.057 | 1:30.169 | 1:29.842 |
| 8 | Felipe Not Retired Massa | Williams Mercedes | 1:31.373 | 1:30.677 | 1:30.074 |
| 9 | Lettuce Grosjean | Haas Ferrari | 1:31.691 | 1:30.857 | 1:30.763 |
| 10 | Jolyon Palmer | Renault | 1:31.458 | 1:30.899 | 1:31.074 |
| 11 | Kid Kvyat | Toro Rosso | 1:31.531 | 1:30.923 | |
| 12 | Pleasant Stroll | Williams Mercedes | 1:31.748 | 1:31.168 | |
| 13 | Pascal's Wehrlein | Sauber Ferrari | 1:31.995 | 1:31.414 | |
| 14 | False Esteban | Force India Mercedes | 1:31.774 | 1:31.684 | |
| 15 | Indy Alonso | McLaren Honda | 1:32.054 | DNF | |
| 16 | Carlos Sainz | Toro Rosso | 1:32.118 | | |
| 17 | Snuffy Vandoorne | McLaren Honda | 1:32.313 | | |
| 18 | Sergio Perez | Force India Mercedes | 1:32.318 | | |
| 19 | Sony Ericsson | Sauber Ferrari | 1:32.543 | | |
| 20 | Kevin Magnussen | Haas Ferrari | 1:32.900 | | |
This is Valtteri Bottas' first career pole, and it's his own damn bad luck it had to come at Bahrain, where starting second is actually better. That's the clean side of the track, as it turns out. Still, you gotta hand it to him... it isn't everybody that can say they beat Hamilton to the pole anywhere!
There's nothing particularly shocking in the rest of the grid. However, we do now know who will be replacing Indy Alonso when he comes to America instead of going to Moncao: Jenson "I'm Not Retired Yet Either" Button.
Race at a normal time tomorrow morning... F1U! sometime afterwards! See ya then.
Posted by: Wonderduck at 04:47 PM | No Comments | Add Comment
Post contains 297 words, total size 14 kb.
Quals will be late...
Just to give y'all a head's-up... I'm back on mandatory overtime at work, 10 hours minimum. When quals is going on, I'll be at work, trying to get four or five of those hours on the clock. Then I'm having a late lunch with Ph.Duck and his wife, RN(ret).Duck... I don't expect to be home until 4pm at the earliest, probably closer to 5pm. I'll get the grid up asap.
Smoke 'em if you got 'em...
Posted by: Wonderduck at 08:14 AM | Comments (1) | Add Comment
Post contains 80 words, total size 1 kb.
April 13, 2017
F1 on TV: Bahrain 2017
Okay, let's get this out of the way quickly to get to the big news. Here's the track map for the Grand Prix of Bahrain: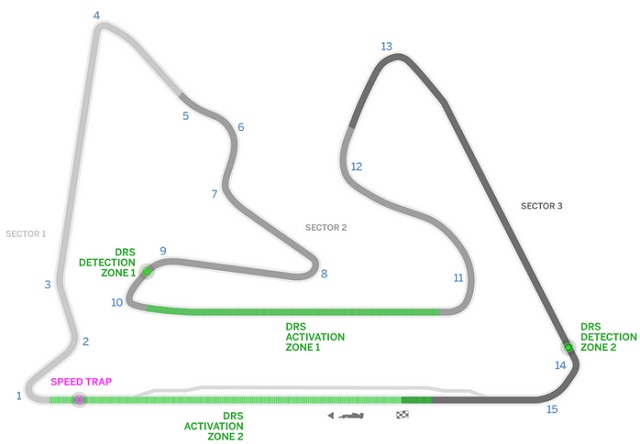 Here's the broadcast schedule, courtesy of the Legendary Announce Team:
Friday
Practice 2: 10a - 1130a live on NBCSN
Saturday
Quals: 1130a - 1p live on NBCSN
Sunday
2017 Grand Prix of Bahrain: 10a - 1230p live on CNBC
All times Pond Central. Make sure you pay attention to the race being on CNBC.
Now, for the big news:
Fernando Alonso is going to miss Monaco. Turns out he's got another gig that day.
You may have heard of it. It's not been much of a secret that Alonso is frustrated as hell with the way his return to McLaren has gone, what with the car and engine sucking and all. He's making a push for Racing's Triple Crown: wins at Monaco, Indy, and LeMans. He'll be driving with the backing of McLaren-Honda, as part of the Andretti Motorsport stable. Alonso says he'll only miss the one race, and will retake his seat in Canada a few weeks later. We'll see.
The IndyCar world is stoked about this, too:
This is just f****** awesome. Welcome! - JR Hildebrand
Woo. I get to race against Fernando Alonso now that is cool. - Sage Karam
Obviously you need some balls to do it. I think that Alonso will handle it well. - Mikhail Aleshin
Welcome to the fastest motor race in the world Fernando Alonso! Great to have a world champion on the grid. - Max Chilton, former F1 driver
We'll see how he comes up to speed and stuff like that but I'm sure he'll be fine. Alex (Rossi) won it, it's a decent comparison, I think, to him. - Marco Andretti, making this the first time Alexander Rossi has been compared in any way to Fernando Alonso.
If I were to give Fernando Alonso some advice into really getting ingrained in the Andretti Autosport team, I think it's actually going to be pretty easy. He already knows Takuma Sato and Alexander Rossi from their stints in F1. So that's done and dusted. I don't know if he's a fisherman but he maybe should brush up on that a little bit because all Ryan Hunter-Reay really talks about is boats. Other than that I think it's going to be pretty easy for him. - James Hinchcliffe
Indy just became a must-watch.
Posted by: Wonderduck at 08:54 PM | Comments (4) | Add Comment
Post contains 410 words, total size 3 kb.
April 11, 2017
Tribute... Parody... Whatever, Sometimes It's Just Right
Long have I been of the belief that the flat-out filthiest instrumental line in the history of rock music is found in Rage Against The Machine's track entitled
Killing In The Name Of
. I can take or leave Zach de la Rocha's vocals, but Tim Commerford's punching bass, Tom Morello's hot guitar lick and Brad Wilk's metronomic drum performance is, in my mind, about as close as you can come to perfection in a post-punk / alt-funk-rap-metal thing. Listening to live performances of the song, you have no doubt that band came either to play or kick your butt, and they still haven't figured out which they want to do more... so what the hell, let's do both!
Which is why this made do an honest-to-god spit-take when it popped up on my screen.
Actually pretty funky... makes me wonder what the apparently joyless de la Rocha would think of it. Or any of the cover versions that are out there. See, there's actually quite the cottage industry around covering the song...
more...
Posted by: Wonderduck at 08:48 PM | Comments (2) | Add Comment
Post contains 261 words, total size 2 kb.
April 09, 2017
F1 Update!: China 2017
A low and gray sky with a not-insignificant breeze greeted the Thundering Herd as they individually left their pit stalls and rolled out to the grid. Actually, more often than not they came back through the pit lane for multiple pre-race laps. There was a good reason for this: it had been raining all morning, and the possibility of rain coming back couldn't be discounted, but at the moment the track was drying. The decision was clear on tire choice... everybody was on Intermediate rain tires. Well, almost everybody. But how would the slick track affect the drivers up front, Mercedes' Lewis Hamilton and Seb Vettel's Ferrari? Would a new rainmaster rise up? And what of Embryo Verstappen, starting 16th after car problems in quals? THIS is
your
F1Update! for the 2017 Grand Prix of China!
*LIGHTS ON:
While the Inters were the tire of choice, one man dared venture out on the super-soft dry weather tires... Toro Rosso's Carlos Sainz. A pretty massive gamble, but one that came directly from the driver. Meanwhile, up at the front of the grid, Seb Vettel had positioned his car somewhat off-center in his grid slot... and by "somewhat", we mean "half out." He was doing this to be pointing in the right direction to challenge Hamilton right off the start, but the degree he was doing it was a clear rules violation. The assembled members of F1U!'s editorial board were duly surprised when Charlie Whiting, the long-time race master for F1, let the race start without forcing Vettel to fix the problem.

*LIGHTS OUT
: It didn't matter all that much, however. Hamilton had a cracking start and held off both the Ferrari driver and his own teammate Valterri Bottas into Turn 1. Behind them, Verstappen immediately began hacking his way through the field, ending up an amazing seventh after one lap. Carlos Sainz, beginning the race on slicks, had a less-than-stellar start but quickly began to recover lost places as his tires showed their superiority over the Inters.
*VSC, SC
: Unfortunately Sainz never got to benefit from his gamble. The Williams of Pleasant Stroll found himself buried in the kittylitter after a botched pass. As it wasn't in an immediately dangerous location, Whiting called for a Virtual Safety Car. This meant that everybody had to slow to a certain speed and, critically,
hold position
. This let Lewis Hamilton keep his lead, and indeed, technically increase it when Vettel stopped for dry weather tires. In a way, though, this meant that Vettel had the advantage: the Mercedes driver would have to change tires to slicks eventually, which would put the Ferrari in the catbird seat. After all, Vettel changed his tires when everybody was rollin' slow. Hamilton would have to do it when the race was green. The VSC lasted for a lap or so, then the field went back to racin'. Until Sauber's Tony Snazzy managed to leave half his car scattered down the front straight after blasting the inside wall. THAT brought out a
real
safety car, which gave Hamilton the break he needed to change to slicks. He didn't even lose the lead while doing so. Meanwhile, Carlos Sainz had to be wondering why the racing gods hated him. His gamble deserved to work, and yet due to the failures of others, his advantage lasted a grand total of two racing laps.
*MIDDLE
: Once the race resumed, Hamilton was in the lead and... Embryo Verstappen was in second place. 16th to 2nd in eight laps, not shabby. However, the Red Bull driver could not keep up with the Mercedes. Behind him, Smiley Ricciardo's Red Bull had Ferrari's Kimi Raikkonen and Vettel all over him rear wing. The Finn was totally unable to effect a pass, and was complaining about his car to boot. Meanwhile, Vettel was frantically trying to get around his teammate and having a singular lack of success. This went on for at least 10 laps, while Hamilton opened his lead over Verstappen dramatically. Eventually, Vettel got past his teammate. A lap or two later, he blew past Ricciardo and began tracking down the other Red Bull driver. This chase only last a few laps before Vettel destroyed the youngster. The difference in pace between the Ferrari and the Red Bull was telling, and he quickly left him in the dust, but the damage had been done: Hamilton had a 10 second lead. One is forced to wonder why Ferrari didn't tell Raikkonen to let his teammate past... we know they're not afraid to use Team Orders, after all... but it's hard to conclude anything but Ferrari threw away any chance to win the race during the time Vettel spent behind the Finn.
*END
: As it turned out, that's exactly what happened. Hamilton made his last stop for new tires after everybody else, never lost the lead, and cruised to a relatively easy win. There is reason for optimism down the road, however. While Hamilton did win handily, he wasn't able to open his lead on Vettel at all, and indeed he lost time here and there. The Ferrari was actually faster than the Mercedes... but the race was lost during those laps where Vettel couldn't get past his teammate. Meanwhile, the third step on the podium was claimed by none other than Embryo Verstappen. From 16th to podium? That's a useful drive, yep yep! It's hard to think anything other than we'll be seeing a bunch of those three during the rest of the season. Carlos Sainz's daring gamble earned him something of a booby prize: he finished seventh. Points, at least.
*OH, ONE MORE THING...
: Hamilton got himself a Grand Slam today: pole position, fast lap of the race, led every lap, and race win. That's his third, and only Vettel's four has more among active drivers. Jim Clark had eight.
So that's it for China, next week we'll be in Bahrain! See ya there.
Posted by: Wonderduck at 02:43 PM | Comments (4) | Add Comment
Post contains 993 words, total size 7 kb.
April 08, 2017
F1 Quals: China 2017
For a wonder, it
didn't
rain! In many ways, that's great! Fantastic! Wonderful! In other ways, though, it means that there weren't going to be any monkey wrenches thrown into the works and thing'll go the way they have for the past few years. Here's the provisional grid:
Pos

Driver
Q1
Q2
Q3

1

Mercedes

1:33.333

1:32.406

1:31.678

2

Ferrari

1:33.078

1:32.391

1:31.864

3

Mercedes

1:33.684

1:32.552

1:31.865

4

Ferrari

1:33.341

1:32.181

1:32.140

5

Red Bull Racing


1:34.041

1:33.546

1:33.033

6

Williams Mercedes

1:34.205

1:33.759

1:33.507

7

Renault

1:34.453

1:33.636

1:33.580

8

Force India Mercedes

1:34.657

1:33.920

1:33.706

9

Toro Rosso

1:34.440

1:34.034

1:33.719

10

Williams Mercedes

1:33.986

1:34.090

1:34.220

11

Toro Rosso

1:34.567

1:34.150




12

Haas Ferrari

1:34.942

1:34.164




13

McLaren Honda

1:34.499

1:34.372




14

Sauber Ferrari

1:34.892

1:35.046




15

Sauber Ferrari

1:34.963

DNP




16

McLaren Honda

1:35.023






17

Haas Ferrari

1:35.223






18

Renault

1:35.279






19

Red Bull Racing


1:35.433






20

Force India Mercedes

1:35.496





Okay, yes Lewis Hamilton is on pole... again... but the gap back to Vettel's Ferrari is less than .200 of a second. Which means essentially nothing, as it appears that the Red Cars have better race pace than single-lap. I'm personally amazed that Bottas is .001 seconds behind... how can two cars be so closely matched? Did the Finn turn a little too hard at one place? Did he not get on the gas fast enough? What???
The first four cars on the grid broke the all-time track record, set by Slappy Schumacher in 2004, of 1:32.238. Again, that was the V10 era with practically no limits on what sort of aero protuberances you could have...
In other performances of note, Embryo Verstappen was dealing with an engine software issue when Sauber's Tony Snazzy did bad things to his car and the track barriers. All he could manage was 19th as a result. Haas's Lettuce Grosjean spun, suffered a puncture, then was dinged for not slowing down in the waved-double-yellow area caused by Snazzy's wreck. He'll be starting from the back.
Everything else was pretty standard, which is pretty impressive considering the near-total lack of practice time on Friday. All of this means we should be in for an exciting race on Sunday when the rains come... and yes, rain is predicted. Buckle them there seatbelts!
F1U! will be along sometime on Sunday. See ya then-ish!
Posted by: Wonderduck at 10:57 AM | No Comments | Add Comment
Post contains 439 words, total size 20 kb.
April 07, 2017
News To Chew On
First, something a little light-hearted for y'all! Practice 2 was run today at Shanghai, and I'm going to let you watch the whole thing right here at The Pond. Ready?
Just stare at this picture for 90 minutes, you'll get the same effect. It rained and rained and rained and then it fogged all day... P1 was shortened, P2 never got rolling at all. All that weather meant the medical helicopter couldn't fly... no helicopter, no cars on track. Fun times! I love rain delay theater... for baseball, a good broadcast crew can make a rain delay interesting and informative. The Legendary Announce Team is... well, they're okay when it comes to Rain Delay Theater. There was some talk about moving the race to Saturday, but that was shot down ASAP. The race may be... interesting, as the weather isn't expected to improve.
Now for the Interesting (as in "may you live in interesting times" interesting) News. My boss called me into her office today and we had a talk. Upshot is, I'm still employed. I managed to do enough to save my job.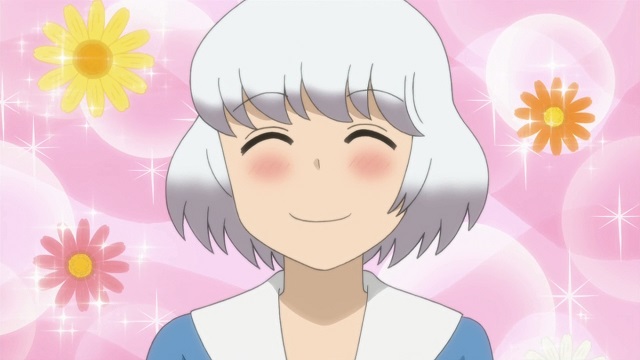 Except that I'm still on the hot seat. If my average numbers drop below the target for a month, I'm fired... and that state of affairs will last for
at least
a year, or until I'm fired, whichever comes first.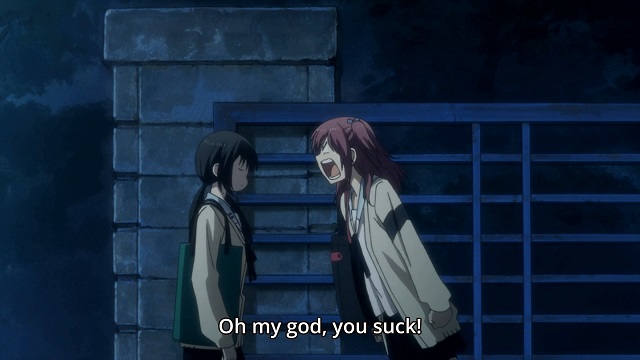 That was not the conversation I thought we'd be having. I thought there'd be some congratulations at the great job I did getting my numbers up, or a pat on the head, or something more than "don't get excited yet, you're still in trouble." So I'll admit to a little bit of downheartedness in my spirit at the moment, yeah. Always good to get a morale boost, hey?
Quals allegedly in the morning. See ya then.
Posted by: Wonderduck at 09:13 PM | Comments (5) | Add Comment
Post contains 304 words, total size 2 kb.
April 05, 2017
F1 on NBCSN: China 2017
Shanghai... The Pearl of the Orient. The showpiece of the Chinese economy. The most populous city proper in the world. So why the hell can't it sell out the Formula 1 Grand Prix of China??? Here's the trackmap: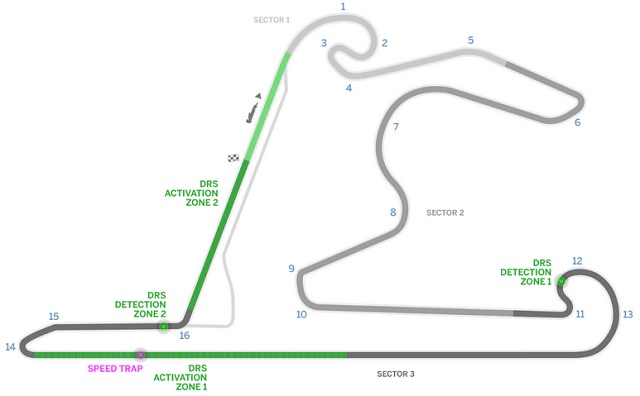 Same as it's been since 2004. Longest straightaway in F1. I love that Turns 1-4 complex, for whatever reason. It just looks like Hermann Tilke threw a french curve on his drafting table and said "yep, that's good." Or his cat got involved. Whatever, it's not my favorite circuit on the calendar, but it's hardly my least favorite. It's just... there. And while you would think that the new aero rules will turn this circuit on its ear, I've seen a report that estimates that the cars are going to be something like three kilograms short on fuel. With the increased drag and higher engine output guzzling petrol, they think the cars can't legally have enough gas on board to finish the race! They can carry 105kg, but will need 108. Lift and coast, lift and coast... and hope for safety cars and rain. Well, there's a slight chance of rain at least for race day. That'll keep down the smog at least.
Speaking of race day, the Legendary Announce Team will be doing their level best to make everything exciting! Here's the broadcast schedule:
Friday
Practice 2: 1am - 230am live on NBCSN
Saturday
Quals: 2am - 330am live on NBCSN
Sunday
Grand Prix of China: 1230a - 330am live on NBCSN
...of course, all times are Pond Central. Sometime after the race, the F1Update! team will get off their lazy kiesters and do their usual writeup. Or something. We'll see you then, then!
Posted by: Wonderduck at 08:44 PM | Comments (5) | Add Comment
Post contains 288 words, total size 2 kb.
April 02, 2017
Not Dead Yet! Pt 2
It's been a few days since I last updated y'all on the Great Work Adventure. What it comes down to is this: if they want to fire me, they've got data to back it up. If they don't want to fire me, I gave them results to point at to justify it. Now it's just up to them.
I am not exactly filled with warm fuzzies by this.
Posted by: Wonderduck at 09:29 PM | Comments (4) | Add Comment
Post contains 73 words, total size 1 kb.
109kb generated in CPU 0.06, elapsed 0.0642 seconds.
55 queries taking 0.0193 seconds, 284 records returned.
Powered by Minx 1.1.6c-pink.