November 25, 2019
Huh. Upgrades!
A week ago last Sunday, I began to have a very odd sort of problem with my internet connection. Everything would be fine, normal speed, no problems, I walk away for some reason, come back a half-hour later, and the internet would be... missing. The computer could
see
the modem on my side, the internet provider could
see
the modem from their side, but never the twain shall meet. And the entire time the modem would be happily saying that it was connected and it had no idea what anybody was talking about. But then, some time later... a half-hour, a couple of hours... internet was back like there had never been a problem in the first place.
Monday, everything was fine for most of the day. It wasn't until mid-evening that the internet went away, but by the time I had finished dinner an hour or so later, it was back. Didn't even bother calling the internet provider. Tuesday, it worked in the daytime, but as soon as the sun began to go down, *poof* the signal went away and wouldn't come back until around midnight. Solar-based internet issues???
The next day was more of the same, tech support still had no idea what the issue was ("It should be working!"), I had a pretty good idea what the issue was ("Tech support is dumber than a shipping container full of hair!"), but fortunately I could at least get caught up on the Great Anime Backlog. Thursday? It was down all day, only coming back late in the evening. Another frustrating call to tech support. I went to bed late... or very early that night. Only to be woken at 930 the next morning by the apartment complex's maintenance guy who specializes in tech support knocking on the door.
After asking him to please step back out of my apartment so I could get dressed, I had to explain to him exactly how everything was acting, how no amount of resetting, unplugging, replacing, troubleshooting, sacrificing of goats, anything, had made a difference, and the only commonality was that eventually it would come back and the modem was acting like everything was fine the whole time... and indeed, as we stood there, the computer was acting like the world was missing. Techie hooked up his test modem, and instantly the whole of the interwebz was revealed for all to see.
Techie took a closer look at my equipment, and realized that it was one of the original cable modems from when broadband was first turned on at the apartment complex...
12 years ago
. He then said that I was probably the only person left in the complex that still had one... between hardware failures and people moving out, all the others had been retired. He left, heading for the leasing office to explain what the situation was to The Powers That Be. A half-hour later, he was back with a new modem in hand... a replacement for the old one, free of charge from the complex. Living in one place for a long time does have its benefits sometimes. And as an added bonus... it has built-in WiFi! No more data usage on my cellphone! No more waiting 30 seconds for a simple google search to complete after I hit my 2 GB max for the month!
I can get used to that. And I am!
EDIT: Completely forgot to mention...
MUH SPEEDS
! Download speeds, not exactly slow before, have literally doubled. Like, two minutes per GB, and sometimes less? So, to recap: solid internet connection, with WiFi, and a doubling of speeds both up and down...
for free
? The only way I can compare that to real life would be stepping outside and discovering that the DuckMobile has been replaced by a
Ford GT
... except without all the cranky supercar bits. And a higher and stronger suspension so I can sit in it without bottoming the car out. And maybe some way to me into and out of it without amputating my legs. So, really, not a Ford GT at all. But you know what I'm trying to say.
Posted by: Wonderduck at 06:41 PM | Comments (6) | Add Comment
Post contains 692 words, total size 5 kb.
November 20, 2019
Ducks In Anime: Now With Less Giraffe
-
Shoujo Kageki Revue Starlight
, Ep03
If you had told me that the director of this show had never worked with the director of
Revolutionary Girl Utena
, I would not have believed you. And I would have been correct: the director of
Revue Starlight
, Tomohiro Furukawa, was assistant director on
Yuri Kuma Arashi
under Kunihiko Ikuhara. And
boy
, does it show.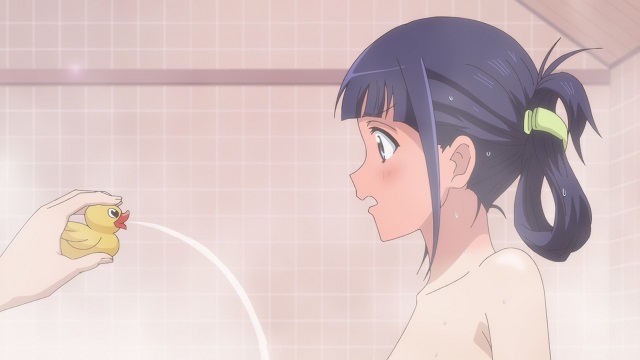 It's not quite as stylized and "out there" as
Utena
, but the ties are there. The same fever-dream imagery, girls and swords, the same grand theatrical attitude towards itself. Which is good, since
Revue Starlight
is ABOUT theatre. Not surprising; the anime is based on a stage production that's half-musical, quarter-Cirque du Soleil, and quarter-Formula 1 Qualifying. Which sounds weird, but trust me on this one... it is. But in a good way! If you've ever spent any serious amount of time in the theatre biz, this is a must-watch. If you haven't, it's basically a sports series with a serious psychological aspect. And singing.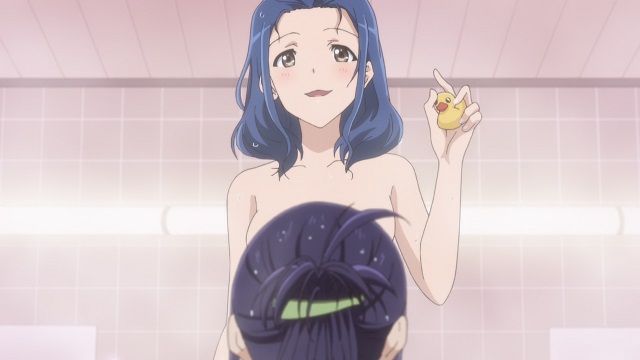 A

lot

of singing
. In flat-out stage musical style. These ain't pop songs, these aren't Idols, these are being sung by professional musical theatre actresses, many of whom have either been in or would join the stage productions. And they're friggin' excellent. It's been a long, long time since a series made me feel the way this one does. I actually despise one of the characters... not because she's written poorly but because if you've spent any time in theatre, you know her attitude is... untenable. That's good work from the writers. But don't go into this expecting Idol happiness and fluff, you won't get it. Does the possibility frighten you?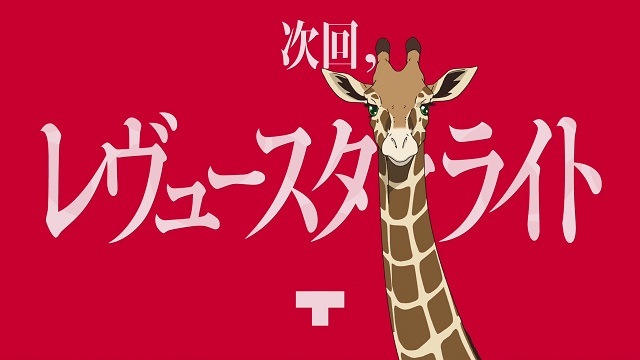 I understand.
Posted by: Wonderduck at 04:34 PM | Comments (5) | Add Comment
Post contains 285 words, total size 3 kb.
November 12, 2019
Because Rusty2 Said So
When my rubber duckies start talking to me, telling me to do something, I'm gonna do it. So when Rusty2 said "post that picture, I look good in it," I'm sure as heck not gonna say no.
Oh sure, like your rubber ducks don't talk to you?
Posted by: Wonderduck at 09:22 PM | Comments (6) | Add Comment
Post contains 51 words, total size 1 kb.
November 06, 2019
She Needs Us
On November 7th, 2009, this video was posted to Youtube for the first time:
Now on the verge of the 10th anniversary of
God Knows
being made available to the world by the
SOS Brigade
, a concerted effort is being made to push the video over
100 million views
. At the time of this writing, it's only 36000 views short. I call on the accumulated members of The Pond Scum: let's make it happen!
You don't want Haruhi to be disappointed.
Edit: changed the target from
ten million
to the correct
one hundred million
.
Another Edit: Nine hours to go until Midnight Pond Central Time, and we're less than 18000 views away from the goal.
Posted by: Wonderduck at 05:32 PM | Comments (4) | Add Comment
Post contains 118 words, total size 1 kb.
41kb generated in CPU 0.0356, elapsed 0.1543 seconds.
49 queries taking 0.1351 seconds, 301 records returned.
Powered by Minx 1.1.6c-pink.