October 09, 2011
F1 Update!: Japan 2011
A sunny afternoon greeted the F1 Circus as the cars made their way to the grid. Would Jenson Button be able to extend the fight for the Driver's Championship for another race? Or would polesitter Seb Vettel score the single point he needed to lock it up today? THIS is
your
F1 Update! for the 2011 Grand Prix of Japan!
*THE RACE
: Over the years, Suzuka International Race Course has given us some great races, including quite a few that have decided championships. While we here at F1U! wouldn't classify the 2011 entry as a "great race," it certainly had its share of moments. When the lights went out, Red Bull's Vettel made a clean getaway from the first spot on the grid... but McLaren's Jenson Button had a better one, pulling nearly even with the reigning Driver's Champion before the cars had gone more than twenty meters. It then became a drag race down to the first turn, a drag race that Vettel seemed to think he was going to lose, as he began to squeeze the Glare with Wheels closer and closer to the grass on the inside of the straight. Eventually the Brit was shoved so far over that he raised a big cloud of dirt when his right-side wheels left the tarmac, a maneuver that let his teammate, Lewis Hamilton, sneak past for second place as the Thundering Herd entered the first turn. Unlike the rest of the season to date however, Vettel did
not
go flying off into the distance, leaving the competition fighting for second place. Instead the two McLaren drivers hung grimly onto his rear wing, Hamilton just out of DRS activation range of the leader and Button a couple of seconds behind Hamilton.
*ABRASIVENESS
: As had become clear during the first two days of the race weekend, the tires Pirelli had brought to the track (medium and soft compounds) were proving to be terribly vulnerable to the abrasive surface of the Suzuka Circuit. The prime tire was lasting around 20 laps, the options about half that, depending on the driver. Lewis Hamilton, who's never been thought to have a smooth flowing driving style, drove the rubber right off his options in eight laps, earning a slow leak on his right-rear tire in the process. With his car becoming less and less controllable, he backed off the throttle and let his teammate into second, five seconds behind the leader. He'd pit and come back out in sixth place, never to be involved in the outcome again. This began a general run into the pits by the field. While Vettel continued to hold the lead after the first pit cycle, it may have been significant that Button, the generally acknowledged master of tire conservation, stayed out for a lap longer than the Red Bull driver. When Button came back out, the lead had dropped to 2.5 seconds.
*AND THEN...
: Seb Vettel stayed out in front for another 10 laps until his second set of soft tires quietly sighed and gave up the ghost. He brought his RB7 in for his second stop on Lap 20, secure in the knowledge that his mechanics were the most consistent in F1, always getting him in-and-out in about 3.4 seconds. Except not this time. It's not like the Red Bull driver's stop was a bad one, right around four seconds. Most other teams would be perfectly content with taking four seconds to change four tires. Jenson Button swept into the pitlane on the next lap. When his McLaren came back onto the circuit, he was a couple of car-lengths ahead of Vettel, leapfrogging the Red Bull driver on the pit rotation.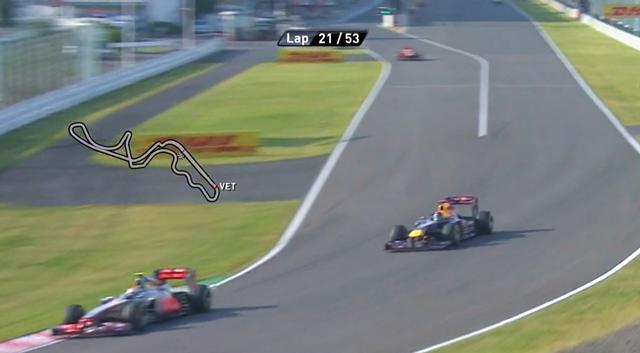 A half-second doesn't seem like much, but in F1, it's all the time in the world.
*CHECKERED FLAG
: From then on, the question became "would Vettel even
try
to pass for the lead?" Quickly enough, the question became moot as Button slowly pulled away from the Red Bull driver, opening up a two-second lead. When Vettel pitted on Lap 34 for his run to the end on the medium rubber, he lost another place on the pit rotation, this time to Ferrari's HWMNBN. Coming up quickly behind Vettel was his Red Bull teammate, Mark Webber, but there was no way the team was going to let them do anything stupid. A quick radio call from the pit wall to both Red Bull drivers on Lap 47, in effect telling them both not to take any risks, made it clear that they wanted Vettel on the podium. But could HWMNBN catch Button? At one point he got the lead down to 1.1 seconds, but Button had simply been conserving fuel. The moment there was any sign of a threat, on Lap 51, he ripped off the fast lap of the race and then took the checkered flag. HWMNBN finished 1.1 seconds behind, with Vettel a second behind him. Jenson Button had won the race, but by virtue of his third place finish, Vettel had won the 2011 Driver's Championship.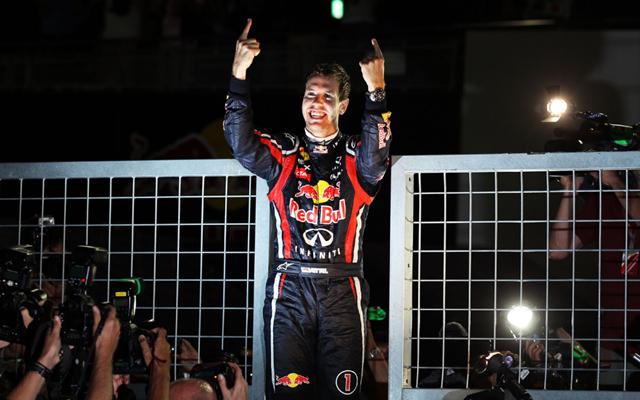 *DRIVER OF THE RACE
: Jenson Button may not have had a car that was faster than the Red Bull, but it was just as quick. In effect, this turned the race into a straight battle between drivers, one that Button won. He took better care of his tires while keeping his speed high, drove a flawless race, and took a well-deserved win. That it wasn't enough to keep the championship alive wasn't his fault.
*TEAM OF THE RACE
: Red Bull. One championship down, one to go. Neither driver made any particular errors. Heck, we didn't even get to see a Mark Webber Lousy Start
©
. The pit stop that may have cost Vettel the victory was good enough for just about any other situation... just not this one at this time.
*MOVE OF THE RACE
: The least likely place to pass at Suzuka is the infamous 130R. To try a move on the fastest point of the circuit while you're entering a flat-out sweeper requires either massive attachments or massive brain damage. Mark Webber pulled it off early in the race, but his victim (HWMNBN) was on old tires while the Aussie was on brand new rubber... hardly a fair fight. On Lap 46 though, Adrian F'n Sutil was fighting Gandalf Kobayashi for 9th place. Both were on similarly worn tires, both cars were solid midpackers, and both drivers have more-or-less equal skills. When Sutil made his attempt on Gandalf by going to the inside (and getting squeezed in the process), our first thought was "brain damage."
Full throttle onto the dirty side of the track at 185mph into a fast left-handed sweeper next to an insane Japanese driver on his home soil. This is not the recipe for a long and happy life.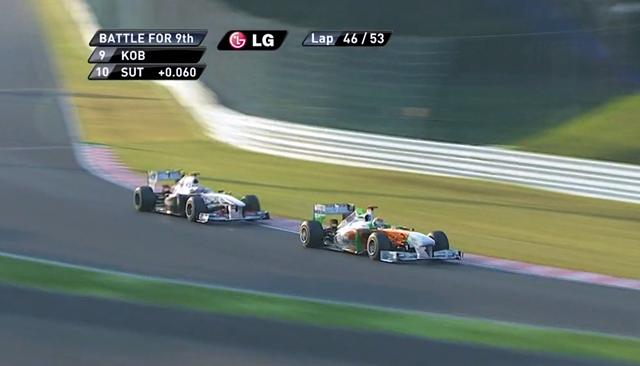 Nevertheless, Sutil took his Force India into the turn and kept it firmly planted in place despite not being on the optimal racing line through 130R. He took the position and we here at F1U! immediately awarded him the MotR award. We still think it's an example of "brain damage," though.
*MOOOOOOO-OOOOVE OF THE RACE
: For the most part, this was a cleanly driven race. Yes there was contact between Webber and Slappy Schumacher... and (wow, what a shock) Lewis Hamilton and Felipe Massa (again), but neither of those incidents were particularly egregious. So instead, we're giving it to the front-right tire changer for Toro Rosso.
I suppose it's not a great feeling when your tire just rolls off the hub in the middle of the race... but it did earn the airgunner a Mooooo! That's a fair trade, right?
*SELECTED DRIVER QUOTES OF THE RACE
:
"Japan's been through difficult times this year... hopefully this planted a happy memory in their minds." - Jenson Button (
note: real quote
)
"Congratulations to Sebby. Dammit." - HWMNBN
"For drivers, it doesn't get much better than this, a sunny day and all the fans excited to see what you do - I think that's what life is about. And so, to wrap up the championship here is difficult to put into words - it's more than fantastic." - Seb Vettel (
note: real quote
)
"To become a double world champion is a very good job." - Mark Webber (
note: real understatement
)
"Big disappointment today. I didn't win, and I didn't knock Felipe out of the race. Now if you'll excuse me, I need to lock myself in my trailer and throw a temper tantrum." - Lewis Hamilton
"I became the oldest man to lead a F1 race today since before dirt was invented. I'm not even 43 yet." - Slappy Schumacher (
note: dirt was invented in 1971. Jack Brabham was 43 in 1970 when he led a race
)
"
Once again I finish a race with a very bitter taste in my mouth. Today, our pace was good enough to finish on the podium, as Fernando demonstrated, but instead I am here commenting on a seventh place.
" - Felipe Massa
"I have the flu. I feel like I'm going to die, and I still drove a F1 car. What did you do when you were last sick?" - Sergio Perez
"I might have passed Sergio towards the end, but I didn't want to come close to him... he's got the flu." - The Red Menace
"Unlike last year, all my tires stayed on!" - Nico Rosberg
"Herp derp derpity derp." - Adrian F'n Sutil (
note: yep, brain damage
)
"Christ, I dunno. I didn't do anything to comment on, y'know?" - Paul di Resta
"To all Japanese people, I'm sorry I couldn't do better. I hope you had a good time." - Kamui Kobayashi
"Congrats to Seb Vettel!" - Everybody else.
"AIEEEEEEEEEEEEEEEEEEEEEE!" - Seb Buemi
And that wraps up one championship! Oh, the current betting line for Red Bull winning the Constructor's Championship is 1/1000... bet a grand to win a buck. They might be able to do it next weekend when the Circus heads to Korea! We'll see you there!
Posted by: Wonderduck at 02:15 PM | Comments (4) | Add Comment
Post contains 1672 words, total size 11 kb.
Posted by: Steven Den Beste at October 09, 2011 05:24 PM (+rSRq)
Posted by: Wonderduck at October 09, 2011 06:12 PM (o45Mg)
Posted by: Avatar_exADV at October 09, 2011 06:12 PM (GJQTS)
Posted by: flatdarkmars at October 10, 2011 03:54 PM (zxqxC)
Comments are disabled. Post is locked.
33kb generated in CPU 0.0629, elapsed 1.0642 seconds.
47 queries taking 1.0554 seconds, 280 records returned.
Powered by Minx 1.1.6c-pink.