November 25, 2020
The Elephant In The Room
Remember this?
I
wrote about this sketch
years ago, and it is still way up there as one of the funniest things I've ever seen. Something about Tim Conway's
fnorky
sound effect, but I always lose it at the monkey. I mention this because I stumbled upon something fascinating... to me, at least. An interview with Vicki Lawrence... Mama... about that sketch from
her
point of view.
Knowing the backstory makes it all the better to me.
In this time of plague, humor can go a long long way.
Posted by: Wonderduck at 10:06 PM | Comments (2) | Add Comment
Post contains 94 words, total size 1 kb.
November 20, 2020
Late Night Final Again
I'm not convinced that J Wilgoose's Late Night Final persona isn't actually one of the guys from Daft Punk or Kraftwerk "slumming", as it were. Song picks up around the four-minute mark. Again, ambient isn't my cup of fish, but this isn't so bad at all.
I think I've seen the actual video before, running on an Amiga back in the day.
Posted by: Wonderduck at 10:10 PM | Comments (2) | Add Comment
Post contains 66 words, total size 1 kb.
November 12, 2020
Ducks In Anime: Third Time's The Charm
-Love Live! Nijigasaki High School Idol Club
, Ep02
I know I mentioned this in passing, but the third anime installment of the Love Live! franchise is currently airing. It feels like this one is going for something different, though... the "team" aspect of the previous two series seems to be missing somewhat. Also missing is any of the dramatic tension of the "save our school" storyline from the first two: there's no way Nijigasaki High is going to close, not with the obvious funding it has. I mean, it doesn't have holographic monitors at each desk... actually, I'm not sure it even has classrooms... but the United Center in Chicago, home of the Bulls, is smaller than the school's Club Wing.
Hell, there are entire
towns
smaller than the Club Wing. So when you remove the whole reason behind the first two
Love Live!
series to occur, what do you do now? To be completely honest about it, sell merchandise to anime fans. Best way to sell merchandise to anime fans? Cute girls.
Except this time, we have TEN instead of nine. I probably shouldn't be surprised that my favorite of the bunch, Yu... the one being leaned on... is the one member of the club that doesn't want to perform, choosing instead to be the manager. All of the girls have a color associated with them; Yu's is black. I gather she's taken the role of us, the player of the video game.
I'm not going to try and talk you into watching this show. By now, you know if you're a fan of
Love Live!
. If you are, you're probably already watching and you don't need me to tell you about it. If you aren't, there's nothing different here from the first two and you're not likely to suddenly become a fan. But it's got a rubber duckie in it, so that's okay with me.
What, you thought I'd leave it with just that arrow in the top picture?
Posted by: Wonderduck at 09:20 PM | Comments (5) | Add Comment
Post contains 338 words, total size 3 kb.
November 05, 2020
FGO Players, It's Not Too Late!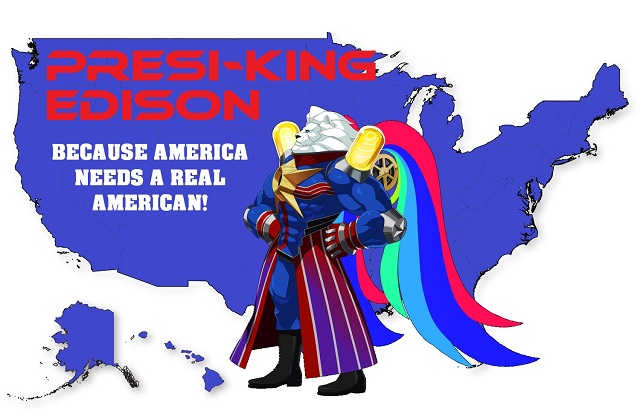 You know in your heart it is true.
This concludes one of The Pond's
very
rare forays into political discussion.
Posted by: Wonderduck at 05:13 PM | Comments (2) | Add Comment
Post contains 26 words, total size 1 kb.
November 03, 2020
Break Time!
Things are a little crazy out there in the world. Sit back, relax, have a nice cup of beverage, and let's take a little train trip.
There. Don't you feel much better now? It's a fascinating little train line, some amazing sights and architecture on display. It's also very very cramped in spots... at one point the train comes upon a work crew which appears to be standing in people's back yards to get out of the way. The roadbed looks like it's exactly one one foot wider than the train in some parts of the line. And then there's the street section.
An enterprising model railroader could probably do this entire line in one swell foop.
EDIT: Ed's comment got me thinking. Despite my neurons being atrophied from lack of use, a connection was made and I went digging around in my yootoob links, and I found what I was looking for.
The Shonan monorail has its southern terminus at Enoshima. I had watched at least one video involving it, and I knew that it wasn't a Union station with the Enoshima Electric line... monorail requirements being distinctly different from electrified train lines. But did the
videos
intersect in any way? Sure enough, they do!
First, the monorail terminus is visible during the previously mentioned street section of the video above. If you pause the above video at the 22:53 mark (or
follow this link
), the monorail station is partially visible as an elevated white building with large windows at the end of the street, on the right. It's only visible for a second or two however. The train then rolls on to Stop EN6, the Enoshima station, coming to a halt at 23:47. It stays stopped for two minutes, finally rolling off at 24:51... pause the video at that point.
Oft mentioned videowalker Rambalac leaves the Shonan Monorail station at
the 17:59 mark of this video
. He then begins walking south from the Enoshimaguchi Exit until at 19:07 he's approaching a set of train tracks.. Pause the video at this point.
On Rambalac's video, on the right is a cream-colored building with garage doors, and a black latticework item directly in front of a bright-white sign. On the left is a green sign on the wall of a white building, that says "Enoden Goods Shop". Now bring up Aunz Railfan's video. Just visible on the left is a dark-colored sign on the wall of a white building. Straight ahead is a white building with garage doors, and a dark latticework thing with a bright white sign. Tah-dah! There's the intersection of two videos.
Here's the screencaps, Rambalac first, Aunz second, with the reference points circled:
Ain't gonna lie... it's totally pointless stuff, I know. But man, do I enjoy playing "pointless detective" on things like this. The little touch of joy when I confirmed the two crossed was probably an overreaction on my part, but it was still there.
Posted by: Wonderduck at 11:06 PM | Comments (3) | Add Comment
Post contains 493 words, total size 4 kb.
37kb generated in CPU 0.0232, elapsed 0.3612 seconds.
50 queries taking 0.3513 seconds, 296 records returned.
Powered by Minx 1.1.6c-pink.