March 01, 2018
Sometimes, Humanity Shows It Still Has Hope
As I was getting dressed for work this morning, or more correctly, dawdling over getting dressed for work this morning, I spied a post over at that Reddit place asking why people like music or songs in languages they do not understand. Now, I've participated in a few threads like this in the past and have a stock answer: "You're wondering
why people like this
?" But as I looked through the thread, two comments leaped out at me. The first was a relative newby asking for music from anime... "I've seen FMA, and that had good music. Is there anything better?" A few moments later, I had posted
God Knows...
, which even if you're tired of the whole Haruhi thing, you've got to admit is a pretty darn good song,
Undine
which is a beautiful song that can still bring me to tears, and my latest OP obsession,
Live for Life
from Ben-To!. I felt smug. Not for any good reason, I just felt like I had dropped a bomb on this rookie's musical world. As it turns out, the responses have been quite positive.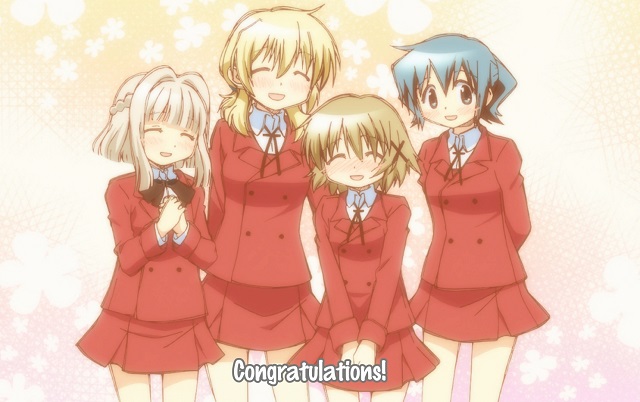 But it was the other comment I saw that was really important. It was from someone who's a big fan of K-Pop. Now I know practically nothing about K-Pop in general;
Gangam Style
and some other tunes I may have stumbled across here or there, but there was one burning question I needed to ask... "Do you know anything about the band Rubber Duckie?" While he didn't, another comment soon appeared: their album is available on eBay Korea, but no English site that they could find had it. Which made me sad. And then came a small miracle: "I found that song on Youtube for you."
It's been a crappy couple of weeks at work. I'm still getting over that bastard of a virus. My left
hip hurts
. I'm rather unhappy with a lot of things. But this?
This made me happy.
Posted by: Wonderduck at 06:33 PM | Comments (3) | Add Comment
Post contains 334 words, total size 3 kb.
1
Good song. Also, I like your stock answer. There is a delicious tangent in a flash mob performance of Beethoven.
Posted by: Ben at March 01, 2018 07:01 PM (h8yX6)
2
In the early 2000's I really liked Shakira, and I thought her Spanish albums were better. I could only pick up a few words here and there, but there was a passion in her voice that didn't come through as well in the English versions of the songs.
But I'm also well aware of the use of Voice merely as an instrument, and different languages are just like different tunings of that instrument.
Posted by: Mauser at March 03, 2018 11:48 AM (h8yX6)
3
Check out this site
-- a Web version of something I blundered across while exploring free digital broadcast TV in the Bay Area.
If you came for elaborate choreography and lots and lots of costume changes you won't leave disappointed.
The icon in the top left corner of the website appears in the broadcasts, rotating, in case you also need a Windows 98 screensaver flashback.
Posted by: Ad absurdum per aspera at March 03, 2018 10:03 PM (h8yX6)
26kb generated in CPU 0.08, elapsed 0.1905 seconds.
49 queries taking 0.1637 seconds, 245 records returned.
Powered by Minx 1.1.6c-pink.