November 13, 2011
F1 Update!: Abu Dhabi 2011
The grid formed up under a bright but setting sun for the penultimate race of the season with the familiar sight of Red Bull's Seb Vettel on pole. However, McLaren's Lewis Hamilton and Jenson Button obviously had the measure of the RB7. On this track where passing is a rarity, the run to the first turn could be decisive. Which car would lead the field? THIS is
your
F1U! for the 2011 Grand Prix of Abu Dhabi.
*SHOCK
: The lights went out, releasing the Thundering Herd to charge down to Turn 1. In what had to be the least surprising outcome ever, Vettel not only held the lead into the first bend, but quickly showed that everything we had thought about the McLaren's advantage over the Red Bull was false. As the Red Bull powered into and through the turn, it opened a four or five car-length advantage over Hamilton and we here at F1U! threw up our hands in disgust. And then...
We still haven't heard exactly what caused Vettel's right-rear tire to deflate, sending the Red Bull into a spin just as he turned into Turn 2. It may have hit a carbon-fiber shard left over from the earlier GP2 race. When the car accelerated off the line, it may have had enough grip to torque the tire off the rim. It may have had a slow puncture even before the race began. Whatever the reason, by the time Vettel got his car back on track for the slow, difficult crawl back to the pits, tire flailing at the rear bodywork the whole time, the entire field had gotten past. By the time he made it to his pit stall and officially completed his first lap, the field had mostly finished the second. Mechanics swarmed the Champion's car, but a fast and thorough inspection of the right-rear made it clear that the damage inflicted by the shredded rubber was too bad to allow the RB7 to continue. Seb Vettel had retired from a race for the first time this season.
*AWE
: With Sebby out of the picture, the mantle of "dominating leader" fell to Lewis Hamilton. By the end of the first lap, he had a 2.5 second lead over the Ferrari of HWMNBN who got into a scrap with Jenson Button for second place, aiding Hamilton's attempt to pull away. Once things settled down, it became clear that the McLaren would not be headed in any way. Farther back, Jenson Button fell to 4th place, passed by Mark Webber, when his KERS unit failed. While he was eventually able to get it working again, for the rest of the race he would wind up having to reset it every two or three laps. Back up at the front, it was obvious that we were looking at a strategy race.
*PITS
: With Lewis Hamilton able to open a lead but not able to run away and hide, any excess time spent in the pits would be crucial. Of course, pit stops have always been important in F1, but it's been rare this season for the pit crews to be decisive. At a track where a pass was difficult to pull off, and even harder to make stick, time lost or gained in the pits would be a bonus beyond horsepower's abilities to create... or make up. As it turned out, that's exactly what occurred: cars that had quick stops were able to maintain their positions, and those with poor stops lost position. When Button had a good first stop but Red Bull had an uncharacteristically slow one for Mark Webber, Webber fell out of the race for third place. As it turned out, he never recovered, even with the team switching him onto a three-stop strategy... with the third stop, for the mandatory run on the harder of the two tire compounds, coming on the final lap. On the second round of stops, HWMNBN stayed out two laps longer than Hamilton, trying to open up enough of a gap to jump the McLaren for the lead. Any sort of gap he had been able to create was thrown away by a methodical, safe... and slow... stop from the Ferrari mechanics. Where McLaren, Mercedes and Red Bull routinely spit out stops in the 3.5 second range or even faster, it took Ferrari 4.5 seconds to service HWMNBN. Going into the stop, he had maybe a 50/50 chance to keep the lead. Coming out, Hamilton had easily gone past, regaining the lead and holding it for the rest of the race.
*ENDING
: The rest of the race was somewhat anticlimactic. Hamilton took his third victory of the season by over eight seconds over HWMNBN. Jenson Button had managed to keep his recalcitrant KERS unit functional enough to take third, some 20-odd seconds behind the leader. Mark Webber looked like he was going to have a tough time finishing fourth; his lead over 5th place Felipe Massa was right on the edge of the "pit delta", the amount of time it took to drive into the pits, get serviced, then rejoin the race. The delta time was 20 seconds, and he had almost exactly that much of a lead. But then Massa made the matter moot by spinning and handing Webber 15 seconds to play with. Somewhere in the Red Bull compound, a bemused Seb Vettel could only wonder what could have been...
*DRIVER OF THE RACE
: HWMNBN. Hamilton had the better car, the better pit crew, and the better strategy. Yet he just could not dispose of the Ferrari driver, who hung grimly just off the tail of the McLaren, never letting him get free and clear. All of this was done with a Ferrari that wasn't as fast or nimble as his opponent. Probably one of the most impressive drives for second I've seen in a long time.
*TEAM OF THE RACE
: McLaren. When Sebby went away, the boys from Woking knew they had a chance to play Bigfoot... and they took it. Even a balkly KERS unit in one of their cars didn't prevent them from getting both drivers on the podium.
*MOVE OF THE RACE
: To be honest, it's hard to give this award today. There just wasn't all that much passing of note. We suppose we'll have to give it to both Mark Webber and Jenson Button, for their duel on Lap 3. Button led the pair into the long long straightaway. Webber got to use the DRS and just barely managed to get past the McLaren when they swooped into the chicane. However, there were TWO DRS zones today, and now Button got to use it to counter-attack... and immediately blew Webber's metaphorical doors off. Highly entertaining, but not exactly dramatic. A tepid "Meh" to the Abu Dhabi track, and a "meh" MotR.
*MOOOOOOOO-OOOOVE OF THE RACE
: Another "meh" for this award. There just wasn't that much bad driving occurring. The most bovine maneuver had to be Felipe Massa's spin when he had a chance to finish fourth.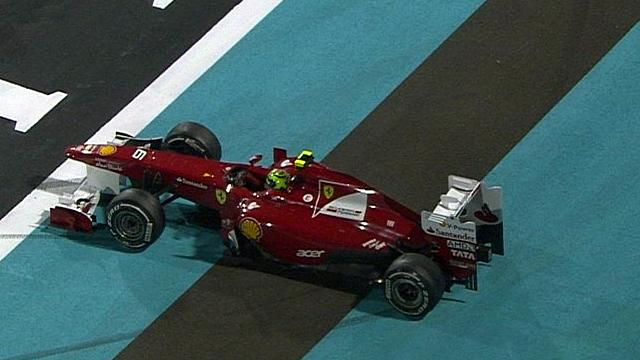 To be fair, he did have some damage to the right element of his front wing from running over some debris, and he was on the harder tires. A spin is a spin, however, and it did kill any hope he had of his best finish of the season, so Felipe Massa: A Moooooo is you!
*SELECTED DRIVER QUOTES OF THE RACE
:
"Hi Mom!" - Lewis Hamilton (note: his mother was at the race)
"How's this for a statistic: I now have a podium at every track that's been on the F1 calendar in the past ten years! Oh, and hi, Lewis' mom!" - HWMNBN
"On one hand, KERS failure has been really rare for us. On the other hand, dammit!" - Jenson Button
"Well, (the three-stop strategy) was worth something of a punt." - Mark Webber (
note: real quote
)
"I cannot be happy with this fifth place. I did not get to run into Lewis Hamilton. But I did bump into his mom, if you know what I mean." - Felipe Massa
"Two year contract extension at an estimated €13million per? Not bad for someone who's never won a F1 race." - Nico Rosberg
"I don't know if I'm coming back after my contract expires. But €13million a year? Pocket change." - Slappy Schumacher
"We might still lose 6th in the Constructor's Championship. It'll take a 12-car accident in Brazil, but it's still possible..." - Adrian Sutil
"I wonder what it's going to be like without Sutil here at Force India?" - Paul diResta
"We're doomed." - Gandalf Kobayashi
"Doomed. And my KERS didn't work" - Sergio Perez
"Leave me alone, I'm sulking." - Rubens Barrichello
"My KERS didn't work." - The Red Menace
"I can't believe they gave me a drive-through for ignoring the blue flags... I didn't ignore them, I just didn't react to them!" - Vicar Maldonado
"Sauber's getting away! Nooooooooooo!" - DJ Squire
"Let's be honest here - there's not a crumb of comfort to take from that performance. And I had KERS failure." - Bruno Senna (
note: real quote
)
"I wish the Legendary Announce Team would stop talking about how close we're getting to the points. Every time they mention it, our performance goes away and we end up in 17th!" - Heikki Kovaleinninninnie
"I had a fever. That's my excuse and I'm sticking to it." - Jarno Trulli
"It was quite a good race today." - Tim O'Glockenspiel (
note: real quote. another note: Tim O'Glockenspiel is taking wonderful drugs
)
"There was understeer on left turns and oversteer on right turn. This make a car somewhat difficult to drive." - Vitantonio Liuzzi (
note: real quote
)
"My car stopped." - Daniel Ricciardo (
note: real quote
)
"My hydraulics had a leak. First I had no power steering, then my gearbox stopped working. This job is hard enough without problems like that." - Seb Buemi
"The brakes failed, but on the plus side, I made great time." - Custard d'Ambrosio
"I don't know what this 'DNF' stands for; I've not seen it all year. Oh, and AIEEEEEEEEE!" - Seb Vettel
The final race of the year is in two weeks. Thanksgiving weekend here in the States! You bring the cranberry sauce, we'll bring the stuffing, and we'll see you in Sao Paolo!
Posted by: Wonderduck at 10:54 PM | No Comments | Add Comment
Post contains 1723 words, total size 11 kb.
Comments are disabled. Post is locked.
32kb generated in CPU 0.05, elapsed 0.1191 seconds.
51 queries taking 0.0953 seconds, 274 records returned.
Powered by Minx 1.1.6c-pink.