September 20, 2017
Eight.
I was actually doing...well, pretty okay, really! Sure, I went to bed early last night, but that was only because I had a lot of overtime to do at work. Right. Then I woke up this morning, was in a horrible mood, went into work, and got into an even more horrible mood. I'm home now, as "a little birdy" told my boss why I was so down.
Posted by: Wonderduck at 11:33 AM | Comments (1) | Add Comment
Post contains 96 words, total size 1 kb.
September 18, 2017
F1 Update!: Singapore 2017
Sometimes we hate it when we're right.
THIS is
your
F1 Update! for the 2017 Grand Prix of Singapore!
*BEFORE
: While it always rains in Singapore in the afternoon, there's never actually been rain during the race. And up until about 20 minutes before race start, it looked like that was going to stay the case. But the clouds above the city-state suddenly began to flash with sheet lightning and the strategy wonks in the pit lane all started to cry in unison. The rain came shortly thereafter, building in intensity until the gazebos began to sprout on the pit straight. Teams waiting until the very last moment before they bolted on tires. It worked out about 50-50 between Intermediates and Wets, with all the serious runners on the lesser of the rain rubber. The recon lap showed that the front straight was the driest past of the circuit, with some parts looking like pontoons were needed more than tires. Worse still were the huge clouds of spray coming up from all the cars: only polesitter Seb Vettel had an unobstructed view. Everybody else could see between "almost nothing" and "completely blind."
*LIGHTS OUT
: When the race finally began, both the Ferrari of Vettel and the Red Bull of Embryo Verstappen made... um... meh starts. Not good, not bad, just there. As they charged down to the first turn, Vettel began to move to his left, squeezing in on the young Netherlander. Verstappen held his ground until the last moment, then drifted away from Vettel.... Behind those two, Kimi Raikkonen, the driver of the other Ferrari, had a better launch than either of them. This was something of a wonder, as the Finn hasn't been doing much of anything well of late. Today though... today he came charging up the left of Verstappen with plenty of room. Except that was the exact moment that the Red Bull driver began to evade Vettel's Ferrari.... Meanwhile, if Raikkonen had a good start, the McLaren of Fernando Alonso took off like it had rockets strapped to the sides. Starting in eighth, he found heading towards the outside of Turn 1... but ahead of him, Bad Things were about to occur.
*BAD THINGS
: Events occurred very quickly now. Verstappen, moving away from Vettel,clearly never saw Raikkonen coming up on his other side. Firm contact was made, snapping the right-rear suspension on the Ferrari like a twig, and causing the red car to swing across the Dutchman's nose. Raikkonen then speared into the left sidepod of Vettel with a lot of oomph (technical term). The situation looked something like this: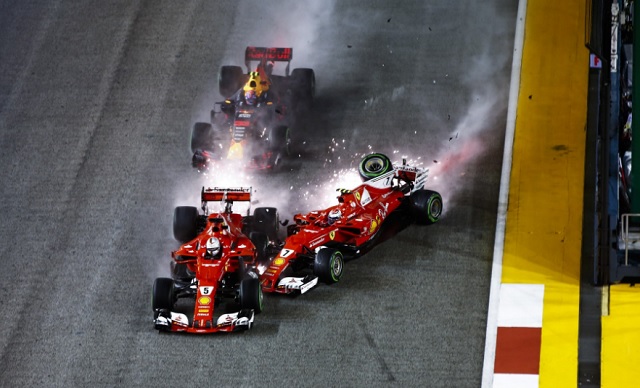 Vettel would continue on through Turn 1, while Raikkonen began waffling around the left side of the straight, out of control but slowing... but not quickly enough. Verstappen, for a wonder, appeared to be completely undamaged at this point, and was accelerating into Turn 1. Around the outside of Turn 1, Alonso's demon start continued. Raikkonen, still out of control, never turned at all. His slide took him directly into the side of Verstappen as he began to make Turn 1. The two cars, embraced in a mutual death dance, careened across Turn 1, slamming into Fernando Alonso, a victim in the wrong place at the wrong time. The McLaren would actually get airborne for a moment, but continued on, undoubtedly with a driver asking what the hell just happened. Raikkonen and Verstappen were out of the race.
*IT GETS WORSE
: A few moments later, we saw the OTHER Ferrari rolling backwards down the run from Turn 3 to Turn 5, missing its nose all the way back to the suspension mounts. It took a few minutes for what had happened to be revealed. Raikkonen had hit hard enough to punch a hole through a radiator, which promptly began dumping coolant... all over the rear tires. Soon enough traction was lost, and the Ferrari's control went away. It then hit the wall with the nose, and found itself coasting backwards.
*OH, BY THE WAY
: Before the race, Lewis Hamilton had said that it was going to take a miracle for him to make the podium, let alone win. When Vettel spun out, Hamilton's Mercedes was suddenly just handed the lead. It seems the racing gods were listening. Not only did he lead the race, but his closest challenger in the Driver's Championship had been knocked out of the race. It had to be a jubilant Brit in the Mercedes cockpit as the field circulated behind the Safety Car. The race was not over, though. Usually the Mercedes will dominate any race, but there was a reason Hamilton had been starting fifth. This car, on this track, with this team, just could not appear to take the fight to either the Ferraris or the Red Bulls. But at a single stroke, three of the four cars he had to be concerned about were out of the race, and the fourth, Smiley Ricciardo's Red Bull, was behind him, not in front... on a circuit that is nearly as hard to pass on as Monaco.
*RACING
: Once Berndt Maylander returned to his dark slumber, one could have been forgiven for thinking that Hamilton would gallop away into the... um... sunrise? It's a night race, so we can't say "gallop into the sunset". Anyway. He did nothing of the sort, at best opening up a five second lead over Ricciardo... until Lap 11, when the Toro Rosso of Kid Kvyat buried itself in the Tecpro barriers. Maylander was awoken from his eternal sleep and the field once again bunched up behind him.
*TIRE WHERE?
: This far into the race, with the rain easing off, it only made sense to pit for new Intermediates. The track was still wet, but drying nicely (if slowly: Singapore's high humidity saw to that), so Red Bull brought Smiley in for fresh Inters. Surprisingly, Mercedes did not, much to Hamilton's chagrin. When he began to complain about the call, the pit wall pointed out that Ricciardo likely would have done the opposite of Hamilton in any case. If the Merc came in, Smiley would have stayed out and taken the position boost. This would not be the last time this race that Lewis would complain incorrectly. Once the race restarted, he found himself at a point in his tire life that was absolutely golden. His worn Inters had enough tread to deal with the drying surface, but not enough to be damaged by overheating in the drier sections. By Lap 24, Hamilton had opened a 10 second lead on the curiously slower than expected Red Bull.
*TIRE THERE!
: Some of the backmarkers had decided to go for slicks by now, and as long as they didn't get too far off the (now nearly dry) racing line, they were working to an extent. Smiley took the plunge, on Lap 28 and took a massive amount of time out of Hamilton's lead in just the one lap he had before Mercedes brought in their guy. It didn't last, however. Once the silver car was on slicks, he again began to pull away from the Red Bull.
*...HOW IN THE WORLD?
: One could be forgiven for not being surprised when Berndt Maylander was summoned for a third time ("Ph'nglui mglw'nafh Maylander Pitlane wgah'nagl fhtagn"?). What was surprising was exactly why. Sony Ericcson dropped his Sauber as he passed over the Andersen Bridge between Turns 12 and 13, coming to rest pointing backwards at the narrowest point of the circuit. Worse yet, the location on the bridge meant that a mobile lifter had to be brought on circuit to recover the stricken Sauber. Hamilton immediately began complaining that the situation could have been handled with a Virtual Safety Car instead of throwing away his lead.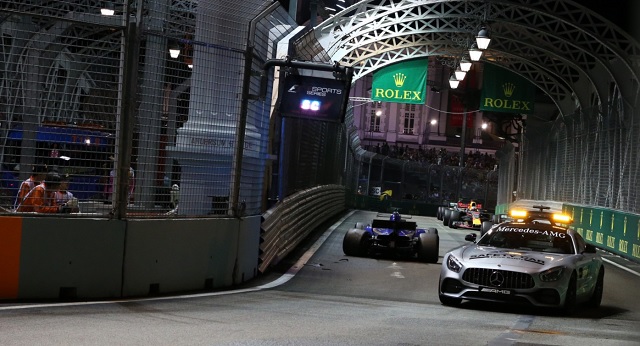 He changed his mind when he actually came across the accident site behind the Safety Car for the first time and was able to get a good look.
*THE END
: Once Maylander was allowed to return to his rest, the race continued much as it had before. But now, with an eye cocked to the skies and another expecting another wreck, the Merc pit wall had a strange request for the race leader. Specifically, they told him to slow down the pace and close up the field. The thinking was that if Hamilton got too far ahead, Ricciardo would get a "free" pit stop in the event of another safety car. See, it'd be quite possible that the SC would be called out after Hamilton had passed pit-in. With a big enough lead on the Red Bull, Smiley could possibly pit before Hamilton, who would have to trundle around the circuit slowly while the Red Bull was stopping for fresh tires. Hamilton would then have to pit himself while Ricciardo was right behind him, bunched behind Maylander. Perhaps unsurprisingly, Lewis came back on the radio and said "I'm not comfortable driving like this," to which the pit wall said "do what you want, then." He kept himself comfortably in the lead until the two-hour time limit was reached and the race ended three laps early, finishing 4.5 seconds ahead of the Red Bull, who was ahead of the other Mercedes of Valterri Bottas.
*OH THAT?
: Remember how we mentioned it seemed like the Red Bull was oddly slower than expected? It turned out that Ricciardo's gearbox was not working correctly and there was fear that it wouldn't make the finish line. While the driver has said that it hadn't made a difference, one suspects that he's not entirely telling the truth.
Next race, two weeks from now in Malaysia! See you then.
Posted by: Wonderduck at 08:34 PM | Comments (3) | Add Comment
Post contains 1613 words, total size 11 kb.
September 17, 2017
Singapore 2017 F1U! Delayed
Due to unexpected but totally unavoidable things occurring, I'm going to have to do the F1U! on Monday. It's going to take a while, and I don't have time to do it Sunday night and this race deserves my full attention.
Sit tight, everybody.
Posted by: Wonderduck at 10:48 PM | No Comments | Add Comment
Post contains 48 words, total size 1 kb.
September 16, 2017
F1 Quals: Singapore 2017
The Quals session for the 2017 Singapore Grand Prix was one of the most anticipated in quite some time. Not only is it the sort of circuit that Mercedes is expected to be slower than normal around, but Red Bull had introduced a number of improvements to their car, sending them to the top of the timesheets in all three Practice sessions. This included the fastest lap ever around the Marina Bay street circuit, set by Smiley Ricciardo. Ferrari was expected to be in the pole hunt as well, with what is probably the most balanced car on the grid right now. So what happened? Here's the provisional grid:
Pos

Driver
Q1
Q2
Q3

1

Ferrari

1:43.336

1:40.529

1:39.491

2

Red Bull Racing


1:42.010

1:40.332

1:39.814

3

Red Bull Racing


1:42.063

1:40.385

1:39.840

4

Ferrari

1:43.328

1:40.525

1:40.069

5

Mercedes

1:42.455

1:40.577

1:40.126

6

Mercedes

1:43.137

1:41.409

1:40.810

7

Renault

1:42.586

1:41.277

1:41.013

8

McLaren Honda

1:42.086

1:41.442

1:41.179

9

waffle
McLaren Honda

1:42.222

1:41.227

1:41.398

10

Toro Rosso

1:42.176

1:41.826

1:42.056

11

Renault

1:42.472

1:42.107




12

Force India Mercedes

1:43.594

1:42.246




13

Toro Rosso

1:42.544

1:42.338




14

Force India Mercedes

1:43.626

1:42.760




15

Haas Ferrari

1:43.627

1:43.883




16

Haas Ferrari

1:43.756






17

Not Retired
Williams Mercedes

1:44.014






18

Williams Mercedes

1:44.728






19

Sauber Ferrari

1:45.059






20

Sauber Ferrari

1:45.570





For a while there, it looked for all the world like Embryo Verstappen was going to take his first pole position, not to mention wresting the title of "youngest pole sitter" from Seb Vettel. But right at the end of Q3 the Ferrari driver pulled an incredible lap out of his fundament, one that came as such a surprise to him that when he was informed of his pole, he let loose with a scream that could very nearly only be heard by dogs. The question is, how long will he get to enjoy the primacy of his position? Verstappen is not known for his... um... restrained driving style, and there's got to be a non-trival chance that we'll see a shattered pile of red carbon fiber parked at the side of the track somewhere in the first lap.
In other news, McLaren finally shot their partnership with Honda in the face. The team then announced that they'll have Renault power units in the back of their chassis. "But Wonderduck," I hear you say because I've got super-hearing, it's a duck thing, "didn't Renault say they couldn't support any more teams above the three they're working with now?" Indeed they did, my friends! Which brings us to the next part: Toro Rosso has announced that they'll be running Honda power units next year! This is legitimately a no-lose situation for them. Remember, Honda was McLaren's sole major sponsor for the past three years, not only providing them with engines but giving them a LOT of money to boot... I've heard upwards of $150million, though I don't know if that's per year or over the life of their partnership. So, undoubtedly there's a substantial financial aspect to the deal. The other part is, while yes, the engines have not been swell, McLaren has done the really hard part: they had to deal with the "wow, our engines
suck
" part of development. We're seeing signs that Honda is starting to come around, and there's some pundits that are saying that the Honda could be BETTER than Renault's lump next year. And if it's not? Well, Toro Rosso is hardly burning up the charts anyway, but they'll be ahead of the game financially. As I said, no-lose.
Race in the morning, see ya then!
Posted by: Wonderduck at 03:02 PM | Comments (1) | Add Comment
Post contains 643 words, total size 21 kb.
September 14, 2017
Presented Without Comment
Okay, one comment. I always liked this song. Still do, actually, though the cheese factor now is high... mostly because of clips like this one.
Still made me laugh, though.
Posted by: Wonderduck at 10:29 PM | Comments (5) | Add Comment
Post contains 33 words, total size 1 kb.
September 13, 2017
F1 on TV: Singapore 2017
It's a good thing that Formula 1 cars don't tend to leak fluids very much. Singapore takes a dim view of littering or mussing the appearance of their city-state, and really... do we need to see Lewis Hamilton getting caned? Don't answer that. Here's the track map for the 2017 Grand Prix of Singapore:
This track has two party tricks, of course. First, it's a street circuit, running around and through the Marina district of Singapore. Unlike Monaco though, it actually has some legitimate straightaways that allow a car to stretch its legs. The circuit is also wide enough to let a couple of cars next to each other at some points. The other party trick is that it's a night race, the site of the very first in F1 history. There's some hassle involved with that for the teams, but it's all worthwhile when you get to see the cars under the lights.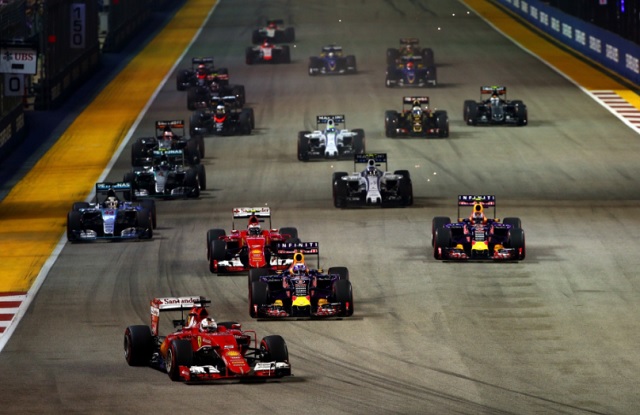 We all know that I'm not a huge fan of Ferrari, but under Singapore's lights I'll be damned if that red doesn't just look gorgeous.
Speaking of gorgeous, the Legendary Announce Team will be on the job as usual! Here's their broadcast schedule:
Practice 2: 730a - 9a live on NBCSN
Quals: 8a - 930a live on CNBC
2017 Grand Prix of Singapore: 7a - 930a live on NBCSN
All times are allegedly Pond Central. And, of course, sometime afterwards there'll be a F1Update! of some quality level that is, as of yet, undetermined. See ya then!
Posted by: Wonderduck at 08:12 PM | Comments (2) | Add Comment
Post contains 259 words, total size 2 kb.
September 12, 2017
Bleargh
There is an ick burning its way through the office. Last week I began to feel not well... over the weekend, I felt even more not well, to the point I had to cancel brunch with the folks twice. I'm doing better, though "better" isn't "healthy".
And I nearly threw up all over my desk today, too. Oh, not because I was ill, but because the Evil Light that pops up on my timeclock when an auditor has discovered an error in one of my claims... um... popped up on my timeclock. As it turned out, it wasn't
really
an error, I just used the not-as-right-as-the-
right
-denial-code on a claim. The auditor just wanted me to go back into it and use the correct code. Don't get me wrong, the code I used was perfectly okay... it just wasn't the SOP's preferred denial code. So the sudden urge to vomit was because of a false alarm. Usually when that thing pops up, it may as well just be a notifier that it's time to bend over.
Terrifying. Sad-making. Bleargh.
Posted by: Wonderduck at 10:00 PM | Comments (3) | Add Comment
Post contains 179 words, total size 1 kb.
September 10, 2017
Random Anime Pictures #135: Moe Shipgirls, Mo' Problems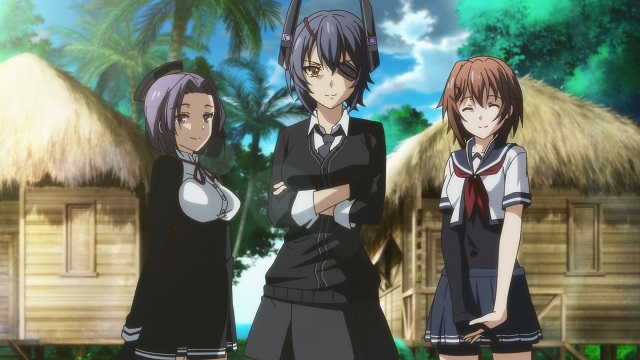 -Kantai Collection: The Movie
There was a disturbing lack of
Mutsu
in the Kantai Collection movie. The production staff appears to have added Hideaki Anno, as that's the only way I can explain the second half. Any of the lighthearted elements of the series were removed, actually making it kinda grim in tone.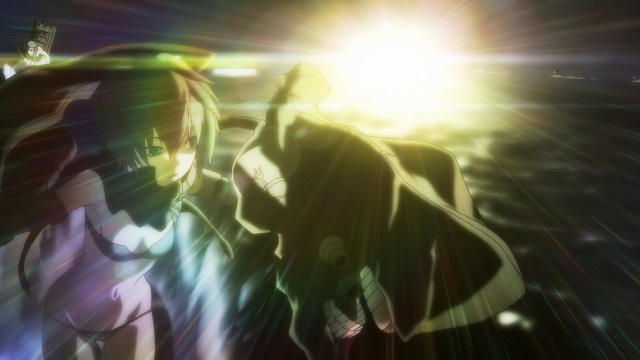 As you would expect from a film, what with its bigger budget and all, it looks wonderful. Almost all of the awkward CG work from the series is gone (there's one moment that's clunky though), and the action on the whole is really good.
We do finally get to find out the nature of the Abyssals, and there's at least one moment in the film that made me gasp in surprise (more along the lines of a jump scare than anything else). On the whole, if you enjoyed the series or the game, you'll like the movie. I'm trying to decide if I want to do a full writeup or not... it doesn't immediately lend itself to such things. A fully half of the 95 minute run time is combat, kinda mindscrewy, or both.
It's very confused fighting, for that matter. At one point, there's five different fleets doing five different missions and the film tries to follow all of them before it becomes
Evangelion Jr
. Good looking, but confusing. Oh, and most of it is at night. Historically accurate, sure, but somewhat less than perfect for viewers.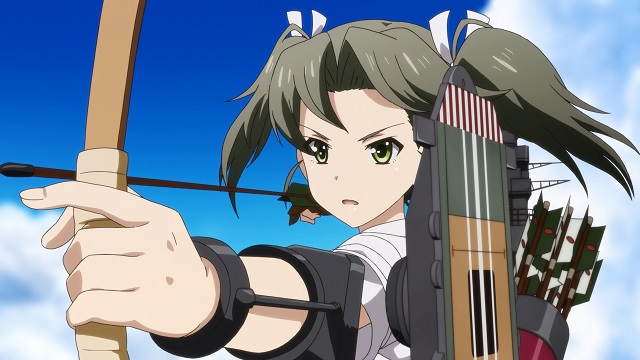 I guess I'm a little disappointed.
Posted by: Wonderduck at 10:07 PM | Comments (3) | Add Comment
Post contains 255 words, total size 2 kb.
September 07, 2017
Booking Ticket To Japan Right Now
I was wandering the reddits this evening when something popped up in /r/rubberducks... something so important that I actually froze in astonishment for a moment. And, if you're a rubber duck fan, you will do the same. Here it is: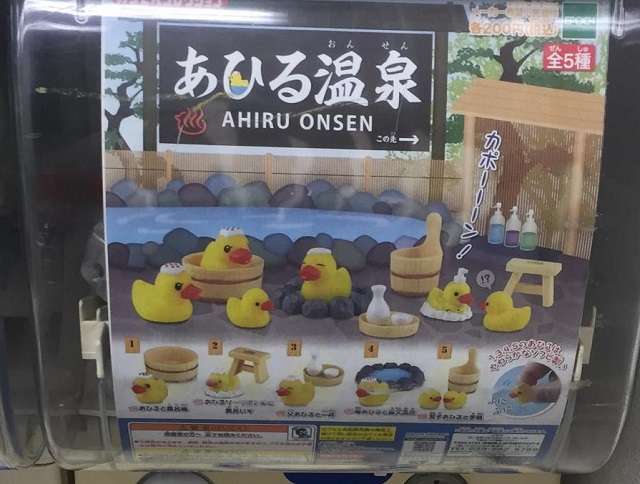 They're in a vending machine, ¥200 a shot. I want them. I want them all. I want them more than I've ever wanted a rubber duck in my life. This is amazing. This is game-changing. This is a triumph. I weep with amazed glee.
Posted by: Wonderduck at 09:30 PM | Comments (9) | Add Comment
Post contains 90 words, total size 1 kb.
September 06, 2017
Foul and Evil and Mean and Nasty
That... interesting... title is a decent representation of what my mood has been of late. In fact, it reminds me a lot of when I was going through nicotine withdrawal... same irritability, same bad mood, not sleeping well, so on and so forth. It's taken quite a bit of willpower to not go full berserker on some of my coworkers, and why doesn't Chrome recognize "berserker" as a valid word? That's just weird. For what it's worth, however, there should be a surprise for all y'all this weekend here at The Pond. I hope.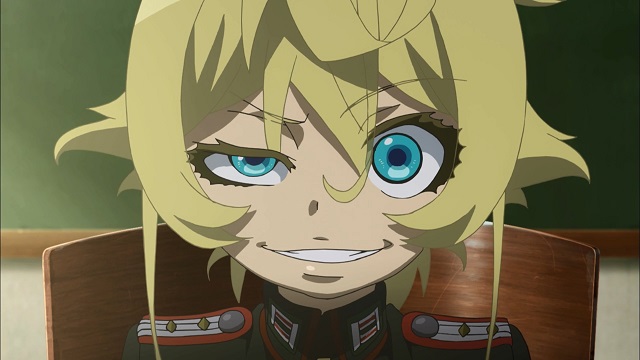 Given what I've said about my mood, it's up to you to figure out if "a surprise" is going to be something good, or the blogging equivalent of a horse's head under your sheets. Look forward to it. Heh. Heh heh.
Posted by: Wonderduck at 07:39 PM | Comments (1) | Add Comment
Post contains 142 words, total size 1 kb.
September 04, 2017
F1 Update!: Italy 2017
The weather had made a stunning recovery after Saturday's deluge, the skies bright and clear as the F1 Circus took its positions on the grid. The combination of rain and engine penalties left the starting lineup a jumbled mess, which had to make polesitter Lewis Hamilton feel quite confident. His teammate, Valterri Bottas was fourth, while championship points leader Seb Vettel was starting from sixth. Even the Red Bulls had been shuffled backwards, with Embryo Verstappen in 13th, and Smiley Ricciardo lounging in 16th. So would the youngest driver ever to be on the first row of the grid, Pleasant Stroll, be able to challenge Hamilton? Or would False Esteban! be able to throw his Force India into the mix from third? THIS is
your
F1Update! for the 2017 Grand Prix of Italy!
*LIGHTS OUT
: Hamilton's getaway wasn't the greatest of all time, but it was good enough to keep in front of the two kids as they went into the stupidly tight chicane at the end of the front straight. It's common enough to see huge clouds of smoke billowing from tortured tires at this point, and one could only imagine the youthful aggression of Stroll and False Esteban! taking over as they tried to get through first. As it was, pretty much the entire field made it through with only a small amount of carbon fiber flying. For much of the first lap, the two young'uns were able to hang with the Mercedes on this, the fastest track on the calendar, but it was just a matter of time before the superior vehicle would step up. This it did, with Hamilton opening his lead and Bottas moving into second by the end of Lap 3. Behind that, Vettel moved past both kids and into third by the end of Lap 5. After that, it became a simple question: could the Ferrari race with the Mercedes on the track that most favored the silver cars? Pretty quickly we knew the answer: no.
*KEEP ON KEEPIN' ON
: By Lap 10, Hamilton's lead over Vettel was up to 10 seconds, and the gap would just continue to scroll upwards. By Lap 20, it was 17 seconds, and people began to wonder if the silver car would be able to open up a big enough lead that he could pit and come out ahead of the red one. We never found out, though on Lap 30 Vettel was 23 seconds behind, and the pit delta was... 23 seconds. Ferrari pitted their man shortly after that, with Hamilton coming in three laps later. He would be clear of Vettel, and indeed, when Bottas pitted the lap after Hamilton, he too was able to keep his position ahead of Vettel. At that point, it was just a matter of keeping the Mercs running and on the racing surface. On Lap 40, the gap back to Vettel was 31 seconds.
*SMILE AND THE WORLD SMILES WITH YOU
: Back at the back of the horde, Smiley Ricciardo knew he had an interesting day ahead of him. He had a good car in his hands, he was at the back of the grid only because of power unit changes, and a lot of mediocre carbon fiber lined up ahead of him. Once the lights went out and the race began, he immediately started working his way up the field. Starting on the hardest compound available for the weekend, the Soft rubber, Smiley cajoled, weaved, and jogged his way around traffic for 37 laps (of 53!), pulling himself all the way up to fifth spot before his only pit stop. Rejoining the race on the Supersoft tires, he found himself closing in on the Ferrari of Kimi Raikkonen in fourth place. A couple of tours around the circuit later, he managed to get to within a second of the Finn as they reached the second DRS detection zones... meaning that he'd get the speed boost provided by the drag reduction system down the ridiculously fast pit straight. More importantly, Raikkonen, who had nobody immediately in front of him,
wouldn't
. And then it happened. Smiley came from roughly two miles back as Raikkonen began to slow for the chicane and
just blew right by the Ferrari
in what may very well be the pass of the season so far.
*THIS IS THE END
: At about the same time that the Australian Red Bull driver was making the Finnish Ferrari driver look silly, the German Ferrari driver had something go wonky on his car. Vettel missed the first chicane on Lap 40 and damaged something during his excursion through the sleeping policemen. After the race, he said that from then on the car's steering was pulling to one side, particularly under braking. This had the dual effect of giving him zero chance of catching up to the Mercedes duo... to be fair, he had as close to zero chance before that as makes no difference... while giving Smiley Ricciardo a target that was, comparatively, limping around Monza. After passing Raikkonen, he was almost 12 seconds back from Vettel. For the next 13 laps, the Aussie reeled him in at well over a half-second per lap. With four seconds separating them, Vettel managed to get home ahead of the Red Bull... while being over thirty seconds behind Hamilton and Bottas. It was a fantastic drive for Riccardio, a disappointing one for Vettel, and a casual Sunday drive for the two Mercedes boys who looked like they didn't break a sweat as they stood on the final podium.
*OH, AND...
: With his victory and Vettel's third place, Hamilton takes the lead in the championship race with seven to go. The next one is the night race in Singapore in two weeks... we'll see you there!
Posted by: Wonderduck at 08:58 PM | Comments (1) | Add Comment
Post contains 967 words, total size 6 kb.
F1U: Italy 2017 Delayed!
Yeah, um... like, I fell asleep around 6pm Sunday evening and didn't, y'know, wake up again until a little after Midnight. So... um... I'll do the writeup Monday. Twice in a row I've missed the race night update. Woo! Go me!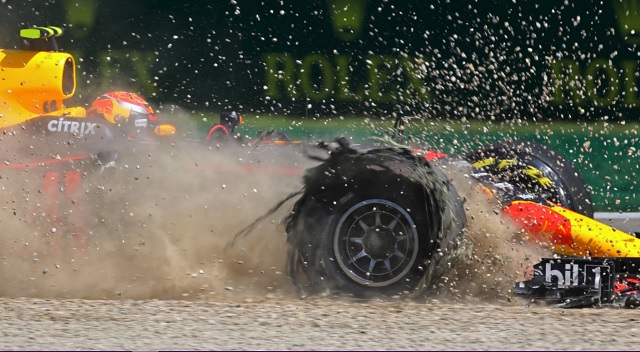 Posted by: Wonderduck at 12:51 AM | No Comments | Add Comment
Post contains 45 words, total size 1 kb.
September 02, 2017
F1 Quals: Italy 2017
It's no great secret that I usually watch F1 events via DVR some time after they occur. While it's becoming more common as I age for me to be awake early on the weekends, much to my annoyed chagrin, I generally still don't watch until sometime after. Hey, no commercials that way, right? It's a good plan, and it usually works really well. Usually. This time... nope.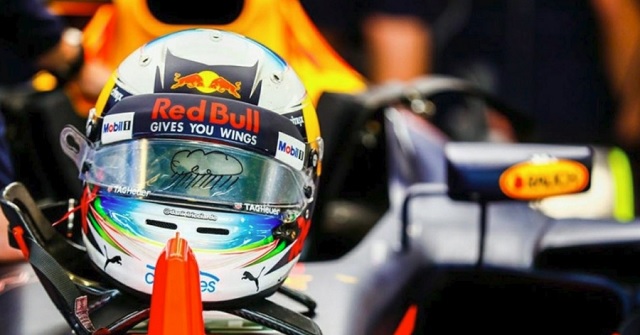 It rained today at Monza. A lot. It was raining before Quals began, and pretty much just as things got rolling half of the Mediterranean was dropped on the Autodromo Nazionale Monza. It was bad enough that Lettuce Grosjean binned his Haas driving in a straight line down the front straight. The red flag was flown and the session splashed to a halt. By the time they decided to allow cars back on track, it was two and a half hours later and my DVR had stopped recording a good half-hour earlier. In effect, I didn't get to see Quals at all. Whoopsie. Well, let's take a look at the provisional grid for the 2017 Grand Prix of Italy:
Pos

Driver
Q1
Q2
Q3

1

Mercedes

1:36.009

1:34.660

1:35.554

2

Red Bull Racing


1:37.344

1:36.113

1:36.702

3

Red Bull Racing


1:38.304

1:37.313

1:36.841

4

Williams Mercedes

1:37.653

1:37.002

1:37.032

5

Force India Mercedes

1:38.775

1:37.580

1:37.719

6

Mercedes

1:35.716

1:35.396

1:37.833

7

Ferrari

1:38.235

1:37.031

1:37.987

8

Ferrari

1:37.198

1:36.223

1:38.064

9

Not Retired
Williams Mercedes

1:38.338

1:37.456

1:38.251

10

McLaren Honda

1:38.767

1:37.471

1:39.157

11

Force India Mercedes

1:38.511

1:37.582




12

Renault

1:39.242

1:38.059




13

McLaren Honda

1:39.134

1:38.202




14

Toro Rosso

1:39.183

1:38.245




15

Toro Rosso

1:39.788

1:38.526




16

Haas Ferrari

1:40.489






17

Renault

1:40.646






18

Sauber Ferrari

1:41.732






19

Sauber Ferrari

1:41.875






NC

Haas Ferrari

1:43.355





First off, all of the team here at F1U! want to congratulate Lewis Hamilton for his record-breaking 69th Pole Position. He's now sat on more poles than anybody in F1 history... even that
naughty Australian grid girl
from a few years back.
Second off, don't read too much into the fact that he was over a second faster than anybody else in Q3. As near as I can figure, he was the only driver who was able to make his final hot lap on a new set of rain tires. Everybody else was on either Intermediates or worn Full Wets.
Third, both Red Bull drivers had to change engine components and are getting penalties of 20 spots (or more!). Because of this, the Williams of Pleasant Stroll will be next to Hamilton on the front row. Stroll thus becomes the youngest driver to ever start a F1 race on the front row.
Finally, it is possible (though
very
unlikely) that Lettuce Grosjean won't be allowed to participate in the race. His qualifying time of 1:43.355 is slower than the 107% time of 1:42.416, and at least by the letter of the law he's not eligible to race. However, the stewards can decide to let him in on past performance anyway, which I fully expect to occur.
Race in the morning, rain isn't expected that I've heard, we'll see you then!

Posted by: Wonderduck at 10:31 AM | Comments (3) | Add Comment
Post contains 569 words, total size 21 kb.
September 01, 2017
My Sides Hurt And I Can't Breathe
That's not usually what you want to read, I'll admit, but don't worry! It's entirely self-inflicted. To begin with, I need to explain a little of what's going on here. I dunno if any of you play
Rainbow Six: Siege
? I don't, but I've seen a ton of gameplay footage thanks to the good folks over at
Bo Time! Gaming
. I've mentioned them before... they're the geniuses behind the War Thunder Fail Montages. Anyway, they have like
fifty

RS:S

vids
, and after watching them I know that I'll never play the game. Not my cuppa, y'know? Doesn't mean that I don't enjoy watching them play, though. Bo & Co. seem to be quite good... except when they're doing very weird things. "
I am pushing little cart
" leaps to mind. Anyway, from there it was a short distance to finding various
RS:S
Fail Vids. Again, I don't play, but funny is funny. Along the way, I discovered a youtube channel named
GameSprout
... for reasons, I guess. Their stuff has been uniformly entertaining, sometimes laugh-out-loud funny. So what does all this have to do with me suffocating? One of the best things about GameSprout is their tendency to put sound clips over their fail vids. It might be a simple spoken "tah-dah", a record scratch, or something complex... all for the sake of a gag. Now, if you've ever played a multiplayer FPS game, you've undoubtedly come across the sight of someone rapidly crouching, then standing up, then crouching again, ad infinitum. This is teabagging, and it's usually quite a rude gesture. In games such as these, however, there's often no way to "make contact" with players on the other team, so if you're into opening lines of communication, you have to make do with what's available. Crouching, swaying from side to side, turning rapidly as a head-shake "no", that sort of thing. GameSprout loves working this activity into their videos, usually accompanied by a "yep" sound. For whatever reason, I've always chuckled when I've seen/heard it. And then this video was released a couple of weeks ago:
The money bit is from 7:57 to 8:17 (with another short clip breaking it up). Go ahead and watch, I'll wait.
Done? Okay, cool. For whatever reason, that little stretch of video makes me laugh so hard I have problems breathing, tears roll down my face, so on and so forth. I mean, first the contact with the opposing team in the airplane, then they join in, and all of them get their own "yep"s... then in the second part, the "yep"s get more and more frantic. That's what usually gets me, the frantic yepping all over the place. Laughter like I haven't had in a long time, that's what that is.
And now you know.
Posted by: Wonderduck at 10:47 PM | Comments (2) | Add Comment
Post contains 469 words, total size 3 kb.
114kb generated in CPU 0.05, elapsed 0.0577 seconds.
57 queries taking 0.0151 seconds, 282 records returned.
Powered by Minx 1.1.6c-pink.