October 21, 2017
F1 Quals: United States 2017
Instead of the lousy conditions they had in Austin on Friday, Saturday saw blue and sunny skies, warm temps, and dry pavement. That pretty much made it a given that the grid was going to be fairly conventional, but is that really what happened? Here's the provisional grid for the 2017 United States Grand Prix:
Pos

Driver
Q1
Q2
Q3

1

Mercedes

1:34.822

1:33.437

1:33.108

2

Ferrari

1:35.420

1:34.103

1:33.347

3

Mercedes

1:35.309

1:33.769

1:33.568

4

Red Bull Racing


1:35.991

1:34.495

1:33.577

5

Ferrari

1:35.649

1:33.840

1:33.577

6

Red Bull Racing


1:34.899

1:34.716

1:33.658

7

Force India Mercedes

1:35.849

1:35.113

1:34.647

8

Renault

1:35.517

1:34.899

1:34.852

9

McLaren Honda

1:35.712

1:35.046

1:35.007

10

Force India Mercedes

1:36.358

1:34.789

1:35.148

11

Not Nasr
Williams Mercedes

1:35.603

1:35.155




12

Toro Rosso

1:36.073

1:35.529




13

McLaren Honda

1:36.286

1:35.641




14

Haas Ferrari

1:36.835

1:35.870




15

Renault

1:35.740

No Time






16

Sauber Ferrari

1:36.842






17

Williams Mercedes

1:36.868






18

Toro Rosso

1:36.889






19

Sauber Ferrari

1:37.179






20

Haas Ferrari

1:37.394





Yep, pretty conventional. Polesitter Lewis Hamilton has dominated the weekend so far, being fastest in all three practice sessions and now setting a new course record to boot. Oh, and he averaged 132mph around the circuit, three mph faster than the previous record. Hamilton's only real competition, both for pole and for the championship, Seb Vettel, absolutely
needed
this result to have much of a chance in the race tomorrow and to keep his faint championship hopes alive.
Dear heavens, the Mercedes looked absolutely glued to the track today. During his pole lap, as seen from the above-head camera position, it felt like Hamilton barely needed to turn the steering wheel let alone make sudden course corrections like from a slide or something. A superb driver and a superb car, on a track the driver loves and the car may as well have been made for? Fwoar.
Embryo Verstappen has a 15-spot grid penalty for various parts changes. Pleasant Stroll, who attempted to murder Lettuce Grosjean in Q1 today, got a three-spot penalty. So did Kevin Magnussen, who will now be starting from Pilot Knob.
Race is at 2pm Central Pond Time, with a pre-race on NBC at 1pm. I'm having brunch with the folks beforehand, but I expect I'll be back in time to catch the start. I don't intend to liveblog, but if anything important happens, I'll post something ASAP. See ya then!
Posted by: Wonderduck at 06:24 PM | No Comments | Add Comment
Post contains 444 words, total size 20 kb.
October 19, 2017
"Wait 'til Last Year"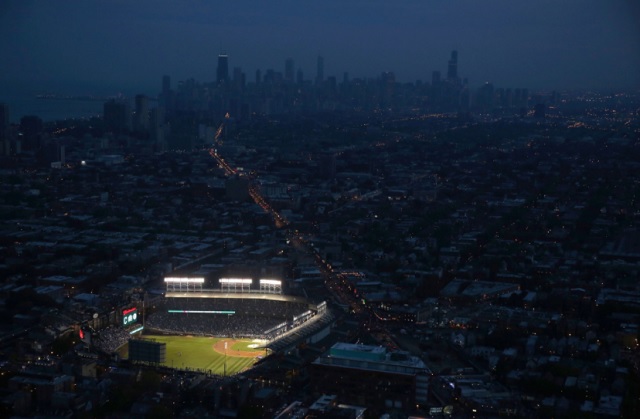 The Cubs have gone to the NL Championship Series three years in a row, and won the World Series once in that time. There is no way anybody can convince me this season, which came to an end at the hands of the LA Dodgers a few minutes ago, was anything other than a success.
And in a few months... spring training!
Posted by: Wonderduck at 10:14 PM | Comments (3) | Add Comment
Post contains 66 words, total size 1 kb.
October 18, 2017
F1 on TV: United States 2017
Running a little behind this week, thanks to a combination of Cubs playing in the NLCS, stupid overtime, and a desperate need for extra sleep, but never fear, your guide to the television coverage of the United States Grand Prix is here! Let's look at that there track map, y'all!
They say everything is bigger in Texas, but in this case it just isn't true. The Circuit of the Americas down yonder in Austin is on the small side of larger tracks at just a skosh over 3.41miles... that's 5.5km in them there "keeelo-meeter" things. I mean, Suzuka is a longer track than COTA, but nobody really thinks of that wonderful place as "long".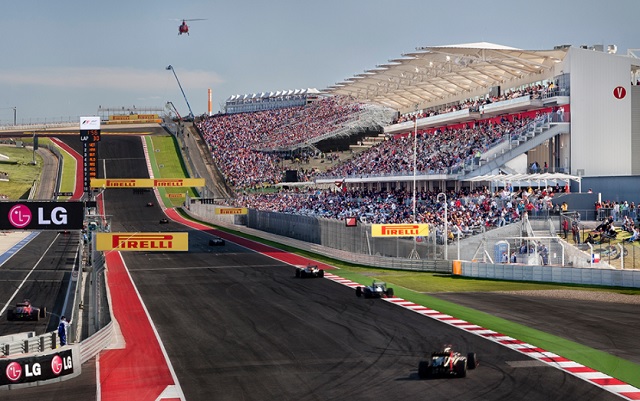 The one exception to the "everything isn't bigger at COTA" is the already legendary Turn 1, the apex of which is also the apex of Phil Hill. This bit of elevation change is the biggest single climb in F1, 133' of pure drag racing named for legendary American racer Cody Phil. Probably my favorite part of the track, just for the sheer ridiculousness of it. It's wonderful.
Speaking of wonderful, the Legendary Announce Team will be doing their usual great coverage of the race! Here's the broadcast schedule:
Practice 1: 10a - 12n live on NBCSN
Practice 2: 10p - 1130p not live on NBCSN... also may not be Practice 2. I dunno
Quals: 3p - 6p live on NBCSN (may also have P3 coverage on tape delay)
2017 United States Grand Prix: 2p - 4p live on NBC... yes, NBC!
Make sure you watch, it'll be a blast... particularly since Hamilton can win the championship here. All he needs to do is win, and have Vettel finish 6th or lower. I'll be along afterwards with the F1U!, of course. I'm even taking Monday off to allow me to pay closer attention to the race!
See ya then!
Posted by: Wonderduck at 09:33 PM | No Comments | Add Comment
Post contains 321 words, total size 2 kb.
October 15, 2017
...Just For One Day, We Are All Grape.
If you're the type of person who reads The Pond regularly, then there's no doubt in my mind that you've heard the story of Grape-kun. If you are new here, or read The Pond only for the F1 ("I only read it for the articles!" Kids, get your parents to explain), let me give you a quick version of this tale of devotion and love.
Earlier this year, the Tobu Zoo in Miyashiro, Saitama Prefecture, held a promotion that saw standups of characters from the anime series
Kemono Friends
placed in various animal enclosures. This actually makes more sense than many such ideas in Japan, as
Kemono Friends
is about animals in a large zoo that, due to exposure to unobtanium, have become anthropomorphized. The show was a popular one, and attendance had increased in other zoos that had done the same promotion, so why not? In Ep08, we are introduced to
an idol group called "PPP"
, which is made up of anthropomorphized penguins. At least one of the members of PPP had their promotional standup put in the penguin enclosure at Tobu Zoo. Where it was encountered by a Humboldt Penguin named "Grape-kun".
A little bit of backstory here. Grape-kun was over 20 years old, and ten years ago he had been dumped by his mate. He had been single ever since. However, park keepers quickly realized that Grape-kun was enamored of the standup of Hululu that had been put in the penguin enclosure. He would spend the entire day by the rock she was on, would go into a known courtship pose, and would have to be separated from Hululu so he would remember to eat. When the promotion ended, all of the standups were removed... except for Hululu's, as zookeepers were afraid of what would happen to Grape-kun if they did. The story hit the twitters in May and quickly went worldwide. Grape-kun had a waifu, and anime fans around the globe found they were relating to a Japanese penguin. Hululu's voice actress met Grape-kun, Tobu Zoo's attendance went through the roof, fans made pilgrimages to see the pair, and there were (and are) calls for Grape-kun to become a character in the next season of
Kemono Friends
.
On Friday, Grape-kun passed away at the age of 21. According to the zoo, he had suffered a short illness. He had been removed from the enclosure, but Hululu's standup had been with him until the end.
Posted by: Wonderduck at 10:59 PM | Comments (3) | Add Comment
Post contains 416 words, total size 3 kb.
October 14, 2017
That's A Thing
I've got nothing for ya. Braindead after a long, fruitless week, I'm having problems even thinking about being clever.
"So, pretty much like the last 12 years then, huh?"
That's not fair. I was clever once. Go back and reread the
Ben-To!
writeups, those were pretty good.
I really liked Ep08
's... that's the one with the Claude Rains joke. I should really try doing something like that again. Oh, did you know that the OST for
Ben-To!
is flippin'
amazing
?
I've got this on my playlist at work, and every time it comes on, I wonder if the folks on Sirius/XM's "smooth jazz" channel know about it.
GD, you should like this track in particular. This one came on the mp3 player Friday night, around 9pm at work, I'm the only person in the entire building, and most of the lights were off... I near to wet myself when the whispering started. Good times, good times.
"Why is there a puddle on the floor?" "I don't think I'm hungry now. Ew."
Ah, the clever Wonderduck witticisms. Pee humor, everybody loves that! Anyway, that's all I got, eat some oreos!
Posted by: Wonderduck at 10:26 PM | Comments (1) | Add Comment
Post contains 192 words, total size 2 kb.
October 12, 2017
#CRYBARFDIE
So the Cubs are playing the final game of the NLDS against the Washington Nationals as I write this. It's kind of a slugfest, and I'm kinda going insane. The Cubs lead 9 - 6, but that means nothing right now.
While I chew through my lower lip, here's some music:
Sakkijarven Polkka - Girls Und Panzer OST
Because sometimes all you need is a Japanese rendition of a Finnish example of a Polish style of music.
Cross fingers the Cubs win. I don't wanna know how I'm gonna feel if they lose.
UPDATE
, around Midnight or thereabouts:
Longest post-season baseball game ever. Brother, can you spare a pitcher?
Posted by: Wonderduck at 09:55 PM | Comments (2) | Add Comment
Post contains 148 words, total size 1 kb.
October 10, 2017
Random Anime Pictures #137: Kettenkrad!
I've always thought that halftracks were neat. It's a truck with treads! It's a tank with the front of a truck welded on! It's chocolate in peanut butter! They really were a great idea, but overly complicated to keep running and much more expensive to build. I mean, sure, they had better off-road skillz than a wheeled vehicle... until they threw a track. At least with a truck, you can keep moving with a flat tire. All you could really do when you were missing a track on one side is go in circles. While halftracks are actually still in use by militaries here and there, particularly Israel, for the most part they stopped being common by the '60s, when the surviving WWII-era vehicles finally wore out. The Kettenkrad, above, was the smallest halftrack in common use, the Wehrmacht using it as a tractor for light artillery pieces and as a tow vehicle for the Me-262 jet fighter. It looks like a tankette and a motorcycle had a child. What I didn't realize until recently was that it didn't entirely steer using the front wheel. Turn the handlebars past a certain angle and the inside tread locked, allowing the other tread to push the kettenkrad into the turn. That's kinda good thinkin'!
Oh, the show? It was the only series this season that I was
really
looking forward to, because I've seen the manga here and there and it looked interesting. Turns out to be the cutest, most relaxing post-apocalyptic journey story ever! I mean, except for the picture above, but even that's adorable... mostly. Other than the gun part. The situation isn't quite as serious as it looks. Mostly.
This is going to sound strange, but
Girls Last Tour
feels
a lot
like
Flying Witch
. Oh, they're really nothing alike, but they both have a sense of calmness to them. Which is quite surprising, considering the two are travelling through a country devastated by war. We don't know where they're travelling to, and it's not clear they do either. At the moment, they just are. There's probably a serious story lurking underneath it all, but I kinda hope not. Sometimes, two moeblobs travelling around in a kettenkrad is all you need.
Posted by: Wonderduck at 08:24 PM | Comments (4) | Add Comment
Post contains 381 words, total size 3 kb.
October 08, 2017
F1 Update!: Japan 2017
The nicest day of the weekend greeted the Herd as they made their way up to the grid. Unlike Friday Practice, which had buckets o' rain coming down when it wasn't falling in sheets, or Saturday Quals, which was gray and dreary, the sky was blue and the sun was bright as racetime approached. Lewis Hamilton sat on pole... again... with a new track record... again... and looked ready to win... again. Normally having your rival next to you on the grid isn't the most comfortable feeling. The Ferrari of Seb Vettel sat in the second spot, but his team had removed the engine cover on his car with just minutes to go and were working feverishly. They got him buttoned up in time, but the German couldn't have been happy. So how did all that work out? THIS is
your
F1Update! for the 2017 Grand Prix of Japan!
*LIGHTS OUT
: Hamilton didn't have the best of starts once the race finally began, but that turned out not to be a big deal because none of the cars around him did either. Behind him, last week's race winner, Embryo Verstappen, got past Vettel's Ferrari in a slick little move at just about the same time that Carlos Sainz, in his last race with Toro Rosso before he moves to Renault, buried himself in the tire barriers sideways. The accident was stiff and the car was out of the race, but because of its location the marshals had to bring out heavy machinery to carry it off. We here at F1U! would be lying if we said that we didn't have flashbacks to the tragic 2015 Grand Prix of Japan at this moment. Fortunately for everybody's sanity, a Safety Car was immediately summoned as Lap 2 began.
*HELLO DARKNESS MY OLD FRIEND
: It became obvious that whatever it was that Ferrari had been working on in Vettel's engine before the race, they hadn't gotten it repaired. Once the race restarted, he was almost instantly swarmed over by three cars. The Ferrari was clearly down on power... we later found out he was over 20mph in the hole... and the team soon told him to return to the pits and retire the car. The culprit that crippled this high-tech marvel, this paragon of racing? A spark plug. We can only assume it had only been made with a core of Californium, instead of the usual metal smelted from asteroids. In the garage, Vettel clearly realized that any chance he had of winning the driver's championship was realistically gone.
*THE REST
: Hamilton opened his lead over Verstappen's Red Bull to around five seconds or so, but couldn't quite get away from the Dutchman. Every time he would look to be pulling away, someone else would wreck and a Virtual Safety Car would be called out. The last one, called out when Pleasant Stroll had a wheel rim failure, let Verstappen be in position to narrow things down to less than a second after the restart.
*CLOSE, BUT NO CIGAR
: For a couple of laps right at the end, it looked like we actually had a race on our hands. Verstappen actually appeared to be faster over the entire lap, but getting past another car on the fairly narrow Suzuka circuit is difficult at the best of times. When your target is Lewis Hamilton and his closest rival is in the pits? Unlikely, to say the least. Throw in hitting traffic at just the wrong time, and Verstappen never had a chance. He'd follow Hamilton home in second place, just over a second behind. It was an easy drive for the Mercedes driver, but he had to drive a clean race... one mistake and the Red Bull would have been past him. That mistake never occurred. The other Red Bull of Smiley Ricciardo finished third, almost 10 seconds back.
Not the best race of the season. In fact, I'd go so far as to call it dull, the final few laps notwithstanding. It is probably going to be the most important race of the year though, as Hamilton now has a 54 point lead over Vettel with four races to go. Indeed, if he wins the next race and Vettel finishes sixth or below, the championship ends right there.
And that next race? We return to Austin Texas for the US Grand Prix in two weeks! See ya then!
Posted by: Wonderduck at 11:07 PM | Comments (2) | Add Comment
Post contains 739 words, total size 5 kb.
October 07, 2017
F1 Quals: Japan 2017
Oh dear. This bodes ill for tomorrow's 2017 Grand Prix of Japan. Here's the provisional grid:
Pos

Driver
Q1
Q2
Q3

1

Mercedes

1:29.047

1:27.819

1:27.319

2

Mercedes

1:29.332

1:28.543

1:27.651

3

Ferrari

1:29.352

1:28.225

1:27.791

4

Red Bull Racing


1:29.475

1:28.935

1:28.306

5

Red Bull Racing


1:29.181

1:28.747

1:28.332

6

Ferrari

1:29.163

1:29.079

1:28.498

7

Force India Mercedes

1:30.115

1:29.199

1:29.111

8

Force India Mercedes

1:29.696

1:29.343

1:29.260

9

Not Nasr
Williams Mercedes

1:30.352

1:29.687

1:29.480

10

McLaren Honda

1:30.525

1:29.749

1:30.687

11

waffle
McLaren Honda

1:30.654

1:29.778




12

Renault

1:30.252

1:29.879




13

Haas Ferrari

1:30.774

1:29.972




14

Unemployed
Renault

1:30.516

1:30.022




15

Toro Rosso

1:30.565

1:30.413




16

Haas Ferrari

1:30.849






17

Toro Rosso

1:31.317






18

Williams Mercedes

1:31.409






19

Sauber Ferrari

1:31.597






20

Sauber Ferrari

1:31.885





It's hardly unusual for Lewis Hamilton to be on pole. For him to be on pole in so dominant a manner is another thing altogether. This season, there's usually been some sort of realistic threat from some other driver to take pole, even if Hamilton still ended up with it. Not today. At no point during the quals session today did he look even mildly disconcerted. Just a massive curbstomp of a quals.
The one saving grace for Seb Vettel is that he'll actually be starting second, not third, as Bottas has a five-grid-spot penalty to deal with. On the whole, Ferrari has looked good over race distances this year, better than they do during Quals. That may not matter, though, because of just how massive the Merc looked today.
Sorry this is short and late, been working today. Race overnight, see ya afterwards sometime!
Posted by: Wonderduck at 03:34 PM | No Comments | Add Comment
Post contains 313 words, total size 19 kb.
October 04, 2017
Of Two Minds
It was announced earlier today
that ESPN has won the rights to carry Formula 1 races here in the US, beginning in 2018. And by "won", I mean "they were probably the only bidders."
That's not snark. The powers that be at NBCSN came out and said "we chose not to enter into a new agreement in which the rights holders itself competes with us and our distribution partners." This is widely assumed to mean that Liberty Media / FOM will be launching a worldwide streaming service next year.
It looks like ESPN will be using the World Feed announcers, instead of bringing in the Legendary Announce Team to provide commentary. I am...
displeased
... by this development.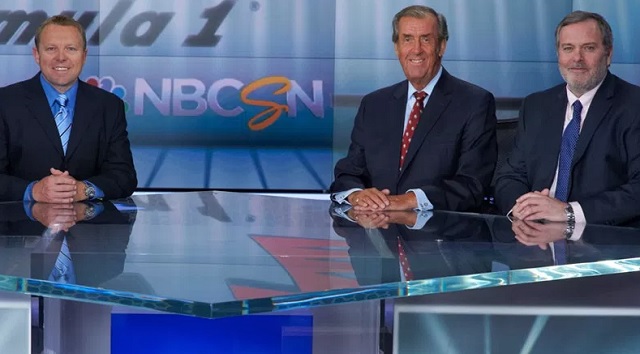 While I'm still not overly fond of Leigh Diffey (L), preferring instead the dulcet tones of The Varsha, losing David Hobbs (C) and Steve Matchett (R) will
hurt
. For me, they are the voice of Formula 1. They've been there for almost every race of my F1 fandom (save for
a painful few races that were shown on CBS
... "they're CRASHING over the curbs" will haunt me forever), and I will miss them if they're gone.
On the other hand, it just became a LOT easier for people to watch Formula 1 in the US. Most of the races will be on ESPN2, three will be on ESPN proper, and two will be first-run on ABC (Monaco will be shown live on ESPN, then tape-delayed on ABC as well). More visibility is better than less in my book.
Stay tuned, friends. A new world is coming to our fandom.
Posted by: Wonderduck at 08:59 PM | Comments (3) | Add Comment
Post contains 269 words, total size 2 kb.
October 03, 2017
F1 on NBCSN: Japan 2017
I'm afraid I don't have a whole bunch of time to do this, so let me be brief. Here's the track map for the 2017 Grand Prix of Japan:
It's my favorite circuit on the F1 calendar. To me, it's everything you could possibly want from a track. There is not one single bit of mickeymousing anywhere, even the chicane is pretty handy. 130R used to be the most fearsome turn on the calendar. Now the drivers are talking about taking it flat-out and pulling maybe six G's in the process. If that happens, I'll expect to see someone's head popping out of the cockpit like a champagne cork. The Circuit of the Americas stole their Esses from here, though Suzuka's are tighter.
And oh yeah, there's a FREAKIN' BRIDGE involved. It's a figure-8 track... next up, F1 comes to the Duckford Speedway for a night of quarter-mile high-banked oval racin'!
Here's the broadcast schedule for the race weekend, brought to you by the Legendary Announce Team and Pocky, the world's favorite chocolate-dipped biscuit stick!
Practice 2: 1201a - 130a live on NBCSN
Quals: 1a - 230a live on NBCSN
...and...
2017 Grand Prix of Japan: 1130p - 2a Sunday, live on NBCSN
Again, note that both Quals and the race broadcasts begin on Saturday according to NBCSN. I'll be along eventually with the F1U!. See ya then then, shall I? Yes, let's.
Posted by: Wonderduck at 07:33 PM | Comments (2) | Add Comment
Post contains 240 words, total size 2 kb.
October 02, 2017
F1 Update!: Malaysia 2017
A gray, gloomy sky over Kuala Lumpur greeted the Thundering Herd as it made its way to the starting grid. Polesitter Lewis Hamilton had to be experiencing mixed feelings as his Mercedes sat in its prime spot. On one hand, he was on pole having put in a great lap during qualifying. On the other, his Mercedes was acting like a temperamental diva. The team couldn't dial it in for long stints and little technical gremlins were running around the insides of the power unit. On the whole, though, it was a good position to be in, particularly considering his main rival, Ferrari's Seb Vettel, was dead last after a technical failure in quals. Just behind Hamilton sat birthday boy Embryo Verstappen's Red Bull. The Dutchman had celebrated his 20th birthday the previous day and the Red Bulls were feeling particularly racy the whole weekend. So what happened next? THIS is
your
F1 Update! for the 2017 Grand Prix of Malaysia!
*BEFORE
: After a qualifying session that saw him take second spot on the grid, Ferrari's Kimi Raikkonen was asked what his goal was for the race. "I'd like to get more than 100 meters," replied the Finn, a reference to
the race in Singapore two weeks prior
. He didn't. Some engine glitch kept him in the garage until the very last moment, then the team sent him to take his place in the starting lineup. Once there, the mechanics began working on the car again, taking the rear bodywork off so they could tinker with the power unit. Ultimately this proved fruitless, the team pushing the car back to the pits to work on it while the rest of the cars went on their way to take the start. In the end, Ferrari would retire the car. We can only assume
Raikkonen got himself some ice cream
.
*LIGHTS OUT
: The run down to Turn 1 in Malaysia is one of the longest on the calendar, plenty of time for mischief to be perpetrated by those desperate or unaware. Throw in Embryo Verstappen, not known for his love of carbon fiber (unless it's in tiny pieces), being up at the front and Hamilton had to be wondering if HE'd make it through the first turn in one piece. The weather played a part in the start, despite there not being a drop of rain in the sky. Earlier in the day, it
had
rained and the grid
was
damp... or, to be correct, half the grid was damp. It seems that half of the track had been resurfaced some time in the past. The two surface materials used, left and right, were not the same. As a result, the even-numbered side of the grid was visibly wetter than the odd side. Once the race began, the cars starting on the right side of the grid all made better starts than the ones on the left. It didn't matter much in the long run, but there you are. For a wonder, the entire field made it through the first set of turns without too much damage... or indeed, any at all that we could see. By the end of Lap 1, Hamilton led Verstappen, who led Valterri Bottas in third. Remember that Seb Vettel guy, starting back in 20th? By the end of Lap 1, he was 13th, and quickly moved up to 12th.
*AND THEN...
: At the beginning of Lap 4, DRS was enabled, and the Red Bull in second place was within the one-second zone of the leader, though only just. The rear wing slot popped open, and voila! 12mph bonus to Verstappen's speed down the straight. He made up the gap to Hamilton quickly enough, but looked to be too far back to make any sort of move. Wrong. The Dutchman decided that he didn't need to brake until it was almost too late, zipped past the Mercedes on the inside, and made the move stick out of the twisty complex at the end of the front straight. As it turned out, the Mercs were having problems with their KERS systems not recharging fast enough, and Hamilton had been caught with his battery boost not able to produce as much power as it should. If it had been, there may have been more of a defense made. Or perhaps not; Hamilton is leading the Driver's Championship, and with Vettel far, far behind on track, there was no need for the Brit to tempt fate by dueling with the birthday boy.
*MEANWHILE
: Vettel's Ferrari was making steady progress on-track. The man he picked off for 12th, Nico Hulkenberg, was having some difficulty with his car so he pitted earlier than expected. Concerned that he would undercut them in the pits, four other drivers pitted for new tires, promoting Vettel into sixth place. He would take care of Sergio Perez for fifth place on Lap 19. Fifteen places in 19 laps... pretty good work, that.
*UP FRONT
: Verstappen was doing to Lewis Hamilton what Hamilton had regularly done to any car that wasn't a Mercedes for much of the past four years: he was driving away. The lead would reach nine seconds and stay right around that amount for a very long time indeed. Meanwhile, behind those two worthies we find the other Red Bull, that of Smiley Ricciardo camped out in third, but nervously glancing in his mirrors all the time. That's because Vettel, after having a nice little scrap with Bottas, had moved into fourth position. Worst still for Ricciardo, Vettel was on fresher, faster tires and was turning laps a full second faster than anybody else on track. All of that had to be sitting in the back of the German's head... if only his car had worked on Saturday, this clearly would have been his race.
*CATCH AND RELEASE
: The Ferrari steadily closed in on the Australian, filling the Red Bull's mirrors like a T-Rex chasing a Land Rover. Then, as Lap 48 turned into Lap 49, with the Ferrari pit wall telling him to "attack now", Vettel made his move... which Ricciardo smoothly blocked as they approached the braking zone for Turn 1. The Ferrari driver backed down, and shortly thereafter began to lose time to the Australian. He had raced his tires off, and he was unable to challenge again.
*THE END
: For a wonder, Red Bull's Max Verstappen cruised home with a lead that was nigh on 13 seconds over Hamilton's Mercedes. Ten seconds behind him came Ricciardo, who's gap over Vettel for the final podium spot had opened up to 15 seconds... a marvelous display of damage containment by the Ferrari driver. It had looked like Hamilton would have buried his nearest challenger. Instead, he barely managed to buy the shovel he would need to start digging. Throw in the temperamental state of the W08 recently, and Hamilton had to have some concerns.
*...THE HELL?
: As the drivers were on their cooldown lap, we were treated to camera shots of Verstappen being happy in cockpit, with lots of yelling over the radio. He had become the youngest driver in F1 history to win a race, breaking Seb Vettel's record by over a year... or he would have, if he didn't already hold the record, having won his first race in 2016 at the age of 18 and change. And then the cameras frantically cut away to show us this:
Vettel had been behind the Williams of Pleasant Stroll as they were on their cooldown laps, with the Ferrari moving somewhat faster. When they approached the next turn, the Ferrari driver went past Stroll. There was a coming together and the Ferrari ended up a shambles. The Williams, on the other hand wasn't even scuffed. Both drivers blamed the other. It is the opinion of F1U! that Vettel probably should never have put himself in that position in the first place... he's got a championship to fight for, and while this happened after the race, suspension damage often causes collateral damage to the engine or gearbox. Changing those would give a penalty for the next race. Reports are that the gearbox is undamaged, but those reports weren't coming from Ferrari. Very, very bizarre, and not the first time this season that Vettel has done something stupid.
So that's it for Malaysia. Next race is next week, at F1U!'s official favorite circuit, Suzuka in Japan. See ya then!
Posted by: Wonderduck at 09:39 PM | Comments (2) | Add Comment
Post contains 1408 words, total size 9 kb.
October 01, 2017
Malaysia 2017 Delayed!
Sorry everybody, I got started on the F1U! much too late for me to get it done Sunday. It'll be up Monday night.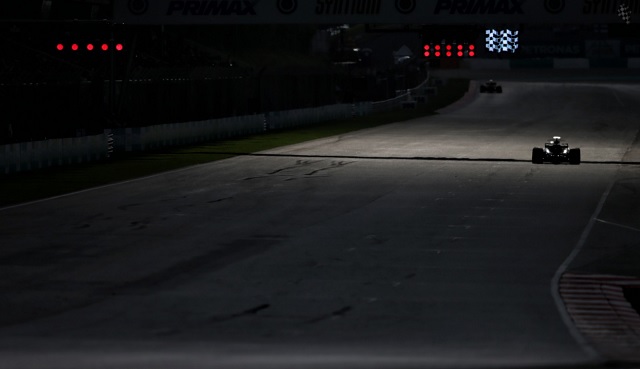 Posted by: Wonderduck at 10:44 PM | Comments (1) | Add Comment
Post contains 26 words, total size 1 kb.
107kb generated in CPU 0.04, elapsed 0.0522 seconds.
55 queries taking 0.0138 seconds, 270 records returned.
Powered by Minx 1.1.6c-pink.