August 30, 2015
Photoshoot, Ga-Rei Zero Style!
Some time ago, I was talking about a "
creative project
" I was working on... y'know, the one that needed 60 sets of chopsticks, a trilobite, something donated from Texas, two different styles of gift tissue, four thumbtacks and a big binder clip? It's fairly clear to me now that I'll never actually finish the damn thing, simply because the effort involved is somewhat beyond me at the moment... i.e. I can't be arsed. However! That doesn't mean that I can't reveal that which
has
been completed, and J Greely was right... the stuff WAS being used as
a photo studio
though not a tabletop one. More of a bookcase, really. You'll see, later. But what was I shooting?
Almost 18 months ago
, I sugested that there were two more figmae waiting to be photographed... but what I didn't say is that they were a matched set: Kagura and Yomi from
Ga-Rei Zero
! Though they're fairly old Figma (Kagura is #066, Yomi #067 in a collection that's announced number #269 recently), I was able to pick the pair of them up for a song... in new condition, to boot. I just checked online, and nowadays they cost individually what I got both for in 2014. Anime figures: investment material!
Of course, the best part of
Ga-Rei Zero
is the relationship between these two. It's no spoiler anymore to say that they go from best friends to a duel to the death, and if nothing else, that gives a LOT of picture-taking opportunities. Let's continue, shall we?
more...
Posted by: Wonderduck at 12:35 AM | Comments (8) | Add Comment
Post contains 1810 words, total size 13 kb.
August 26, 2015
Her Eyes
Back in 2008 or so, I was flooping around after finishing up my first AMV,
"...Angel"
, feeling like I needed to make another one but not having any inspiration. Oh, there were a couple of aborted attempts, but nothing that got any farther than a couple of clips on a timeline and call it a day. Then there was a Formula 1 video I thought about doing (F1MV?) and never got around to... and then my copy of Adobe Premiere went away in a virus-induced format-and-install, never to be seen again. Of course, it was
then
that inspiration sneaked up behind me and whupped me upside
de haid
but good. And like with the first AMV, it happened at the Duck U Bookstore. Since it's been nigh on seven years since then, I don't remember what I was doing at the time... probably folding t-shirts because t-shirts always need to be folded, that's what they're for... when a song came on the instore music system.
As with the first time, it had less to do with how much I liked the song as how the entire AMV sprang to life in my head as the song went on. That I did (and still do) like the tune is an added bonus, something I can't particularly say about "Lips of an Angel", the song I used for "...Angel". Certainly by the time I was done, I hated that drippy piece of musical treacle. There was one huge difference between the two ideas, though: I had Premiere the first time lighting struck, and I didn't the second time. The constant badgering of my brain trying to get me to make "Her Eyes" into the AMV in my head drove me to make some... unwise... decisions on the downloading front, not that my antivirus programs did anything to help matters. Antivirus matadors, more like it: "oh look, a virus? Ole!" Anyway, after being unsuccessful on many fronts, I decided to make an effort at tabling my brain's nagging for a while. And then The Dark Years occurred. 2008 and 2009 were particularly horrible experiences, and while 2010 and 2011 were remarkable for blog output (all those writeups!), the AMV faded, stored away in a closet somewhere in my brain.
Jumpcut to a few days ago. I've put the entirety of my "loose tunes" music collection into one mega-playlist (iTunes suggests that I can now go 47 hours straight without hearing a repeat, and that's without any of the hundreds of albums included), and I've hit the shuffle setting. I'm sitting at the computer doing... something and the music is playing, playing, playing and... a song comes on. And the lightning bolt strikes again.
Indeed, by the time he hits the first chorus, there were tears rolling down my face. Not because it's a sad song, but because of how intense my brain's reaction was. If you've never had a serious "eureka moment" like that, I literally can't explain it to you. If you
have
experienced it, you know
exactly
what I mean and I don't need to explain it. It certainly doesn't have to be AMV-related... authors and woodworkers, papershufflers and athletes, bloggers and... uh... people who do real things can all get hit by such inspiration. I've been truly honored to have it happen a few times (not all AMV-related), and I hope it'll happen again in the future. "But", I hear you screaming, "what's the damn concept, Wonderduck?"
Some years ago, there was a fairly popular anime, spawned a damn religion, come to think of it... maybe you've heard of
The Melancholy of Haruhi Suzumiya
? I can hear you groaning to yourself, but remember this: the concept for this AMV came to me in 2008, well before the second series, well before Endless 8, well before the movie and all that jazz. It was still
fresh
then. Of course, people hyped the new series to Pluto and beyond, then were disappointed when it only reached the Moon, but that's beside the point. One thing that really drove people loony in a good way was the first series' ED, what with the dancing and the choreography and the
glavin
and... ...but y'know, I was always struck by an image from the OP. To whit, this one: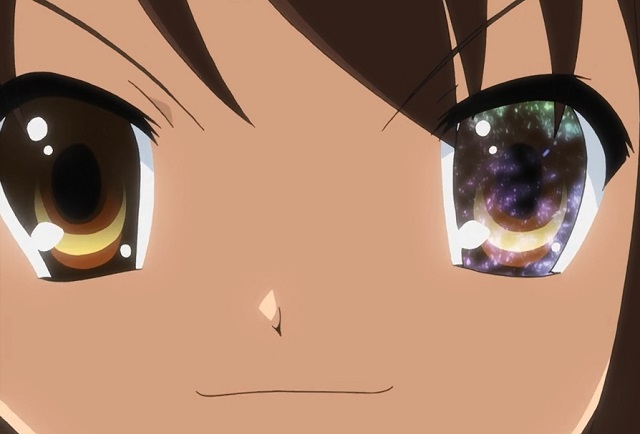 The universe in her eye, as we find out when we zoom in closer and discover stars and galaxies. It's a great image, and the song fits so perfectly with it I'd almost think that Pat Monahan had seen the series. And the intervening years, quite honestly, have done nothing but made it
easier
to make the AMV... after all, it's more than doubled the available source material, and in the process solved the one blank space I had in my mental storyboard (how the hell was I going to do "tells me that she's lived about a hundred lives..."? Well, now I know!).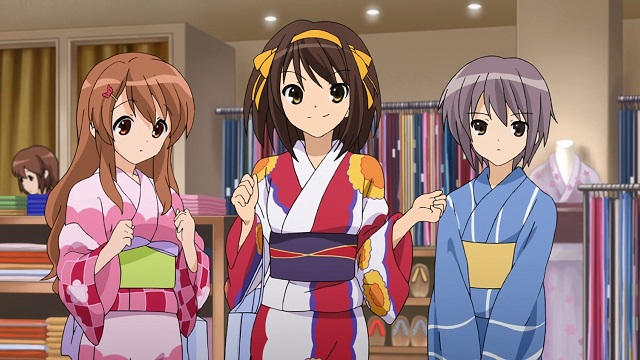 The one, nearly trivial, aspect of the creation of the AMV is that I still don't have a video editing program worthy of the name. Or any idea how to extract video from mkvs. Or time. But those are all minor details.
The lightning has struck again.
Posted by: Wonderduck at 07:58 PM | Comments (8) | Add Comment
Post contains 867 words, total size 6 kb.
August 23, 2015
F1 Update: Belgium 2015
Before we get into the F1 stuff, please send good thoughts out to former F1 driver and current IndyCar racer Justin Wilson. During today's race at Pocono, he was hit in the head by the nosecone of a wrecked car. Airlifted to a nearby hospital, he is, as of 750pm, "unconscious and unresponsive" with a "traumatic brain injury." I'm no doctor, but the replays looked bad. Good luck, Justin...
UPDATE 8/24/15
: Justin Wilson died in hospital today. He leaves behind a wife and two children.
Clear skies at Spa today, an absolutely perfect day to go racing... which means nothing at this huge track in the Ardennes. Rain can appear with no notice whatsoever here... and has! Often! During races, too! So would anything get in the way of polesitter Lewis Hamilton's march to victory? Would Seb Vettel and the resurgent Ferrari make a statement during the race? Or would another team haul themselves up after the month-long summer break? THIS is
your
F1 Update! for the 2015 Grand Prix of Belgium.
*RACE... NOT SO FAST!
: As the formation lap came to an end, the Force India of Nico Hulkenberg was in some distress, clearly some problem with the power unit somewhere. Once he came to a halt in his grid spot, the car decided that it had worked hard enough for the day and shut down. This resulted in an aborted start, everybody went around on a second formation lap while Hulkenberg's car was put out of its misery and rolled away. Then, as the field approached the grid for the second time, the call went out to Carlos Sainz in his Toro Rosso: "come to the pits, do not take your grid position." It took some two laps to fix whatever ailed the car, but he eventually did participate... only to retire it on Lap 36.
*RACE
: When the lights
officially
went out, our polesitter did what he always does: ran away over the horizon, never to be seen again. Behind him, things were made interesting by Nico Rosberg's less-than-stellar start which saw him shuffled back to around fifth place. He would eventually make it back up to second, but it took a while. For the most part, however, this was not a particularly exciting race. While there was quite a bit of passing, almost all of it was due to the DRS being
very
effective down the Kemmel Straight. You'd see the DRS open up and the trailing car would just blow past the car ahead (which is going 190-200mph) like it was someone's Toyota Camry. That's not to say there were
no
passes that required effort... local boy Embryo Verstappen pulled off a couple of beauties, though ultimately settling for eighth, while Kid Kyvat earned a lovely fourth in his Red Bull.
*TIRE WHERE?
: Seb Vettel and his Ferrari clearly could not hold pace with the Mercedes duo today, but he was still good enough to have third place pretty much sewn up with just a couple of laps to go. While under pressure from Lettuce Grosjean in a remarkably resurgent Lotus, a fight between a four-time world champion and someone nicknamed for a leafy green vegetable was only going to end one way. That is, until the Ferrari's right-rear tire unzipped from outside to in, throwing chunks of rubber and tire carcass high into the now-cloudy skies. The sidewalls remained more or less intact, which allowed the red car to stay on an even keel.. flashback to Friday's second practice, where Nico Rosberg had a right-rear tire failure due to damage. In his case, the car wound up on the wheel rim, meaning he was essentially driving on the floor of the car. This does horrible things to grip levels and sent him careening down the track totally out of control. Luck alone kept Bad Things from happening in that particular instance. Back to Sunday, and Vettel still had the ability to steer, just, but not the ability to race. He fell to 12th, totally out of the points.
*PARTY LIKE IT'S 2013. THEN CHECK YOUR WALLET LIKE IT'S 2015
: Taking his place in third was the aforementioned Lettuce Grosjean's Lotus. Two laps later, the likable Frenchman had brought the team their first podium finish since Grosjean finished the 2013 US Grand Prix in second place. Shortly after the team finished celebrating, baliffs moved in on Sunday night and impounded the team's traveling equipment due to an ongoing legal dispute with former driver Charles ToothPic.
*SELECTED QUOTE OF THE RACE
:
"We cannot believe just how disinterested we were in covering this race." - the F1U! crew.
Two weeks from now, the Circus reconvenes in the Church of Speed itself: Monza. See you then.
Posted by: Wonderduck at 09:50 PM | No Comments | Add Comment
Post contains 792 words, total size 5 kb.
August 22, 2015
F1 Quals: Belgium 2015
Another day of blue skies and perfect weather at Spa-Francopants... something is obviously wrong with the environment if we can go two days without
rain
at this track. But how did the good F1 folk do on the track? Let's take a look at the provisional grid for the 2015 Grand Prix of Belgium:
Pos.
Driver
Team
Q1
Q2
Q3

1

Lewis

Hamilton

Mercedes

1:48.908

1:48.024

1:47.197

2

Nico

Rosberg

Mercedes

1:48.923

1:47.955

1:47.655

3

Valtteri

Bottas

Williams

1:49.026

1:49.044

1:48.537

4

Lettuce

Grosjean

Lotus

1:49.353

1:48.981

1:48.561

5

Sergio

Perez

Force India

1:49.006

1:48.792

1:48.599

6

Daniel

Ricciardo

Red Bull Racing

1:49.664

1:49.042

1:48.639

7

Felipe Not Nasr

Massa

Williams

1:49.688

1:48.806

1:48.685

8

Pastor

Maldonado

Lotus

1:49.568

1:48.956

1:48.754

9

Sebastian

Vettel

Ferrari

1:49.264

1:48.761

1:48.825

10

Carlos

Sainz

Toro Rosso

1:49.109

1:49.065

1:49.771

11

Nico

Hulkenberg

Force India

1:49.499

1:49.121




12

Kid

Kvyat

Red Bull Racing

1:49.469

1:49.228




13

Sony

Ericsson

Sauber

1:49.523

1:49.586




14

Kimi

Räikkönen

Ferrari

1:49.288

No Time




15

Embryo

Verstappen

Toro Rosso

1:49.831

No Time




16

Felipe Not Massa

Nasr

Sauber

1:49.952






17

Jenson

Button

McLaren

1:50.978






18

HWIFernando

AlonsoA

McLaren

1:51.420






19

Will

Stevens

Manor

1:52.948






20

Roberto

Merhi

Manor

1:53.099





Oh look, there's a Mercedes on pole... that's never happened before! And Lewis Hamilton is driving? I'm shocked I tell you, shocked.
Actually, the surprising thing is that Vettel is 9th after completely peeing a good final hot lap down his firesuit's leg at the final chicane. The other Ferrari never made it out of Q2 after having existential car failure. Everything else was basically as we've come to expect.
Except for one thing. The two McLarens have accomplished something never before seen in F1... between them, they've racked up 105 places worth of grid penalties for this race! Basically both cars have completely new power units in them, from transmission to ICE to batteries. As McLaren/Honda has pretty much used their allotment of component changes for the season, they knew this was going to happen no matter what they did. Then came the rule change at Hungary that said that if a car could not serve their grid penalties in one race, they just start last on the grid... previously they had to take time penalties as well. As McLaren was probably going to be starting towards the back anyway, why not take what realistically amounts to a two-spot penalty and change their engine every race from here on out? Give Honda more data to work with for the rest of this season-long test session?
I figure the other teams would have problems aplenty with that, but for now? Go for 100-spot penalties each, boys!
The race is tomorrow morning; I'll do my best to get something up tomorrow night... I'm having brunch with out-of-town family. See ya then!
Posted by: Wonderduck at 01:27 PM | Comments (2) | Add Comment
Post contains 473 words, total size 24 kb.
August 20, 2015
Wonderduck's Pond: The Livejournal Of Anime Blogs
Before I get into what friend
Brickmuppet
calls "banality", I will give you all a chance to head for the hills. As a thank you for dropping by, even if you don't want to read about My Life, allow me to post some cheesecakey-like-product in
the style of SDB
: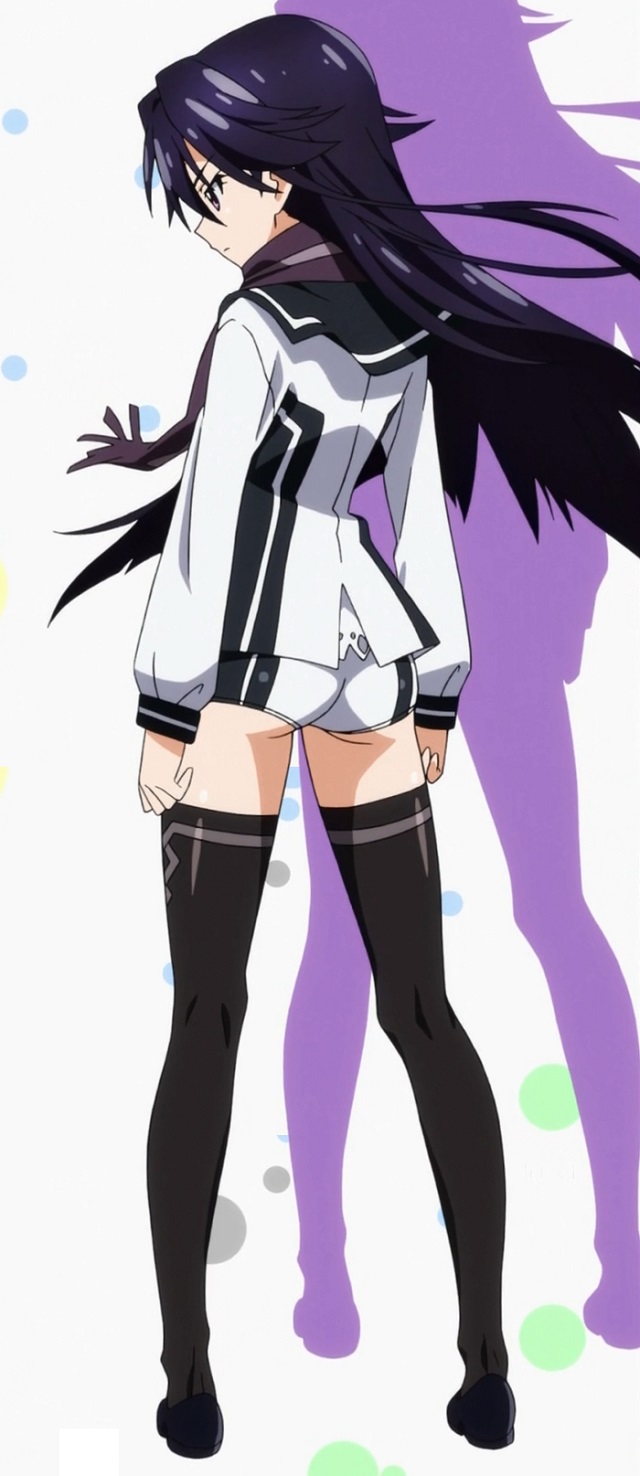 The real reason to watch
Vividred Operation
: Hot Dark Girl Rei and her kickarse scarf... and did I mention that, once upon a time,
I did an Episodic Writeup
of the show? I did, and you should go back and read them, because they're pretty good. Anyway, onto the banality!
more...
Posted by: Wonderduck at 11:59 PM | Comments (6) | Add Comment
Post contains 664 words, total size 4 kb.
August 18, 2015
Alive, But Only Just...
So, here's a little bit of what's going on in my corner of this big pond we call life!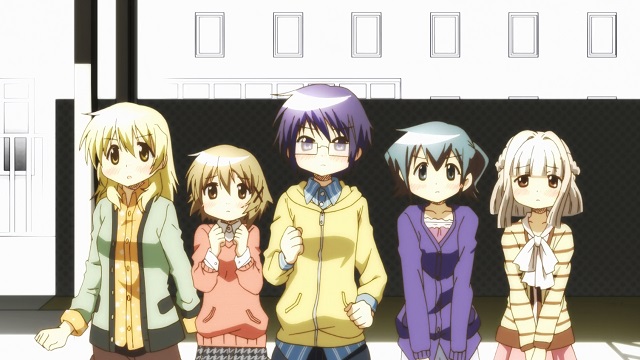 At work today, I noticed that a spot on my neck down around where it meets the front of my collarbone was feeling a little sore. No biggie, I recently got a new electric shaver (cheaper than blades!) and I've noticed a tendency for my skin to get a little irritated if I'm not careful... and it just so happens I shaved this morning. I have red hair and a rather thin beard, so I can get away with shaving once every two or three days easy, and I was in a hurry this morning, so I musta dug in a bit. Why is this important? Follow with me as I tell the tale, my friends!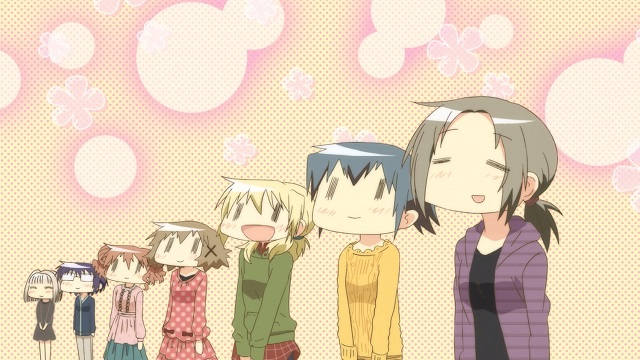 After work, I hopped in the DuckMobile and headed to my local laundromat. I'd been putting off doing it for much too long... indeed, far past much too long. Any reasonable being would have done laundry a couple of weeks ago. Unreasonable beings would have done it last week. And then there's me, but at least I was gonna do it today! I pulled in, pulled the two laundry totes from the trunk, winced at the smell of hot dirty laundry (it was roughly 85 and sunny today), and... discovered that I'm old. Holy crap, fifty-plus pounds of less-than-fresh duds were quite uncomfortable to drag, let alone carry. But I did, indeed, get them inside and into washing machines. Two hours and $17 in quarters later, it was finished. I broke the zipper on one of the totes, yayforme, and then I began dragging everything back to the DuckMobile.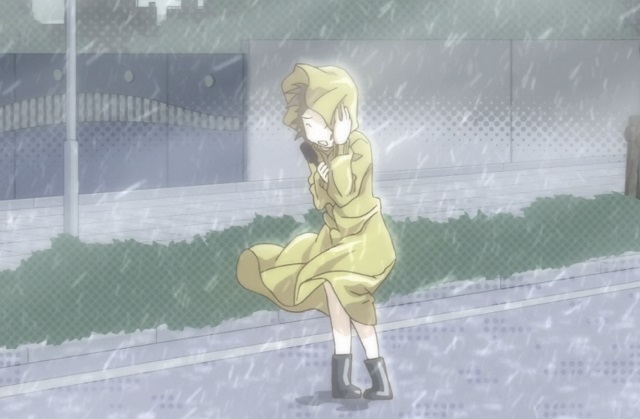 Did I mention that it was raining hard enough to make fish say "nah, too wet"? Because it was... and thunder, too! All that sort of good stuff was happening as I got my no-longer-as-dry-as-it-had-been laundry to the car. Of course, I was drenched by the time I closed the trunk and got into the driver's seat... and then it REALLY started to rain. The parking lot of Pond Central had a torrent of water in the gutter, and a helluva lot more was coming down to join it. I had two choices... 1) I could sit in the car until it stopped, which at the time seemed like sometime Thursday; or B) I could make the run with 50lbs of laundry from the car to the entry portal to the staircase leading to Pond Central. I chose B). I chose poorly. Once I was finally under cover, I was completely soaked... and the laundry totes were wet too, making it very important that I got into Pond Central fast. Did you know that hauling 50lbs of laundry up a good flight of stairs is quite the workout? Holy crap. I got inside without blowing an artery, quickly dumped everything out of the laundrybags, and got out of my wet clothes. It was then that I got a good look at my neck.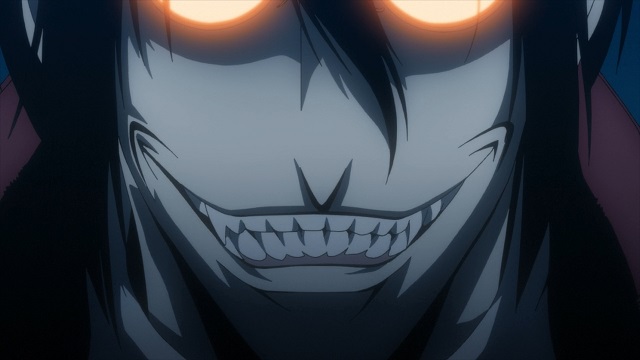 Holy crap. It may have started out as an irritated spot from my shaver, but it appeared that the collar of my undershirt was working on it all day. Then came the rain, and suddenly a WET collar was working on it. There wasn't any blood, but I'll be darned if I know why not... it looks like someone had taken a cheese grater to my neck! I'm gonna have to wear something loose-fitting tomorrow, that's for darn sure. But for now, I'm going to sit in my comfy chair, have something to eat, watch something mind-numbing, and relax a bit. Hopefully you've enjoyed this insight into the so-called life of Wonderduck, your humble host.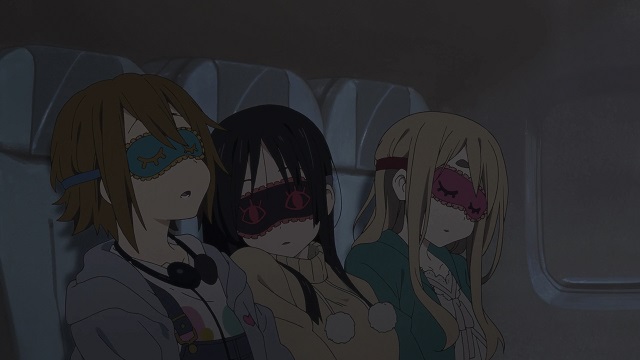 Oh.
Posted by: Wonderduck at 08:35 PM | Comments (4) | Add Comment
Post contains 627 words, total size 4 kb.
August 16, 2015
F1 on TV: Belgium 2015
So the summer break for the F1 Circus is coming to an end. The teams are putting their tents up, rebuilding the carnival rides, letting the efalumps out of their cages, and letting the clowns out of
their
cages. Meanwhile, the drivers are returning from their vacation locations... Jenson Button, for example, was in a villa in St Tropez during the break, and when thieves introduced knockout gas into the air conditioning they got about €300K worth of stuff. Lewis Hamilton was spotted canoodling with singer Rihanna in Barbados and New York. Kimi Raikkonen drank heavily, which means his break was business as usual. And Fernando Alonso
wore a hat
. But if we have to end our month-long slumber, there's no better place to do it than the track we head to now. Here's the map for the Grand Prix of Belgium, at Spa-Francopants:
It's legendary. It's fast as hell. It's the longest circuit on the calendar. It's steeply uphill from Turn 2 to Turn 4, then most of the rest of the lap from Turn 7 on is spent going downhill to Turn 17. And it usually rains. That's about all you need to know about Spa-Francoamerican, really. It's a lovely, lovely track, a true classic, one the Circus has been coming to for hundreds of years. They even raced here during WWII. It's true! In 1941, a Panzer III defeated two AMR 35s and a SOMUSA S35 in a rain-shortened race, and the 1944 race was won by a M22 Locust and a pair of M4s over German entries of a Panther, a new-model Panzer IV, and the very late entry of a Maus despite cold and snowy conditions.
I made that up.
In any case, it's the usual race schedule for us here in the US. Let us take a look at what the Legendary Announce Team will be bringing us and when:
FRIDAY
Practice 2: 7a - 830a live on NBCSN
SATURDAY
Quals: 7a - 830a live on CNBC
SUNDAY
2015 Grand Prix of Belgium: 630a - 9a live on NBCSN
As is usual, I'll be watching everything, with a quals report sometime Saturday and a F1U! sometime on Sunday... however, I'm having brunch with six family members on race day, so I have no idea when I'll be able to watch, let alone write. But we'll be here. Eventually. Look forward to it, won't you? And if you aren't going to look forward to it, don't tell me. Let me keep some of my illusions, 'k?
Posted by: Wonderduck at 02:04 PM | No Comments | Add Comment
Post contains 426 words, total size 3 kb.
August 14, 2015
8/14/1945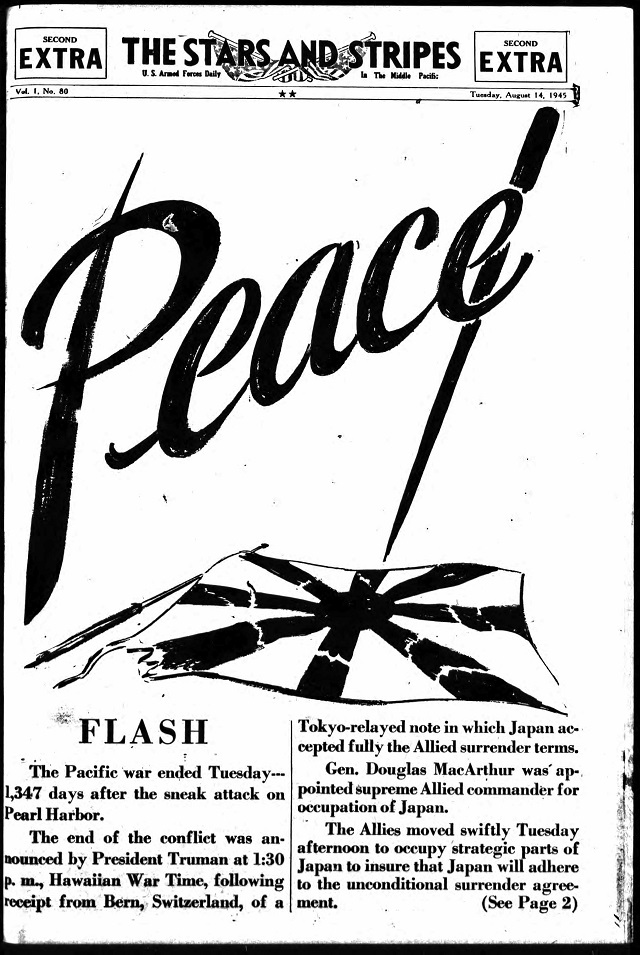 Posted by: Wonderduck at 06:32 PM | Comments (2) | Add Comment
Post contains 1 words, total size 1 kb.
August 12, 2015
Not Giving Up On Gakkou Gurashi
Though to be honest I probably should. Between work and life in general, I'm finding it difficult to crank out the writeups for
Gakkou Gurashi
... heck, I'm finding it difficult to generate the time to watch it, let alone spend the four hours-plus a good writeup takes.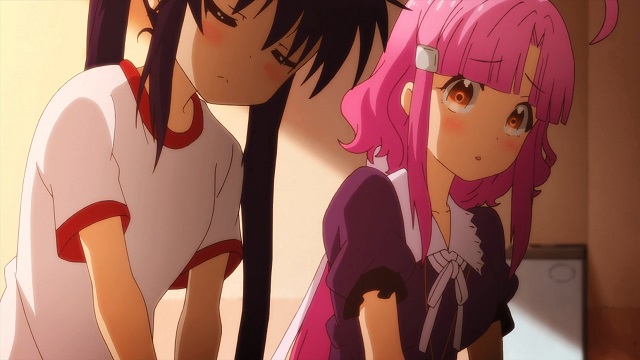 But I
want
to do this so very much. But, y'know:
the spirit is willing, but
.... Yeah, its kinda like that. It's a LOT like that. It IS like that. Once I get a handle on everything, I'd expect regular programming to return. I'm just not there yet.
The show's worth the effort, though.
Posted by: Wonderduck at 11:59 PM | Comments (7) | Add Comment
Post contains 107 words, total size 1 kb.
August 10, 2015
Random Anime Picture #100: Wha?
-Bubblegum Crisis 2040
, Ep08
I may have been the only person who actually liked
BGC2040
more than the original. Actually, I may have been the only person who actually liked
BGC2040
, period. That's okay, I can live with that. It's an exciting show, and the music is top-notch stuff if you like electro-industrial-post-punk-ishly. Which, as it turns out, I do. The animation still holds up too, despite being nearly 20 years old. And the character designs are a helluva lot nicer than the semigeneric '80s stylings of the original.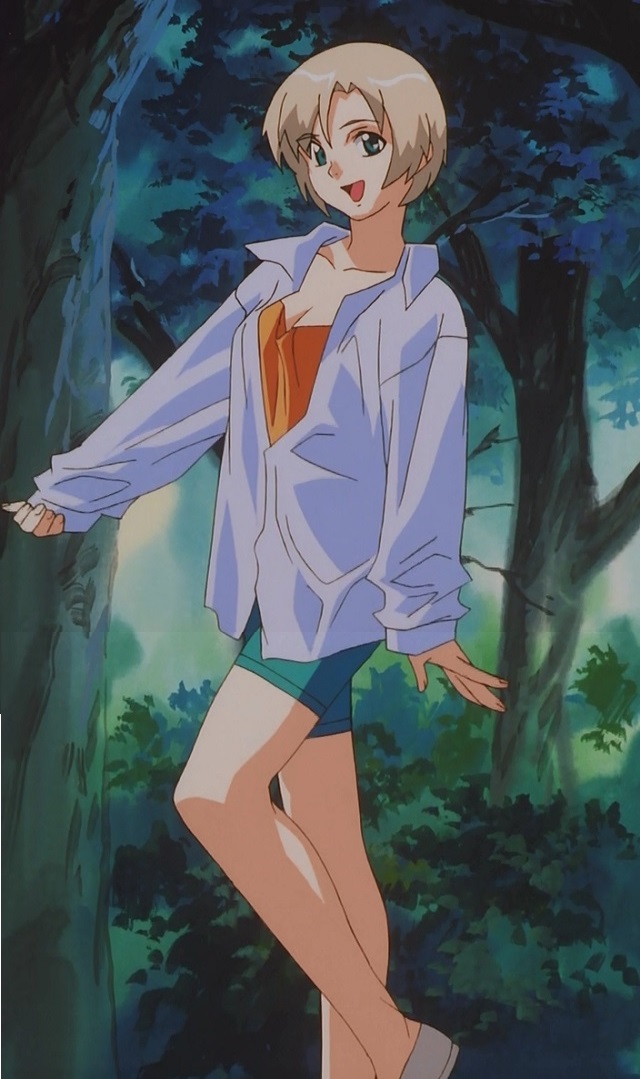 But maybe that's just me.
Posted by: Wonderduck at 11:09 PM | Comments (13) | Add Comment
Post contains 99 words, total size 1 kb.
August 08, 2015
Failing Twice
I've started two separate posts today. The first was a true story about a time I impressed a date with my singing ability, and the second a humorous attempt to ask if any of my readers had a spare mp3 player they weren't using. The first didn't...
couldn't
... capture the awesomeness of the moment, and the way I was going about the second just made me cringe (as does the need to ask). So I've written about 1000 words today that nobody will ever see, and I think that's for the best. So instead, I'm just going to post the music videos I was using in the posts because I like the songs.
Here's the one that I sang in an empty beer patio.
She knew I was a theatre guy, but she wasn't expecting me to have a singing voice. Or to use the entire area as my personal stage... Vauc, it was
the Olympic's
, if you're curious. In any case, it was a perfect night, and sometimes the heavens align just right. Vocal magic ensued.
The second one was this:
The room I work in has somewhere around 100 people in it, and the background noise of 100 keyboards alone is enough to drive someone mad. Earplugs don't work... all I can hear then is my own breathing, which is distracting as hell. Most people have mp3 players or some variant thereof, but I can't currently afford one that can shuffle. So if any of The Pond Scum has a spare mp3 player you're not using and would be willing to send me, let me know in comments. I'm ridiculously embarrassed to ask, but there you are. My brain does dredge up songs that it'll replay in memory, and this was one of them recently. So was this:
Some years ago, an argument was posted at one of them there news aggregate sites that
Eminence Front
was the quintessential '80s song. I disagreed, believing that Phil Collins'
In The Air Tonight
holds that title. But I listen to
Eminence Front
a helluva lot more.
Anyway, that's my story and I'm stickin' to it. If you're curious about the first story, I can try to make it interesting enough to post. If you're able to help out on the second, you'll have my undying gratitude. And if neither works out, at least you've got these songs.
Posted by: Wonderduck at 11:01 PM | Comments (17) | Add Comment
Post contains 399 words, total size 3 kb.
August 05, 2015
You Can't Get THAT Lucky...
I haven't forgotten about y'all. I know you're out there, looking for that Wonderduck Blend of entertainment and... um... y'know, stuff... that you've come to know and
love
enjoy
like
tolerate
not despise
experience. I wish I could be giving it to you more right now, but it's very hard to sit in front of a computer for 8-10 hours a day working, then come home and... sit in front of a computer for a couple of hours. I've found the two-or-three hour nap in the evening then up until 1or 2 in the morning works fairly well for me... but it does leave not as much time for blogging than I would wish for. Until I can get my speed up over there, I need to be rested and rarin' to go in the morning... I'm not to the point where I can go on autopilot yet.
So until then, bloggin' might be a bit more hither and yon than usual. Please forgive me, and I'll try to keep up with That There Zombie Show Writeups. And other stuff, too, when I can. As is, I've just gotten home from work and dinner with The Librarian, it's nigh on 9pm, and I need to get a nap. Because I'm old and crotchety and stuff like that.
Posted by: Wonderduck at 08:08 PM | Comments (6) | Add Comment
Post contains 222 words, total size 2 kb.
August 02, 2015
Gakkou Gurashi Ep02
Hello, hi, and how are you? A surprise shortage of work at work hied me home very early on Monday, so I thought what better way to celebrate not having to stare at a computer screen all day than by staring at a computer screen all day and being allegedly funny in the process? Some time back, I did a little
not-quite-a-writeup for Ep01
, and decided that if Ep02 kept the energy and interest up, I'd make it a full writeup series. It did, and I am! If you're not familiar with the show, read that there linky to Ep01... it'll give you the basics Or you can just be confused, one of the two. Now, a word of warning to y'all... I haven't read the manga, and I'm probably not going to anytime soon. What this means is that I am
not interested
in knowing what the manga does, says, doesn't do or say or hints at about characters, situations, or coming activities. If you feel a burning need to say something in the comments about future events,
don't
. This is a writeup of the anime series. Okay?
We cool
? Don't make me be a big awful meanie. I may be good at it, because I'm a rotten bastard at heart, but I don't like to be a big awful meanine. So lets put all that behind us and get on with the recappin'!
We open with lovely watercolor-like memories narrated by Kurumi, aka "Shovel Girl." She was the manager of the school's track team... not because she particularly liked running or jumping or throwing the discus or putting the shot or playing 47-man Squamish, but because she had a thing for a guy, one of the upperclassmen, on the team. Yes, it's an honest-to-gosh case of "
Notice me, Senpai!
"
And notice her he does. And why not? She's a lovely girl with twintails and she's clearly crazygonuts over him, and even though his hair covers his eyes and really he should get that trimmed a bit, he isn't blind. Late one afternoon, they're on the roof of the school...
...and he reaches for her. Ah, young love... ain't it swell? Even if you can't see his eyes through the thatch he calls hair. His parents have often said "you really should get that cut, Skippy," because that's his name: Skippy. "You look so much nicer with short hair. And you'd be able to read the blackboard better, it'd help your grades." But Skippy, being a rebellious teenager, and yes, even the Japanese have teenager problems, just keeps on growing his hair and saying "I'll live like I want." And right now, it appears that what he wants is Kurumi.
Specifically, her brains. I'll have you know that when Skippy's hand reached through the letterboxing, I actually jumped a little in my seat. I may also have whimpered like a sad puppy as well. The possibility even exists that I may have wet myself
a tiny bit
. I'm not proud of that, but
there you are
. And then ZombieSkippy eats her. The end.
more...
Posted by: Wonderduck at 11:59 PM | Comments (7) | Add Comment
Post contains 2499 words, total size 18 kb.
I'm A Little Peeved Right Now
I just lost about 2000 words for the
Gakkou Gurashi
Ep02 writeup. It was done. Complete. All I had to do was add one picture and my final thoughts, and it would be posted. Then my broadband connection died and when I tried to open the "paste picture" box the entire tab gave me the "session timed out" screen. Of course, when the internet came back, I went back to the edit screen and everything was gone. Every.
Stinkin'
.
Thing
. Three or four hours of work, vanished.
Did I save at any time? No, I was too busy having fun. I want to swear SO badly right now.
Posted by: Wonderduck at 01:44 AM | Comments (4) | Add Comment
Post contains 114 words, total size 1 kb.
130kb generated in CPU 0.043, elapsed 0.43 seconds.
57 queries taking 0.3999 seconds, 384 records returned.
Powered by Minx 1.1.6c-pink.