October 30, 2011
F1 Update!: India 2011
A hot, smoggy day greeted the F1 Circus as they formed up on the Buddh International Circuit's grid. Would polesitter Seb Vettel continue his domination of the year, or would he let his teammate by in an attempt to get him second place in the driver's championship? Or would the Ferraris and McLarens make the question moot? THIS is
your
F1U! for the inaugural Grand Prix of India!
*EVERYTHING NEW IS OLD AGAIN
: Once the lights went out and the race began, it was exactly like most of the previous races this season. Seb Vettel got a good start, pulled away and never looked back. At the end of Lap 1, his lead was 1.3 seconds and nobody ever got any closer. By the end of Lap 8, it was over 8 seconds.
*BLUNDERING HERD
: The first turn saw a shower of carbon fiber, front wings and bodywork like we haven't seen all season. Five cars had various degrees of damage as the back half of the field approached the braking zone, and a sixth, the Lotus of Jarno Trulli went for a spin in Turn 3, provoked by a nudge from behind. We here at F1U! aren't exactly sure just why such carnage occurred today as the first turn is plenty wide, but there it is. It was entertaining, if nothing else.
*THE TRACK
: In another era, it's clear that the Buddh International Circuit would be another processional circuit. However, with two DRS zones and KERS, there was some fun racing back in the midpack. Hermann Tilke got lucky with this one. As long as the rules stay the way they are, India will be a race to look forward to. That long long looooooong straightaway looks like it has the ability to kill a powertrain, however. Two cars suffered failures as they ran down the 4000' length of tarmac: one dead gearbox and one blown engine. The curbs also reached up and broke Felipe Massa's suspension again, though this time the left front.
*DRIVER OF THE RACE
: Seb Vettel led his 711th lap of the season today. Not only is that a record, it's also more laps than Jenson Button has led in his entire career... and yes, that includes his 2009 Championship season. More than that, Vettel today earned himself a rare F1 Grand Slam. He won from pole position, led every lap, and set fast lap of the race. In a season of great drives from the young German, this was probably his best.
*TEAM OF THE RACE
: McLaren clinched second place in the Constructor's Championship with the combination of Jenson Button's second-place finish and Lewis Hamilton's 7th. In a year that was so dominated by one team, that's quite the accomplishment for the team from Woking.
*MOVE OF THE RACE
: Not always do the best moves of a race happen up towards the front of the field, and today was a perfect example of that fact. On Lap 14, the surging Toro Rosso of DJ Squire was hunting down the hometown Force India of Adrian Sutil. When the two cars crossed the DRS detection marker before the long straight, DJ Squire was about a half-second back. Opening the flap on the rear wing let the Toro Rosso pull close, but it didn't really seem like he had the speed to make the pass as they approached the braking zone.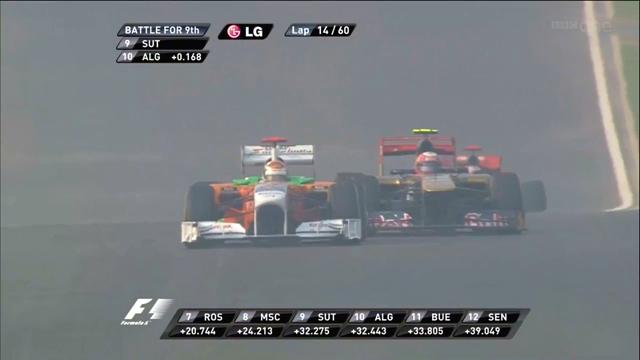 Despite what
we
thought, DJ Squire pulled his steed to the
outside
of the Force India and held off on the braking for as long as he could.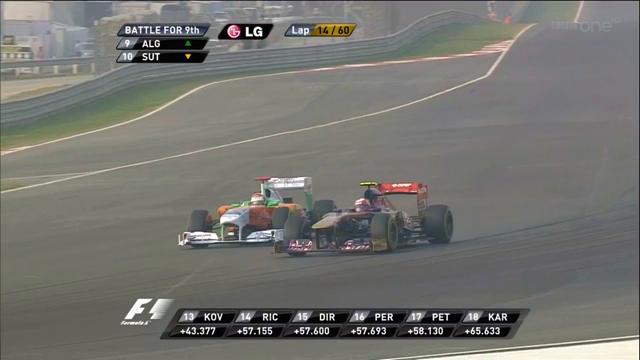 Keeping the Toro Rosso under control into the fast sweep, DJ Squire just barely managed to pull ahead of the Force India, forcing Adrian Sutil to back down.
While it was only for 9th place, it was still an impressive move, and without a doubt the best of the day. It just wasn't as... exciting as some have been. This isn't a negative.
*MOOOOOOOO-OOOOVE OF THE RACE
: Because "exciting" is exactly what you don't want when you're making a pass at 150mph On Lap 24, McLaren's Lewis Hamilton had the Ferrari of Felipe Massa right where he wanted it. That the two of them had made contact five previous times this season probably should have given Hamilton some pause, but heading into Turn 5 he still had some KERS juice remaining while Massa did not. He used it and tried to get underneath the red car...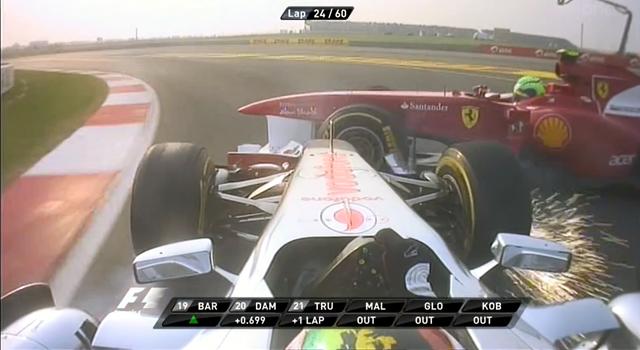 ...and Massa tried to guillotine the McLaren, which had his front tires in front of the Ferrari's rears. Massa went for a slide and a spin, Hamilton went to the pits for a new nose. Massa was later given a drive-through penalty for his rather bovine attempt to keep Hamilton behind him, and his later suspension failure seemed like a case of just desserts. Congratulations, Felipe, this Mooooooo-ooove's all yours.
*SELECTED DRIVER QUOTES OF THE RACE
:
"I set a record for most laps led, and took it from Nigel Mansell? I didn't know there were any records left that didn't belong to Slappy!" - Seb Vettel (
note: real quote
)
"We did everything right today and still couldn't catch Red Bull. That's not depressing in the least, no." - Jenson Button
"On one hand, I'm on the podium for the first race in India. On the other, we have to be brutally fortunate to get here, because both Red Bulls and both McLarens are better than us. At least Abu Dhabi has Ferrari World." - HWMNBN
"(throws up hands, stalks off)" - Mark Webber
"How does one say 'hot damn' in Hindu?" - Slappy Schumacher
"Thanks to the pitstop guys, I lost fifth place to my own teammate. Gosh, I love it when that happens." - Nico Rosberg
"It was just a racing incident. It wasn't my fault, though." - Lewis Hamilton
"Is that my first MotR? Really?" - DJ Squire
"I hope Vijay (Mallya) has a smile on his face tonight." - Adrian Sutil (
note: real quote
)
"I have nothing to say that is either relevant or true." - Sergio Perez
"Me too." - The Red Menace
"*twitch twitch twitch*" - Bruno Senna (
note: Senna made a nigh-miraculous save that saw him get on the grass on the right side off the track, fishtail all the way to the other side of the track, then get sideways... and he still kept the car under control. Great catch, but probably a little nerve-wracking
)
"My strategy was to hope for a safety car. And a better engine. And more downforce. And a pony." - Paul di Resta
"I was running in the points. It's coming, people, it's coming." - Heikki Kovaleinninninnie
"My race basically ended in Turn 1 when my nose got chopped off. My career ended about half-a-season ago." - Rubens Barrichello
"Will someone please just shoot this car, put it out of our misery?" - Custard d'Ambrosio
"I am the first Indian driver ever to finish the Indian Grand Prix. I'm taking all the grid girls home with me tonight, if you know what I mean." - Narain Kittylitter
"I drive for HRT. I'm taking nobody home with me tonight." - Daniel Ricciardo
"The bad luck struck again. The bad luck always strikes me. I wonder why that is." - Jarno Trulli
"I do not share the opinion of the Stewards." - Felipe Massa (
note: real quote
)
"Lump go boom!" - Seb Buemi
"Gearbox go
grnrnrnnrnrnrendngnrnrnremmnrblenbbrbrbbrr
!" - Pastor Maldonado
"Well. That was short." - Tim O'Glockenspiel
"Shadowfax is on fire! AIEEEEEEEEEEEEEEEEEEEEE!" - Kamui Kobayashi
That's it for India! In two weeks, we will find ourselves in Abu Dhabi for the penultimate race of the season... can anybody beat Vettel? Is there any point? We'll see you then!
Posted by: Wonderduck at 05:42 PM | No Comments | Add Comment
Post contains 1289 words, total size 9 kb.
Comments are disabled. Post is locked.
29kb generated in CPU 0.0225, elapsed 0.1167 seconds.
45 queries taking 0.1034 seconds, 275 records returned.
Powered by Minx 1.1.6c-pink.