May 19, 2018
Idol Threats
One thing I've been able to do while I've been... um... hobbled, is watch anime. Take the laptop into the bedroom, set up a
book holder
on the bedside printer stand (what, you don't have a bedside printer stand?), open the laptop, put it on the holder, and voila! Anime viewing station, perfectly angled for me to see the screen while in bed (I have a low bed).
What I've mainly been watching is
Love Live Sunshine!!
, the second installment of the
Love Live
idol-fantasy franchise. I've gotta admit: I'm enjoying the hell out of it. Well, duh, it's Cute Girls Doing Cute Things In Cute Ways While Wearing Cute Costumes (CGDCTICWWWCC?), of
course
I'd like it!
The one complaint I have, however, is that almost all the songs being sung by our heroes sound alike. It's always the same themes: "shining", togetherness, happy, etc etc... very Up With People, if you're old enough to get that reference. I mean, sure, that's all fine and dandy, and the music is done well, but it got dull. That is, until Ep08 of the first season. That's when these two show up:
I freely admit to groaning when we first meet them... it was obvious as hell that the Production Staff intended them to be The Great Nemesis, the "final boss" our heroes would have to defeat to win the competition and save their school. I didn't want that... the series was perfectly fine without an ArchEnemy to worry about. And then...
...I didn't care anymore, if it meant we'd get more music like "Self Control." I'm very near the end of the series... I just finished the 20th episode last night... and
their first performance is still the best "in concert" in the show
. It goes without saying that the song is in heavy rotation on my mp3 player. Calling it a huge (but pleasant) surprise goes without saying, but a greatly welcome one.
Posted by: Wonderduck at 08:28 AM | Comments (4) | Add Comment
Post contains 325 words, total size 3 kb.
May 15, 2018
Until Further Notice
Due to ongoing joint problems vis a vis my hip, I'm really unable to spend enough time in front of my computer at home to do writeups. I'm working on that, of course, but right now it just hurts too much to spend the two hours or so it takes.
A doctor's appointment is a week from friday... it would have been sooner, but he's on vacation... so hopefully that'll shake something loose.
Of course, if something big occurs, I'll show up to pontificate... I'm still a fan, after all. Oh, and Spain was a Lewis Hamilton Special... he ran away and hid for the entire race. Never any doubt in my mind, that's for sure.
Posted by: Wonderduck at 11:00 PM | Comments (2) | Add Comment
Post contains 119 words, total size 1 kb.
Figure Foto Test Thwee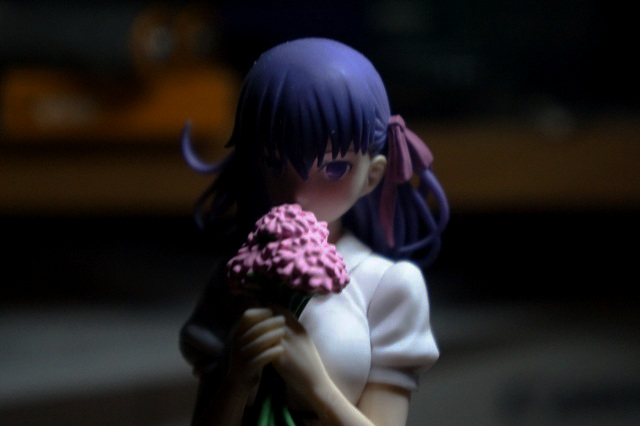 Sometimes, simple is best.
Posted by: Wonderduck at 07:36 AM | Comments (4) | Add Comment
Post contains 8 words, total size 1 kb.
May 12, 2018
F1 Quals: Spain 2018
A threat of rain hung over the circuit as the clock began its countdown on "GoFast Day" at Barcalounger. It never came, but the qualifying result was interesting nevertheless... here's the provisional grid for the 2018 Grand Prix of Spain:
| Pos | Driver | Car | Q1 | Q2 | Q3 |
| --- | --- | --- | --- | --- | --- |
| 1 | Lewis Hamilton | Mercedes | 1:17.633 | 1:17.166 | 1:16.173 |
| 2 | Valtteri Bottas | Mercedes | 1:17.674 | 1:17.111 | 1:16.213 |
| 3 | Sebastian Vettel | Ferrari | 1:17.031 | 1:16.802 | 1:16.305 |
| 4 | Kimi Räikkönen | Ferrari | 1:17.483 | 1:17.071 | 1:16.612 |
| 5 | DH Verstappen | Red Bull Racing | 1:17.411 | 1:17.266 | 1:16.816 |
| 6 | Smiley Ricciardo | Red Bull Racing | 1:17.623 | 1:17.638 | 1:16.818 |
| 7 | DP Magnussen | Haas Ferrari | 1:18.169 | 1:17.618 | 1:17.676 |
| 8 | Fernando Alonso | McLaren Renault | 1:18.276 | 1:18.100 | 1:17.721 |
| 9 | Carlos Sainz | Renault | 1:18.480 | 1:17.803 | 1:17.790 |
| 10 | Lettuce Grosjean | Haas Ferrari | 1:18.305 | 1:17.699 | 1:17.835 |
| 11 | Stoffelwaffle | McLaren Renault | 1:18.885 | 1:18.323 | |
| 12 | Pierre Ghastly | Toro Rosso Honda | 1:18.550 | 1:18.463 | |
| 13 | False Esteban! | Force India Mercedes | 1:18.813 | 1:18.696 | |
| 14 | Charles AMX-30 | Sauber Ferrari | 1:18.661 | 1:18.910 | |
| 15 | Sergio Perez | Force India Mercedes | 1:18.740 | 1:19.098 | |
| 16 | Nico Hulkenberg | Renault | 1:18.923 | | |
| 17 | Sony Ericsson | Sauber Ferrari | 1:19.493 | | |
| 18 | Sergey, Sir Otkin | Williams Mercedes | 1:19.695 | | |
| 19 | Pleasant Stroll | Williams Mercedes | 1:20.225 | | |
You'll note only 19 cars listed. The 20th, Brendan Hartley's Toro Rosso, had a unfortunate vehicle/barrier interface right at the end of Practice 3 and the team could not get the car back together in time for Quals.
To be fair, the rear of the car was still attached until the workers picked it up.
THEN
it fell off.
I'm not entirely sure how the two Mercs ended up on the front row, since at no time during the practice sessions or the other two Qualy periods did they look faster than the Ferraris. Well, that and my DVR timed out with two minutes left in the session. Apparently ESPN does not designate Formula 1 as "sports", thus not activating the automatic "extra hour" mode on my DVR. Anyway, I've not seen the final runs of Q3 because of that. I'm not gonna go out of my way to find 'em, either. I'm grumpy that way.
So, an interesting grid for Sunday's race... let's see how it goes!
Posted by: Wonderduck at 02:40 PM | Comments (1) | Add Comment
Post contains 356 words, total size 15 kb.
May 11, 2018
F1 on ESPN2: Spain 2018
Finally, the Thundering Herd makes its way back to Europe and the
real
start of the F1 season. This is when the teams begin to debut new parts, new wings, etc etc etc, so in theory we could have completely different results from the flyaway races.
Don't count on it, though. Here's the track map for the 2018 Grand Prix of Spain.

That's just the way it is, somethings will never change. Spain. Spain never changes. Though they did resurface the track since last year so grip issues will be a possibility. Or not. It's hard to tell with these new cars.
We'll find out though... starting Saturday!
Practice 3: 5a - 630a live on ESPN2
Quals: 8a - 930a live on ESPN2
2018 Grand Prix of Spain: 730a - 10a live on ESPN 2
Hopefully I'll have coverage afterwards. See ya then!
Posted by: Wonderduck at 02:02 AM | No Comments | Add Comment
Post contains 150 words, total size 1 kb.
May 09, 2018
Still With Us
I'm still alive, still kicking. Compy chair is still killing me, despite memory foam pillow and another pad to boot. It's taking a toll on me, though. Broke down twice at work yesterday... went on my lunch break intending to take a nap, and just couldn't get comfortable no matter what I did.
Hope to get the broadcast schedule up tonight.
Posted by: Wonderduck at 07:28 AM | Comments (3) | Add Comment
Post contains 64 words, total size 1 kb.
May 06, 2018
It Was 20 Years Ago Today...
It was May 6th, 1998, and a younger Wonderduck is running a RadioShanty somewhere in Duckford. This particular store had a DirectTV dish on the roof for demo purposes, and while it usually had the "attraction channel" running, it could also pick up WGN out of Chicago. So, at 1pm I clicked over to watch the Cubs take on the Houston Astros, the team leading the National League in hitting/offense. The Cubbies had a rookie taking the mound in only his fifth major-league start... some kid named Kerry Wood.
His first pitch was a rising fastball that clonked off the umpire's mask... maybe not the most auspicious way to begin a game. And then...?
The 20 strikeouts tied the major league record for a 9 inning game. By Bill James'
game score
metric, this was the best pitched game ever.
And it wasn't even close. Wood had a near-100mph fastball, but it was his curveball that was his out pitch. Watch the last pitch he throws, to then batting average leader Derek Bell. It would have broken the shin of anybody in the left-handed batter's box... but it starts out belt-high, center of the plate. Bell couldn't
not
swing at it, but he also couldn't
not
miss it.
20 years.
Edit
: Shortly after I posted this, the weekly baseball show "Hit and Run" on the sports-talk station I listen to devoted most of their four hours to The Game. Along the way, they mentioned a story I'd never heard before.
Astros second baseman and Hall of Famer Craig Biggio was one of two men to reach base in the game, getting hit by a pitch in the 6th inning. Once he trotted down to first, he said to Cubs first baseman Mark Grace while gesturing towards Wood "Thank him for me."
This is a guy who hit .325 that season, with 210 hits, 51 doubles, 20 homers, and 50 stolen bases... and he knew that he couldn't touch Kerry Wood that day.
Posted by: Wonderduck at 08:23 AM | Comments (1) | Add Comment
Post contains 338 words, total size 2 kb.
May 02, 2018
Mmmm... DRUGS!
So I was given two different drugs to help deal with my hip: a painkiller and a muscle relaxant. The painkiller isn't so much of a much, to be honest.
But oh my giddy aunt is the muscle relaxant the greatest thing ever! Took a half-pill at 11pm, and slept until 530a. Only hydraulic pressure got me out of that bed, and I immediately returned to it ASAP. My alarm went off a couple of hours later and I kept resetting it.
Finally, I just gave up and texted my boss: "I'm calling in... this muscle relaxer is GREAT." Her reply was "LOL see you thursday."
It may not be the greatest job ever, but my boss is pretty cool.
Posted by: Wonderduck at 10:31 PM | Comments (2) | Add Comment
Post contains 122 words, total size 1 kb.
May 01, 2018
Hip To Be Square
Monday morning dawned bright and new, a beautiful way to start a week! I had spent as much time as possible either in bed or in my "comfy" chair, attempting to take it easy on my hip. It seemed to have an effect too, as moving around Pond Central caused no problems, no flareups, nothing like that. I had no way of knowing that five hours later, I'd be sobbing in the break room at work, the pain having become too unbearable for anything else.
This morning I hauled myself out to the car and right to the nearby immediate care facility. Once the doc came in and palpitated my thigh and hip, looking for sore spots... prod prod prod YEOWTCH prod prod prod... she put me in the hands of the x-ray techs, Torquemada and Vlad Tepes.
The angles they wanted me to put my hip into were... hell, I might not have been able to do them even when my hip DIDN'T hurt. And all of it on a hard, flat table that made my back scream. I don't think they were enjoying themselves, but I can't be sure.
Finally, the doc came in with the results: the x-rays were all consistent for arthritis and small bone spurs. Which was about the worst answer they could have given, because that doesn't go away. So I'm stuck with this for now. Whee.
Posted by: Wonderduck at 08:05 PM | Comments (1) | Add Comment
Post contains 237 words, total size 1 kb.
59kb generated in CPU 0.05, elapsed 0.1523 seconds.
53 queries taking 0.12 seconds, 264 records returned.
Powered by Minx 1.1.6c-pink.