June 25, 2017
F1 Update!: Azerbaijan 2017
A sunny, warm, slightly breezy day greeted the F1 circus as it sat on the starting grid in downtown Baku. Last year's race was remarkable for its lack of anything remarkable... indeed, it was pretty much the worst race of the 2016 season... but that seemed to be because nobody had the slightest idea how to race Baku then. Now that the teams had a year's worth of data, everybody expected something a little more exciting. The best part was that the two title contenders, Mercedes' Lewis Hamilton and Ferrari's Seb Vettel, were again up towards the front of the grid and looked set for a day-long fight. So was 2017 better than 2016? THIS is
your
F1 Update! for the 2017 Grand Prix of Azerbaijan!
*LIGHTS OUT... HOLD ON!
: Upon the extinguishment of the pentuple cardinal illuminations, thus signifying the commencement of proceedings, the assembled vehicles began their charge towards the first turn. A very short charge, as the run to Turn 1 is very literally the shortest on the F1 calendar. As they approached the corner, Hamilton led his teammate Valterri Bottas, who was followed closely by fellow Finn Kimi Raikkonen's Ferrari, and Vettel was behind him. By the time Vettel completed the second turn, he was in second. Bottas and Raikkonen had had a coming together, one that saw the Mercedes have to limp around the entire 3.7 mile long track with a ruined tire and the other Finn drop to fifth after surviving an almighty thumping, being bounced from Merc to wall. By the time Bottas made it back to the pits, he was already a lap down and out of contention for the day. Meanwhile, Toro Rosso's Kid Kvyat went off at the outside of Turn 1 and rejoined... right where his teammate Carlos Sainz was located. Sainz chose the better part of valor and jerked his car hard to the left, putting it into a self-inflicted spin. Meanwhile, somewhere along the way Embryo Verstappen had called the pit wall, saying that he had some damage. And thus ended a rather frantic first lap.
*THAT DIDN'T TAKE LONG AT ALL
: On Lap 6, Smiley Ricciardo brought his Red Bull in for a tire change... and, as it turned out, a brake problem. He had somehow managed to suck up some debris into a cooling duct, sending brake temps rocketing into the stratosphere. He would rejoin the race in 17th position, out of contention for the day. And then we saw the image of Kid Kvyat pulling to the side of the circuit, the electronics on his Toro Rosso having completely packed up and gone on holiday. At Monaco, this wouldn't have been much of a much at all... just hook it up to a crane and lift it out of the way. The topography of the Baku circuit, however, doesn't allow for cranes to be presited around the circuit... or indeed, located anywhere near the track. A Safety Car had to be called so the track workers could recover the broken vehicle. And this is where the trouble began...
*BUCKLE UP, TROUBLE'S A-BREWIN'!
: This Safety Car period lasted for six laps, an eternity in F1 terms, particularly when you take into account the 3.7 mile length of the circuit. After about one lap, leader Lewis Hamilton began to complain about the driver of the Safety Car going too slowly. This was causing the tires and brakes to lose their heat and thus function poorly... and as we know from past races, the Pirelli tires are notoriously hard to bring up to race temperatures. Meanwhile, the Mercedes pit wall reminded Hamilton that he had to stay a certain distance behind Berndt Maylander at all times, as he had been coming rather close to the rear of the car while trying to heat up the tires and get extra cooling air into his radiators. And then it happened... the moment that defined the race, and perhaps the entire 2017 season.
*SAFETY CARS CAUSE SAFETY CARS
: Eventually, the Safety Car returned to its nest on pit lane and the race restarted. For aa single lap everything seemed okay... until one realized that there was still a crapload of debris located on the circuit from various incidents... and most of it located right where a car would collect it. A second Safety Car was called for so the track workers could get debris off the circuit. To be fair, there was a lot of junk out there... you probably could have glued it together and come up with a Sauber, which is, I think, how the team made their cars this year... and a SC
was
warranted. And then it happened... the moment that defined the race, and perhaps the entire 2017 season.
*RUBBIN'

AIN'T

RACIN', NOT IN F1 IT AIN'T
: Seb Vettel ran into the back of Hamilton as they came out of a turn. While telemetry has shown that Hamilton had not slowed down any more than he had been, Vettel began screaming on the radio that the Mercedes driver had brake-checked him. The Ferrari suffered some damage to its front wing, the Merc some damage to its rear diffuser. Appropriately enough, the "red mist" came over Vettel and he surged alongside Hamilton to express his displeasure with some heated gesticulations involving both hands, perhaps an elbow, and some harsh words. He then banged wheels with the Merc before settling back into his following position, leading everybody watching to wonder if they really had just seen what had happened. Shortly thereafter, the SC made its way back to the pit lane so Maylander could go back to sleep and the race resumed.
*RED FLAG
: Then the two Force India drivers, never great pals to begin with, had a coming together in Turn 2. False Esteban! attempted a... let's call it "aggressive"... pass, which worked in that he moved ahead of his teammate Sergio Perez. In doing so, however, he suffered a cut rear tire and Perez lost a front wing and some other damage from being shoved into the wall. At the time this occurred, the two pink cars were in fourth and fifth and Perez in particular was making a great showing. He had been hanging with the two leaders and occasionally threatening Vettel's hold on second. Just keep that in mind as you read the rest of this F1U!. Then Kimi Raikkonen ran over something that simply killed his right-rear tire. As he made his way back to the pits, the carcass began flailing away at the rear of his car, eventually destroying the right endplate of his rear wing altogether. At this point, race control threw up its hands, said "screw it", and threw the red flag, stopping the race entirely.
*GOINGS ON
: The red flag period lasted for some 25 minutes. During this time, both Ferrari and Force India brought their damaged cars into the pit boxes to do repairs, while the rest of the cars formed up in the pit lane itself. Hamilton got out of his car to examine the damage he had suffered when Vettel bonked him in the rear, Vettel got a new nose, everybody else got whatever minor damage they could get fixed fixed, and unsurprisingly it was announced that the Stewards were looking into the Hamilton/Vettel incident. Once the red flag period was over, the cars took to the circuit once again. Hamilton was in first, followed by Vettel, then the two Williams' of Felipe Not Retired Massa and Pleasant Stroll, then in something of a surprise, Smiley Ricciardo, apparently back from the dead. The two safety car periods had been something of a blessing for him, as he just stayed out on track... he had already stopped for tires back on Lap 6 when he had his brake cooling problem.... and thus got free place after free place as other drivers pitted under the safety car. Further down, Valterri Bottas was in 13th place and on the lead lap again, thanks to some arcane rules involving the Safety Car.
*RESTART, RELAX... REALLY?
: Once the race restarted, Ricciardo jumped both Williams drivers into Turn 1 in a truly impressive display of late braking and car control, taking third place. A couple of laps later, Massa retired with a damper broken in an unrelated incident, promoting Pleasant Stroll to fourth. Up in first place, though, things were not going well. It became clear that Hamilton was having problems with the cockpit headrest. As he raced along the long long straight that finishes a lap at Baku, the foam U-shaped headrest that lines the side and back of the cockpit began to lift up. Hamilton could push it back down, sort of , but it would immediately begin to rise again as he accelerated. The team was forced to call him into the pits to get that fixed before Race Director Charlie Whiting black-flagged him. It appears that when Hamilton returned to his car after the red flag period, the team neglected to fasten the headrest. In doing so, they probably cost themselves a win. The stop took a little over 10 seconds, and he rejoined the race in ninth.
*OH, YOU KNOW
: A few laps later, the Stewards decision about the Vettel/Hamilton incident was announced: the Ferrari driver would be given a 10-second stop/go penalty for unsafe driving, to be served immediately. On the radio, Vettel was incredulous: "when did I do dangerous driving???" Around the world, millions upon millions of viewers scoffed and rolled their eyes as one. Still, Vettel complied, giving up the lead. He returned to the race in seventh, one position ahead of Lewis Hamilton, who immediately called race control to complain that "a 10-second penalty isn't enough for what (Vettel) did."
*TO THE END
: Thus on Lap 40 we had a top three of Smiley Ricciardo in the lead (having been in 17th place earlier in the race), followed five seconds later by Pleasant Stroll (who is 18 years, 8 months old... we here at F1U! have shoes and jackets older than Stroll), then came Bottas (who was at one time a lap down) 12 seconds behind Stroll for third. This is the way the race went until the final lap, though Bottas was slowly reeling in the Williams. It seemed unlikely, however, that the Finn could make the leap to second.
*LAST LAP
: For much of the final lap, that prediction was pretty clearly correct. Bottas was still managing to make a little bit of headway here and there, but nowhere near enough. Entering the final stretch, Bottas was about one second adrift of Stroll and his Mercedes-powered Williams... and this is when Bottas flipped a switch that engaged "qualifying mode" in his power unit. You can't go a whole race in qualifying mode, the p.u. would die a horrible death within a dozen laps. However, with a little over a mile to go? No problem. Bottas began to close the gap to Stroll, but he'd still have to pass the teenager... and then came the DRS detection zone. Bottas was within one second of Stroll... who was eight seconds behind Ricciardo. Oops. A few hundred feet later, the DRS slot opened in Bottas' rear wing and the gap to the Williams dropped appallingly fast... and then the Mercedes was past, taking second place by about a car length. And thus ended quite the remarkable race.
*OH, BTW...
: The Force Indias were faster than the Red Bull and the Williams today. When Perez and False Esteban! had their coming together, both were ahead of Smiley Ricciardo. We're not sayin', but we're just sayin'.
*APRES-RACE
: In post-race interviews, Hamilton refused to spare anybody's feelings, calling Vettel a "disgrace. He also said that if the German had a problem with him, the two should "settle it like men, face-to-face." For his part, Vettel refused to acknowledge that he did anything wrong, blaming the incident entirely on Hamilton's "brake-checking". Mark our words: this is not the end of the situation, not by a long shot.
The next race is in two weeks, at the RedBull-Ring in Austria. See ya there!!!
Posted by: Wonderduck at 11:59 PM | Comments (5) | Add Comment
Post contains 2029 words, total size 13 kb.
Random Anime Pictures #129: While We're Waiting...
Over at Reddit today, I was involved in a little slice of funny. The Original Poster (OP) put up a very cute picture of a sugar glider in a box of fruit snacks. Of course, this being Reddit we're talking about here, someone berated OP for being "cruel to this rodent" for the sake of electronic approval points. Which is where I came in:
OP
: "This isn't a rodent it's a sugar glider which is a marsupial. Also it's a joke people!"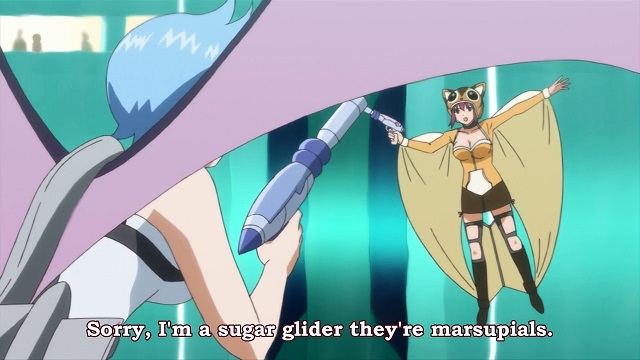 Today... today was a
good
day.
Posted by: Wonderduck at 08:29 PM | Comments (1) | Add Comment
Post contains 100 words, total size 1 kb.
June 24, 2017
F1 Quals: Azerbaijan 2017
Just for the record? "Azerbaijan" does not in fact flow smoothly from the fingertips when typing. But you're not here to hear me whine about typing "Azerbaijan", you're here to find out who went the fastest around the track in preparation for the 2017 Grand Prix of Azerbaijan, and by how much Lewis Hamilton is on pole by. Here's the provisional grid:
Pos

Driver
Q1
Q2
Q3

1

Mercedes

1:41.983

1:41.275

1:40.593

2

Mercedes

1:43.026

1:41.502

1:41.027

3

Ferrari

1:42.678

1:42.090

1:41.693

4

Ferrari

1:42.952

1:41.911

1:41.841

5

Red Bull Racing


1:42.544

1:41.961

1:41.879

6

Force India Mercedes

1:43.162

1:42.467

1:42.111

7

Force India Mercedes

1:43.051

1:42.751

1:42.186

8

Williams Mercedes

1:43.613

1:42.284

1:42.753

9

Not Retired
Williams Mercedes

1:43.165

1:42.735

1:42.798

10

Red Bull Racing


1:42.857

1:42.215

1:43.414

11

Toro Rosso

1:42.927

1:43.186




12

Toro Rosso

1:43.489

1:43.347




13

Haas Ferrari

1:44.029

1:43.796




14

Renault

1:43.930

1:44.267




15

's Wager
Sauber Ferrari

1:44.317

1:44.603




16

McLaren Honda

1:44.334






17

Haas Ferrari

1:44.468






18

Sauber Ferrari

1:44.795






19

McLaren Honda

1:45.030





It was actually a little tense in Q3, at least for a little while. It was looking like Bottas had managed the trick against his teammate, particularly when one considered that the session had been stopped for 10 minutes or so after Smiley Ricciardo stuffed his car into the walls at Turn 6. The session was red flagged, which meant all the tire heat went away... and it's notoriously difficult for the Mercedes chassis to get them warm in the first place. Didn't matter. Hamilton pulled out a lap around Baku that will probably go down as one of the most impressive pole runs ever. He ended up with nearly a half-second advantage to his teammate in second, and over a full second to Kimi Raikkonen's Ferrari in third place. Insane. This pole also moves Hamilton to second place all-time in career poles with 66... one ahead of Ayrton Senna, and only two behind Slappy Schumacher.
In other exciting news, the two McLaren boys have engine and gearbox change penalties totaling
70
spots between them. No, that's not a typo: seventy. Seven-Zero. Too many power units used, unscheduled engine change, yadda yadda. In effect, this means nothing but it points out the current stupidity involved in the penalty system.
Also, you may have noticed there were only 19 cars listed. Missing was Jolyon Palmer and his Renault, which suffered an engine fire (and subsequent marshal bukkaking the entire thing with extinguisher foam... seriously, it was just silly) in P3 and could not be repaired in time for Quals. He races at the Stewards' whim tomorrow.
Speaking of tomorrow, we'll see you after the race tomorrow!
Posted by: Wonderduck at 11:18 AM | No Comments | Add Comment
Post contains 486 words, total size 19 kb.
June 22, 2017
When 300 Isn't Enough...
...you do 301. Simple, right? Been a little busy at work the past couple of days, first time I've ever had 300-claim days back to back. 'Snice. But oh my am I getting burned out. Mandatory overtime is not pleasant except on the paycheck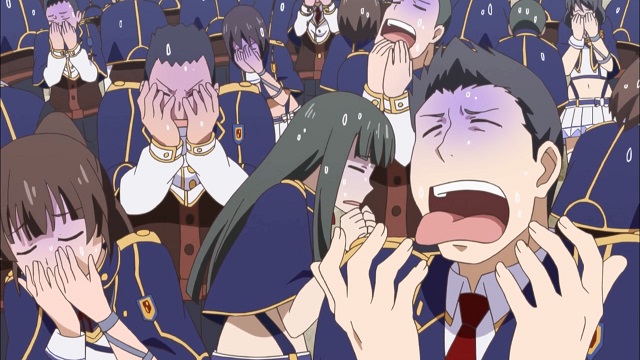 Also, I've got a review of an utterly charming series that I completely missed when it first aired coming down the pike, hopefully Saturday it'll be up. How much I liked it came as quite the surprise to me, to be honest. It'll only take about an hour or two to finish up, but I'm going nuts as it is. Two hours? Right now better spent sleeping! Of course, there'll be the usual F1 stuff this weekend too! Look forward to it, won't you?
Posted by: Wonderduck at 09:32 PM | Comments (1) | Add Comment
Post contains 132 words, total size 1 kb.
June 20, 2017
F1 on TV: Azerbaijan 2017
BIG NEWS!!! They changed the name of this race! Last year, it was the European Grand Prix! How exciting can you get? (sigh) It's kind of a fascinating track, this street circuit at Baku, a mix of Monaco and drag racing track. Here's the map:
Sector two runs through Baku Oldtown, through ridiculously narrow streets and zipping past
a friggin' castle
(actually a curtain wall, but who's counting?). But see, here's the thing... as interesting as that can be, the whole rest of the track is a whole lot of nothing. The whole of Sector three, from Turn 16 to Turn 1, is essentially one long straight. Oh, sure, there's a little whoopsie at Turn 18, but last year the cars weren't slowing down for it. What do you think this year's chassis, with it's higher grip levels and wider tires, are going to do? And then there's Sector one. It's no breaking news that I'm not fond of 90° turns since they guarantee that any sort of flow that might arise is immediately mugged, stuffed in a canvas bag, and thrown into the ocean with weights attached. Look at the old circuits like Spa or Monza or Suzuka or Silverstone... they look like they were designed freehand, no drafting triangles or protractors allowed. In fact, the only right-angled turns on those circuits are new additions, generally a chicane to slow the cars down before a blast to the finish line (note: Monza is exactly the opposite, a chicane to slow the cars down after the front straight). Those places have a rhythm to them, rhythms that a good driver can meld into. Monaco is a special case, of course, as Monaco always has been.
So Baku has a terrible reputation, even after just one race.
Last year
, the teams were cautious unto death, tiptoeing their way around the place like... um... I can't think of a good metaphor. This year, as mentioned earlier, wider tires and a wider car altogether is going to make the Oldtown section even more terrifying, probably. That's not a good thing. I would be interested in seeing how the place races in the wet, but as Baku averages 8mm of rainfall in the month of June, I'm not holding my breath.
Neither are the Legendary Announce Team members, probably. Here's the broadcast schedule for the weekend:
Practice 2: 1p - 230p tape delay on NBCSN (they're showing the Royal Ascot instead)
Saturday
Quals: 8a - 930a live on CNBC
2017 Grand Prix of Azerbaijan: 7a - 10a live on NBCSN
All times Pond Central, check your local listings if you don't trust me.
With any luck, there will be something interesting to write about afterwards... or maybe I'll get to rant again, who knows? See ya then!
Posted by: Wonderduck at 10:09 PM | Comments (9) | Add Comment
Post contains 470 words, total size 3 kb.
June 18, 2017
Ducks In Anime: UberLyft
As I often do on Saturday nights, I was online chatting with
Brickmuppet
(which says a lot about my life, doesn't it?). He was sending me various and sundry pictures of a somewhat questionable nature, as is the usual wont, but one of them was different. It was a picture of a tiny fairy-like being riding a duck. I recognized it immediately, because c'mon, it's an anime duck... and I realized that I had never actually used that particular show before! The time has come to rectify that mistake.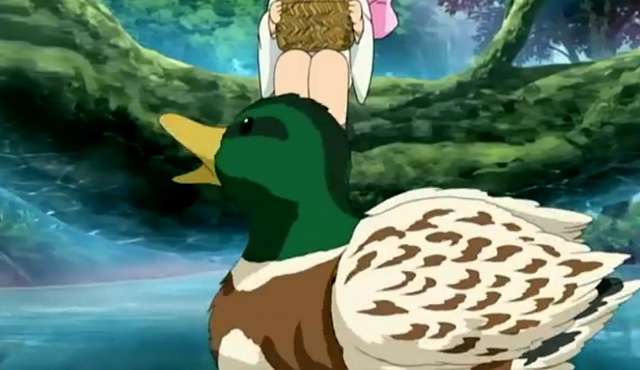 -Binchou-Tan
, Ep01
The entire series has been put on yootoob and I warn you, you will immediately develop both cavities and diabetes from watching it. But it's really kinda worth it... it's just a lovely little piece of fluff where every character is the living embodiment of types of charcoal.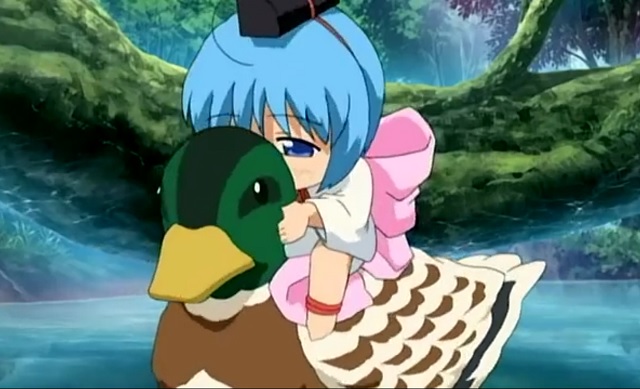 It isn't
all
sweetness and light of course. Binchou-tan is a lonely orphan that lives in a small house deep in the woods and has to forage for food when she isn't working in the nearby town doing menial tasks. One of her friends is a miko that communes with the afterworld. Y'know, that sort of thing. There's some meat in the froth, though. Well worth the cost of time, dental work, and insulin. I will warn you that, unless you are completely heartless, there is a very chance you will be tearing up or flat-out crying during the last few episodes.
And it's got the best looking realistic ducks I've ever seen in anime. That counts for a lot too.
Posted by: Wonderduck at 11:50 AM | Comments (3) | Add Comment
Post contains 264 words, total size 2 kb.
June 15, 2017
A Long Hot Day
Duckford has been in the midst of a heatwave for the past week or so... highs in the 90s, humid as all get out when it hasn't been raining, either no wind or too much, you know the drill. Summer in Northern Illinois, it's what's for breakfast. I've been kinda grumpy as a result of all of this, of course. I'd rather be cold than hot... at least when you're cold, you can always put on another sweatshirt; when you're hot there's a legal limit to how far you can disrobe. I'm in the process of finishing up my mandatory overtime for the week... it's 930p, and I only got home about 20 minutes ago... and for the last two hours all I saw were corrected claims and reversals. One after the other, here's a physician rebilling a claim because the contracts changed and now he can get two more dollars! Which means working the new claim, then going into the old claim and cancelling that one in a way that we get our money back, then documenting in the new claim AND in another location altogether that you've done that, then pay the new claim. For two frickin' hours. There is blood in my eye and murder in my heart.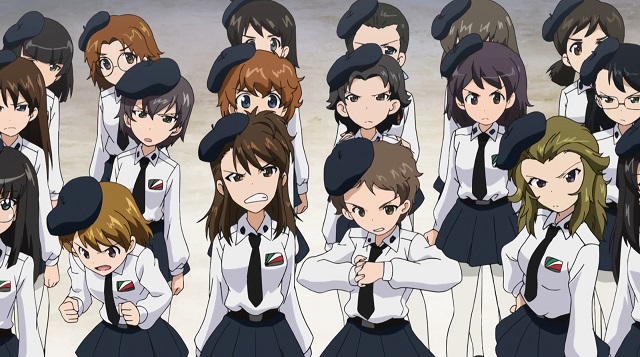 And tomorrow?
I'm makin' waffles
11 hours!!! Wheeeeeee! Pfeh.
Posted by: Wonderduck at 09:04 PM | Comments (6) | Add Comment
Post contains 224 words, total size 1 kb.
June 13, 2017
Ducks In Anime: For A More Civilized Age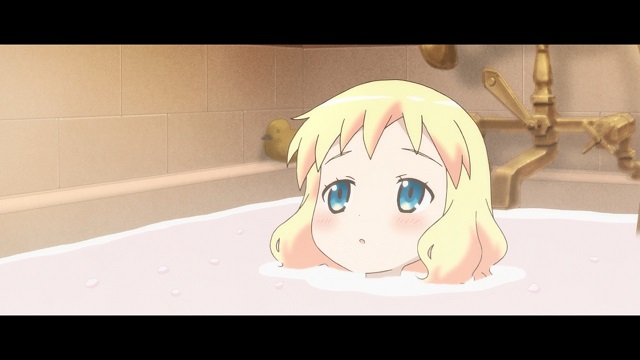 Should have been a slam-dunk for me... a laid-back, funny,
CGDCT
series seems right up my alley. Except there were a couple of minor problems... it wasn't laid-back or funny. It
tries
to be funny, it just... isn't. Not to me, in any case. Four of the five girls are annoying... like, fingernails on a blackboard annoying... and the one that isn't tends to be both quiet and spacey, a combination that just... doesn't... work. It only just barely worked with
Azumanga Daioh
's Osaka, and believe me,
Kiniro Mosaic
ain't no
AzuDai
. What I'm trying to tell you is "don't watch it."
Sorry, I'm heartless and cruel... trying to be sad and cute ain't gonna cut it with me, not now.
Posted by: Wonderduck at 09:37 PM | Comments (3) | Add Comment
Post contains 132 words, total size 1 kb.
June 11, 2017
F1 Update!: Canada 2017
A warm, sunny, and very very windy day greeted the Thundering Herd as they rolled onto the grid at Circuit Gilles Villeneuve. Indeed, it was so windy that a few laps into the race drivers were reporting that they couldn't get to 8th gear coming down the back straight where they had a 30mph breeze in their faces. While dramatic, it didn't seem to have any obvious effect otherwise. Lewis Hamilton, second in the driver's championship, was on pole but his rival Seb Vettel was next to him, but ahead in the points. Their teammates were directly behind them, and then the rest of the field, but one got the feeling that this race was going to be 70 laps of racing between those two for the win, and everybody else was fighting for third. THIS is
your
F1Update! for the 2017 Grand Prix of Canada!
*LIGHTS OUT
: What we actually got was a race that lasted exactly one corner. The leaders all made good starts, but Red Bull's Embryo Verstappen made an excellent one from sixth... in drag racing terms, he had the hole shot... and immediately was fighting with Vettel and Bottas for second. Bottas went inside, Vettel followed the line in the center of the circuit... and then Verstappen went around the outside and cut across the Ferrari's nose. The result of this was Embryo in second, Vettel in fourth, and a completely ruined front-right nosewing on the red car. This did not have any obvious immediate effect however, as the race went under a safety car a couple of turns later. Carlos Sainz Jr made an unwise move that took him across the nose of Lettuce Grosjean's Haas and tipped himself into a lurid spin on the thin strip of grass short of Turn 3. Unfortunately, grass is terrible for braking and it seemed like his Toro Rosso hadn't slowed at all when it shot through Turn 3 backwards, collecting Felipe Not Retired Massa as he did. This incident brought out the safety car.
*...THE HELL?
: The race stayed under the guidance of Berndt Maylander for three laps. Those laps would have been a perfect opportunity to bring Vettel in for a replacement nose, for Verstappen had well and truly borked the original. The endplate on the right side was essentially missing, and the 37 (estimated) vertical elements were all askew and adrift, practically flapping in the breeze. This is not a good arrangement for downforce. When the race restarted, the front wing began to shed pieces and Vettel lost an immense amount of time to the leaders in just a lap or two. Ferrari finally brought him in on Lap 6, five laps later than they should have. When he rejoined the race, he was 18th out of the 18 running cars and Mercedes where writing a check to Verstappen for handing them the race giftwrapped on a silver platter. A handful of laps later, the Red Bull driver's day came to an end when his engine just... stopped working. It was later revealed that his battery had failed, but for whatever reason it was, Lewis Hamilton's only realistic challenger (no matter how unlikely) had just been removed from the field.
*IN THE MIDDLE
: As the race progressed, it became more and more obvious that Hamilton was going to win barring car failure. The only question was by how much? His teammate, Valterri Bottas pitted for tires on Lap 22, passing second place over to the Force India of False Esteban!, then some 18 seconds behind the leader. The reigning World Champion finally pitted on Lap 32, rejoining the race still in the lead as False Esteban! followed him into the pits for his own tire change. The Force India had lost 10 seconds in those 10 laps. Meanwhile Seb Vettel had made it all the way up to seventh place, though mostly because he was off the pit rotation having stopped early. Things settled down for the next 20 laps or so.
*TOWARDS THE END
: Around about Lap 52 or so, Hamilton led his teammate by about 12 seconds, and he was 14 seconds ahead of Red Bull's Smiley Ricciardo and the two Force Indias of Sergio Perez and False Esteban!. There was about a second covering third, fourth and fifth, and the two pink cars looked to be hungry for a podium. Ferrari's Kimi Raikkonen was 10 seconds behind them, with Vettel a few seconds back of his teammate and charging hard. It came as no surprise when Raikkonen came down with a sudden "brake problem" that allowed Sebby to go past and begin hunting down the fight for third.
*THE FIGHT FOR THIRD
: Smiley Ricciardo has never been particularly known for driving a wide car, so if the Force Indias could close up they had a great chance to pass him for a podium position. False Esteban! was on substantially fresher tires than his teammate, and logically had a better chance to accomplish the task. However, for lap after lap Sergio Perez stayed in front of his teammate, unable to pass the Red Bull. The Legendary Announce Team began to criticize the team for not invoking team orders to get False Esteban! into position... but they had. The team told Sergio Perez to let his teammate by and if False Esteban! couldn't make the pass, Perez would be allowed to take the position back... and Perez said no. The battle was coming up on traffic, and he surely would be able to take the Red Bull then. Various attempts by both Force Indias to make passes let Vettel catch up and we had four cars fighting for third place. Eventually, False Esteban! tried a desperate lunge past his teammate and wound up adrift and floundering. Not only did he let Perez take the position back, he let Vettel go by him too. It took only another lap or so for Vettel to dispose of Perez and take fourth. Considering that he was dead last early, this was an astounding performance for Vettel.
*ALONSO AGONY
: It's no news that McLaren is having a horrible year. With a Honda power unit that's so down on horsepower that their two cars were literally 10mph slower down the back straight than the leaders, it's been dismal... or it would be, if their engines didn't keep failing on them. Today, though, things looked different. Indy Alonso, fresh off his Honda engine failure at the Indianapolis 500 two weeks ago, was in 10th place with five laps to go. Now, 10th is hardly anything to write home about, but this would be the team's first point of the season. There's no question that Alonso is working miracles with this car to get it even that high in the standings. Which made it doubly painful when, on Lap 69 of 70, we saw his McLaren roll to a stop with a radio call of "no engine, the engine turned off." Agonizingly, the power unit had failed Alonso again. In a moment that could symbolize the new attitude F1 has towards its fans, Alonso left his car and went up into the grandstands to hang out and give his gloves away.
*FINALLY
: Even though Vettel had cleared the two Force Indias for fourth place, there was no time left for him to challenge Smiley for third. He finished just under a second behind the Australian driver in a marvelous example of damage limitation. Lewis Hamilton led his teammate home by nearly 20 seconds, and he was 19 seconds ahead of Smiley. An easy race for the Mercedes guys, and one that might terrify Ferrari just a little bit.
In two weeks, we meet again in Baku for the second Grand Prix of Azerbaijan. We'll see you there!
Posted by: Wonderduck at 11:48 PM | Comments (2) | Add Comment
Post contains 1301 words, total size 8 kb.
June 10, 2017
F1 Quals: Canada 2017
Everything was just about perfect for the fast running of F1 cars today at Montreal: minimal wind, a bright sun bringing the track surface to temperature warm enough to melt the everpresent snow, and everywhere, constantly, the mingled smells of poutine, Tim Horton's, and Labatts. So what did this all total up to? Let's take a look at the provisional grid for the 2017 Grand Prix of Canada, eh?
Pos

Driver
Q1
Q2
Q3

1

Mercedes

1:12.692

1:12.496

1:11.459

2

Ferrari

1:13.046

1:12.749

1:11.789

3

Mercedes

1:12.685

1:12.563

1:12.177

4

Ferrari

1:13.548

1:12.580

1:12.252

5

Red Bull Racing


1:13.177

1:12.751

1:12.403

6

Red Bull Racing


1:13.543

1:12.810

1:12.557

7

Not Retired
Williams Mercedes

1:13.435

1:13.012

1:12.858

8

Force India Mercedes

1:13.470

1:13.262

1:13.018

9

Force India Mercedes

1:13.520

1:13.320

1:13.135

10

Renault

1:13.804

1:13.406

1:13.271

11

Toro Rosso

1:13.802

1:13.690




12

McLaren Honda

1:13.669

1:13.693




13

Toro Rosso

1:14.051

1:13.756




14

Haas Ferrari

1:13.780

1:13.839




15

Renault

1:13.990

1:14.293




16

McLaren Honda

1:14.182






17

Williams Mercedes

1:14.209






18

Haas Ferrari

1:14.318






19

Sauber Ferrari

1:14.495






20

Sauber Ferrari

1:14.810





Q1 and Q2 were essentially uneventful. Everything played out exactly as you'd expect them to, and only the discovery that Pleasant Stroll is in real life a true-blue dyed in the wool Canadian. And he has a pet moose named Archimedes. That plays hockey. Defenseman. Moose. Whatever. Defensemoose.
In Q3, though... we got what amounts to a declaration of war for the championship when Lewis Hamilton became the first ever to break the 1:11 barrier. A moment later, Seb Vettel brought his Ferrari across the line, fimishing a mere +.004 seconds behind. In-car footage showed that somewhere near the beginning of the lap, he had to jerk the steering wheel to catch a spin... it actually takes longer to read the description than it did for it to happen... and one little twitch was enough to cost him pole. Obviously we were gonna have a fun second run... and we did. Hamilton drove what could be called The Perfect Lap, lowering his track record even farther. Vettel had no answer and finished just under +.400 seconds behind. All of which suggests a dramatic race tomorrow... let's hoping!
And no marmots.
Posted by: Wonderduck at 12:49 PM | No Comments | Add Comment
Post contains 413 words, total size 19 kb.
June 07, 2017
F1 on TV: Canada 2017
If Suzuka didn't exist, there's a very good chance that the Circuit Gilles Villeneuve in Montreal would be my favorite track on the F1 calendar. Of course, in this world Suzuka does exist, but at least Montreal has poutine, right? Why do I bother saying that? Because this week, the Noisy Circus is in Montreal for the 2017 Grand Prix of Canada! Here's the track map:
You want fast? Canada can do fast; that back stretch from the Hairpin to the final chicane is as fast a run as you can find in F1. You want slow? That Hairpin I just mentioned is pretty darn slow, particularly as you're coming off a full-speed blast from the first chicane. You want marmots? Boy,
does Montreal have marmots
! And every now and again, you get a four-hour rain delay! You can't beat fun north of the border, you betcha.
And here's the schedule for the Legendary Announce Team's broadcasts! Take a close look at the networks, we're all over the darn place this weekend!
Practice 2: 1p - 230p live on NBCSN
Quals: 12p - 130p live on CNBC
2017 Grand Prix of Canada: 1p - 3p live on NBC
All times Pond Central. Accept no substitutes! Sometime afterwards of course there will be the usual F1Update!, so ask for it by name.
Posted by: Wonderduck at 10:41 PM | No Comments | Add Comment
Post contains 229 words, total size 2 kb.
June 06, 2017
D-Day Stories By The Greatest Announcer Of All Time
Two years ago, when Vin Scully was still calling ballgames for the Dodgers, he decided to tell a few stories about the events of D-Day. Being Vin Scully, the result was amazing.
Today is the 73rd Anniversary of that heroic, terrible day.
Posted by: Wonderduck at 09:28 PM | Comments (1) | Add Comment
Post contains 51 words, total size 1 kb.
June 04, 2017
Midway 75 Years Later: Never Call Me A Hero
A few months ago, somebody named "Nick"
showed up in the comment section
of a post I wrote on the passing of "Dusty" Kleiss, the last of the Midway dive bomber pilots. He was looking for information on the picture of Mr Kleiss I had used... where I got it, maybe where the hi-res version is located, that sort of thing. As it turned out, I remembered where I found it and a little bit of research found that the hi-res version was available via the AP. I took the time to send Nick the info in an e-mail and thought that would be the end of it.
As it turned out, I was wrong. Nick was an editor at HarperCollins, and he had been looking for a good photo to use for a book that would be coming out about Mr Kleiss. I expressed enthusiasm for such a project, and said that I'd be buying it as soon as it came out. I also pointed him to the
Battle of Midway Round Table
, and pointed out that it would be of great interest to them as well... after all, Mr Kleiss had been a member himself! Not long after that, Nick said "I'm sending you a copy of the book." I'm certainly not going to turn that down! I also pointed out that it won't make a difference to any review I write... though I really
really
hoped it'd be good. The book showed up a couple-three weeks ago, ahead of the official release date, and I began to read through it. So what do I think about
Never Call Me A Hero
by N Jack "Dusty" Kleiss (with Timothy and Laura Orr)?
It's delightful. His service in the Pacific takes up a little over half of the book, more or less, with the remaining pages devoted to the rest of his life. Kleiss was a habitual note-taker, and he apparently kept everything he could. His logbooks and diaries of his time on USS
Enterprise
make up much of the basis for his recollections, copies of official reports and other primary source documents fill in the rest. But clearly just as important, if not moreso, to Kleiss are the letters he wrote to his girlfriend (later wife) Jean and their relationship. He was clearly a man deeply in love with his girl, a love which stayed with him even after she passed away in 2006, after more than 60 years of marriage. We also get to read about what he did after he left the
Enterprise
, then after retiring from the US Navy in 1962, two topics about which the historical record had previously been essentially silent.
But the real reason we've come to
Never Call Me A Hero
is his role at the Battle of Midway. After having read the book, I came away with a sense of both pride and sadness from "Dusty". Pride in that, while he repeatedly says that he was "just doing his job," the job the US Navy had trained him for, he and his fellow pilots knew they had just been a part of something big. It's also clear, though, that in many ways June 4th, 1942 was the worst day of his life. Very shortly before the big attack, he had a talk with his best friend, Tom Eversole, about what was being loaded onto his plane: a Mk.13 torpedo. Lt Eversole flew a TBD Devastator in VT-6, and after the earlier missions the
Enterprise
had been on, raids on the Marshall islands, Admiral Halsey had made it clear that as long as he was in command, not a single TBD would ever go to the flight deck carrying a torpedo. Admirals Fletcher and Spruance had other ideas. As their conversation came to an end, Kleiss went to his plane thinking his friend was going to die. Worse, he believed that Eversole thought he was going to die, too. Even worse, they both knew it would be for nothing: all Mk.13 torpedoes had a flawed trigger mechanism that prevented it from actually exploding when it hit a target. That usually wasn't a big deal though, since the Mk.13 also tended to malfunction when dropped from a height into the water... kinda like the way a torpedo bomber releases a torpedo.
In a very real way, reading
Never Call Me A Hero
brought the Battle of Midway to life in a way my prior reading never did. We all know the names, of course: Dick Best, Earl Gallaher, Wade McCluskey, and many others. But that's pretty much all they are: names. But to Dusty Kleiss, they were friends, bosses, someone he had lunch with the day before. Pilots that he had known for a year or more, some that he just barely knew, even one that he disliked intensely. More than anything else, that's the value of the book: it gives a human touch to the titanic events of June 4th thru 6th, 1942. They call it the battle that changed the course of the war. For Kleiss, it changed his life forever. He tells us in a matter-of-fact way about the actual attack runs he performed on the
Kaga
, the
Hiryu
, and later the
Mikuma
, gives us some feeling about what it was like to swoop down on a target and plant a bomb dead center, but it feels... I'm not sure how to put it. Almost detached, but with a huge amount of emotion just behind the facade. It's a fascinating part of the book, not just the tale being told, but how it's being told as well. We also get to see a part of the battle that I'm not entirely sure has been talked about before: what it was like afterwards. Knowledge that they'd won a huge victory, bringing a measure of vengeance to the men and ships killed at Pearl Harbor just a few days under six months earlier... but also his reaction to returning from the first attack and seeing just four stunned men sitting in VT-6's ready room. Realizing that his own squadron had taken losses that would have been considered catastrophic a few days earlier, but now meant that VS-6 had more remaining crewmen than the others on the
Enterprise
. The intense anger when The Powers That Be tried to send the dive bombers on a ridiculously long search/attack mission... with 1000lb bombs slung underneath, restricting the amount of fuel they could carry, and the resulting yelling match between the squadron leaders and the bridge staff. Eventually, the satisfaction of a job done well.
After Midway, Kleiss was reassigned, leaving the
Enterprise
and VS-6 for a training position on the mainland, teaching trainees how to be dive bomber pilots. Once the war ended, he bounced around the Navy high command in technical billets. For example, he was in charge of the team that designed (well, modified a British design) and installed the steam catapults on the new USS
Enterprise
(CVN-65). After leaving the Navy, he became a high school physics teacher. And he never talked about Midway.
Until Walter Lord began writing
Incredible Victory
, his outstanding book on the Battle of Midway... and the first to really use statements from the men who were there. Marines in their slit trenches on the sandy atoll, riding out the Japanese attack. Army B-17 crewmen, harassing the Japanese fleet from 25000 feet. Navy backseat gunners. Fighter pilots. Dive bomber pilots. Even after a six-page reply to Lord's written questions, Kleiss remained reluctant to speak about Midway. Though it's never explicitly stated in the book, I suspect there was a bit of survivor's guilt involved. He does wonder why he was allowed to live when his friends and comrades died around him. On those occasions when family of his friends in VS-6 wrote him, asking for recollections of their father or grandfather, he always had trouble replying... because such-and-such died when his Dauntless caught fire and burned down just before crashing into the ocean. Then, in 1992, something changed. It was 50 years later, and he realized that he didn't just want to talk about those wonderful, awful days in June, he
had
to. He began attending conferences and anniversaries as a guest of honor, mainly because it was a great way to reconnect with his old buddies from the
Enterprise
, but to share his role in the battle as well. Finally towards the end of his life, his goal was to get his memoirs written and published before the 75th Anniversary of Midway. N. Jack "Dusty" Kleiss didn't live to see his autobiography published, having passed away on April 23, 2016, but he knew it would be.
Never Call Me A Hero
doesn't tell us anything about the events of Midway that we didn't already know. What it
does
do is distill everything down to the level of one human caught in the middle of the greatest victory the US Navy has ever had. It makes us connect with the man, the pilot, the dive bomber pilot, of the
Enterprise
in a way no other book has before or will again. It's a fascinating story of a man in the middle of history, and who played a major supporting role in how the history resolved. If you are a Midway historian, you will want to read this book. If you like biographies, you'll want to read this book. The book is not essential to understand the Battle of Midway, but you will come away with a better appreciation for the human side of war. It wasn't just SBDs and A6M2s and Kates and Buffalos. There were real people in those cockpits, people who lived and died due to their skill, or the skill of their enemies, or just the luck of the draw. That's important to remember. "Dusty" Kleiss never considered himself a hero... the men who never came back, they were the heroes, he said... but though he might have denied it, he was certainly a brave man who influenced the direction of the world on those three days in June, 1942. It's a good story and well told. It's a fitting memorial to the Last Dive Bomber, and to the 75th anniversary of the Battle of Midway.
Posted by: Wonderduck at 12:59 PM | Comments (10) | Add Comment
Post contains 1721 words, total size 11 kb.
June 03, 2017
Ducks In Anime: Stand Alone Duckie
-Ghost In The Shell: Stand Alone Complex
, Ep26
A few months back, I stumbled upon
GITS:SAC
running on Cartoon Network at, like, 4am. I was struck by just how great the show looked, particularly since it was first broadcast in 2002. Oh, sure, there are moments when it looks... not so hot... but by and large, they're outnumbered by the drop-dead gorgeous visuals.
For a while there, Production IG was
the
company to go to if you wanted a show to look top-shelf. Sort of the way KyoAni is now, I suppose. I gather they were the first to really devote themselves to digital animation. Surprisingly,
GITS:SAC
avoids most of the oddness of early computer animation; only some cars look like they've been pasted into the scene. I find it hard to ding the series in any way, really. The storyline is a little clunky at times, but on the whole it all works. Hard not to recommend it.
...and the rubber duckie has a red sailor hat and kerchief on. Bonus points for that!
Posted by: Wonderduck at 06:30 PM | Comments (1) | Add Comment
Post contains 181 words, total size 1 kb.
131kb generated in CPU 0.05, elapsed 0.0696 seconds.
56 queries taking 0.0196 seconds, 287 records returned.
Powered by Minx 1.1.6c-pink.