May 08, 2011
F1 Update!: Turkey 2011
A beautiful sunny day awaited us today at the Istanbul Otodrom as the cameras went live on the Turkish Grand Prix. But would Seb Vettel enjoy the race, or would the someone else take the May flowers from him? THIS is
your
F1 Update! for the 2011 Grand Prix of Turkey.
*RACE
: As the F1U! crew, joined by F1tern Vaucaunson's Duck, settled into our comfy chairs, the lights went out to begin the race. It immediately became obvious that, barring car failure, this contest was going to be for second place. Seb Vettel jumped away from the line and never looked back, opening a 1.2 second lead at the end of Lap 1. Just a pleasant Sunday drive for the World Champion, who won by nearly nine seconds over his teammate Mark Webber, who led Ferrari's HWMNBN across the line by just over a second. After those podium positions, there was a 30 second gap back to Lewis Hamilton's McLaren.
*THAT'S A RECORD
: Pirelli's hopeful optimism towards the lifespan of their tires turned out to be somewhat misplaced. The first pitstops came on Lap 10, and for all intents and purposes never stopped. As a result, more stops were made in this race than ever before in F1 history: 80. The previous record-holding race started out in the wet, went dry, then sort of bobbled back and forth between the two, causing chaos in the pit lane. This one? All dry, and everybody save McLaren's Jenson Button and one of the Toro Rosso drivers made four stops.
*DIFFERING VIEWPOINTS
: Having the F1tern here for the race brought something unexpected to the F1U! team's eyes. We saw the race as being action-packed but somewhat dull, full of passing back in the pack that was more or less meaningless. On the other hand, the F1tern thought the race was action-packed and exciting, full of dramatic passes. The possibility exists that the F1U! team is old and jaded.
*DRIVER OF THE RACE
: It's very hard to not give this award to Ferrari's HWMNBN, who pulled his steed onto the podium when it looked like the red cars would never get there this year. It's also very hard not to give the award to Gandalf Kobayashi, who started dead last, fought his way up to eighth, and ended up tenth, very nearly equaling Mark Webber's 15-place improvement at China (18th to third). But it's impossible to not give the Driver of the Race award to Red Bull's Seb Vettel. Maybe it's the car, maybe it's because he's mostly driving with a clear track in front of him, but he dominated the Grand Prix of Turkey race weekend. Beginning from Saturday's P3 session, then in Quals, then the race itself, nobody was even close to the World Champion. It's a telling statistic that he's led 183 of the 220 laps run this season...
*TEAM OF THE RACE
: Red Bull. Duh. They blew away everybody in Quals, they blew away everybody during the race, and they had to rebuild Vettel's car after his 1st Practice wreck. That's a heckuva record for the team.
*MOVE OF THE RACE
: The combination of KERS and DRS have made passing much, much easier this season, giving the F1U! crew more than enough choices for the best move. The McLaren teammates, for example, had a scrum that lasted three full laps; Hamilton passed Button, who passed Hamilton, who came back and repassed Button, who turned around and repassed Hamilton again. Massa and Rosberg had a lovely little scrimmage on Lap 20. There were literally dozens of others, mostly in the DRS zone. But none of them came close to what happened on Lap 15. Slappy Schumacher led a hard-charging Gandalf Kobayashi, who had just gotten by Force India's Adrian
F'n
Sutil and Paul di Resta. Coming down from the flat-out Turn 11 towards Turn 12, Gandalf decided that he wanted Slappy's place, no matter what. Slappy decided he wouldn't make it easy for the Wizard. He moved to the inside, and Gandalf took Shadowfax onto the grass at 200 mph while Adrian
F'n
Sutil tried to take advantage of Schumacher's inattention, going wide to the outside.
Gandalf, past the elder statesman, lit up his tires through Turn 12, while Sutil whipped from the outside to the inside to get past the Mercedes driver. His tires smoking, he shouldered Schumi aside.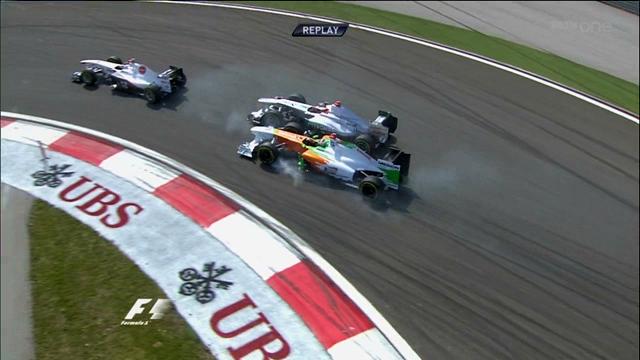 On the pull-out, di Resta tried to get involved as well, to no avail. Kobayashi had picked up three places through the whole thing, Sutil one, and Slappy lost two.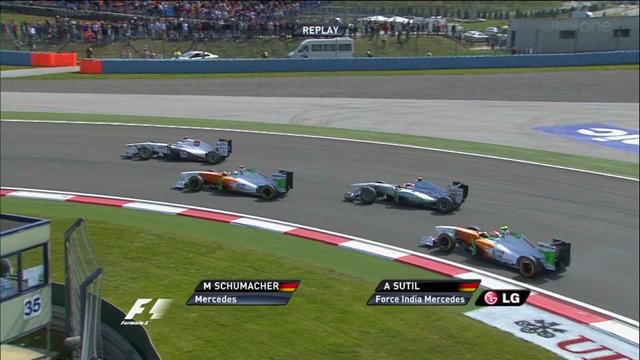 More importantly, it's clear that Schumacher's legendary status has worn off, with the younger drivers no longer giving him the respect they used to... which is the way it should be.
*MOOOOOO-OOOVE OF THE RACE
: 13 laps previously on the same bit of track, Renault's Red Menace, Vitaly Petrov, made a... shall we say
optimistic
... move on Slappy Schumacher, neglecting to apply his brakes until very late into Turn 12. He went to the inside of Schumacher and quite honestly had no chance whatsoever to make either the move or the turn. Slappy, however, was having none of it. He decided that the brilliant thing to do was to close down on the speeding Red Menace.
Result? The two bumped rather hard, the Renault ran over the Mercedes' nose, and the contact slowed the Red Menace enough that he could control himself through the turn. Schumi immediately pulled into the pits, but he still lost a ton of places and was never seen again. Good job, Slappy, here's your Moooooo-oove.
*SELECTED QUOTES OF THE RACE
:
There are only going to be two quotes today, as the drivers were predictably bland and this F1U! is late enough already.
The first comes from the BBC broadcast, during an exchange between commentators David Coulthard's Chin and Martin Brundle:
DCC: It's almost like (Schumacher) doesn't know when to give up.
MB: You mean, on his career, or on that corner, or on that lap?
The second came on Lap 43, between the F1U! staff and the F1tern.
F1U!: (referencing Felipe Massa's pit-lane fight with a McLaren) I haven't noticed Massa be gettin' any penalty.
F1tern: (referencing the F1U!'s use of English) I'm looking forward to your writeup.
Two weeks from now, we'll be at the Circuit de Catalunya for the Grand Prix of Spain. We'll see you then!
Posted by: Wonderduck at 08:47 PM | Comments (3) | Add Comment
Post contains 1067 words, total size 7 kb.
1
Given what Kobayashi did, it's really a shame he bombed the quals. If he'd had anything like a decent starting position he might have been able to challenge the leaders.
Posted by: Steven Den Beste at May 08, 2011 11:03 PM (+rSRq)
2
Maybe. But if he had been higher up on the grid, he'd have to be dicing with the better cars, instead of the HRTs, Lotuses and Virgins of the world. No mistake, he'd've finished higher than 10th, maybe 6th, but not much more than that, I reckon.
Still, that'd be a heckuva finish for Sauber.
Posted by: Wonderduck at May 09, 2011 12:15 PM (OS+Cr)
3
Which is a good point. Probably if you took any of the top 10 drivers and started them in last, they'd have an even shot of getting into the points. Certainly anyone from RBR or McLaren (I'd say Ferrari, but Massa lately, I dunno...)
Posted by: Avatar_exADV at May 09, 2011 11:10 PM (pWQz4)
Comments are disabled. Post is locked.
29kb generated in CPU 0.0602, elapsed 1.3328 seconds.
47 queries taking 1.3235 seconds, 279 records returned.
Powered by Minx 1.1.6c-pink.