January 28, 2011
Rio Rainbow Gate! ep04
After the cliffhanger ending of episode 03 of
Rio Rainbow Gate!
, when a potential rival for Our Heroine arrives on the scene dressed as a chicken-wing delivery girl, I had a horrible thought. "Could
RRG!
be developing a plot? Is this primordial ooze of a show evolving into primordial ooze with small vestigial flipper-like things that may in fact turn into a pair of arms sometime in the distant future? And could these squishy proto-arms perhaps allow our primordial ooze to operate a word-processing program by flailing at the keyboard randomly until a sequence of words appears on the attached monitor, words that actually form coherent thoughts and plotpoints, thereby accidentally injecting some drama and conflict into our cheesecake? Could this be happening?"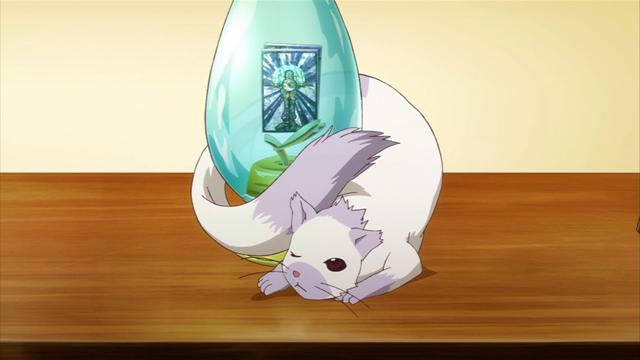 "...we stand on guard for thee!"
(I bet you didn't know laser weasels were Canadian)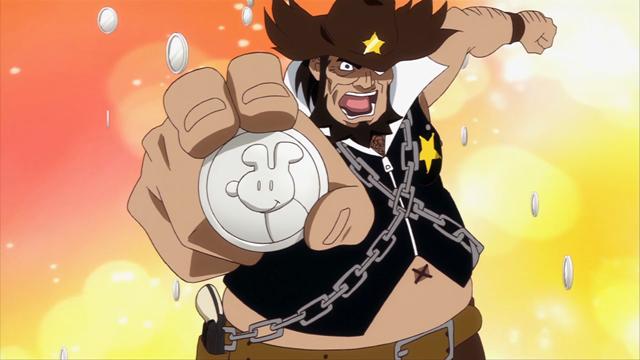 ...then this guy shows up to challenge Rio to a Akihabara vending machine duel (now that's gambling!), and I realized that no,
RRG!
is stuck in a evolutionary cul-de-sac, developing three eyes and a hoof while other shows go off and invent fire and pointed sticks.
And I wouldn't want it any other way. Let those other shows with newly-formed flippers go bravely forth to challenge the unknown on the far side of those rocks over there,
RRG!
will stay behind and pander to those who have never heard of things like 'introspection', 'characterization' and 'coherent thought.' At least it's a show that knows what it does well.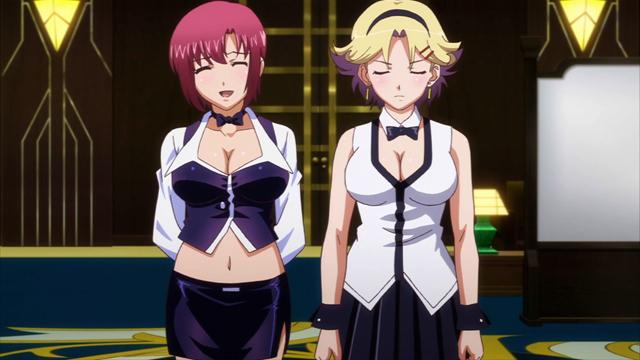 Here's our new character, goes by the name of Rina. She and Rio grew up together, as close as sisters. Of course, Rina went off to make her way in the world, while Rio followed in her mother's footsteps... to become a casino dealer. Of course, Rina wound up doing the same, independently of her pal. Though they haven't seen or even talked to each other in years, they're still close. Very close. Very,
very
close.
"That wasn't a dream, was it, Rina?"
I couldn't make that dialogue up if I tried.
Rina's a different sort of "goddess of victory" from Our Heroine. Where Rio makes people feel happy and energetic as she ends up with all their money, Rina makes them feel tired and need to drink heavily. While she ends up with all their money. Hey, it's a living. They get to take a day off so Rio can show Rina around the casino-cum-island paradise before she's thrown into The Owner's
lecherous
money-making schemes.
I know what you're thinking: Rio's got a really big chin in this screenshot.
Oh, and that they're slathering the implied yuri on pretty thick. You're right, on both counts.
What, pray tell, do you think is The Owner's latest plan? Why, to introduce Rina to the guests in the most intellectual and thought-provoking manner possible, of course. Perhaps have her read some gentle poetry, or perform some exquisite calligraphy in a beautiful Japanese rock garden, surrounded by the quiet sounds of a babbling brook.
Or have her face off against Rio in a trap-shooting contest in front of thousands of screaming patrons, while dressed in the skimpiest Old West-inspired costumes possible... and if you miss a shot, your clothing is compromised. Yeah, that'll work too.
Turns out that trap-shooting is a valuable skill amongst casino dealers as the match ends in a draw, both ladies missing twice out of thirty gazillion shots. But really, we're all winners for watching such a contest between two highly trained and expert professionals.
RRG!... it's an unpretentious fanservice disaster of a show, but y'know what? It's kinda fun. Even if it does drip primordial ooze on the carpet. I'd actually say that I'm eagerly anticipating Episode 05... if only to see what sort of garbage they throw at us... and if the preview is anything to go by, it's gonna be a doozie.
Posted by: Wonderduck at 12:17 AM | Comments (3) | Add Comment
Post contains 646 words, total size 5 kb.
1
Tombstone never had decorations like that....
Posted by: The Old Man at January 28, 2011 12:50 PM (+LRPE)
2
A trap shooting contest.
Who was the trap?
Posted by: Brickmuppet at January 30, 2011 04:16 AM (EJaOX)
3
Brick, you read my mind...
Posted by: ubu at February 01, 2011 12:45 AM (GfCSm)
Comments are disabled.
26kb generated in CPU 0.0172, elapsed 0.0976 seconds.
47 queries taking 0.0848 seconds, 279 records returned.
Powered by Minx 1.1.6c-pink.